A great electric hybrid bike will be able to get you around in style while also giving you a bit of help now and again where help is needed.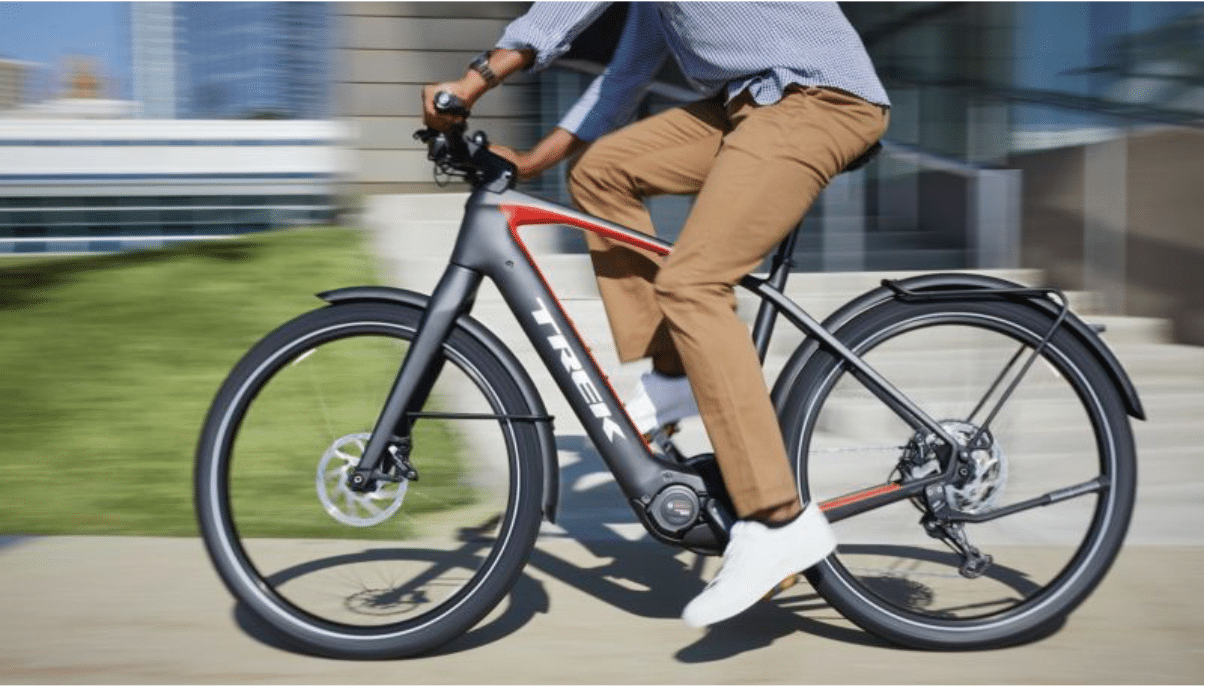 Most of the first electric bikes that were made available for the public were hybrids, which are bikes that came with flat handlebars as well as a comfortable riding position. These types of bikes are a great choice for those people that are just looking for a general recreational bike or if you are a beginner cyclist who may be going on shopping trips or just around town it is also a great choice for you.
Then next come the electric hybrid bikes, which are also great choices for those just looking for something to use to commute back and forth with and aren't too stressed about the storage space and just want a little bit of assistance. 
To help you in finding the best electric hybrid bike for you, this article will break down some of the best electric hybrid bikes you can purchase in 2023 and hopefully you will find one that catches your eye.
Canyon Grand Canyon:ON 9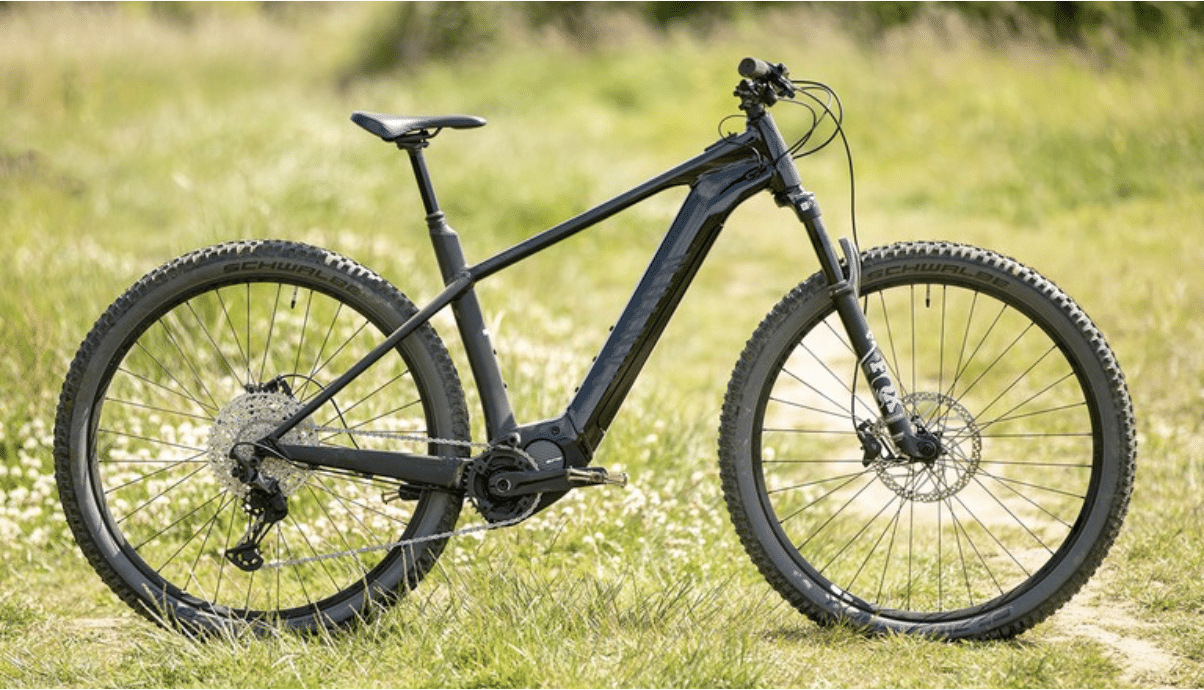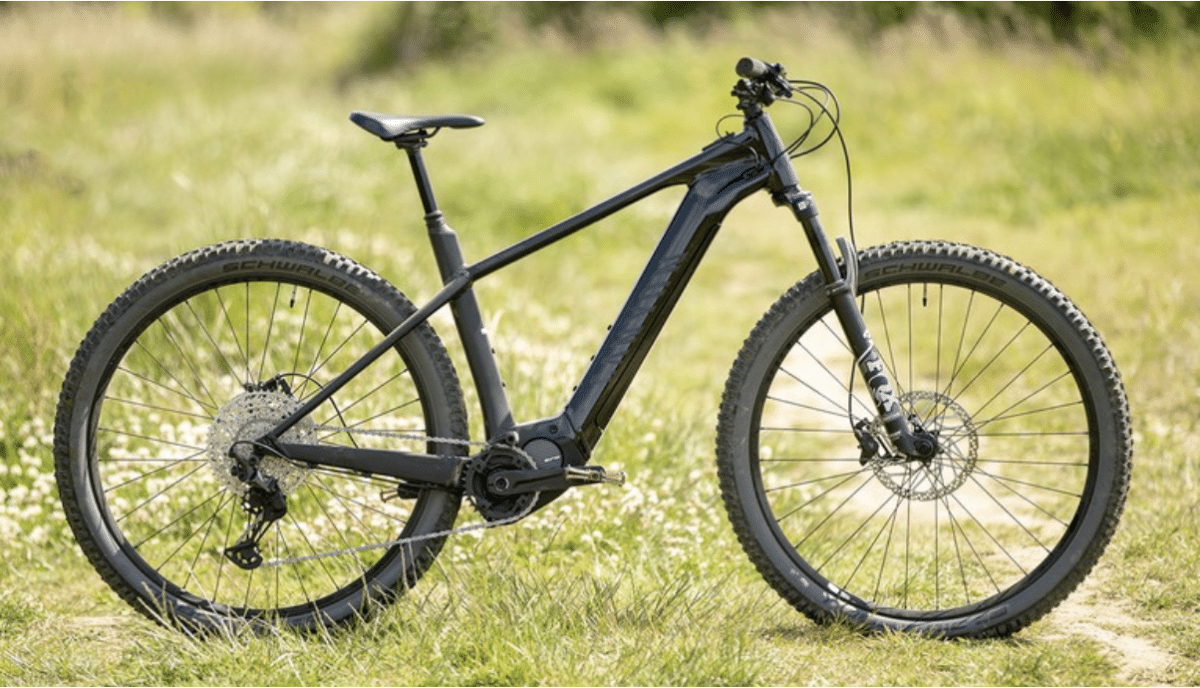 Price: £3,699
Cons
Comes with cheap Schwalbe tyres
Smallest frame can only fit a 504Wh battery
Even though the Canyon Grand Canyon:ON 9 is a hybrid it is more of a hardtail bike but regardless it is still an amazing choice for city riding and you'll still be able to use it in a more adventurous setting during your weekends. So, even though it has great performance on steep and rough riding trails it is still a bike that feels comfortable just commuting around town.
This bike comes powered by a powerful Shimano EP8 motor, which is compact and has 630Wh battery on the smallest frame size option, which will also deliver you with 100 km of range. You also have plenty of tuning ability for your pedalling power, thanks to this bike's 12 speeds.
Canyon Pathlite:ON 5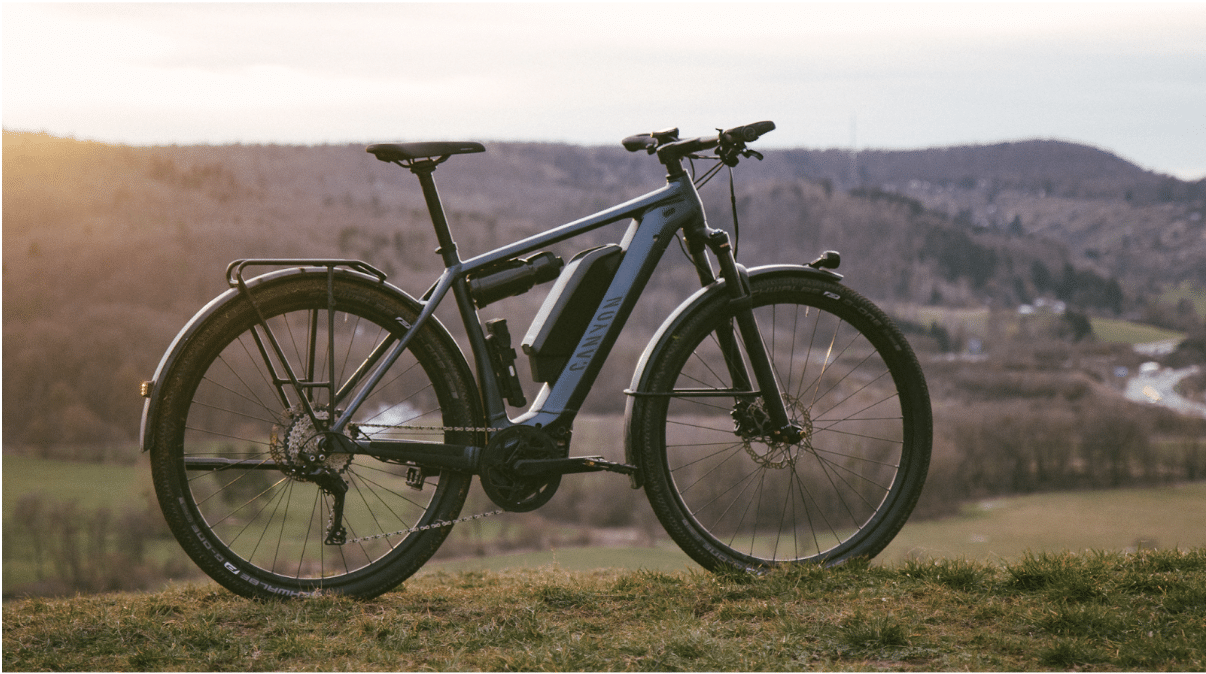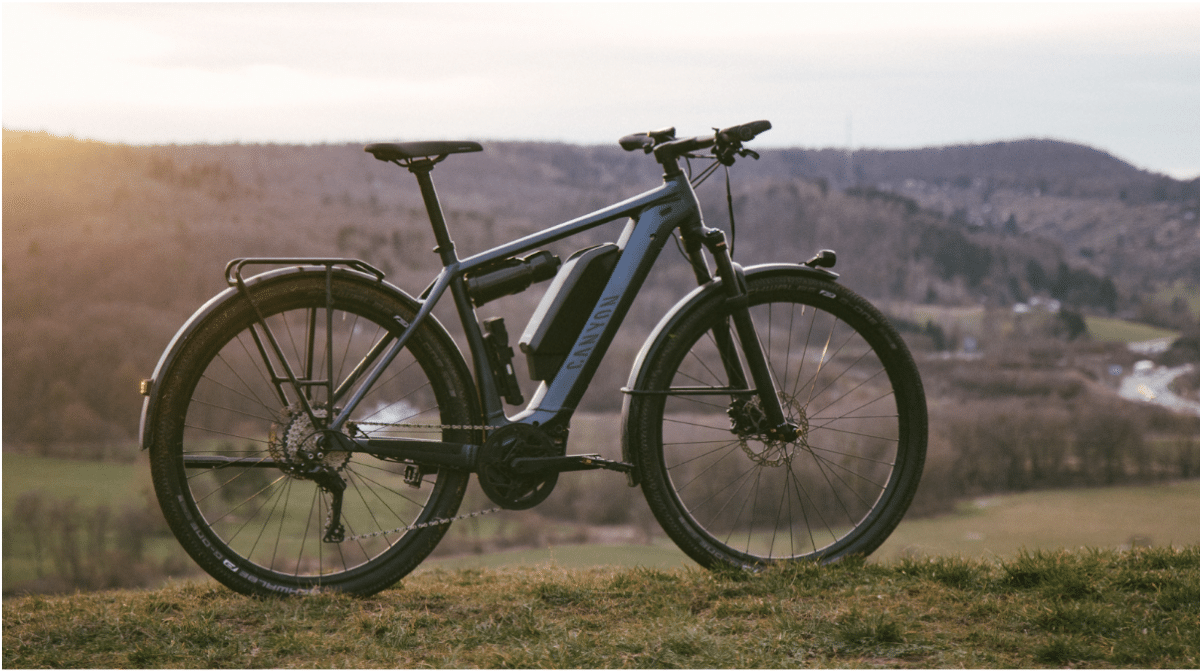 Price: £2,499
Pros
Great value for money
Smart power delivery
The Canyon Pathlite:ON 5 is a great commuter bike option for those out there looking for a comfortable bike to get around on. This bike is able to make the rough roads out there feel soothing and it is also a great value for money. The motor that this bike has is Bosch's Gen 4 motor, which provides you with a lot of power as well as a great drivetrain. This motor also gets you a range of 100 km, which is definitely amazing for those just looking for a light commute in town.
The battery is equipped onto the bike very easily as it easily slots down the down tube and comes back out with just the clock of a key. The charger is also very easy to store and even carry around in a rucksack if need be, which is definitely a benefit when you may be commuting far or multiple times a day. This bike also comes equipped with mudguards and integrated lights, which definitely add to its day-to-day riding credentials.
One thing that makes this bike stand out a lot from the rest is its off-road performance. The handling, gearing, suspension fork as well as tyres on this bike make it an absolute dream ro ride on mountain bike trails, while still maintaining it's upright riding position, which is helpful for urban riding.
When you're pedalling unassisted on the Canyon Pathlite:ON 5 you almost won't even notice the Bosch motor as it's so discreet, then you'll get a very welcomed boost when you get to the steep inclines. You'll be able to switch between all five modes, which are off, Eco, Tour, eMTB and Turbo, by using the Bosch Purion display, easily located at your handlebars.
The biggest downside that this bike has is that it is pretty heavy, so weighing in at 23 kilos you probably wouldn't want to take this bike up a flight of stairs.
Specialized Turbo Vado 4.0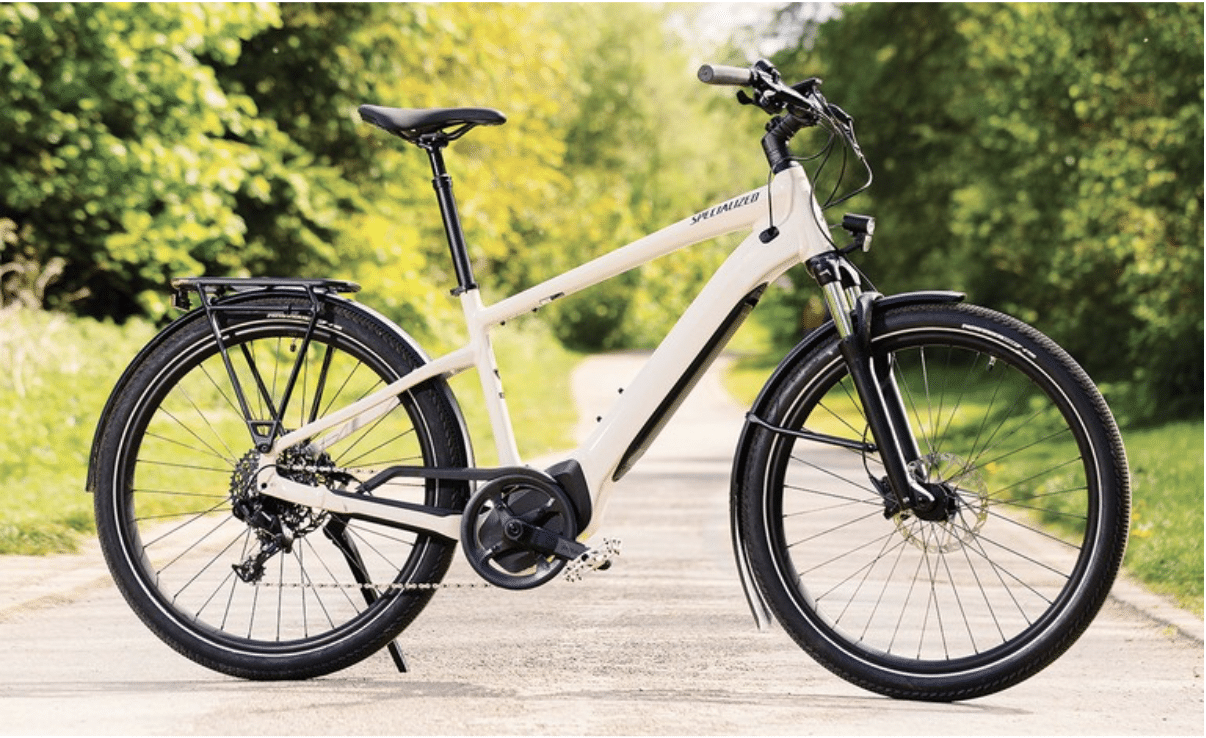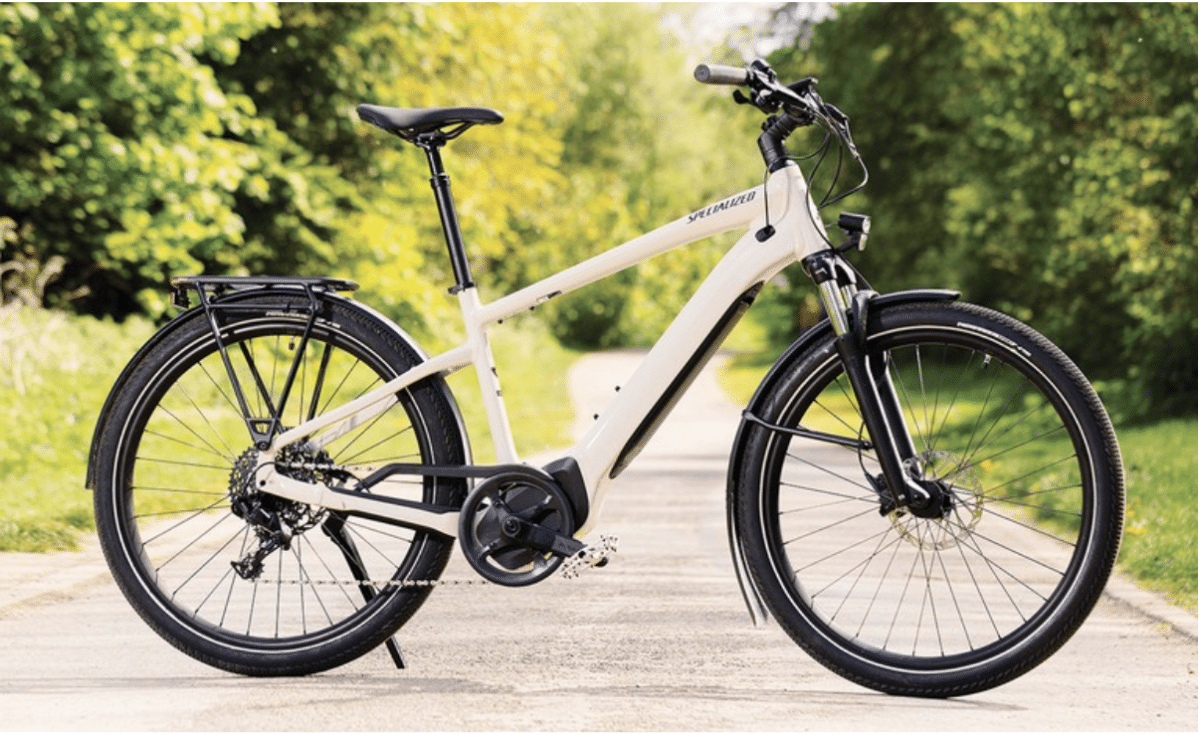 Price: £3,900
Pros
Has long range
Comfortable
You'll be able to purchase the Specialized Turbo Vado 4.0 in a SL version, but this iteration of the bike instead gets a more powerful motor, with a crazy 70 Nm of torque, as well as an even larger battery capacity.
With this awesome bike you'll get upwards of 100 kilometres of range on a single charge. This bike has also been fitted with quite an awesome four-colour controller display, on which you are able to configure your whole bike through the use of the Specialized Mission Control app. Here you'll also be able to set not only an alarm but a deactivation feature for the motor if your bike is ever stolen, which is very nice since you'll be paying quite a lot to get your hands on one of these bikes.
This bike has also been equipped with an impressive 80mm of suspension in the fork as well as a suspension seatpost and comfortable saddle, which makes riding this bike an extremely comfortable experience. One thing to note as well is that this bike is very heavy and at 26 kilos, 11 kilos heavier than the Turbo Vado SL, you definitely don't want to be carrying this bike around in any buildings.
Specialized Turbo Vado SL 4.0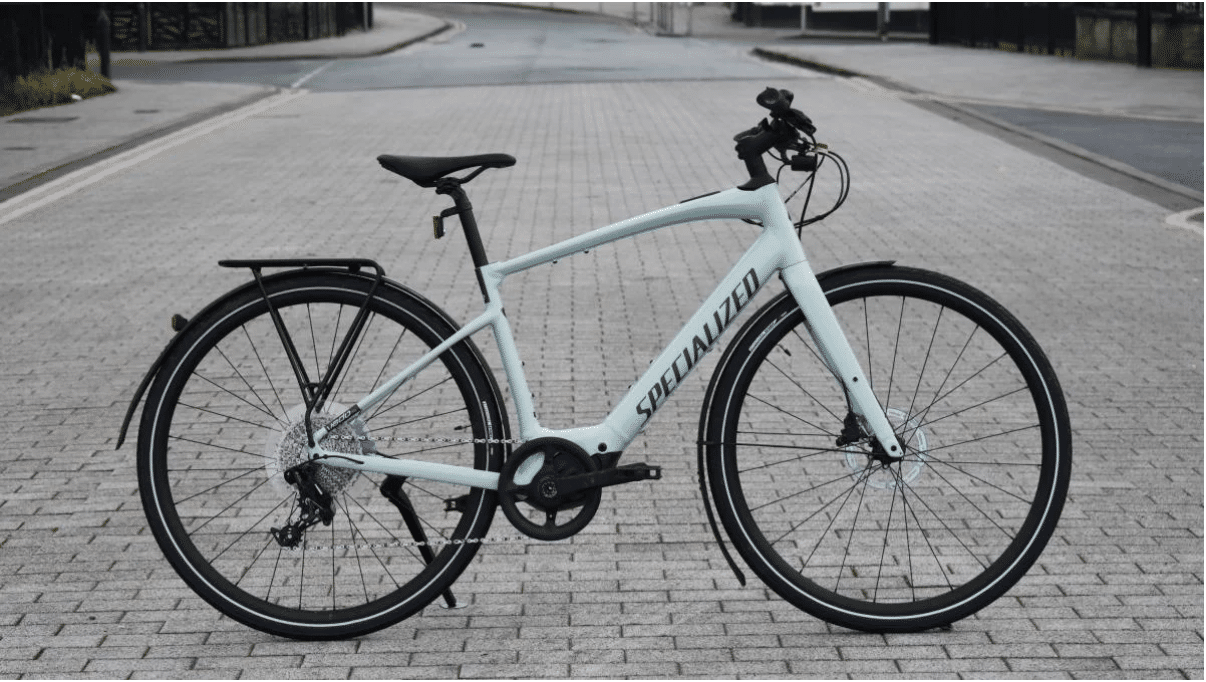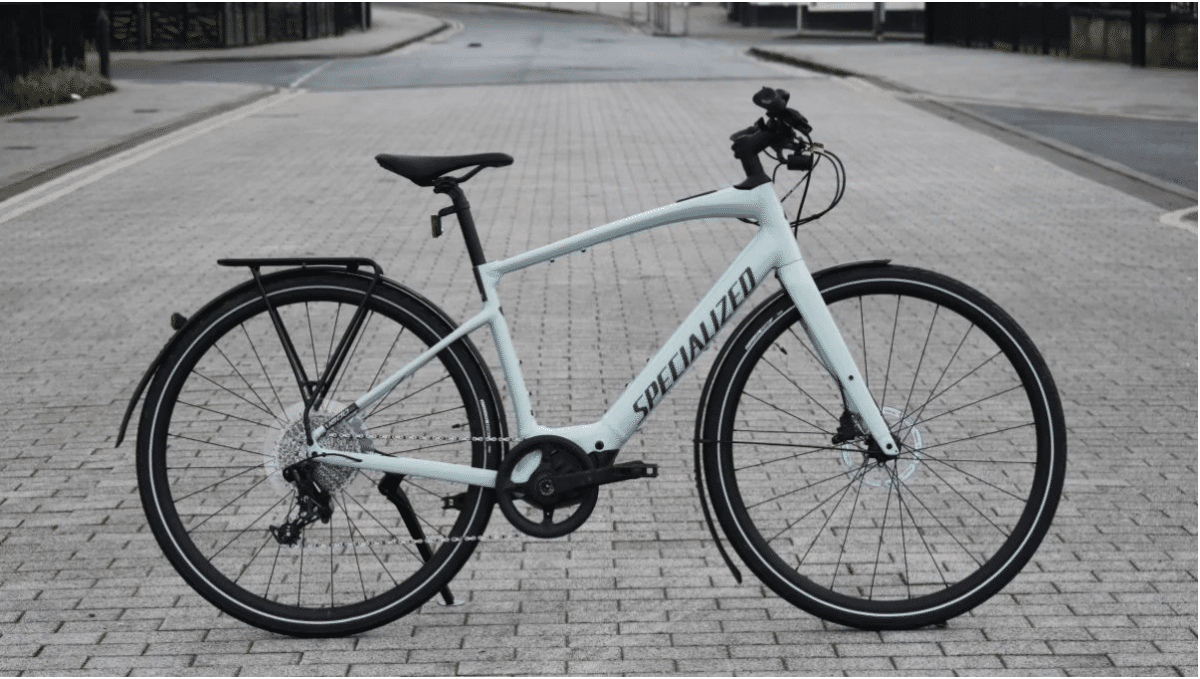 Price: £2,600
Pros
Natural feeling power delivery
Secure
Light weight
Cons
Motor is a bit underpowered
Bad rear rack compatibility
Brake lever rattles
The two most impressive features that this bike is most known for is its lightweight, weighing in at less than 15 kilos, and its long range, providing you with up to 130 kilometres of travel. This is one of the ebikes that have made these types of bikes mainstream in the recreational and city riding world. The motor is also quite light and weighs less than 2 kilos and since it is concealed it makes the overall look of the bike very clean and sleek. However, since this motor is lighter and isn't as big as some other options out there it does only have an output of 35 Nm of torque, which is noticeably lower than a lot of other ebikes.
The support that this motor is able to provide you with also feels very natural and you don't have any unnatural or aggressive bursts of acceleration but it still does its job at helping you when you get to inclines. However, because of the underpowered motor you will need to work a bit harder on the steepest climbs, even if you're in the max Turbo mode, compared to other ebikes on the market.
These bikes also come pretty well equipped for most things that you may have planned. These added items include lights, and then also a rack and mudguards if you opt for the higher specs.
Tern Quick Haul P9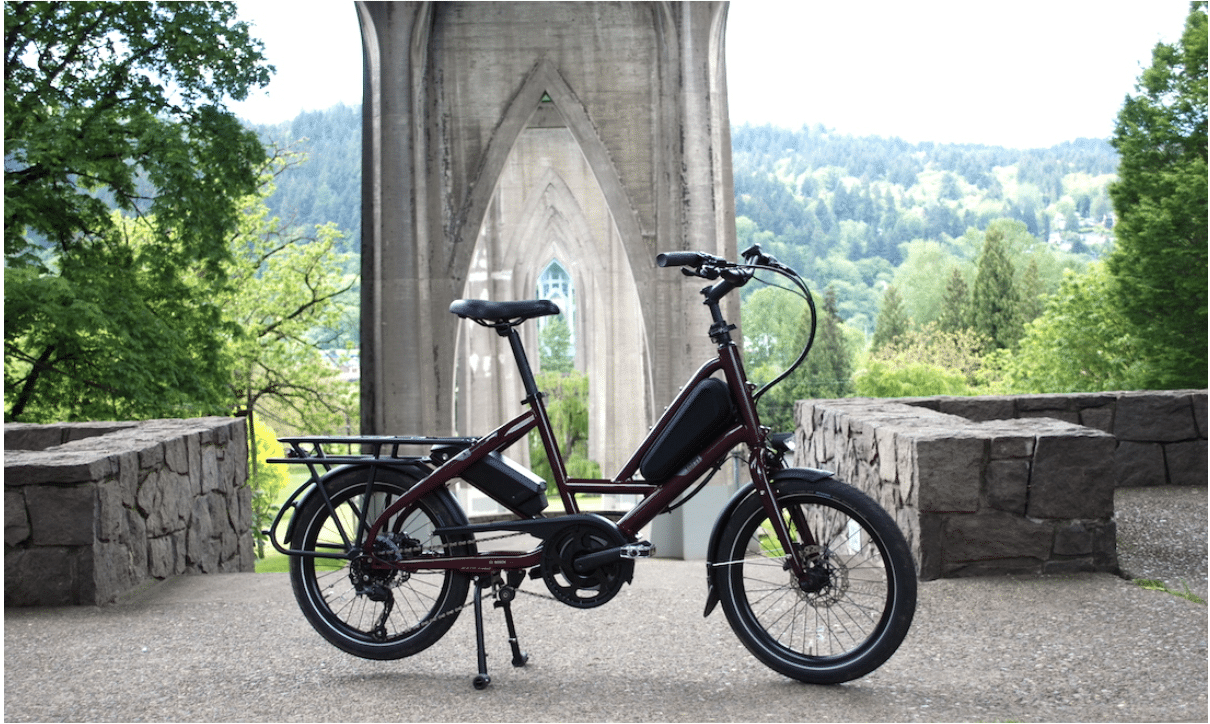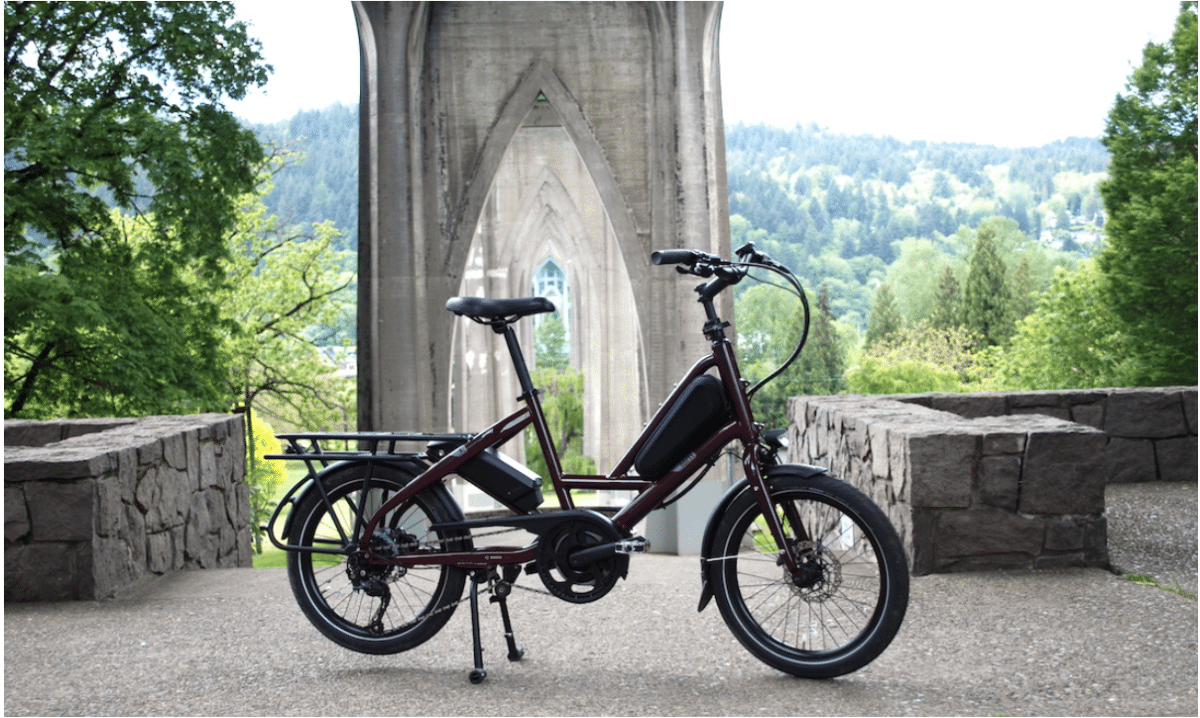 Price: £3,100
Pros
Versatile
Comfortable and fun
Cons
Add-ons bump up the price quite a bit
This ebike is one that you would call an 'electric cargo bike' and the difference between these bikes and regular ebikes is that this one enables you to lug groceries, equipment, and loads of other things around, without the use of a car and without breaking too much of a sweat.
This bike is very compact and is able to support up to 70 kilos of additional load and is actually very affordable when compared to other Tern models. Another awesome thing about purchasing this bike is that when you do you will also receive a large rack, which you can use to stand the Tern Quick Haul P9 vertically and free up a lot more space.
Tern is a brand that offers a lot of accessories and luggage for sale, so that you are able to equip your bike with whatever items you need to make using it as easy as possible.
This bike may look like a calm bike but it is very capable and comes with a strong Bosch motor, which has a power output of 65 Nm of torque. With this motor and the average range of 75 kilometres that this bike has it is really a great way to get around. The handling and ride quality that you have when on this bike is amazing, but when you start to add more accessories such as racks and luggage then it will definitely get more challenging to handle through tight gaps.
VanMoof S3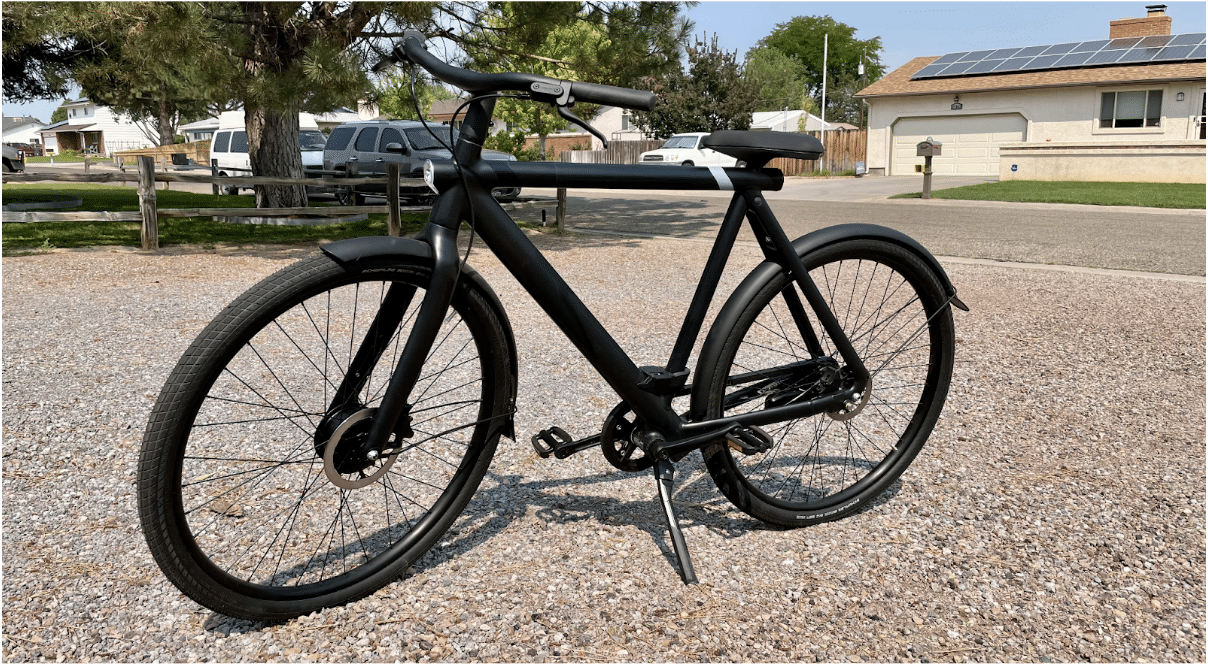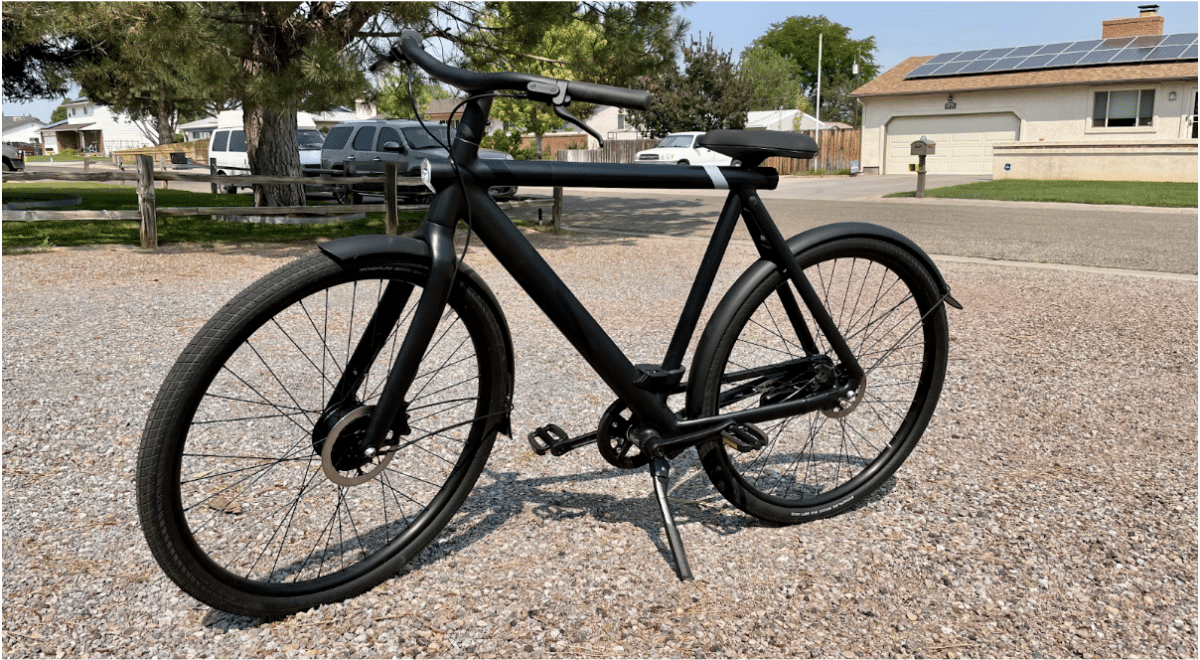 Price: £1,998
Pros
Provides a smooth ride
Great range
Cons
Pedals are slippery
Bad auto-gear shifting
This ebike weighs in at a total of 21 kilos and is able to provide you with quite a long smooth ride, thanks to its big 504Wh battery that has been integrated into the bikes frame. You'll then find this bike's 250W motor hidden in the front-wheel hub.
When riding on this bike you should be able to get around 130 kilometres of range on just a single charge, without the use of the 378 Wh power bank that is also attached to the bike. The battery isn't only impressive because of its range but its charge time as well, you'll be able to fully recharge the battery in four hours but to 50 percent in just 80 minutes.
The bike also has an automatic four-speed rear-hub shifting feature that will work best in hilly or flat environments. It will basically give you a blast of power when you may need it, which it will be able to judge by your speed. This bike is also available in two sizes, which may not seem like a lot but these two sizes will cater for riders of most heights.
You will be able to view information such as your speed as well as your battery level on a nifty LED display that can be found on the top tube of the bike. Another cool feature that this bike has is actually a helpful safety feature, which is an in-buil alarm that will freeze the rear wheel when it is set. If someone does trigger this alarm you will be able to disable it by either using the app or a code.
Final words
So, there you have some of the best ebikes that you can purchase if you are looking to do some commuting in town and even have some fun on the weekends. Remember that the most important thing, when choosing an ebike, is reflecting and realising exactly what you need from your bike, for example if you are someone who needs a ride to work everyday and will need to carry your bike up stairs then purchasing a light bike will be one of your top priorities.