One of the biggest fears that bikers have when travelling with their bike is that something happens to it and it arrives at your destination broken. A modern bike box or bag is definitely your best bet for your bike making it to its destination safely as they've been specifically designed to carry your bike and will definitely serve you a lot better than any other DIY project or cardboard box will.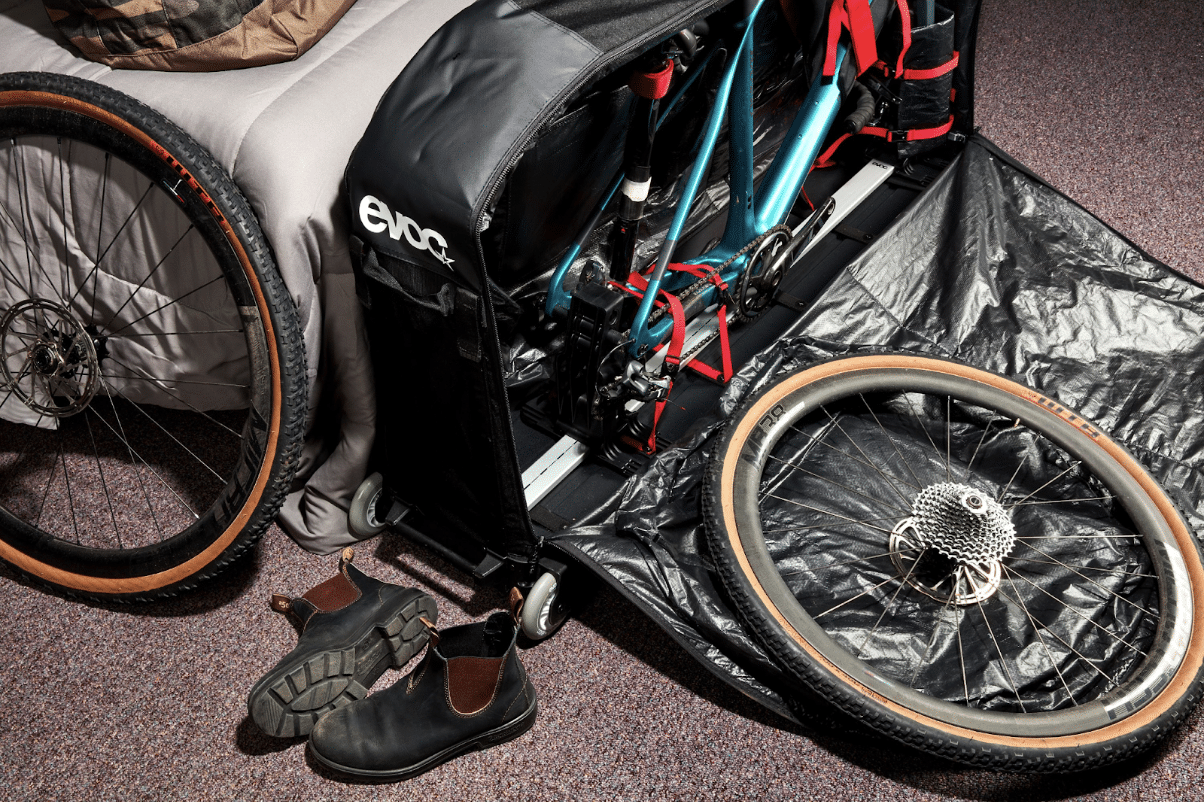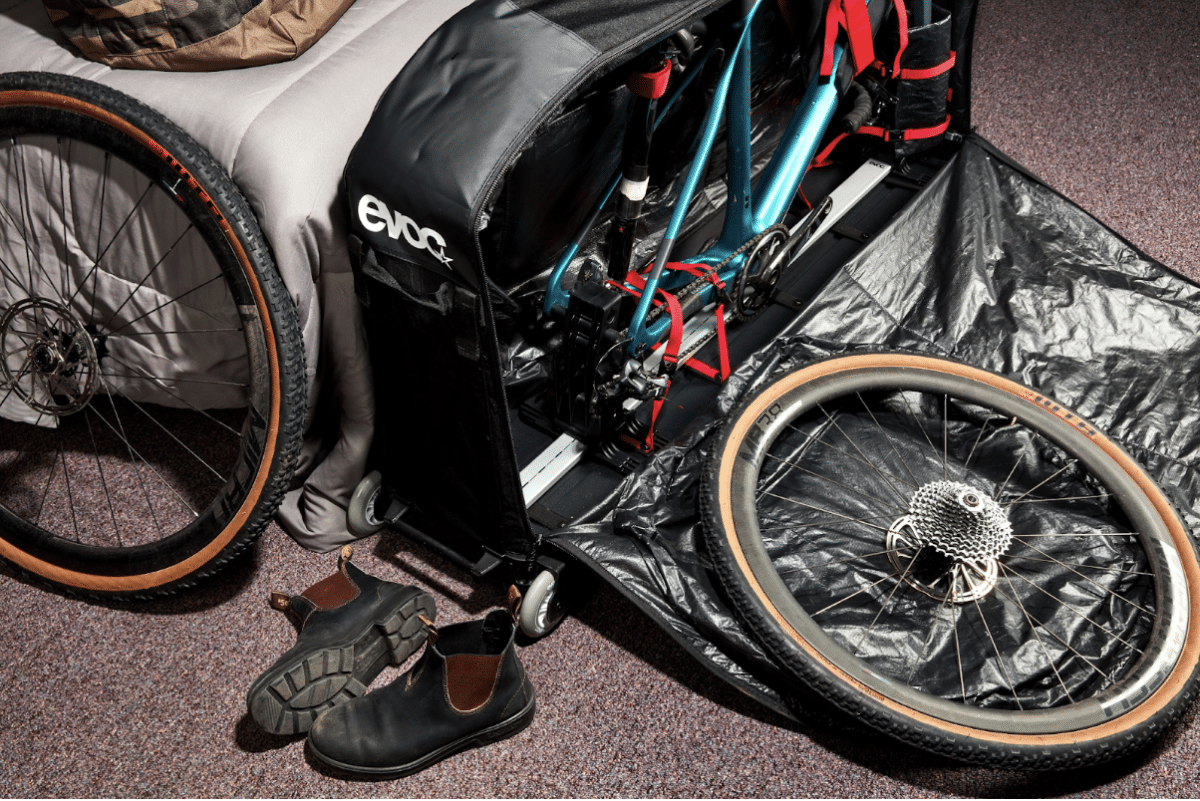 In order to find the best bike bag, bike box or flight case for your bike you'll need to find one that is able to protect your bike from basically anything possible. The next thing you should try and look at is one that requires very little effort to get your bike into it, can also carry different wheel sizes and bike genres, and one that won't be too heavy and influence your overall luggage weight too much. Then lastly you'll want to look for one that doesn't cost too much money, and if it is out of your price range make sure that it is one that will for certain last you many years to come. 
Most of these features that you look for in a bike bag tend to affect each other, for example the most protective cases are usually the heaviest and most expensive whilst the cheaper options out there won't be able to protect your bike as well. However, if you are planning to travel at least once or twice a year, with your bike, then purchasing a bike box or bag is a great investment worth every penny. So, without further adieu, here are some of the best bike bags and boxes you can buy in 2023.
Best Bike Box Overall
Triathlon Aero Easyfit Bikebox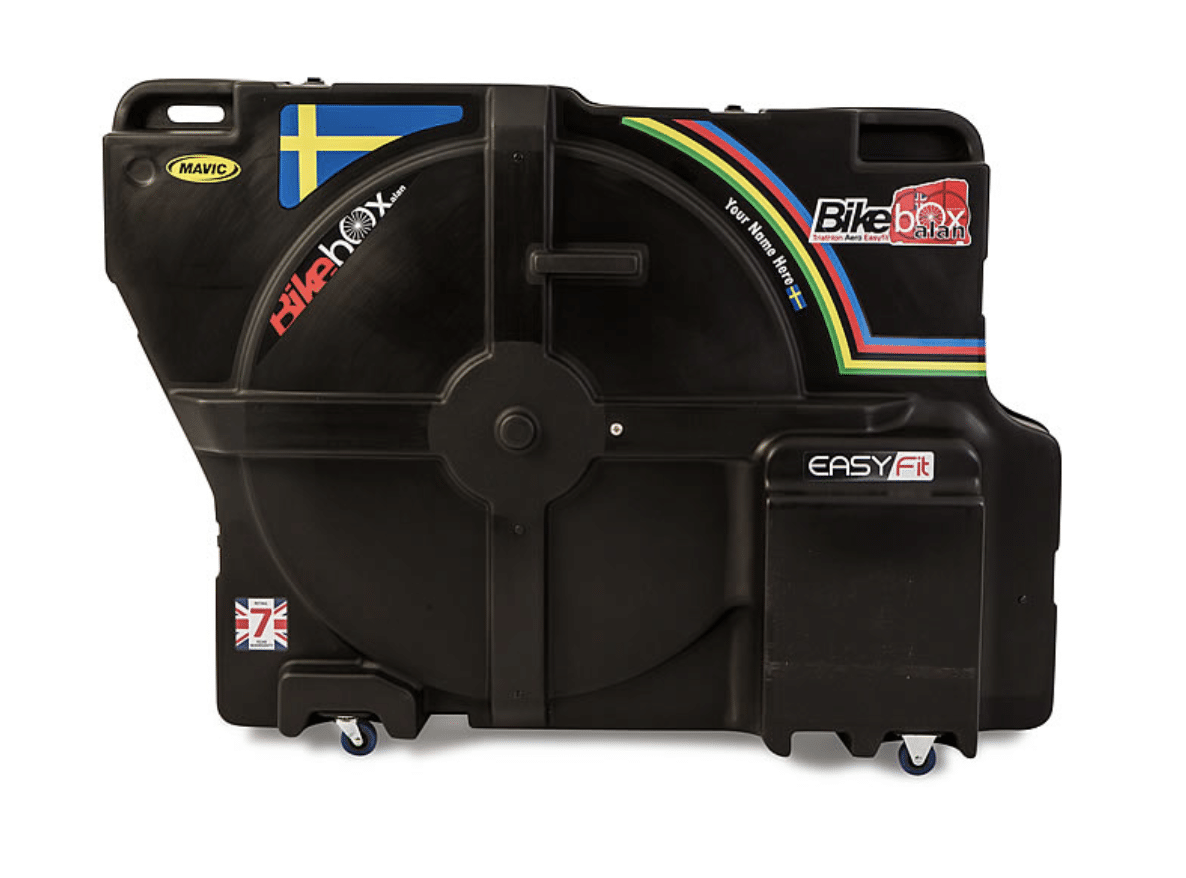 Price: £665
Pros
Easy to pack
Plenty of room
Cons
Base can be too wide for a check-in weighing belt
Expensive
The Triathlon Aero Easyfit Bikebox is one of the most secure and easy-to-pack bike boxes that are out on the market at the moment. This bike box also has a wide section for your bike's handlebars, which is a huge advantage because you won't have to start dismantling your bike each time you pack it. This advantage does have a disadvantage though and this is that it causes a bit more bulk than other boxes, which can lead to issues of fitting into car boots or check-ins.
So if you are someone who is picky about position then this is definitely the bike box for you because it'll fit into the box with the handlebars still attached. If you have the cash and want this easy packing life then it is a great choice.
Best High-End Bike Box
Topeak Pakgo X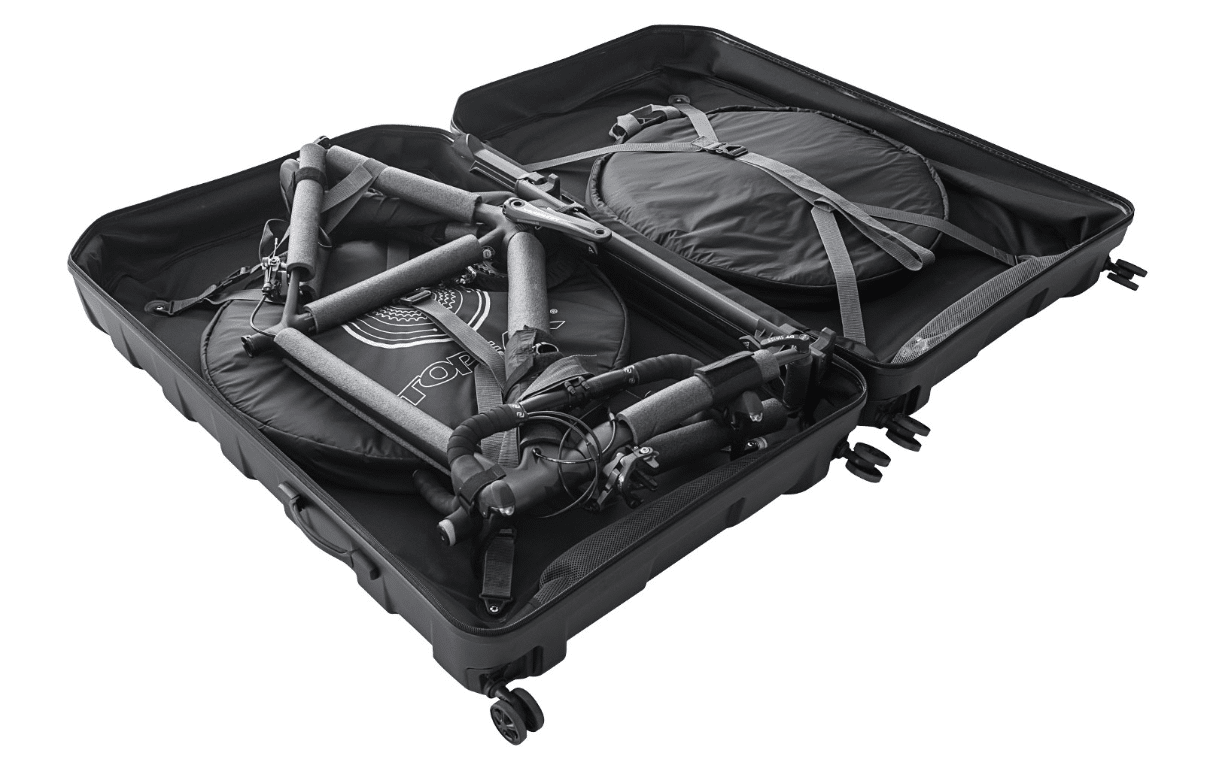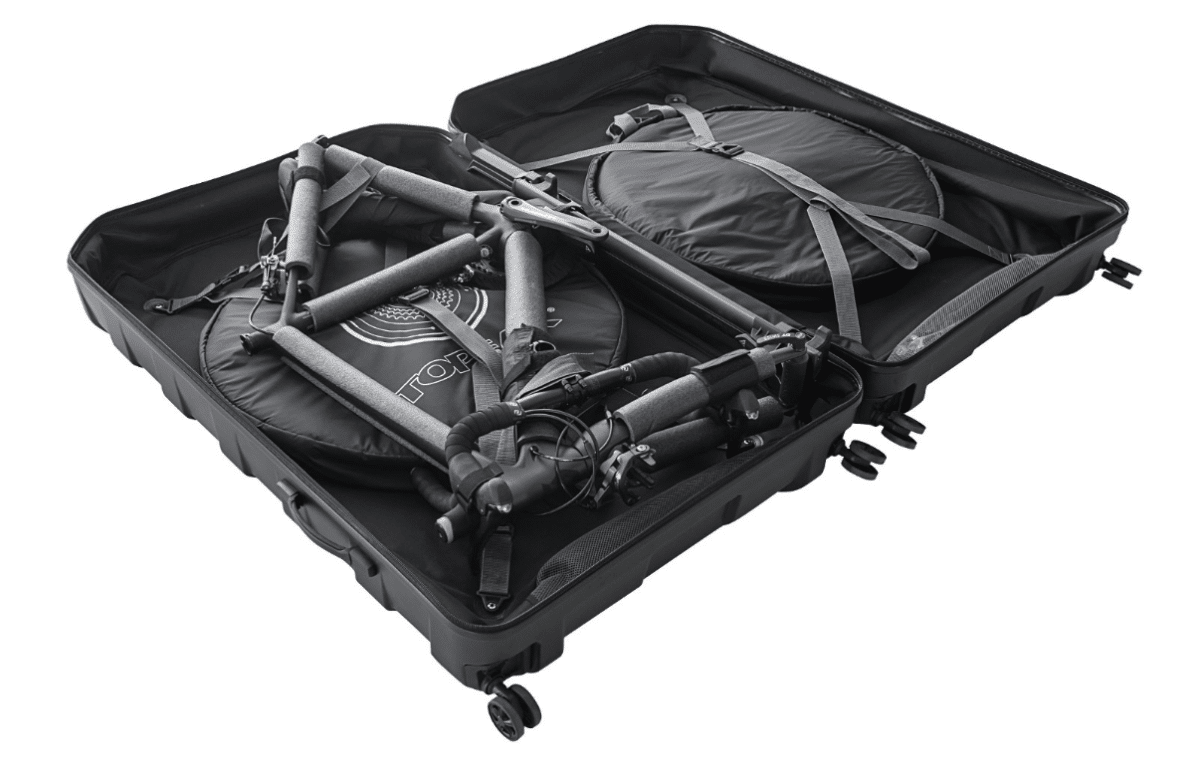 Price: £675
Pros
Great protection
Easy to move around
The Topeak Pakgo X is definitely not one of the most affordable boxes on the market at the moment but it is definitely one of the ones with the highest build qualities, is great to move around, offers excellent protection for your bike and also comes with some nice additions that make it an epic travel companion.
The exterior of this bag has been manufactured out of a lightweight, flexible Makrolon polycarbonate, making it quite durable as well. When you are ready to pack your bike into your bag you'll notice a mini workstand that has been included with the bag, and you'll use this as a mount for your frame before you load it back into the shell. Unpacking the bag is also extremely easy and you'll be able to do it as fast as ever, you'll also be happy to hear that you'll be able to fit almost any genre of bike in this bag that has a wheelbase limit of up to 112cm.
The last standout feature that this bag has is that it has an upright design, which has been equipped with wheels so that you are able to transport it very easily through any airport. This is definitely the bike box that you want to get for your bike if you are looking for something that will offer almost the same protection level as the most tough bike boxes out there but still be reasonably lightweight so it's easy to move around.
Best Durable Bike Box
B&W Bike Guard Curv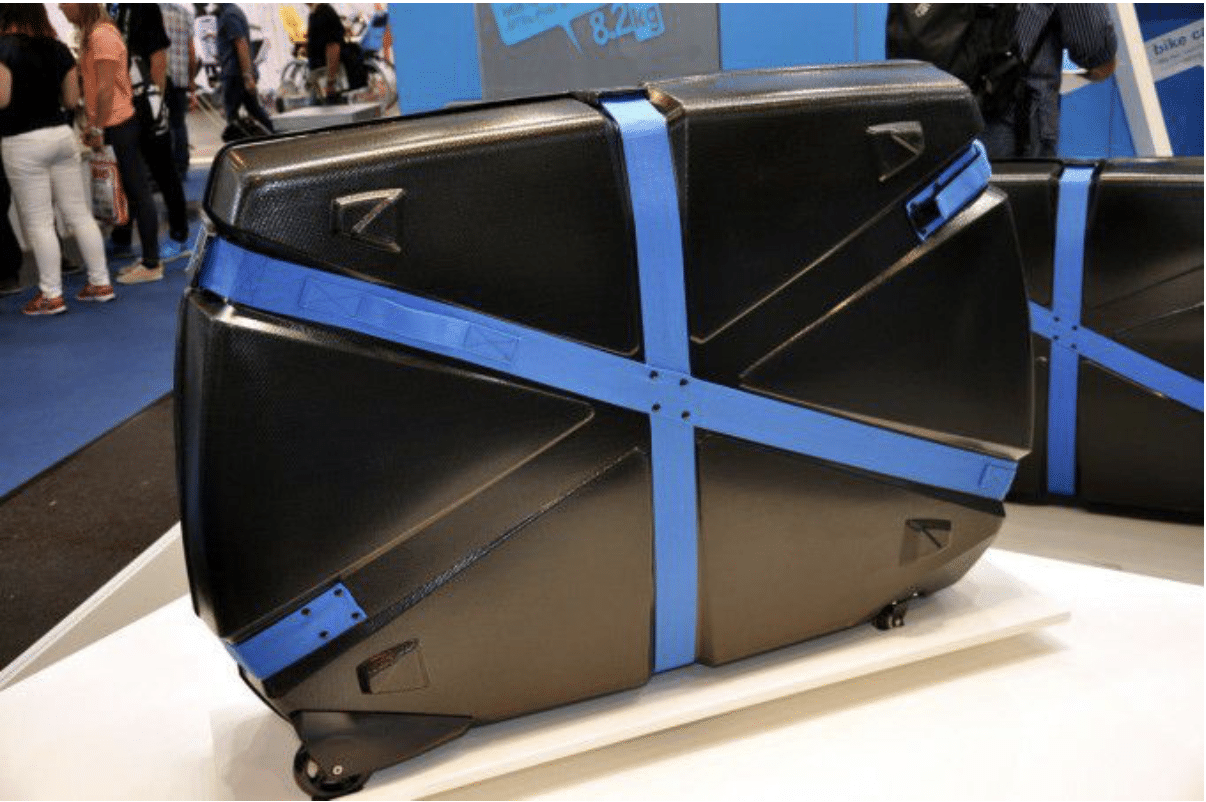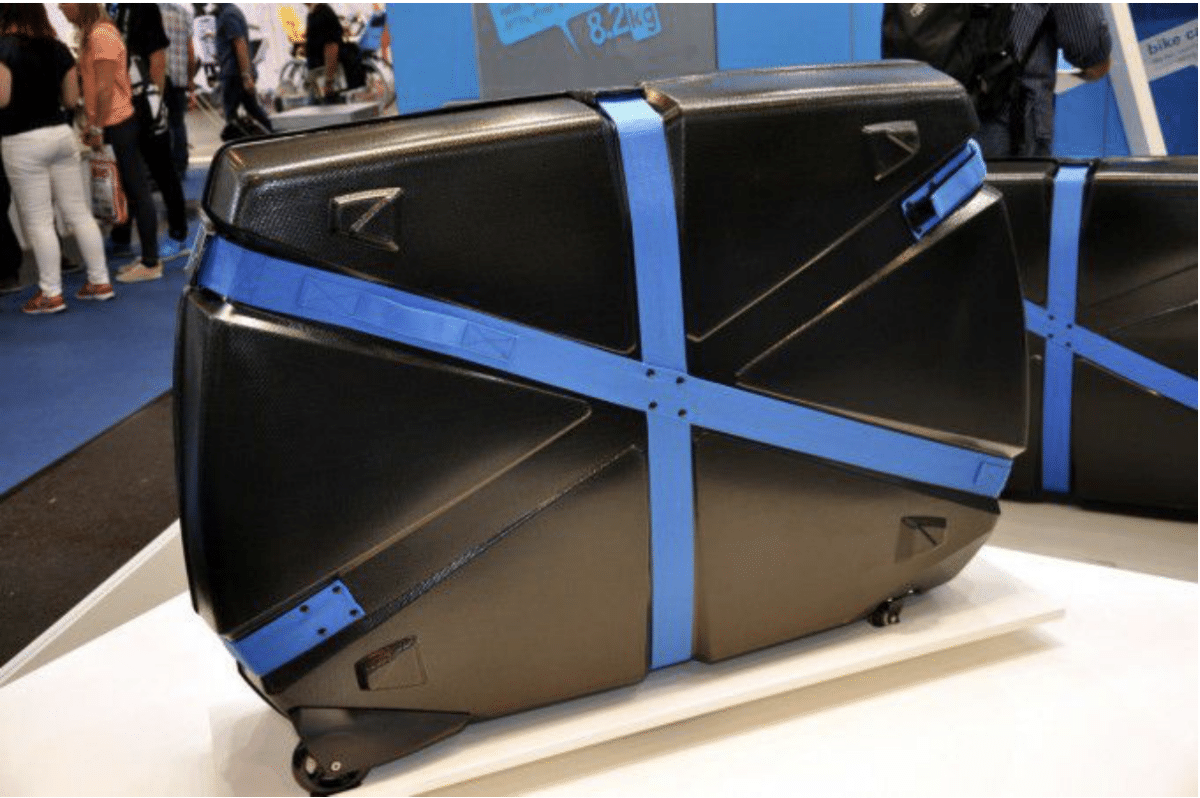 Price: £695
Pros
Extremely durable
Fairly lightweight for its size
The Bike Guard Curv is a premium bike case that is able to provide your bike with great protection, however with this protection and status of the case it also comes at a high price of £695. When you receive this case you'll notice that it has been designed to come in two halves, except there aren't any hinges holding them together. Instead they use the different edges of the case to slot together perfectly, by alternately slotting inside and outside the other, going all around the case. With this design it can definitely be a little confusing during the first time you have to put the case together but after you've managed to successfully do it a few times and get the hang of it it shouldn't take too long.
This bike box is designed in a way to make sure that your bike arrives at its destination completely unscathed, thanks to the straps and dense foam blocks that hold everything securely in place on the inside of the box as well as the straps on the outside of the box that secure the exterior of the box.
This box weighs in at only a little bit over 8 kilos, which is relatively light for a hard case, but it is definitely out of some peoples price range. So, this bike box would be for someone who is prepared to invest this much in a bike box that they could see themselves using for the rest of their lives.
Best Bike Bag Overall
Evoc Bike Travel Bag Pro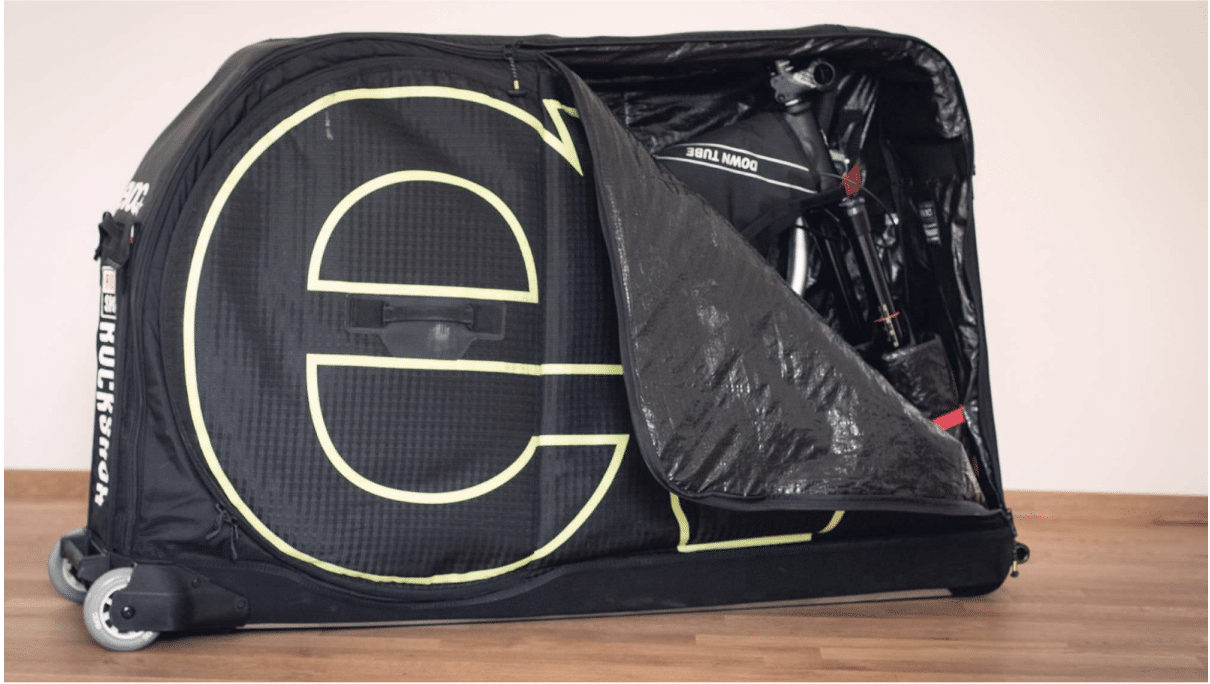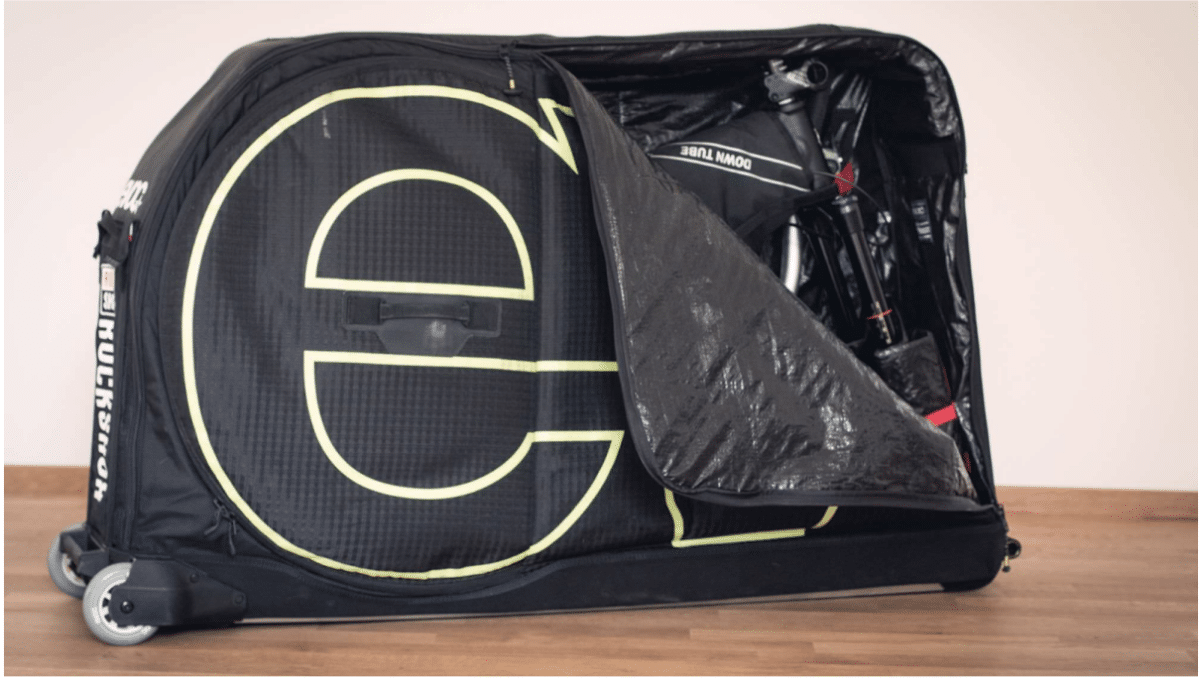 Price: £480
Pros
Lightweight
Heavy Duty Zippers
Cons
Less protection than a hard case
The Evoc Bike Travel Bag Pro is a great option for those out there who are looking for a great, lightweight softcase that comes with some excellent features.
Overall, this bike bag is lightweight, packs down your bike pretty well and still protects it well whether you're travelling by plane, train or car. When you are ready to make use of this bag you'll be happy to know that it is very easy to assemble with its four PVC tubes, which reinforce the wheel pockets, and four fibreglass sticks, which will basically strengthen each end of the case and add some protection. Then as you move on to the inside of the case you'll be greeted with a number of velcro and clip fittings, which are there to wrap around your bike and secure it inside the case so it doesn't do any moving around whilst you're travelling.
One feature that this bike bag has that makes it stand out from the rest is that it has a removable front castor wheel. This castor wheel clips onto the aluminium handle so that the bag is able to sit level to the ground and allow you to steer it in any direction with ease, from one of the three handles. If you don't have the ability to push this bag with just one hand then you could also secure a lanyard to your belt, which can make your airport experience a whole lot more convenient.
Although the price may be similar to that of a hardshell, that's the only thing in common as it is lighter than most and sits at less than 8 kilos, which means that you'll have more luggage allowance for other things. This bag is also able to fold down when you aren't using it so you can easily store it away.
Most Affordable Bike Bag
Merlin Cycles Elite Travel Bike Bag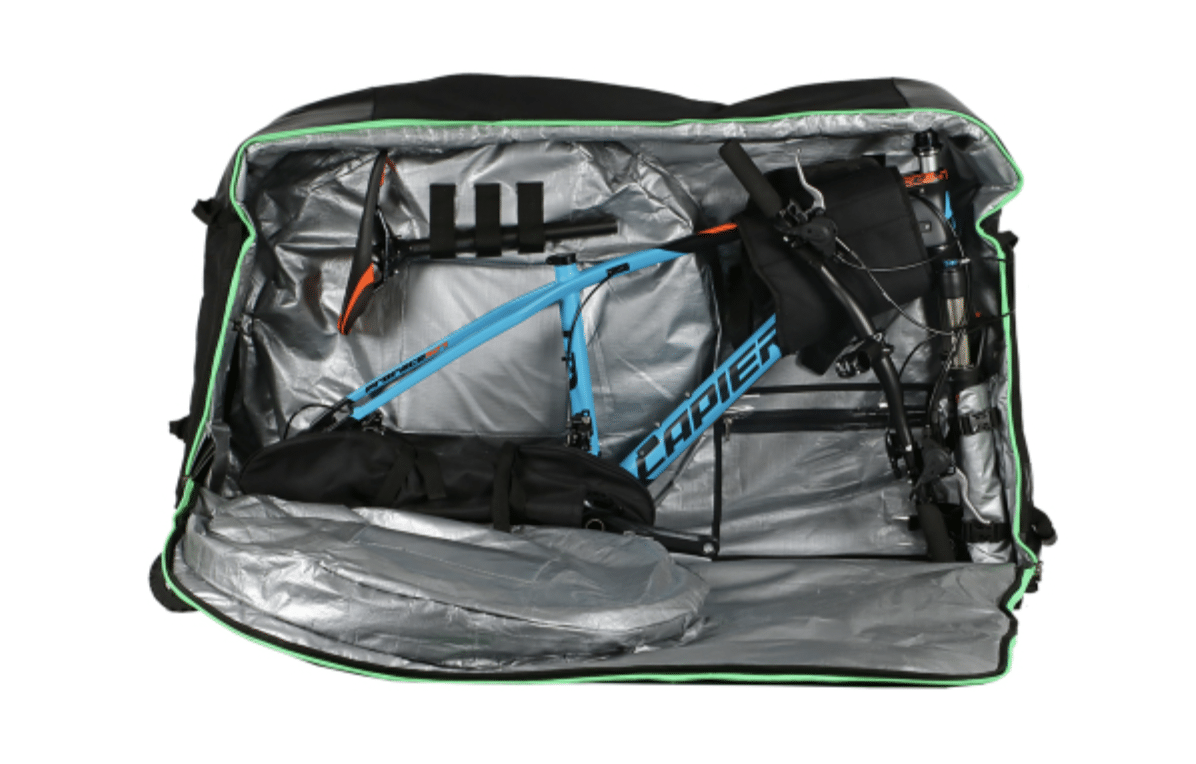 Price: £280
Cons
Can be unstable on its rear wheels
The Merlin Cycles Elite Travel Bag is a great softshell bike bag that allows secure, easy packing of your bike, while still still being left with quite a bit of extra room for other items that you'd usually need when you are travelling with your bike. The bike bag also comes with a few straps and handles so that the travelling experience, with this bag, is made as easy as possible.
For the relatively low price that this bike bag comes at, it really does an excellent job at transporting your bike from place to place. Not only is it easy to pack but it is also easy to load into places, whether it be the back of your car or onto a baggage carousel at the airport. Another great thing about this bike bag is that it folds down into a small size when you have unloaded it and it'll take up about a quarter of the space it had when it was fully loaded, which means that it is extremely easy to store anywhere in your home.
Final Words
So, there you have some of the best bike bags and boxes that you can get in the year 2023. Remember to figure out your budget and exactly the needs that you have when travelling with your bike before you make the purchase of one because these bags are quite a big investment that can last you a lifetime if you pick the correct one for you.