If you, like me, are a nerdy cassette lover and on top of that love high end audio, then chances are that you own or have owned at least one Nakamichi cassette deck. I will not dwell on my obsession with cassette tapes in this article, let's just say that I have a healthy love for that tacky little format. This article is an ode to, in my humble opinion, the brand that became synonymous with high-end cassette decks in the 70s and 80s, namely Nakamichi.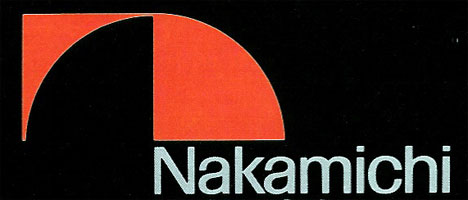 Nakamichi Corp Ltd was founded by Etsuro Nakamichi and started production of electronic devices in 1948. They have manufactured portable radios and cassette players, tonearms, speakers, high end Dat recorders and car stereos among other things.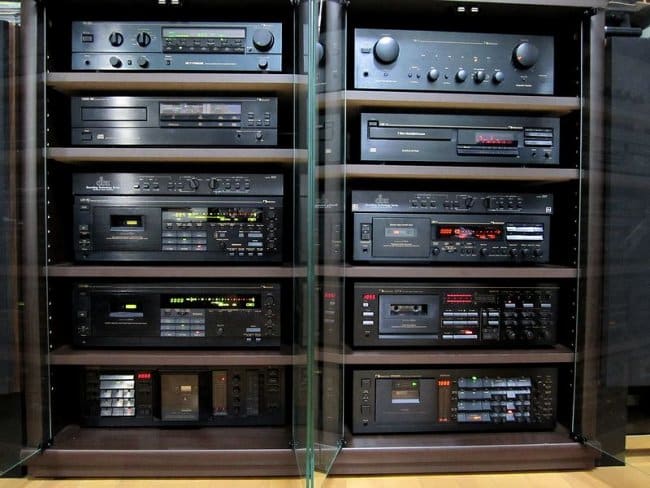 Nakamichi was an innovative company. In the early 70s when consumers turned away from reel-to-reel tape recorders to the easier to handle cassette decks, Nakamichi capitalized on that market. They started to produce high-end three head cassette decks (although they did produce 2-head decks as well). Some of the 3-head cassette decks they made are the best decks ever made.
7 great Nakamichi cassette decks
Nakamichi 700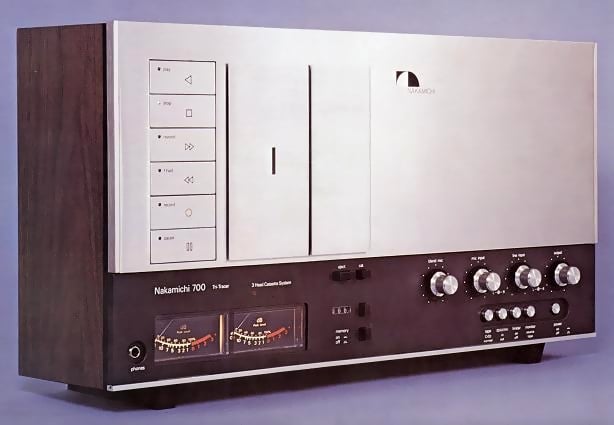 1973-1977, Original list price $850
The Nakamichi 700 was released in 1973 as a response to the market wish for a player at a more reasonable price than the Nakamichi 1000 also released in -73 at the price $1,300. However, Nakamichi was not ready to compromise in performance, instead they simplified the design and developed new construction techniques that allowed for lower construction costs. And they did indeed succeed since the 700 performance is equal to the performance of the 1000 deck but at a much much-reduced price.
Some main features of the Nakamichi 700 are:
Three separate heads: erase, record and playback
Mechanical 3 digit tape counter and memory stop
Normal and chrome tape position
Belt driven dual capstan transport
Analog needle VU reading meters
Playback speed adjusted with pitch control
Record azimuth correction
Dolby-B system
3 microphone inputs
Nakamichi 600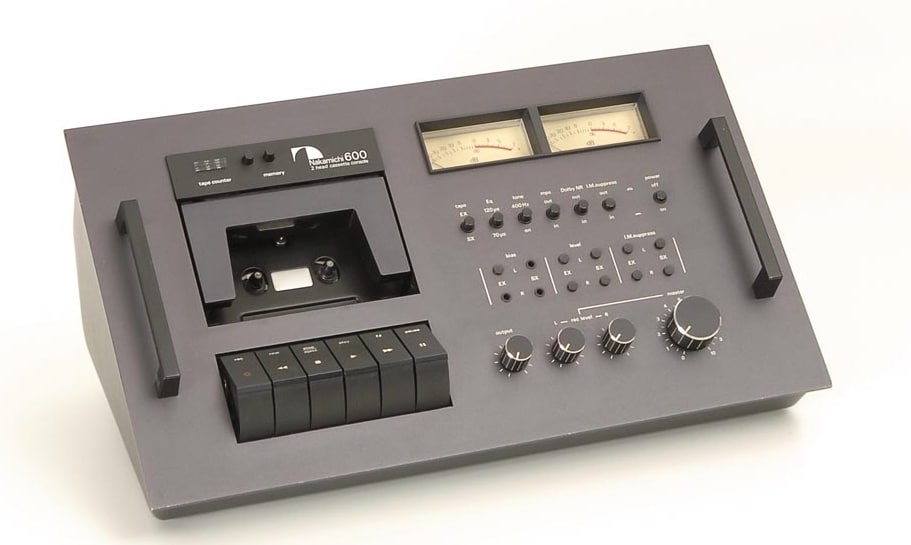 1975-1978, Original list price $600
The Nakamichi 600 is truly a design statement. Yet again Nakamichi showcases their will to think outside the box. With it's sloped front available in black or silver finish and handle bars this is in my view one of the most esthetically pleasing cassette decks made. This is a very good 2-head cassette deck.
Some main features for the Nakamichi 600 are:
2-head
Mechanical 3 digit tape counter and memory stop
Normal and chrome tape position
Analog needle VU reading meters
Dolby-B system
Manual bias and level calibration
RCA input/output
Nakamichi 1000 ZXL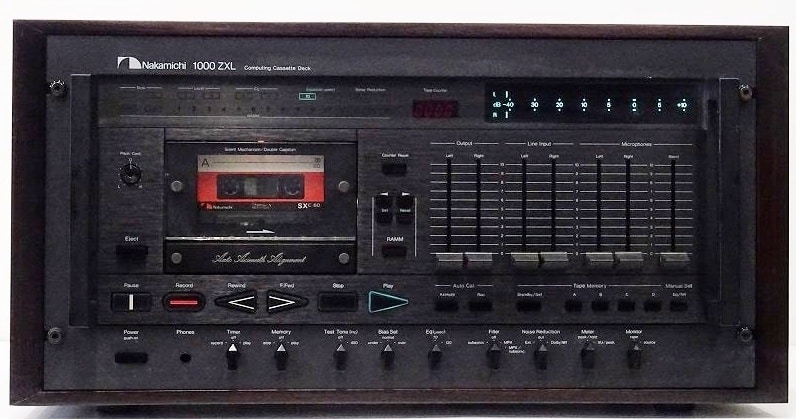 1979-1984, Original list price $3,800
This cassette deck is a real monster! It was in production 1979-1984 and the price then was $3,800. There is about a gazillion features on this deck.
Some main features of the Nakamichi 1000 ZXL:
Discrete 3-head technology
A.B.L.E. (Azimuth, Bias, Level, Equalizer)
RAMM (Random Access Music Memory)
Double Capstan
Real time tape monitoring
2 speed cueing
Normal, Chrome, Ferro-Chrome, and Metal tape capability
3 microphone inputs
RCA input/output connectors
Separate record and playback heads
Nakamichi 1000ZXL Limited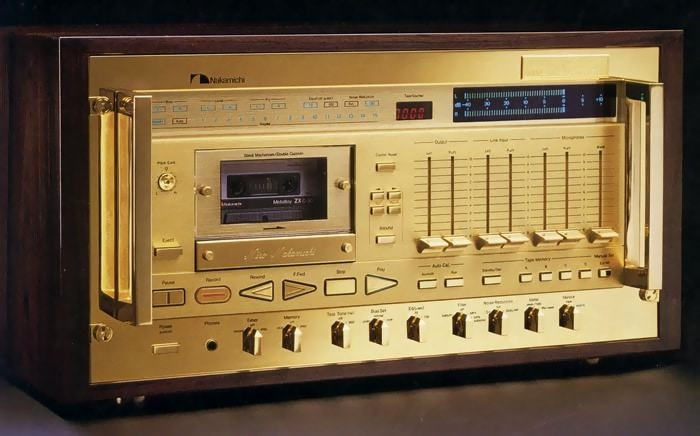 1981-1982, Original list price $6,000
This production to order deck was produced 1981-1982 and the price tag was $6,000. It is an upgraded version of the Nakamichi 1000 ZXL. The most obvious upgrade is the gold-plated front, chassis, flywheels, heads shielding and terminals. The cabinet is Rosewood. Overall the machine is built with much better (and more expensive) materials. It is a beast weighing 19,5kg. The main features are the same as for the regular Nakamichi 1000 ZXL above.
Nakamichi Dragon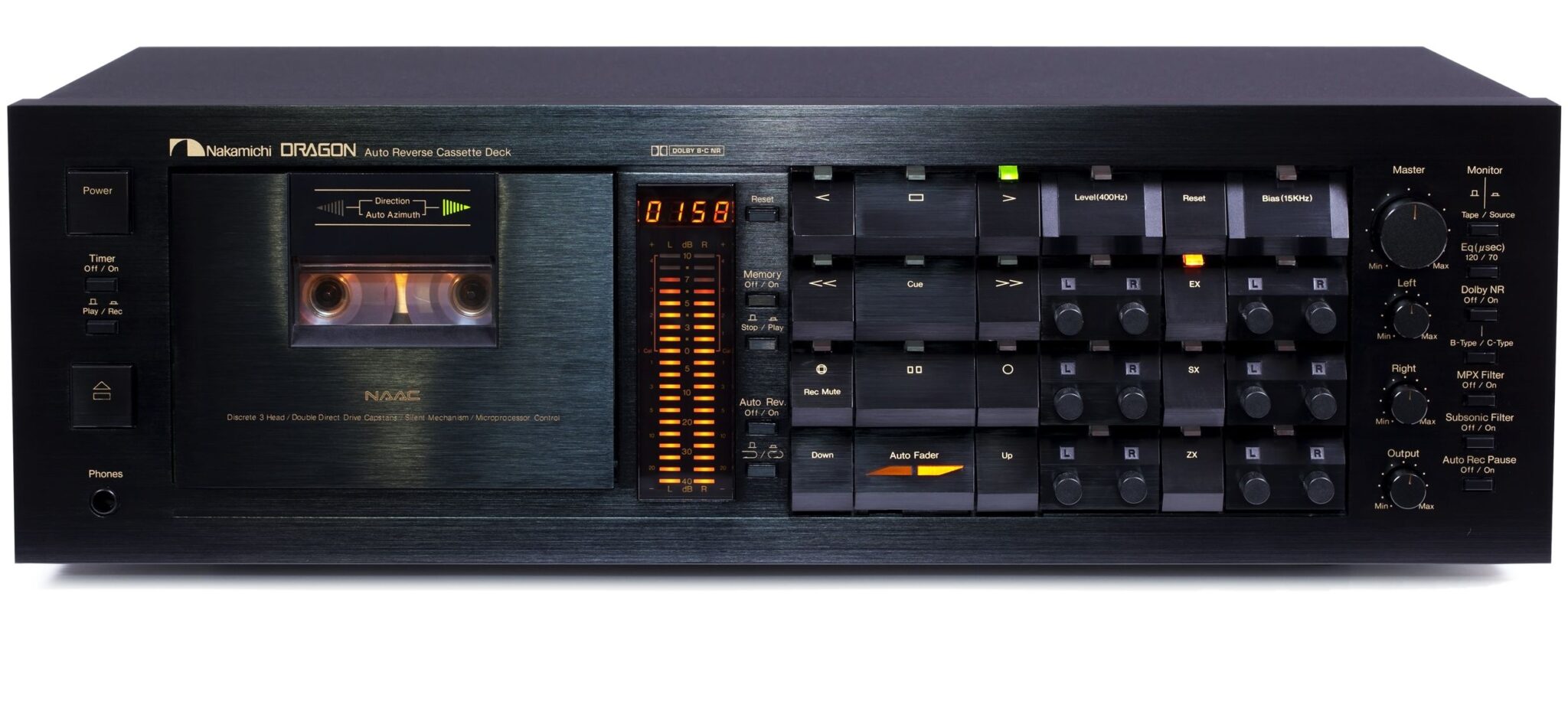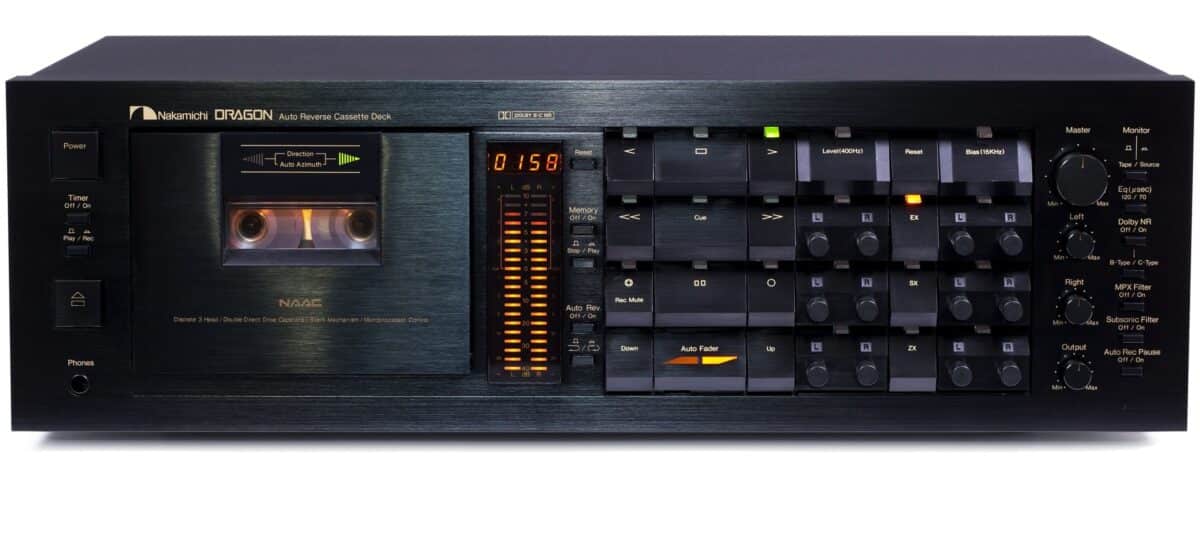 1982-1993, Original list price $2,499
The Dragon released in 1982 really is one of a kind. Of many thought of as the best cassette deck ever made. Except for the fact that it probably was the very best cassette deck available at the time, what really stands out is the fantastic design with all the buttons on the front that leads the thought to dragon scales. The Dragon sold well even with a price tag of $2,499.
Some main features of the Nakamichi Dragon:
3-head
4 digits digital tape counter memory stop
Normal, chrome and metal tape capability
Manual equalization selection
Double direct drive dual capstan transport
Digital LED Peak reading meters
Automatic playback azimuth correction
Double Dolby B and C type
Gold plated Input/Output jacks
What is less known is that Nakamichi actually released a second dragon, the Dragon-CT. However, this second Dragon is a turntable but that is another story.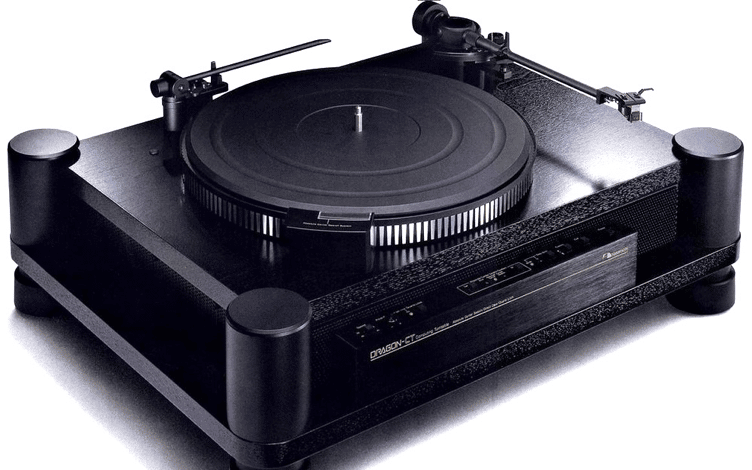 Even rarer, they made a Dragon cd player that was produced in less than 200 units!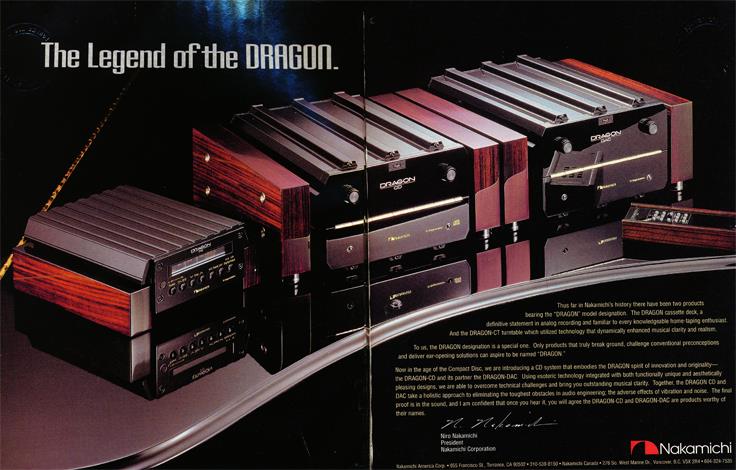 If you are willing to pay what it costs it is not that hard to find a Nakamichi Dragon today. But a word of warning, Nakamichi often over complicated engineering and the Dragon is no exception so try to buy one that has been professionally serviced as there are so many ways to ruin a Dragon if you do not know what you are doing. And I can tell you it is worth it, it is a pure joy to pop in a tape and play it on the Dragon!
Nakamichi RX 505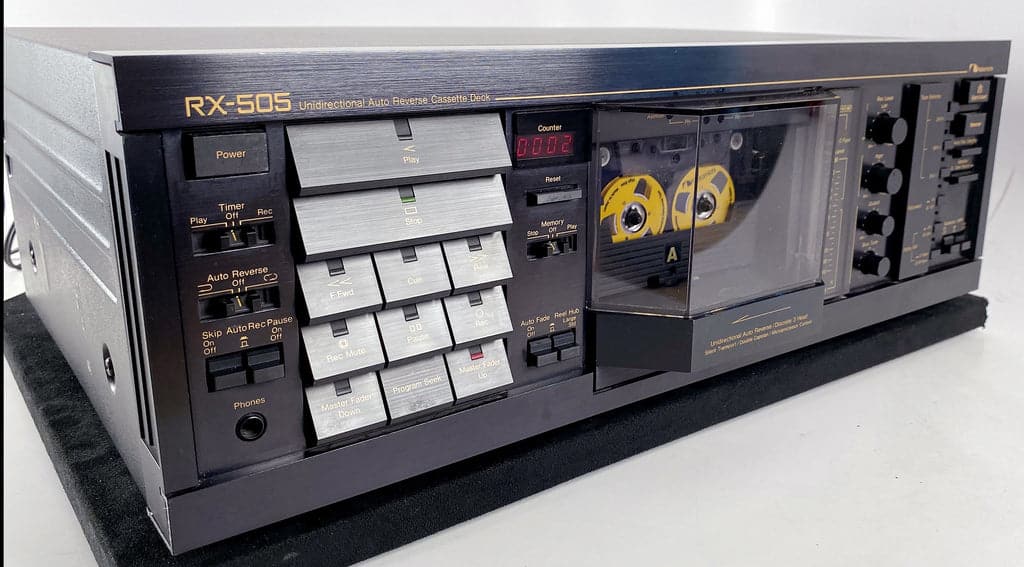 1984-1993, Original list price $1,549
The Nakamichi RX 505, another fantastic deck where Nakamichi once again showed their innovative engineering approach to problem solving. Released in 1984 at a price of $1549, this machine showcases UDAR for UniDirectional Auto Reverse. When other brands came up with different solutions for auto-reverse, Nakamichi took it one step longer and built a tape deck that could manually flip the tape around itself!
Very often when you buy this deck on ebay and other platforms, it is broken or not functioning 100% so as always, buy one professionally serviced or check so that you have a repairman that can handle Nakamichi decks before buying.
Some main features for the Nakamichi RX-505 are:
3-head
4-digit digital tape counter with memory stop
Normal, chrome and metal capability
Belt driven dual capstan transport
Dolby C-type
RCA input/output
Digital LED Peak Reading meters
Nakamichi ZX-9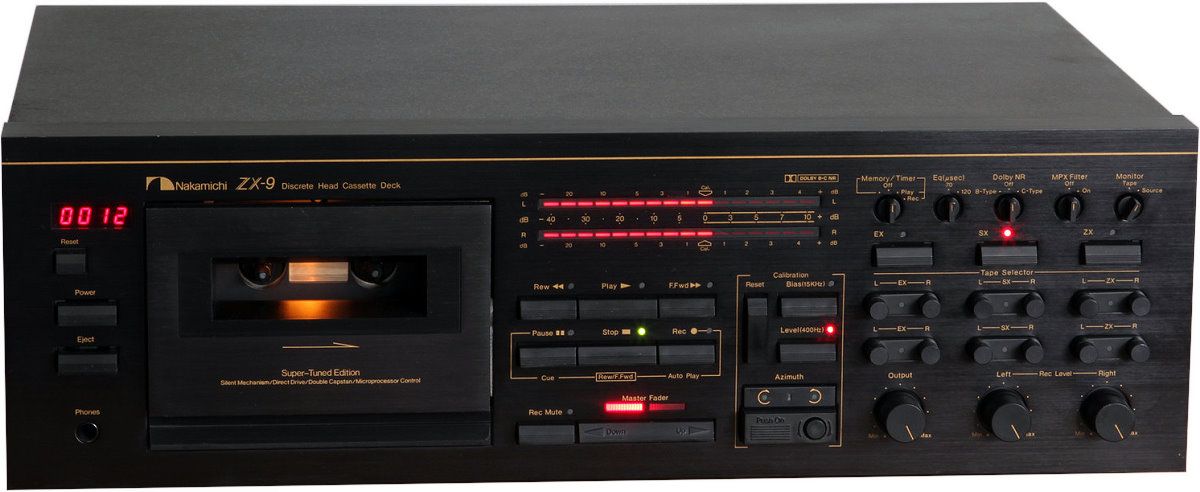 1982-1985, Original list price $1,550
Introduced in 1982 to a list price of $1,550 the Nakamichi ZX-9 was an improvement of the ZX-7 deck and yet another high end 3-head deck.
Some main features of the Nakamichi ZX-9 are:
3-head
Double Dolby B and C
4-digit electronic tape counter with memory stop
Dual capstan transport
Normal, chrome and metal tape capability
Digital LED Peak reading meters
Record azimuth correction
Was that all?
No, there are more really good Nakamichi decks such as the ZX-7, 481Z and CR-7 but I leave that for you to find out.
The Nakamichi corporation were innovators and many of their decks feature quite complicated engineering. This fact combined with the use of plastic parts in the eighties unfortunately makes for a bad marriage. Many of the machines have issues today and there are few people left who can professionally service them today. So if you can find any of the models above that has been serviced and are fully operational for a reasonable price. Buy it.
All of the mentioned cassette decks are good choices, which one you should buy depends on your budget and personal preferences.
Related articles:
The cassette tape comeback: Where can I buy cassette tapes and why should I?