If you are someone that has purchased the new AirPods Max headphones then you are definitely familiar with the fact that the case that comes with this Apple product is absolutely useless in protecting your headphones against anything except for minor scratches and knicks. So, here are a few third-party cases that you should consider buying instead, in order to keep your investment protected.
Top 11 AirPods Max cases
The best cases are the ones that have the perfect balance between protection, price and portability or for you, personally, you could also be looking for a case that is much better in just one of these areas. So think a little on how and what you'll be using this case for mostly and what you'll need it to do and then decide which case you will need.
co2CREA Hard Case for AirPods Max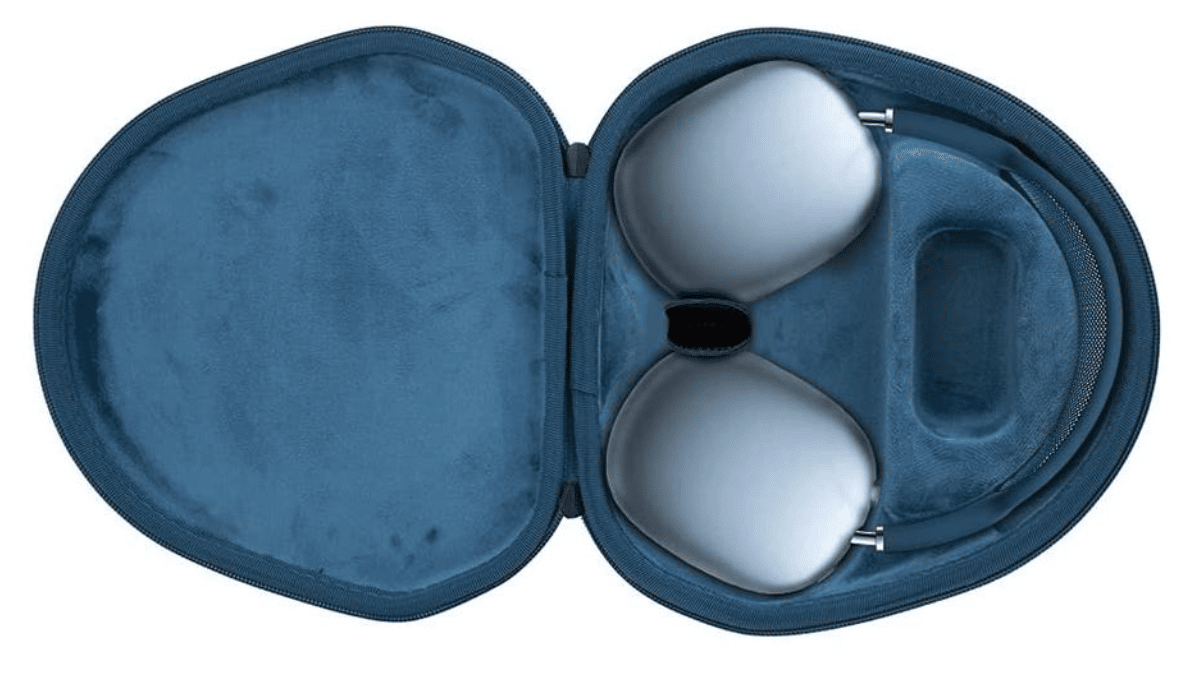 This is the best overall case on this list and is definitely an amazing example of what people would've wanted the case, that Apple included with their AirPods Max, to be like. The case is a nice compact size that you can easily fit into your bag and still give you the protection that you want for your headphones. Even though the case may be small it still has the features that the original case has such as the magnets that are needed in order to put the headphones into low power mode. It also has a little compartment for extra storage where you can store a cord.
This case definitely isn't the most premium out of all the cases on this list when it comes to the materials that were used, such as the zipper which snags sometimes and the nylon exterior is quite basic. The strap, which you use to carry the case, is also quite weak. The inside of this case is where this product shines though, with its soft velvet fabric which definitely feels a lot nicer than you would've thought for that price. This case somehow manages to mix low price and ample protection extremely well and that is why it is at the top of this list.
Pros:
Soft velvet interior
Small and compact design
Cons:
Zipper snags now and again
Weak carrying strap
Yinki Smart Case for AirPods Max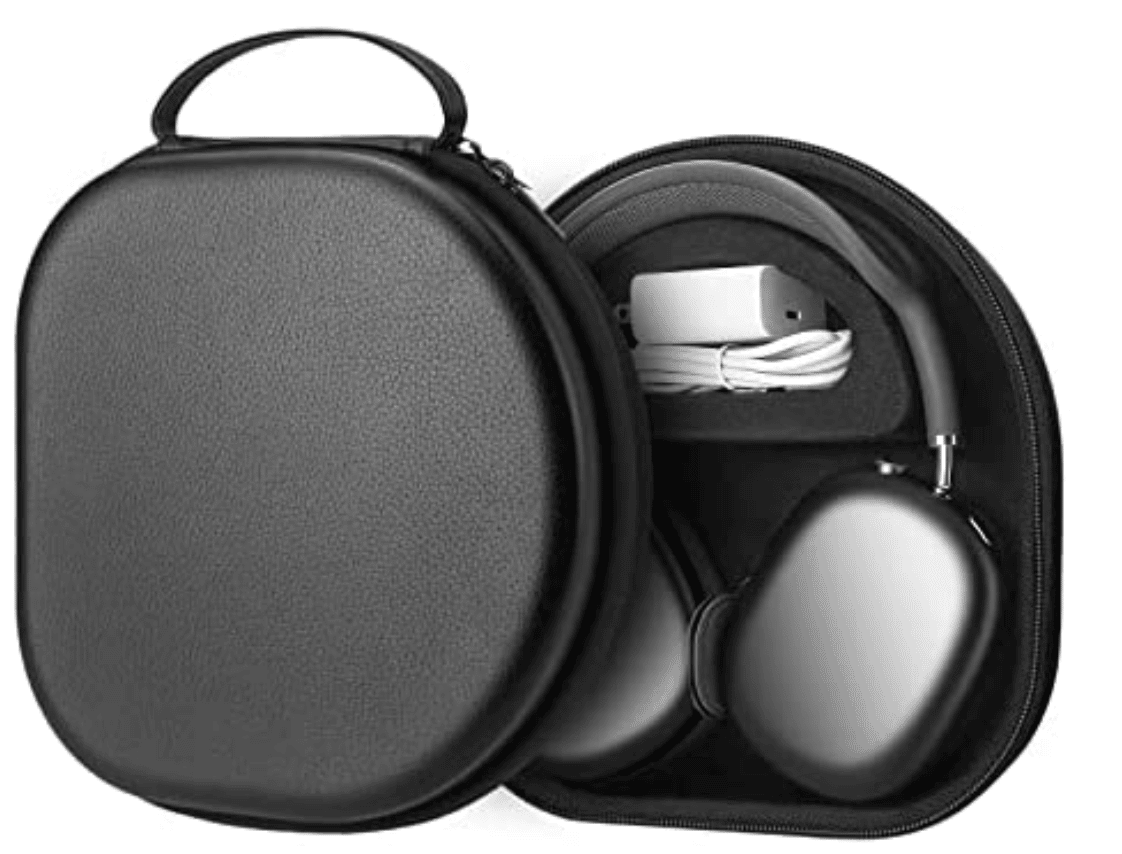 This is a case that really only does the basics but does them well. The Smart Case for AirPods Max doesn't have a storage compartment like the co2CREA Hard Case and also has an extremely plain exterior. When we look into the inside of the case we see why this case is included on this list and it is because it features a full panel of memory foam to give you a lot more protection that what you would think you'd get for $25. The inside of this case is manufactured in a way so that it has a minimalistic AirPods Max mould in order to keep your headphones perfectly in place at all times. This mould is also covered in a soft, velvet-like fabric in order to keep it protected from scratches and knocks and just to make it even more comfortable. And just like the Apple AirPods Max case, this case also has the low power mode magnets to ensure that you get the same battery saving features as you would with the original case.
This is one of those cases that are a little larger than we would have hoped for and does tend to take up more space in your backpack than other options on this list. Other than the sizing problem that some complain about, it does everything else right. It has a nice set of zippers that work very smoothly and high quality rubber bolster on the carrying handle so when you are carrying it it feels like you're holding a premium product. This is definitely one of the most reliable on this list and is a very good value for the money you pay for it.
Pros:
Protective interior
Good zippers
Quality handle
Cons:
Spigen Klasden AirPods Max Case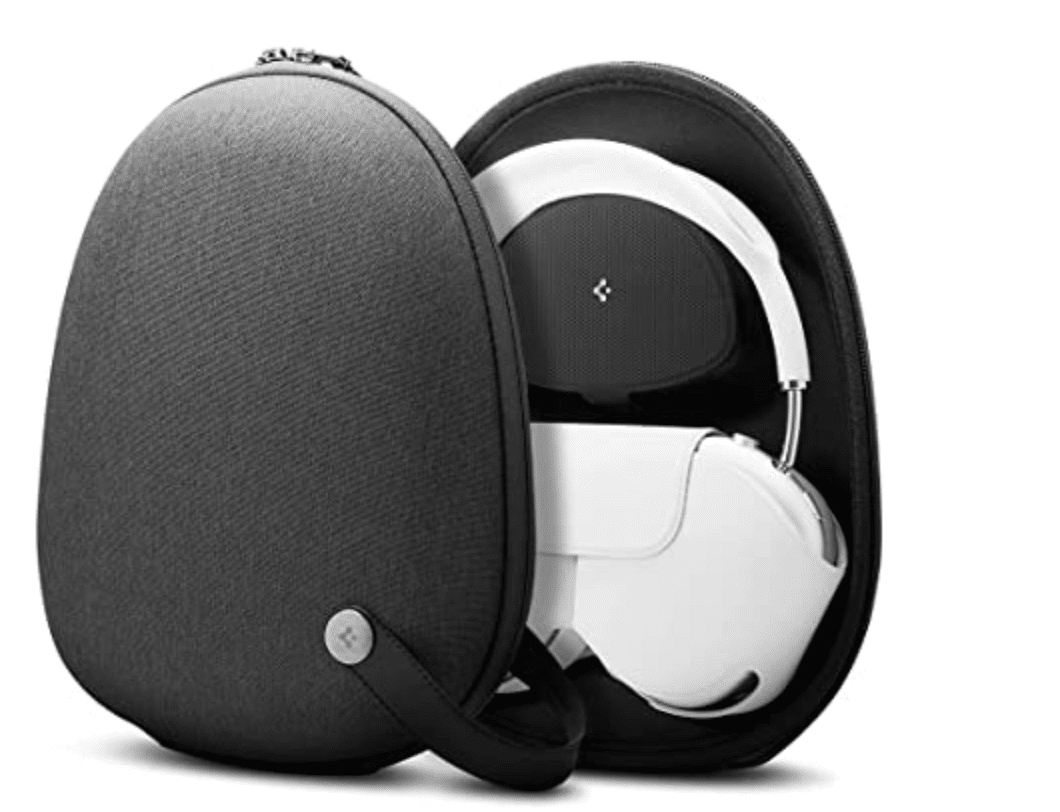 Out of all the cases on this list this is definitely one of the best options for those looking for a good looking case. The Spigen Klasden AirPods Max Case is gorgeous thanks to the stylish charcoal fabric and its tapered design which doesn't take up too much space at all and can very easily be slipped into many size bags and backpacks. It also has one of the coolest carrying handles seen on any sort of AirPods Max case and is made out of thick leather and is attached to both of the halves of the case. The sick exterior features don't just stop there either, it also has a double-zipper and a patterned rope on each of the zippers pull tag which is just an excellent touch.
For $30 this probably would've been the best smart case on here if it also had the madgents for low power mode but unfortunately it does not. On the bright side it does actually have space for AirPods Max with it tucked into the original Apple Smart Case so it can go into rest mode but still be protected. There aren't just cool features on the outside of this case, on the inside there is a magnetically sealed storage compartment where you can very easily store small items, including a charging cable. If you want a bit more space from the storage compartment then you will have to extend the headband of the AirPods Max but it will only take a second and shouldn't count as a deal breaker if you are thinking of buying this product.
Pros:
Very stylish
Attractive carrying strap
Cons:
No magnets to make headphones go into low power mode
Urban Armor Gear AirPods Max Case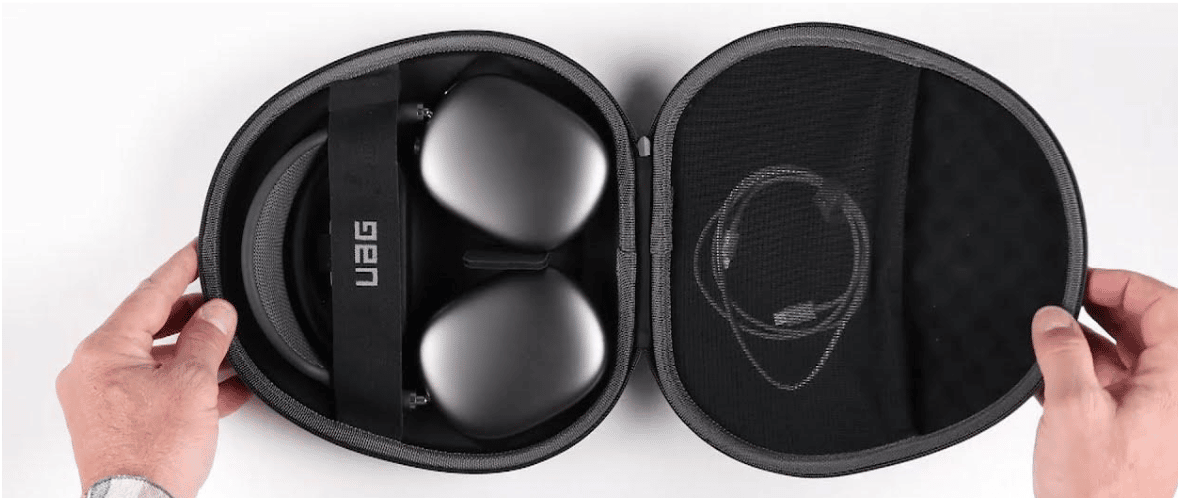 When you buy this case you are essentially buying more than just a case you will be getting a case with a carrying handle, a carabiner, a mesh storage pocket with memory foam, low power magnets as well as an elastic strap on the inside in order to keep the headphones in place and stop it from moving all over the place if you are moving a lot with them. The strap and the zipper that the headphone case comes with are extremely high quality but are still not as good as some other ones on this list.
Overall, this case does offer a lot more of a sense of protection than the other AirPods Max cases on this list. Urban Armor Gear have decided to add a really cool thing to their design though which is the rubber lining which covers the zipper so that no water is able to get into the case if you were to spill something on it. The case is definitely not the most affordable option for you though as it sits at $80 but if you are someone that is able to spend that much then these are a solid investment for security.
Pros:
Cool added features
Protective strap on zip
Cons:
Expensive
Carrying handle could be better
WIWU Ultra Slim AirPods Max Case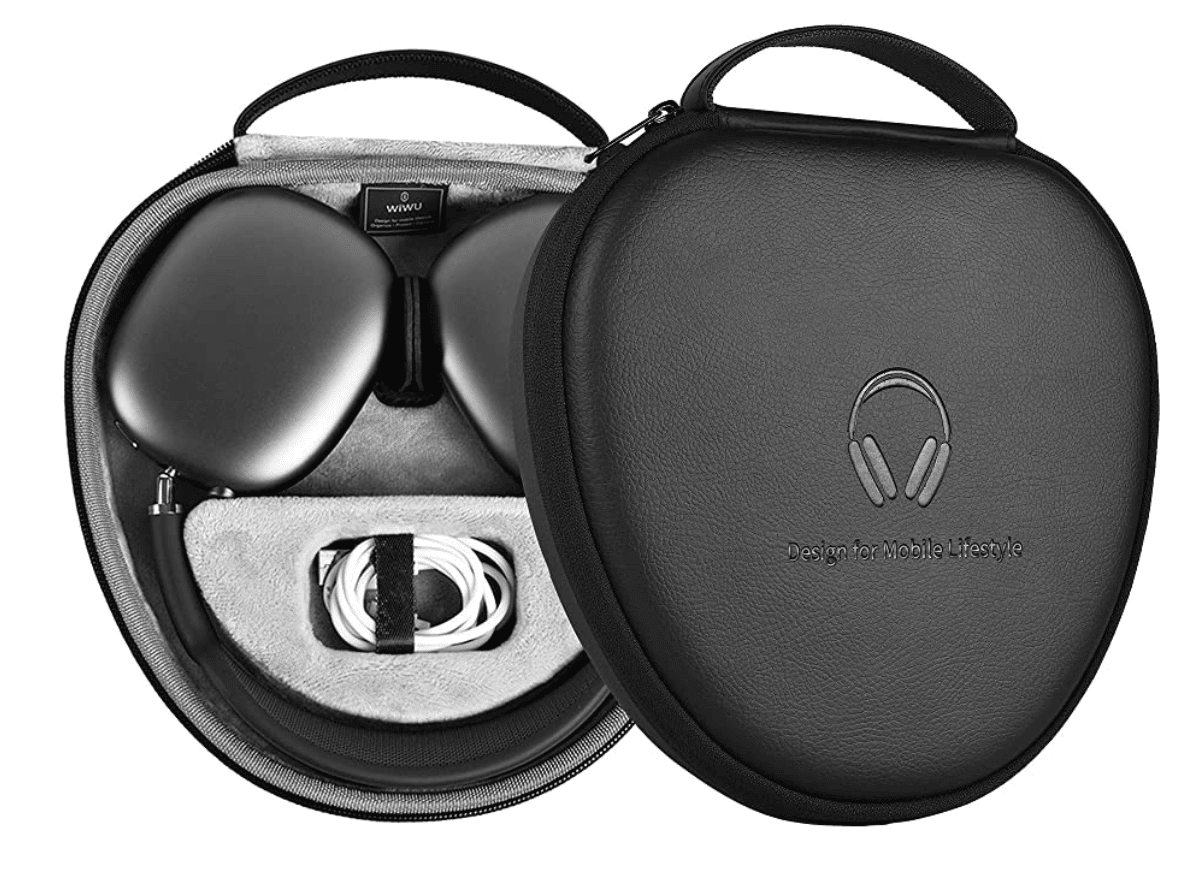 If you are like most people and want something that will be able to protect your headphones without adding too much size then the WIWU Ultra Slim AirPods Max Case is a great option worth considering. Since it is smaller and more compact than most other cases on the list it means that it has less cushioning to protect from the bigger knocks or drops. So as long as you don't go anything crazy when they're in this case it will protect against scratches, spills and general damages whilst being super travel-friendly.
Although it may not be a dealbreaker for most, the AirPods Max aren't able to be stored into this case with the headband being fully extended so if you have a large head you'll just need to remember to close the headband a bit before putting them into this case. Appearance wise, the headphone case is quite pleasing to the eye. It comes with a leather-like exterior texture and even gives you a few colour options to choose from.
Pros:
Small design
Nice exterior material
Cons:
Not as much protection as other cases
Can be stored with the headband fully extended.
Spigen AirPods Max Earcup Covers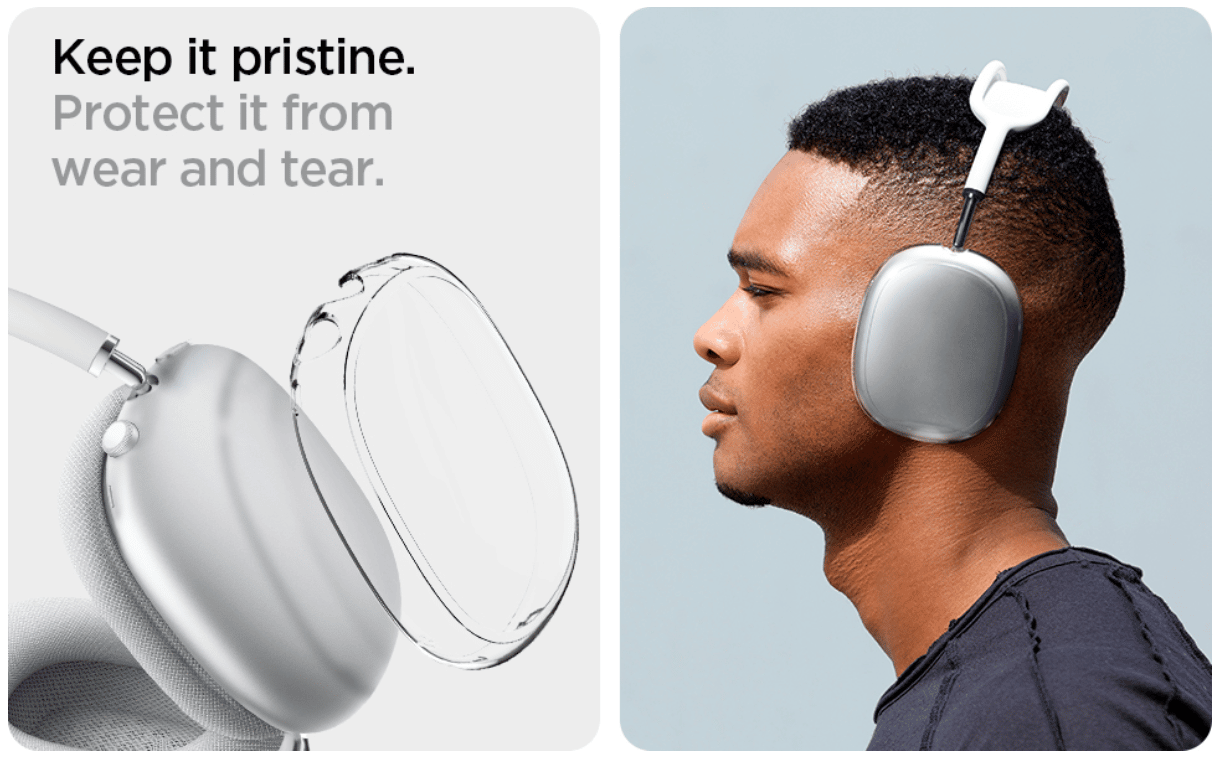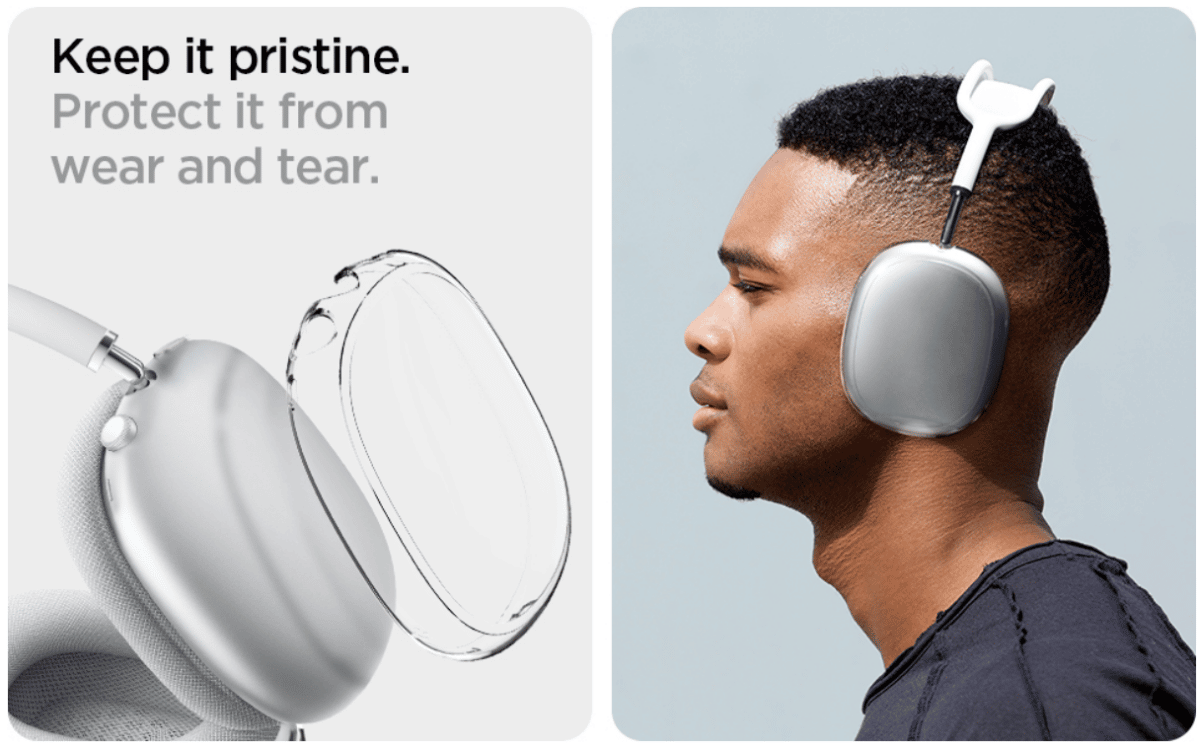 Out of all the AirPods Max cases and covers on this list these are the only ones that will be able to protect your beloved AirPods Max headphones without changing the appearance of them. Each of the covers that you get can easily fit onto the earcups of the AirPods Max but are still very firm and snap onto them so that they won't budge whilst you're doing anything with them on. These earcups cover most of the exterior of the earcups, the only things that these covers don't cover are the ports and speaker openings so that it doesn't hinder anything regarding the performance of the headphones.
Spigen is a trusted brand who have made many other cases before this one and they've proved themself a reliable option for keeping our products safe time and time again. Just like you experience with most clear covers these have been quite known to see some yellowing after some time in direct sunlight. These covers are very easy to recommend to others as they mix both good protection as well as an unobtrusive, lightweight design very well.
Pros:
Good protection
Lightweight
Don't conceal your AirPods Max
Cons:
Covers can start yellowing
Vibeside Premium Smart Case for AirPods Max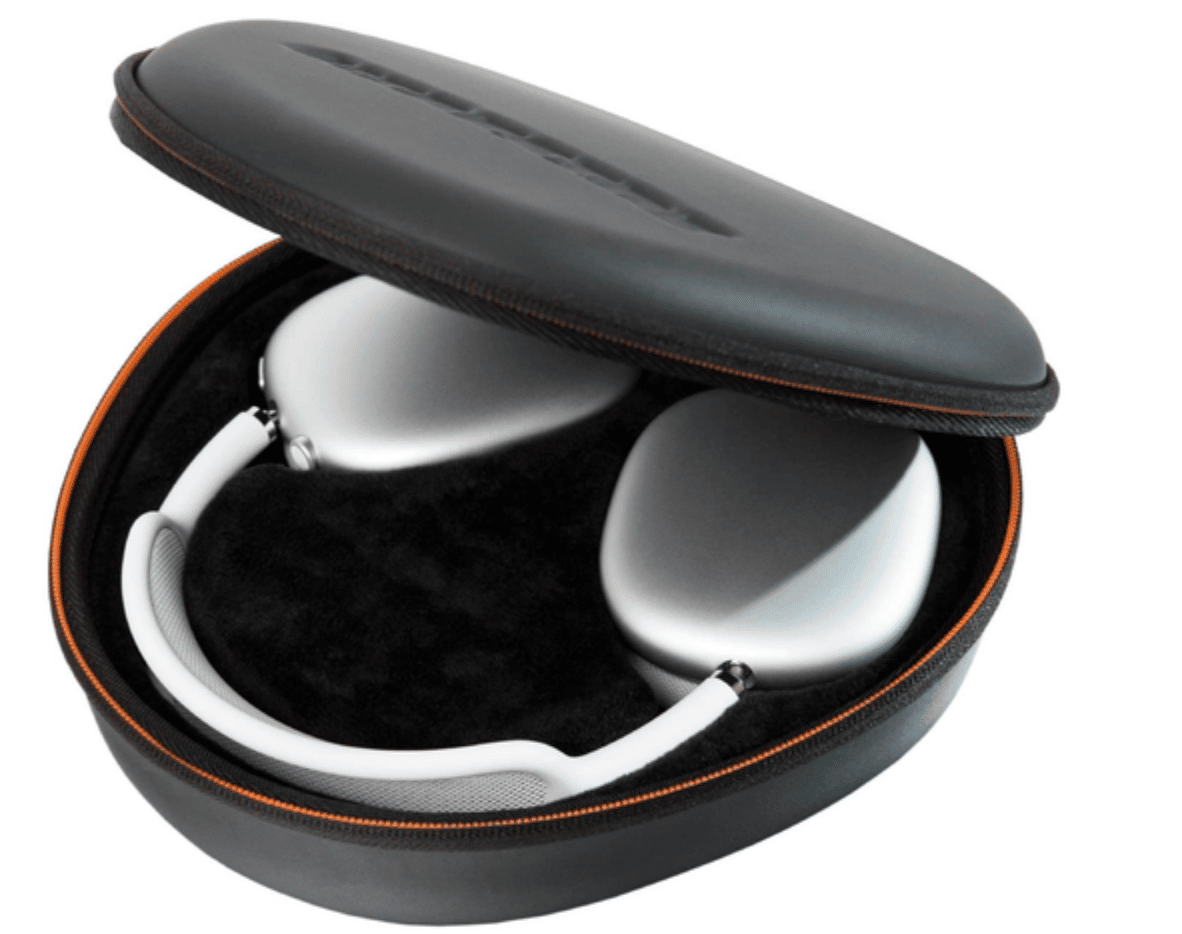 If you're an AirPods Max user that is looking for a premium case that will be able to not only protect their headphones but also have ample storage space on the inside the the Vibeside Premium Smart Case is definitely the one for you. Inside of the case it has a large mesh space, which you can close with a zipper, that is able to hold cables, a small notebook and even a whole smartphone which is definitely not that common. In Between this storage space and the space for the AirPods Max is a memory foam panel in order to protect the headphones from any sort of damage or minor scratches from what you might have in the storage compartment. The headphones are also very protected on all sides as it slots into a form-fitting mould so that they don't start to move around when the case experiences any type of movement.
On the exterior of this case we see a full-closure zipper as well as a carrying handle, which are both very well-made. This is a huge advantage because the zipper and carrying handle are the two parts of the case that should be the best quality because those are two things that get yanked on and used often. In regards to the design of the case it doesn't stick out too much except for the big Vibeside branding which many would prefer not to have but other than that it has quite a subtle design to it.
Pros:
Large storage on the inside
Memory foam panel
Cons:
WIWU Leather Headphone Case for AirPods Max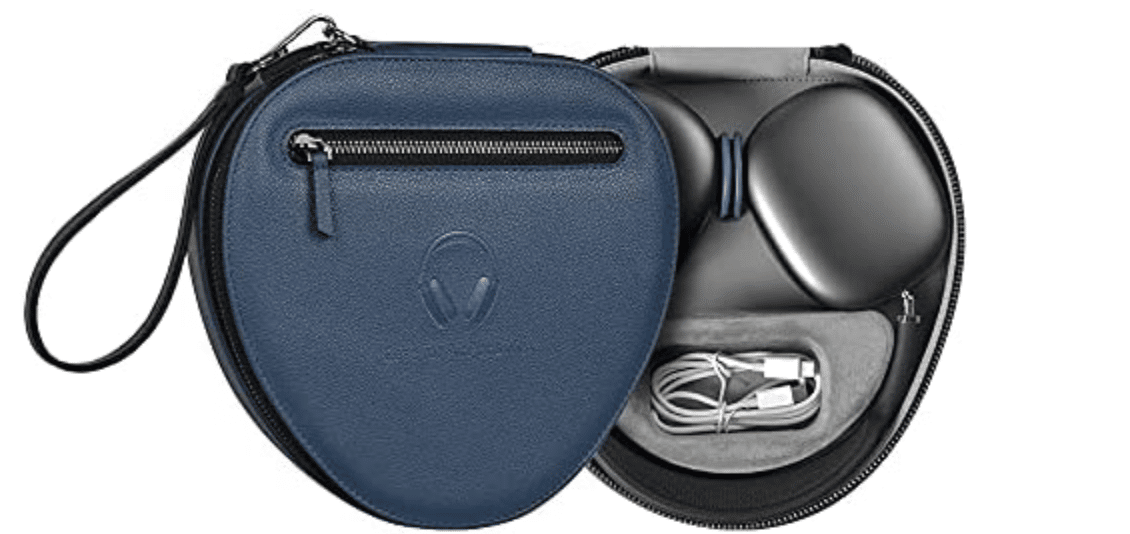 This is one of the few more affordable cases for the AirPods Max and costing only $35 it is definitely one that you should consider buying. With this WIWU Leather Headphone case you really get the best of both worlds, with a low price and a luxurious look to it. WIWU have decided to add a cool little touch to their design as they've matched the clip-on carrying handle and zipper pull tabs finish to the leather exterior of the case itself. For the price that this case is, it is understandable that this isn't the finest quality of leather but it is definitely still good, especially for the price that it is.
Inside of this case we see a thick cushion which covers the case's interior lid which does an excellent job at protecting your headphones from drops. This case even has the low power mode magnet on the inside so that your headphones will be able to stay charged throughout the day. There is a storage compartment on the inside of the case as well but it does tend to feel a bit flimsy and cheap as the headphones actually bent the compartment inwards a bit. If you are someone who thinks that this extra storage space is important then don't worry because there is an even larger zippered storage compartment which is on the outside of this case, where you will definitely have no problem at all fitting a charging cord as well as a wall adapter.
Pros:
Sleek and stylish leather exterior
Large outer storage compartment
Cons:
Flimsy inner storage compartment
ProsCase for AirPods Max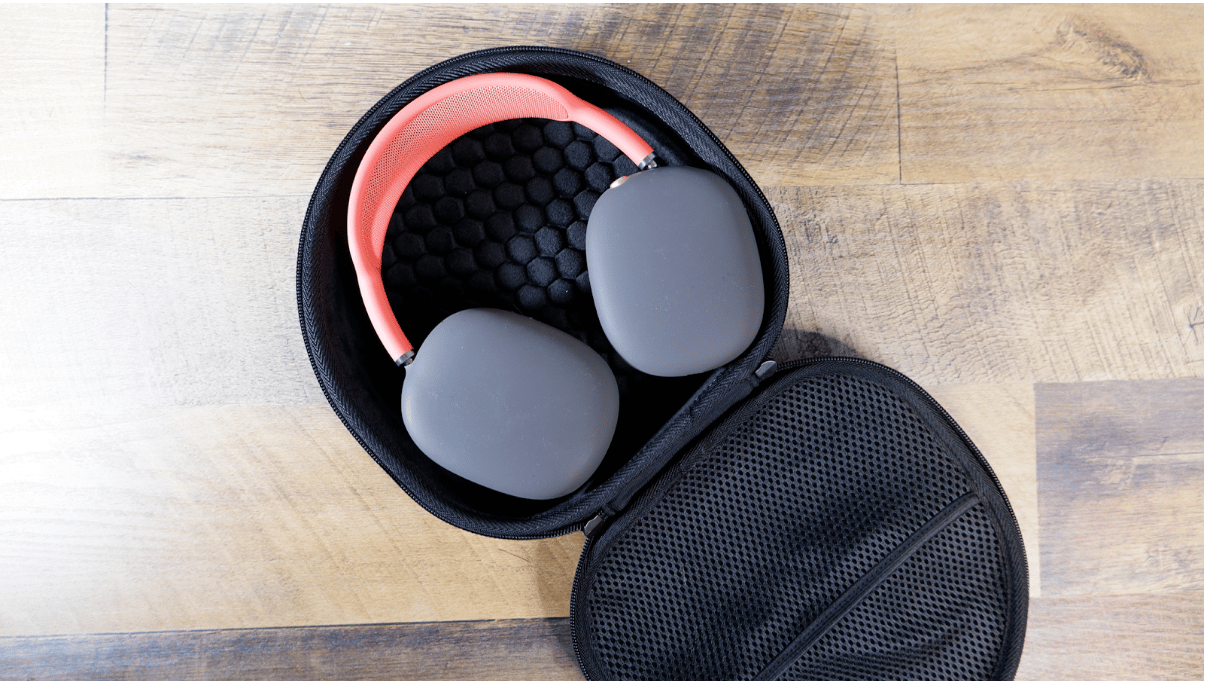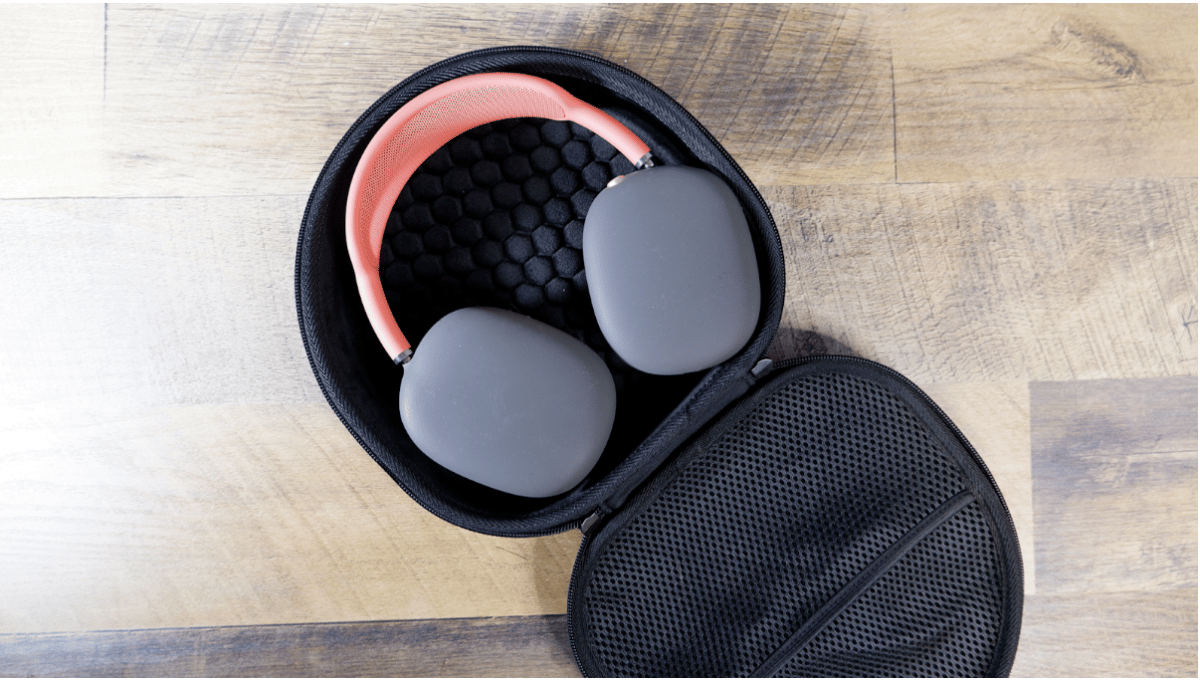 If you are looking for an epic two for one deal then it would probably be pretty hard to find one better than the ProCase for AirPods Max and what's more is that it will only set you back around $25, depending on which colour you're picking. When you purchase this case you automatically get a pair of silicone ear covers to give you an extra layer of protection. With the price that this product is sitting at it is understandable that it definitely isn't the most premium of cases however, it still does a great job at protecting against scratches. The ear cups that you get with this case is quite an important add on since this case doesn't have a designated mould for the AirPods Max so these will definitely help prevent any sort of damage from sliding around.
Once again you probably wouldn't be surprised that this case doesn't have all the regular features that you see in the more expensive cases such as the low power mode magnets to help save your battery life. The cool thing about this case is that you are still able to use the original AirPods Max case and put it into this case, which means that you will be able to get this low power mode anyways while still keeping the protection that comes with the case. The case is still pretty nice on the inside as half of it is lined with a nice memory foam it give some cushioning protection to the headphone while the other half is a large mesh compartment where you'll be able to store all sorts of things. Since there isn't a cut out specifically for the AirPods Max you could even store something else inside of it if you really wanted to.
Pros:
Case includes silicone ear cup covers
Large, mesh storage compartment
Cons:
No low power mode magnets
Samyerlen Smart Case for AirPods Max Headphones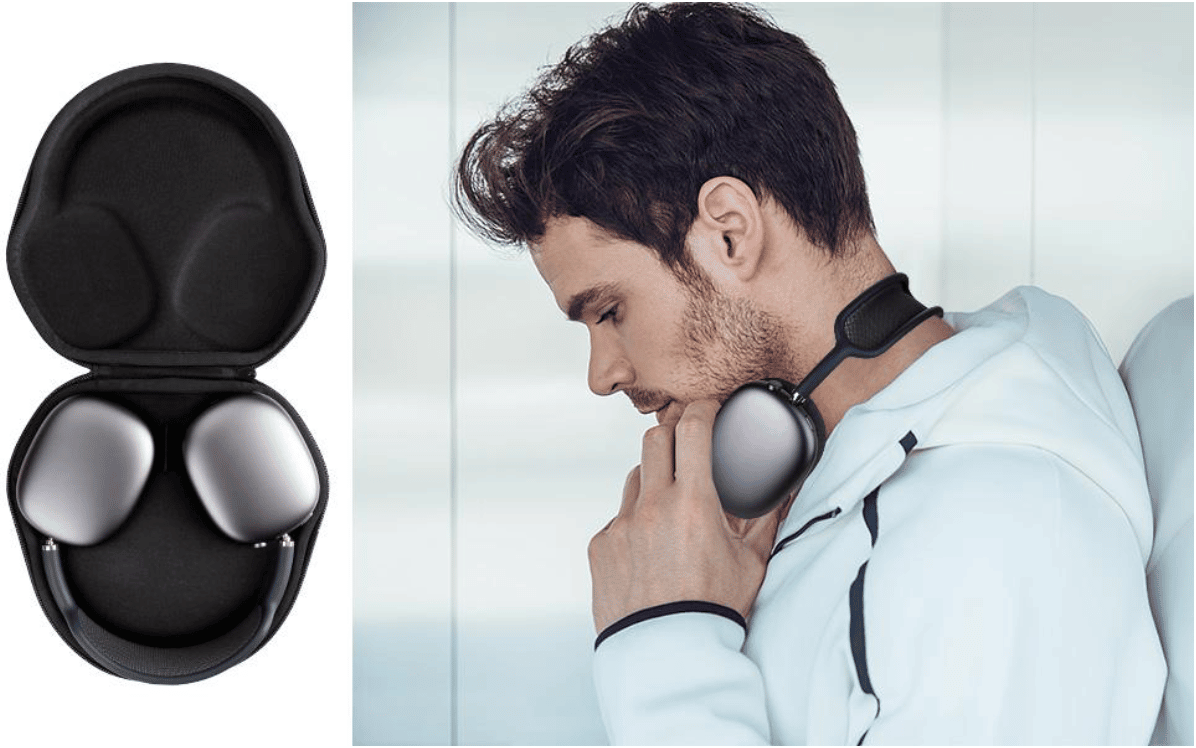 As soon as you get your hands on one of these cases, you will instantly realise that these cases are cases that were made to hold for a long time. The case does definitely look a little bit weird, since it has been moulded to the exact shape of the AirPods Max, however, by doing this they have managed to save as much weight as possible, making it quite a light option compared to most of the other options on this list. Although it doesn't have a nice cushioning lining added to the case it still has a hardshell exterior which definitely offers more than enough protection from drops and knocks. What's more is that this case is also splash proof so that in cases of a spill you can rest assured that water won't make its way into this case.
For the most part we can see that AirPods Max cases have a small mesh storage pouch for you to put little accessories like cables and whatnot inside of but in the more compact cases these aren't as common. Since this case is made as compact as possible, the headband for the AirPods Max has to be fully retracted in order to fit into this case, which can definitely become annoying if you wear the headband extended normally.
Pros:
Compact design
Lightweight
Waterproof
Cons:
Have to retract headband in order to fit
Raptic Smartform Case for AirPods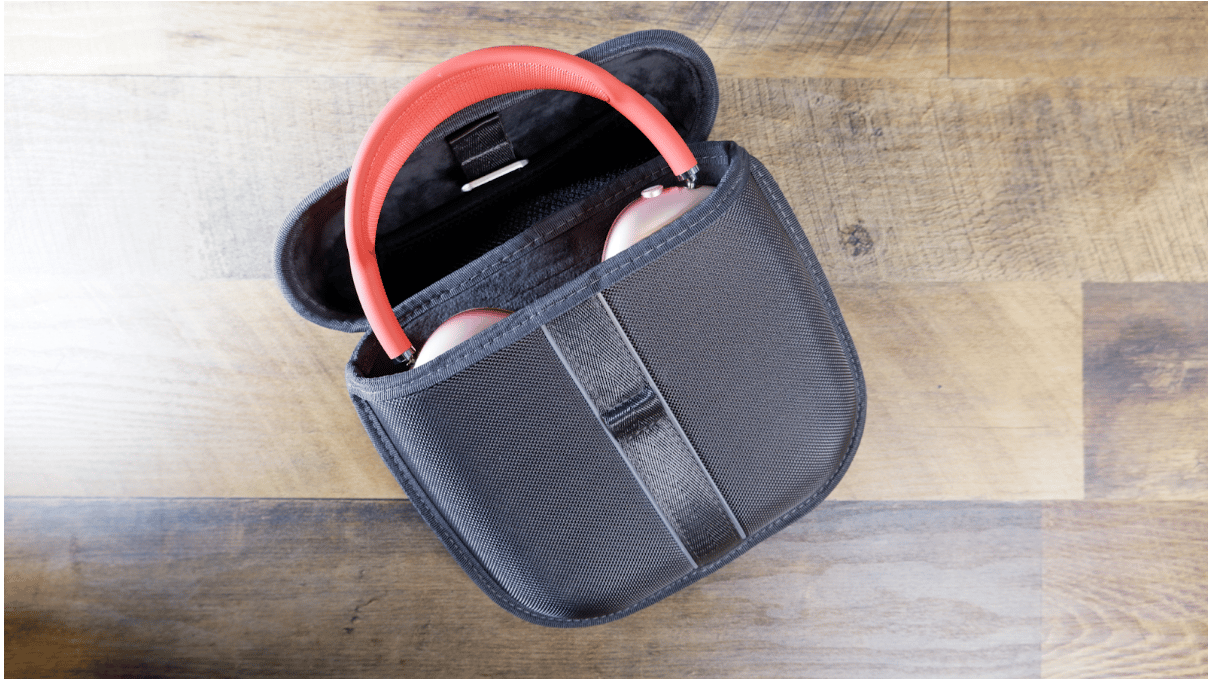 This is quite a special case on this list because, compared to most of the other cases stated above, it has more practical design elements to it. The first feature, which is actually pretty basic but still very handy, is that the case comes with a carabiner so that you are able to attach it onto a bag. Another big extra feature that this case has is its hidden mesh pocket where you are able to easily store small items such as a charging cable, then of course it also has the low power mode magnets so that you can sleep well knowing that your headphones aren't constantly on all the time.
This case uses a few different materials to make up the exterior and interior. On the outside we see them use ballistic nylon as well as rubber and then on the inside we have a soft fabric in order to keep the headphones as safe as possible. Not only is the feel of the case great, the functionality is also really good as they use a high quality metal hook, which helps the case open and close fast and easily. This case is sadly not water tight because it doesn't have a zipper to stop any spills from getting in so if you are a bit more worried about spills and other things getting into your case then this case may not be the best one for you.
Pros:
Easily opened and closed
Comes equipped with a carabiner
Cons:
Can't fully enclose your headphones because of the lack of a zipper
Conclusion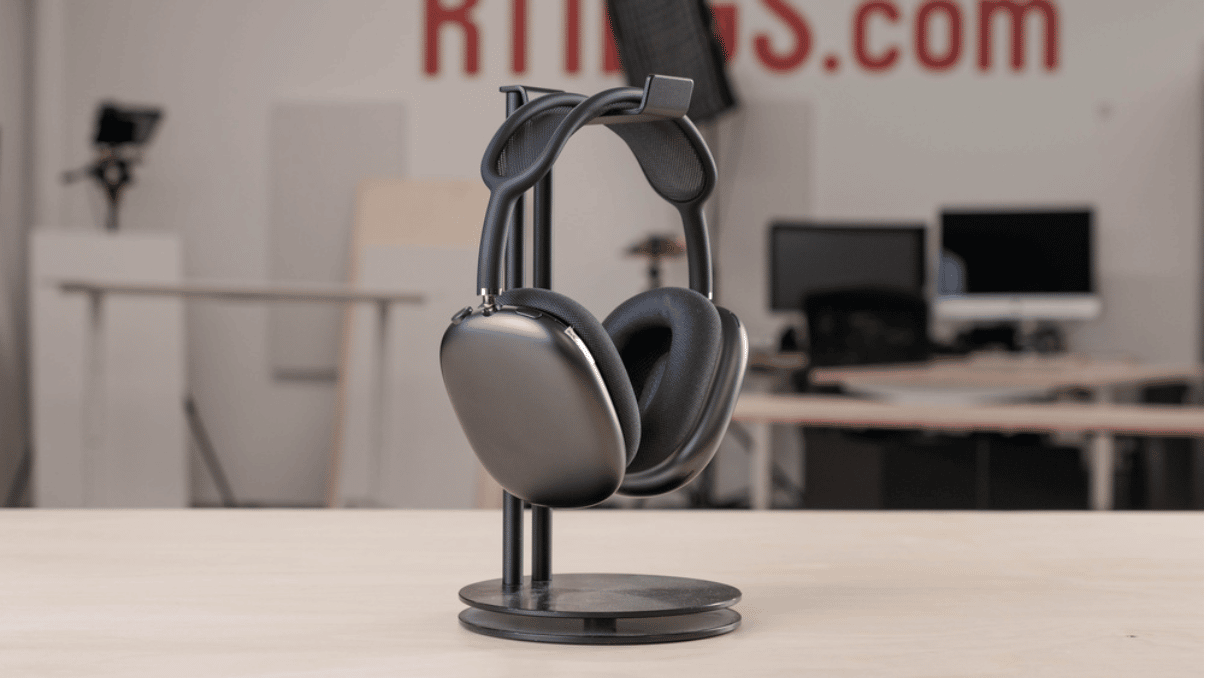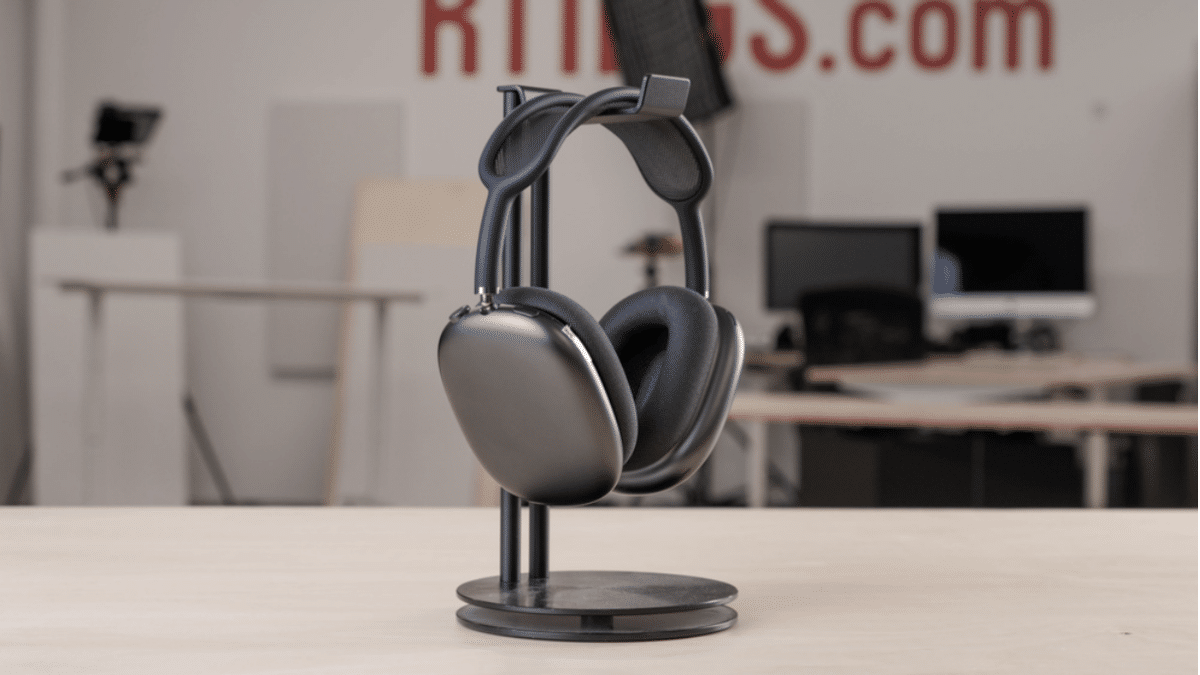 So there you have some of the best AirPods Max cases that you can buy. Each of them are pretty different though so to summarise, here are some of the best one for specific uses,
The best headphone case overall will be the co2CREA Hard Case for $35, this case has a nice minimal look from the inside and a cool interior protection.
If you are on a smaller budget then the Smart Case of AirPods Max is also a really good choice and will only set you back $25. This case is definitely a little bulkier than others on the list but with the memory foam-lined design it definitely provides an amazing level of protection for your headphones and what's more is that it also comes in a variety of colours.
Then lastly, if you are someone who believes that style is the top priority then the Spigen Klasden AirPods Max Case is the best choice for you but if you're looking for something more affordable then there is also another very stylish, leather option, called the WIWU Leather Headphone Case for AirPods Max. If you aren't even really looking for a full protective case for your headphones then the Spigen AirPdos Max Earcup Covers are a really good scratch-proof alternative to the original case.