Moving to another city is stressful, much less moving to another state or country. But it is something most of us find ourselves planning to do at some point, whether that means going because of a job, family, school or just as a change of scenery. Just as it is with any change, it is a good idea to be as prepared as possible before making the switch. That means being informed about the city it is you are planning (or hoping) to move to.
But how do you do that? With the amazing powerhouse that is the Internet – how would we get along without it? – there are plenty of ways that you can scope out a new place. There are web-based apps for finding information on local housing, cost of living, schools and even parking and local garages. All of it is at your fingertips, just waiting to be used.
Here is a list of the eight best sites I have found to help you get a clear look at your chosen city before you run off to settle down.
1. HomeThinking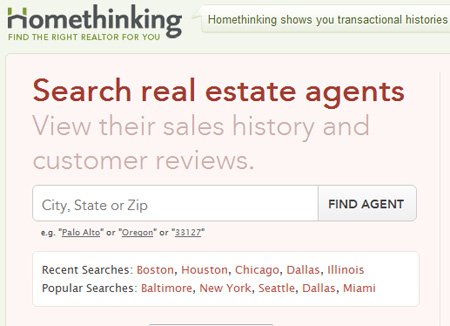 Looking for a realtor? It is a nerve-wracking process, even when you are staying in the comfort zone of your own city. If you are moving to a new one it is even worse because you might not have personal references to vouch for them. HomeThinking was created with this in mind.
It provides in-depth information on realtors in your chosen area, looks into their history, rating, complaints, sale abilities, ads and qualification. If they are shady this is a good way to find out. It is also fantastic for finding those who come highly recommended both by official sources and former customers.
2. Numbeo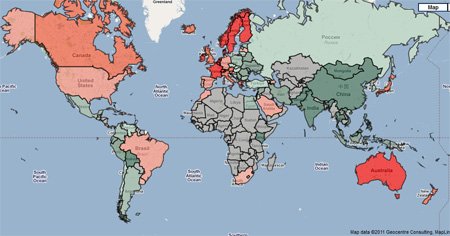 Numbeo is the place to find cost of living information all over the world. From Afghanistan to the United Kingdom, you can search any country and most populated cities in those areas to see how much you will be spending. The info comes right from the horses mouth, as it were. People let the site know how much they pay and an average is determined.
This is great if you are planning on going overseas, though you can check places closer to home as well.
According to Timeshare Secrets:
Numbeo provides its own cost-of-living index (relative to New York City) so comparing two cities – even if they're halfway around the world – is easy.
3. Cost Of Living Calculator
Want to know how much you will have to make in a new city to maintain or increase your standard of living where you are now? Cost of Living Calculator is a great site that will tell you just that, as well as provide basic information about moving to a new place. With articles, news links and the calculator itself, it is well work a bookmark to keep handy until the big day.
4. My Salary Wiki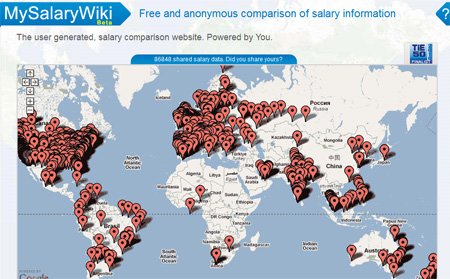 Sometimes it just pays to know how much you can make and where. But people aren't always truthful with that information, especially companies who are looking to draw employees and so promise an 'up to' amount that can be very different than the real salary you will end up with once you take a job.
With a recession on a realistic, unbiased look is even more important. My Salary Wiki allows you and others to post your average wage for the area and job of your choice. There are already thousands of submissions on the site, set on an easy to view tagged map.
5. Best Places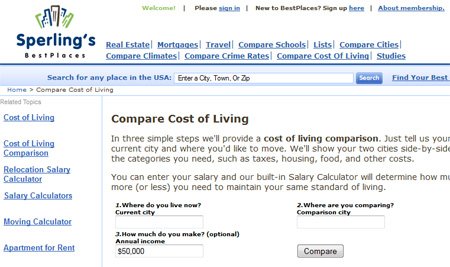 This tool is pretty handy as it allows you to actually compare two cities, rather than just see the data for one. You select the city you are living (or one of your choices) and then a second to compare it to. It will show you apartment and housing averages, grocery stores, gas, utilities and even retail.
You can get a real look at what it is you will be contending with when it comes to moving and how it will compare to your cost of living where you are at now. You can even see the most recent searches by other visitors to the site.
6. GlassDoors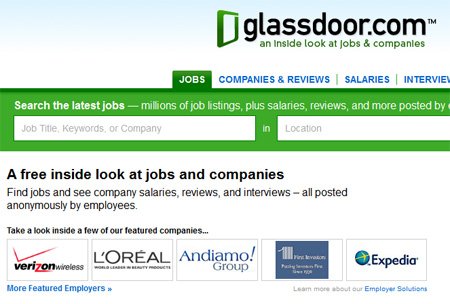 Want to know about a company (or companies) you are planning to apply for or take a job with? GlassDoors is a transparency site where anonymous employees provide information on salary, company ethics, workability, morale, interviews, promotions, positive reviews and occasionally warnings to all who would think of joining their company.
Some of it is rather interesting, such as learning the average UPS driver in a major city earns $73,000 a year, or that Starbucks workers get free coffee and snacks for their efforts.
7. CityMelt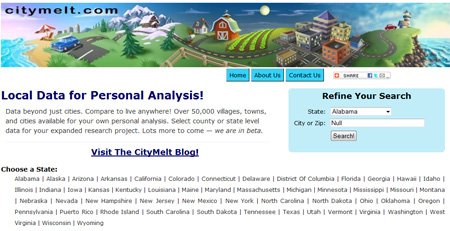 CityMelt has an impressive 50,000 cities on record where you can check to find out average salaries, cost of living and other financial items related to the city of your choice. It is worldwide and they also cover towns and villages, making them one of the better comparison sites out there. They are much more impressive when you consider the fact that they are still in beta mode!
8. Parkopedia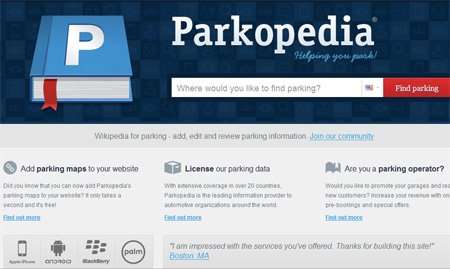 Whether you live in a smaller village or town or a huge city, you probably face the problem of parking (or will, once you move to one of these places). Parkopedia is an awesome site that tells you about local parking spaces, public parking lots, garages and private lots.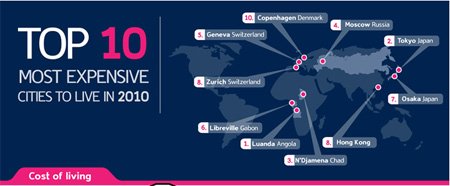 Moving is a hassle, but you can be prepared when you choose to move to another city or state. Just use these tools or find your own, and you will find yourself in much better shape.