Adobe Flash Player is an application that displays content from a provided SWF file, although it has no in-built features to modify the SWF file at runtime. It can also help in the ActionScript programming language which enables the runtime manipulation of text, data, vector graphics, raster graphics, sound and video.
Adobe Flash Player is one of the most popular plug-ins used by web browsers to reproduce videos, web ads, and interactive animations. However, its position is rocked by some security concerns and safer alternative solutions.
Adobe Flash Player main features:
Video streaming online
It supports for 3D games in web browser
Watch movies in 4k resolution
Adobe is always trying release the Flash updates to enhance the user experience and security. But attackers still find the ways to trick you into downloading adware and malware through the popups. That's why we should know how to protect your Mac against the malicious attacks when you're trying to update your Adobe Flash for Mac.
How to install Flash on Mac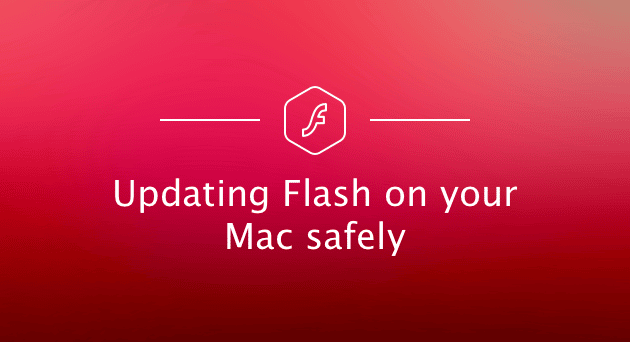 Go to Adobe Flash Player page.
Then click the Download now button.
Installer will download to your computer.
Next, open your Downloads folder and find the .dmg installer file.
Then double-click the Install Adobe Flash Player file.
After that, you will be asked if you really want to install Adobe Flash Player. You must read the message carefully to make sure that it's the file you just downloaded.
Next, click Open to proceed.
Then agree to terms and conditions by clicking a checkbox.
Click the Install button to install app.
Type your username and password.
Then click the Install Helper button.
Lastly, click Allow Adobe to install updates.
Click Done once finish.
Adobe Flash Player Mac Update Reviews
Update leads to malware issues
User still needs to verify if this update is valid or not
Getting issues about unsafe plug ins
Bypass fake websites that makes it far less likely for users to be fooled
It makes download folder full because of those unnecessary updates
Application crashes after the update
Some users are all going through this complain. Switch media players is the only solution until adobe decides its updates should be an option not mandatory. They effectively make flash player version useless every week. A great time consumer fixing this issue. Some spent hours trying to understand why videos stopped working randomly in the middle of the day. Thinking it couldn't possibly be Flash player issue again.
But then again, those updates are important. Adobe company shouldn't release those updates if that is not important right?.
Thus, flash player is necessary for hassle free internet surfing, watching multi media files online including movies, animations, audio clips and playing many games which are created by this technology. In general this helps a lot of users making their day to day life easier.