According to a study published last year in the New York Times, 43% of Americans are reported to have worked remotely at least once in 2016.
From work-oriented instant messaging to flight-booking applications, all a remote worker needs is an internet connection to break the boundaries of a traditional job. While keeping Android and Apple users in mind, we will take a look at five essential applications that every digital nomad will find useful.
Slack
If you've worked in a startup within the past three years, there is a very high chance that you have already used Slack. Due to its simplicity and ease of use, Slack is ideal for small to medium teams with a size that varies from 5 to 20 members. Within the application, public and private channels can easily be created and scraped to fit the needs of each project. The app can also act as a resource-sharing solution that augments cloud storage options like Dropbox and Google Drive.
Slack launched in August 2013 and has grown to become one of the Unicorns of the tech industry within 5 years. Last year, Business Insider reported that Amazon is interested in buying Slack for $9 billion. Whether the sale goes through or not, it is safe to assume the application's future is bright and its exponential growth is expected to continue. The application's excellent track record and what looks to be its beaming future are two reasons to make it a reliable option for digital nomads.
Trello
The upside of getting used to Trello as part of your applications roster is being able to use it to organize personal and work-related objectives within the same app. Trello can be seen as a virtual board to organize tasks among co-workers in a dynamic fashion. Sometimes, companies rely on Trello in lieu of quick meetings to keep track of task updates, short, and long-term objectives.
From custom workflows to simple To-Do lists, Trello has everything a digital nomad needs to keep track of tasks as an entrepreneur or a freelance worker. The application also features some social options like user tagging and commenting on assets, lists, and posts. Trello is not only available on the App Store and the Play Store but also available on Ubuntu which is an advantage over other applications that perform similar tasks.
Google Trips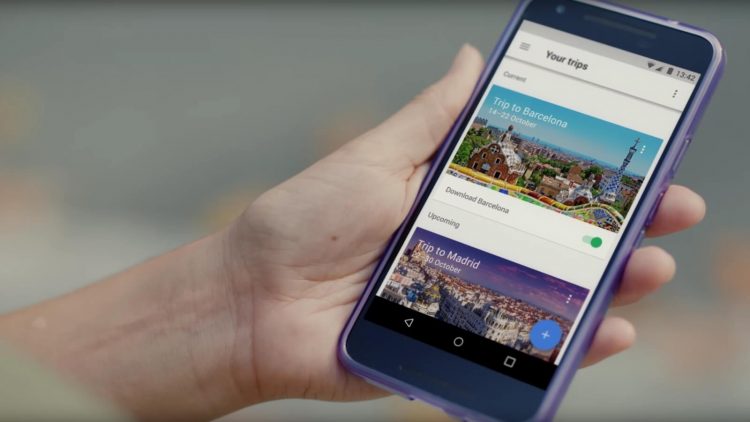 From Google Translate to Gmail, the biggest company in the world is known for producing outstanding apps and Google Trips is not an exception. The travel planning app performs a plethora of tasks that otherwise will take a host of separate applications to complete. Google Trips allows users to book bundled reservations, organize daily plans, and discover nearby attractions.
For a traveling entrepreneur, keeping everything travel-related synced in one place is crucial to tracking logistical, non-work related matters. Being able to see flight reservations, hotel bookings, and rental cars in one place help every traveler to organize their calendar in a seamless fashion. Google Trips also works offline as well as online and it is available in web app form for Windows and Ubuntu users to access at any time using any browser.
Google is an information magnet with ambitious AI development plans. The best part about using a Google app is its limitless ability to grow and learn more about its owner with every new search and reservation. With enough data and a complex AI, the recommendations will only improve and sooner than later, a regular traveler will be able to organize an entire trip from take-off to landing with only one click.
Skyscanner
For a digital nomad, the importance of booking good-value flights can never be understated. With offices in 10 different cities, Skyscanner covers a substantial number of flights with destinations from and to almost every airport on Earth. All the information Skyscanner provides updates momentarily with deals are copied straight from the airline companies' reservation systems which make the decision-making process fairly easy even for the uninitiated.
Skyscanner also allows users to book hotel rooms and rental cars for a reasonable fee which makes the application a one-stop shop for everything travel-related. The app allows users to compare more than one flight and in some instances, it also handles cancellations in addition to bookings. Like Google Trips, Skyscanner also has a web app that makes the service easy to access from any browser.
In 2016, the Edinburgh-based company announced it had raised more than $190 million from investors based on its one and half billion dollar evaluation. The future looks bright for the flight-finding application and deal-hunters will continue to find this app indispensable.
Airbnb
For a digital nomad, flexibility is crucial. Among all online marketplaces that provide a hospitality-related service, Airbnb offers the most flexible option. The beauty of Airbnb is to be able to contact and arrange everything with your host right away without any intermediaries. You can always change dates, the number of guests or nights anytime as long as the host allows it. In addition to this, you have a myriad of hosts to pick from at reasonable prices.
Apart from providing services for individual travelers, Airbnb for work provides a conclusive service for business travelers that includes features such as a free dashboard to control all company reservations and a search filter that lets users choose from a large number of work-ready homes. The service also includes detailed and accurate reporting on employee trips.
Peer-to-peer property rental has never been easier since Airbnb rose to the fore. If the American company continues to introduce new features like Experiences, Airbnb Plus, and several safety mechanisms, it will surely continue as one of the most important tools travelers can rely on.
Keeping an Eye on the Future
Technology constantly changes and applications are only a representation of the hardware they leverage. For someone who relies constantly on technology like a digital nomad, keeping an eye on changes in both hardware and software is crucial. The rise in the number of remote workers only means that nomad-serving applications are going to increase significantly. It will not be a surprise if, in a number of years, we get entire mobile devices built from A to Z to serve the needs of remote workers.