The continued prevalence of digital transformation in the supply chain industry ensures that technological solutions are becoming more effective, precise, and smart. Modern software can receive, process, and analyze an enormous amount of data to streamline business processes. We will talk about:
logistics management software
its valuable features
benefits of logistics management IT solutions for supply chain businesses
But let's start with defining what logistics management is.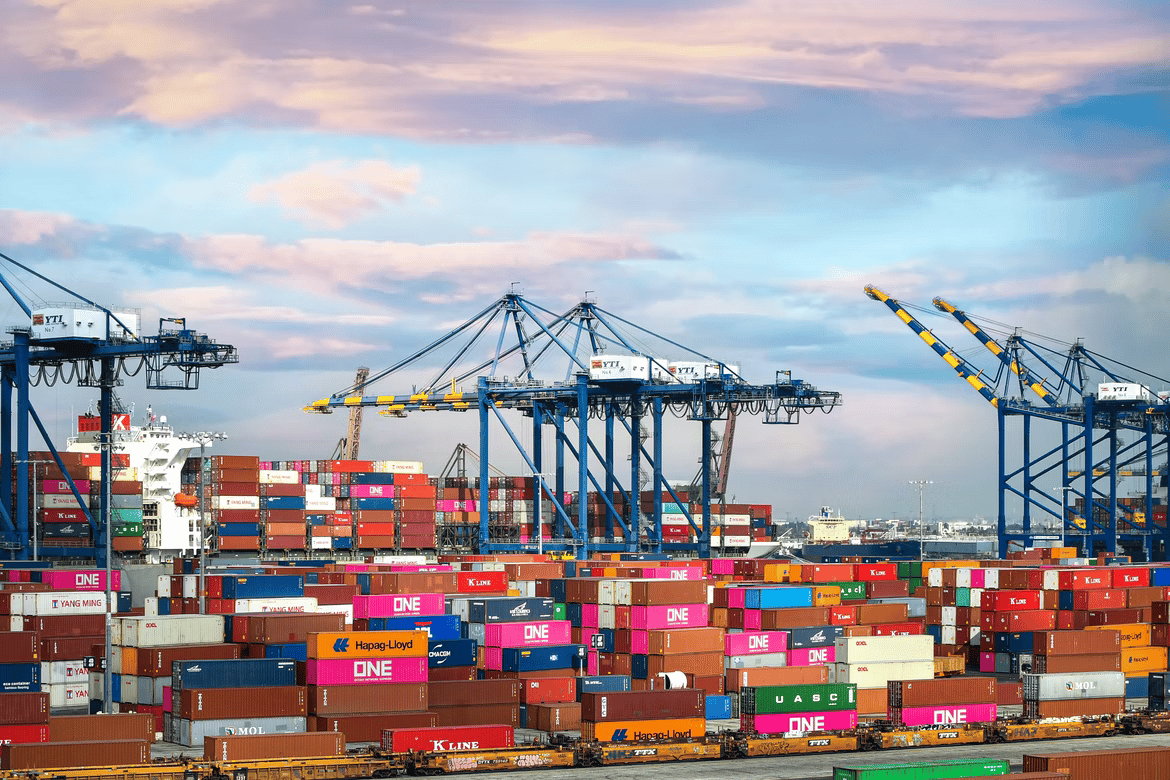 What is logistics management?
According to recent statistics by Allied Market Research, the logistics management market:
was valued at $18,699.45 million in 2020
is predicted to reach $52,632.37 million by 2030
is projected to register a CAGR of 10.7 percent by 2030
What are the benefits of supply chain management? Logistics management is a valuable element of the supply chain that helps to satisfy customer expectations thanks to planning, monitoring, and ensuring optimal movement and storage of goods from production to destination. Logistics management allows organizations to cut expenses and improve customer service. By complying with customer demands and domain-specific standards, logistics management improves strategic planning and implementation.
The importance of logistics management software
According to Market Research Future, supply chain software market demand is proliferating. The projected market valuation by the end of 2030 will reach nearly 17.76 billion, registering a CAGR of 8.31 percent from 2020 to 2030. This is because organizations are striving to ensure secure and effective transportation of goods with minimized risks and the highest possible profits.
For example, using logistics management software helped:
Pfizer achieve the status of the world's largest provider of sterile injectables
DHL provide swift and secure express delivery services
Amazon put into effect its marketing idea of 'one-day door-to-door' delivery
There are also many other small-to-large companies that are benefiting from using logistic management solutions.
What organizations benefit from logistics management software?
Traditionally, these types of businesses deal with logistic processes and are first in line to use logistics management IT tools:
Carriers
Transportation organizations
Storage facilities
Large, medium-sized, and small manufacturers
Retailers (brick and mortar and online)
What functionality should supply chain management software provide?
Depending on your business peculiarities, priorities, and available budget, logistics management software might be implemented as a system that is composed of integrated apps responsible for all, several, or one logistics process. This system may be comprised of the following modules:
Supply chain planning. This module should be enhanced by analytical capabilities to ensure demand forecasting.
Warehouse and inventory management. This module enables you to monitor inventory levels and receive low stock notifications. You also should be able to define a required safety stock for various inventory types.
Source-to-settle process. This module should allow for selecting the best suppliers and managing relationships with them. There should be such capabilities as standardized and automated contract management, requisitioning, automated routine procure-to-pay transactions, and more.
Supply chain control. Logistics management software should enable you to monitor your logistics operations and corresponding KPIs in real-time. You also should be able to ensure constant monitoring of your suppliers' performance.
Sales order management. This module should allow you to track sales, stock, and fulfillment. You also should be able to make sure that all processes and participants in-between are kept informed and up-to-date.
Logistics management. Such a module ensures order delivery scheduling and monitoring.
Some advantages of logistics management software
There are some of the most prominent advantages of logistics management software for supply chain organizations:
We begin with the main benefit of utilizing supply chain management software. The thing is that an adequate IT solution allows an organization to define optimal shipment services. You can evaluate and compare them to identify the optimal and cost-efficient transportation approach. As a result, customers use services or receive goods in a timely manner at the optimal price.
Improved order fulfillment
C-level managers of retail and e-commerce companies are aware of the fact that the more orders are successfully processed, the more profitable the organization is. But, the order fulfillment rate might get hampered if a company's logistics strategy falls behind. This might happen even if you effectively manage your storage facilities and inventory. In case a supplier or manufacturer is delayed because of late payment, your whole supply chain lags behind.
Fortunately, a supply chain management IT solution helps to establish a smooth supply chain process. Such a system can incorporate anything from payment processing to engaging reserve vendors.
Enhanced inventory management
The quality of inventory management is one of the most essential factors impacting your entire logistics process. When inventory arrives at your storage facility, it requires the proper storage, labeling, packaging, and processing. Furthermore, you have to be informed about the volume of inventory so that you can restock it in a timely manner.
Typically, problems with inventory management arise due to human errors. Luckily, logistics management software helps businesses to automate many processes and drastically decrease the possibility of human error.
What to keep in mind when choosing or developing logistics management software
There are a variety of ready-made supply chain management solutions to choose from. You might decide to build a solution from scratch to tailor it to your specific needs. We hope the following tips will help you choose or create an effective solution. Make sure your IT solution will possess capabilities including:
Transparency and visibility. A logistics IT solution should provide high visibility thanks to increased tracking and automation capabilities which ultimately results in generating rising revenue.
Data management. Supply chain software should ensure effective data management and provide freight accounting details. Don't forget that smooth and simple access to data improves the analysis procedure.
Analytics. The analytics function of the logistics IT solution will enable you to assess your company's operational efficiency by viewing functional metrics such as shipping history and to plan resources for optimal business growth.
Scalability. A scalable software solution should be flexible enough to adjust and adapt in response to the growth rate of the business. In case your business is growing fast, your software should work correspondingly.
Customer support service. An effective logistics IT solution should provide proper customer support service capabilities. They will allow you to centralize and meet all your customer support expectations. Automation, virtual assistants, and chatbots can enhance customer service speed, ensure timely help, and provide service of high quality.
Conclusion
Logistics management software does not promise to completely end the manual operations. But still, adopting such a solution might help you make your supply chain strategy feasible, minimize risks, and achieve the highest possible profits.