It is hard to believe that technologies, such as AI, IoT, and Big Data are still in its infancy. These technologies have entered almost every single field in the world today, including cybersecurity. Since the growth of the internet, cybersecurity has always been an issue of concern for all IT professionals.
Do you want to become future-ready by learning AI? Then Intellipaat Artificial Intelligence Course is for you.
Intellipaat also provides IOT, Data Science, Big Data Hadoop training, and 150 more online courses.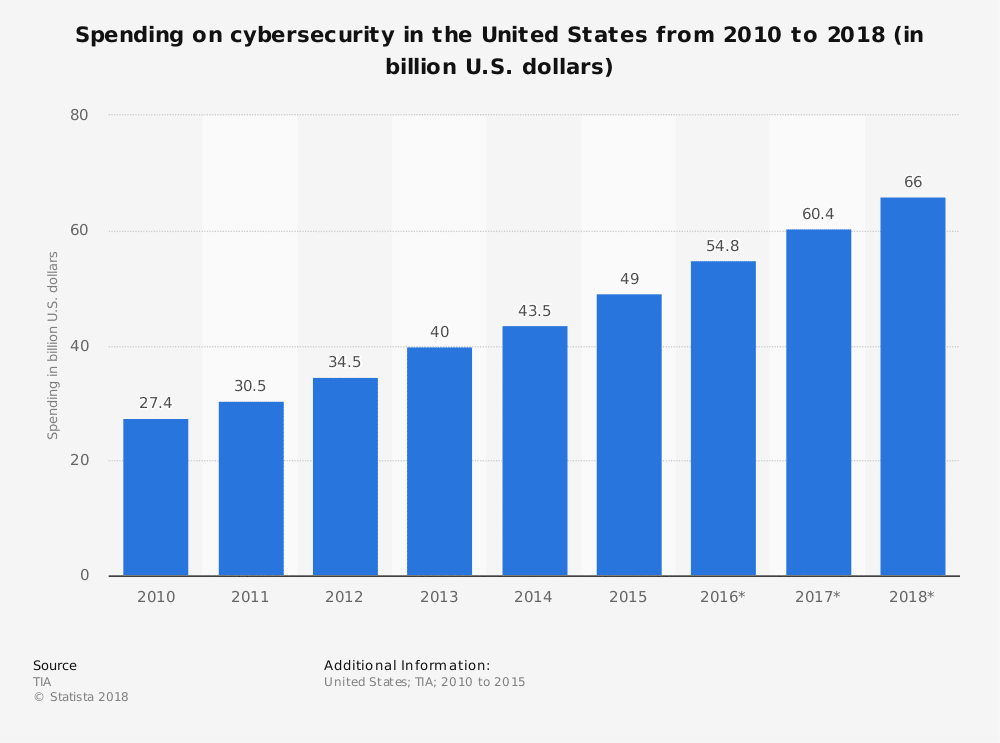 Image Source: Statistica
We can see that the spending on the cybersecurity in the USA has been increasing ever since 2010. Despite all the massive expenses, we still experience a lot of cyber attacks and cyber crimes.
Just think about the worries of cyber attacks now with the introduction of the internet of things (IoT). Due to the IoT technology, the number of connected devices has skyrocketed.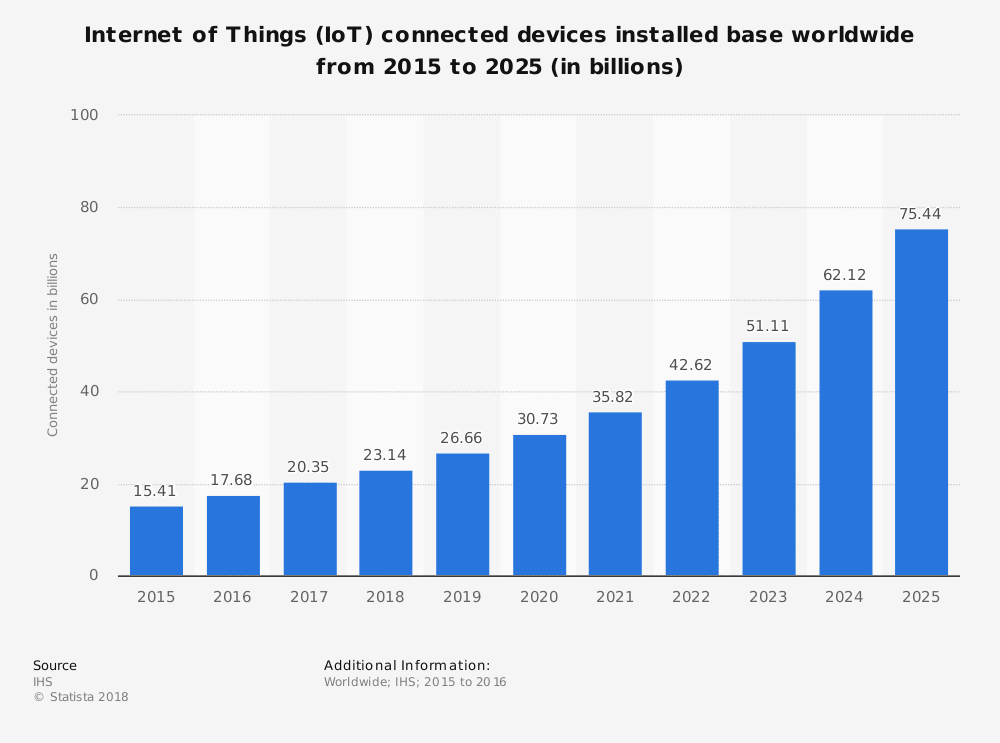 Image Source: Statistica
Today, not only your laptops and smartphones are connected to the internet, but also your cars, thermometers, and other smart devices. In the modern world, the maintenance of vehicles includes the car software update, and so on.
The more significant number of interconnected devices means the higher level of concern among general people. It also means the increment in the new ways of cyber attack. The hackers may manipulate IoT sensors, car software, and so on, which were not possible before.
Should we live in fear because of an increased number of connected devices?
As Information Technology is advancing with leaps and bounds eliminating the unnecessary human work, fanatics generally fear the growth of robust technologies that are transforming the world.
The technical progressions, however, are not ceasing anyway where it calls for all tech savvies, professionals as well as beginners to acquaint themselves with powerful insights of AI, Machine Learning, Big Data and many more in line. An Introduction To Artificial Intelligence will help you expand your knowledge about these powerful technologies, adding a big plus to your learnings as well as career. These technologies will not only play crucial roles in saving your system from hackers but also your employees and make you realize how much AI and its subsets influence cybersecurity.
What do you mean by "your employees"? According to the report, human errors are responsible for the majority of security breaches. Your employees may be unaware of cybersecurity, and they may open phishing email, download a virus, open sensible data via public WiFi, and so on. AI, Machine Learning, and Big Data can make even counter human errors.
How will AI, Machine Learning, and Big Data Reshape CyberSecurity?
You must have heard about the amazing abilities of AI, Machine Learning, and Big Data Analytics. Let's see how those abilities can help in a complete transformation of cybersecurity.
1. Learns and recognizes anomalies
Hackers are always trying to come up with new techniques to penetrate the system. What this means is that IT security professionals should stay ahead of hacking trends. AI algorithm can analyze past trends and know what they should look for to scan, detect, and react to anomalies.
2. Recognize threats and respond in real-time
AI can save heck a lot of time for IT security professionals. AI systems can go through a massive amount of events and data within a few seconds, allowing it to detect threats in real-time and respond to it via simple automated solutions.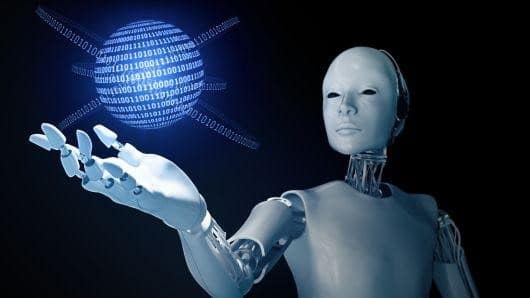 Image Source: CNBC
3. Identify advanced attacks
Detecting advanced attacks is not like finding small anomalies. To identify sophisticated attacks, IT security professionals need to go through thousands of pieces of dynamic data to know about the type of attacks.
AI can offer the blueprint to professionals by going through large data at a much quicker pace to help them identify sophisticated attacks. After having the AI assistance, they can reverse engineer attacks and develop improved systems that are less vulnerable to attacks.
4. Categorize attacks
Not all attacks create the same level of damage. Some offenses are minor, while some other attacks can destroy the whole system. AI can categorize attacks, according to the severity, which helps enterprises to prepare appropriate remedies.
In spite of all the current features of AI, the study found that around 52% of IT security professionals are not happy with the current AI system. They want improvement in the AI system to be able to trust the system.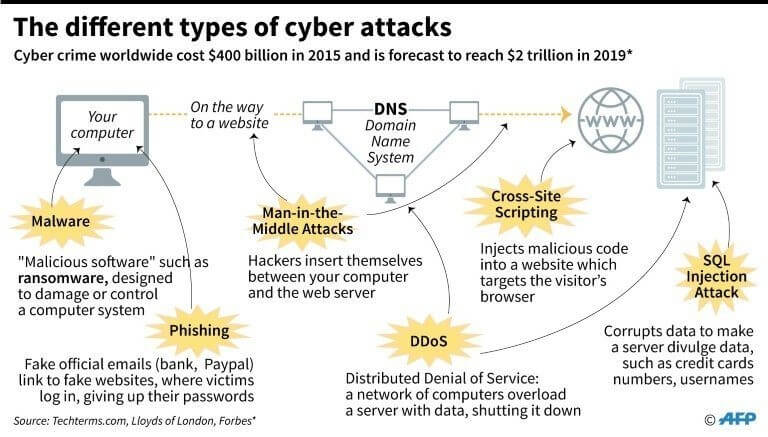 Image Source: Pagely
5. Penetration testing
There are five stages to this testing, and they are planning, scanning, gaining, maintaining, and analysis. The IT security professionals can get a grasp of their overall system via Big Data, database, which will help them build a better system.
The penetration testing is for securing the system as a whole. It is now a crucial part of cybersecurity for strengthening the system for protecting the business data and the overall system. The better-designed system is harder to penetrate for hackers.
6. Recognize system behavior
There is a good chance that your system can help hackers to access your data and steal the information. The system behavior is usually the same. However, there could be some unusual behavior at times, signaling an abnormal activity.
The Big Data Technology can recognize system behavior. It will warn you, whenever it identifies suspicious behavior, which will help in better cybersecurity.
7. Recognize change in employee behavior and your network
Like I've said before, your employees are responsible for most of the security breach. Big Data can solve that problem for you too. You can now know the download history of your employees and see if there are notable trends in the downloads or not that can lead to a security breach.
The Big Data Analytics can do some analysis and find a correlation from previous data, allowing your IT security professionals to identify future threats.
8. Risk Estimation
Big Data technology allows you to collect and analyze the massive volume of data. Via Big Data, you can do security checks on your customers and company data, helping you to identify the level of risk.
Big Data Analytics can detect malware by analyzing suspicious files and creating a report.
Bottom Line
The number of interconnected devices will keep on increasing over the years. According to Business Insider, businesses will spend around $6 trillion in IoT solutions by 2021. The dependency on technology will keep on increasing, so will the concern on cybersecurity.
However, thanks to ever-improving technology like AI, machine learning, and Big Data, it is possible to counter the new threats born due to IoT.
The use of AI, machine learning, and Big Data can help analyze tons and tons of security events in no time, minimizing the risks of cyber attacks. Hence, AI and Big Data will play a crucial role in the future to keep businesses and ordinary people safe from data breach and hacking.
How to Effectively Learn Coding in 2020
Learning Java can be a pain when you're just starting your coding career. Sometimes you need a mentor who will help and motivate you to finish the course. Others need a flexible schedule to effectively learn to code while working on a full-time job. So choosing the right courses can be a very time-consuming task. If you are ready to make your first step into the world of programming, be sure to check the list of coding bootcamps on BootcampRankings. There you can find everything about coding courses and how to finance your education.