The Samsung Galaxy S22 Ultra is Samsung's newest smartphone addition to the Galaxy collection which has been going on since the release of the original Samsung Galaxy S on the 29th of June in 2009. This new smartphone features some big upgrades over its predecessors such as the brighter display, better S Pen, camera upgrades and its sleek design.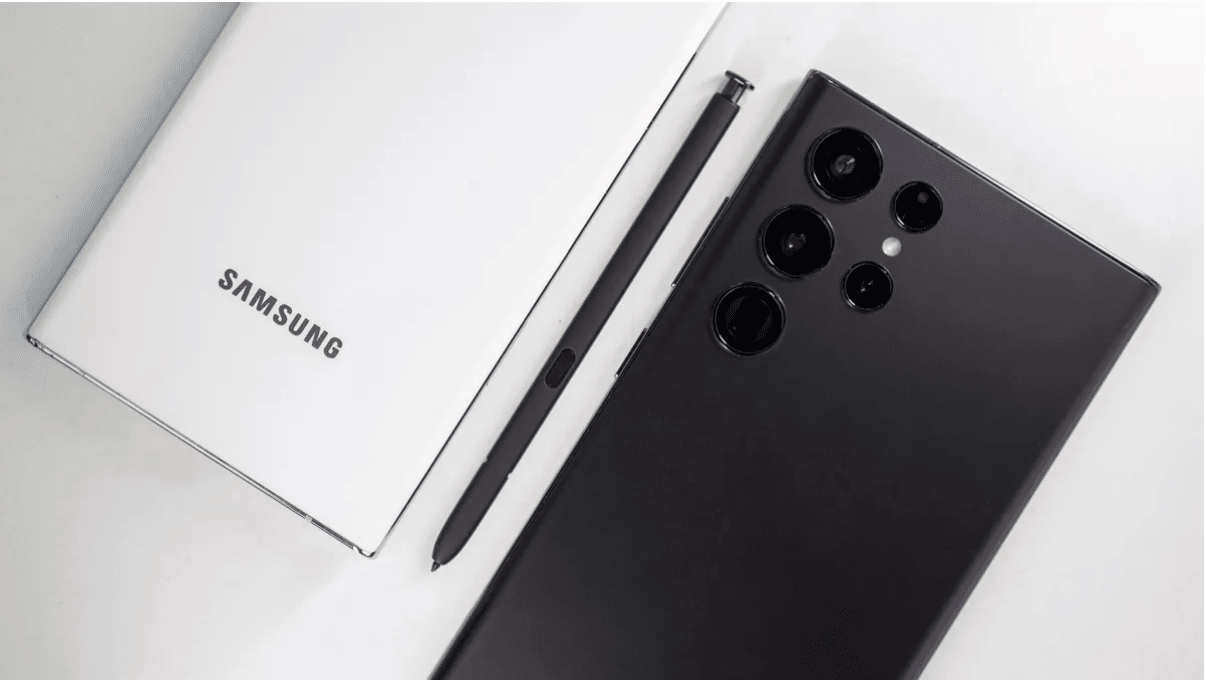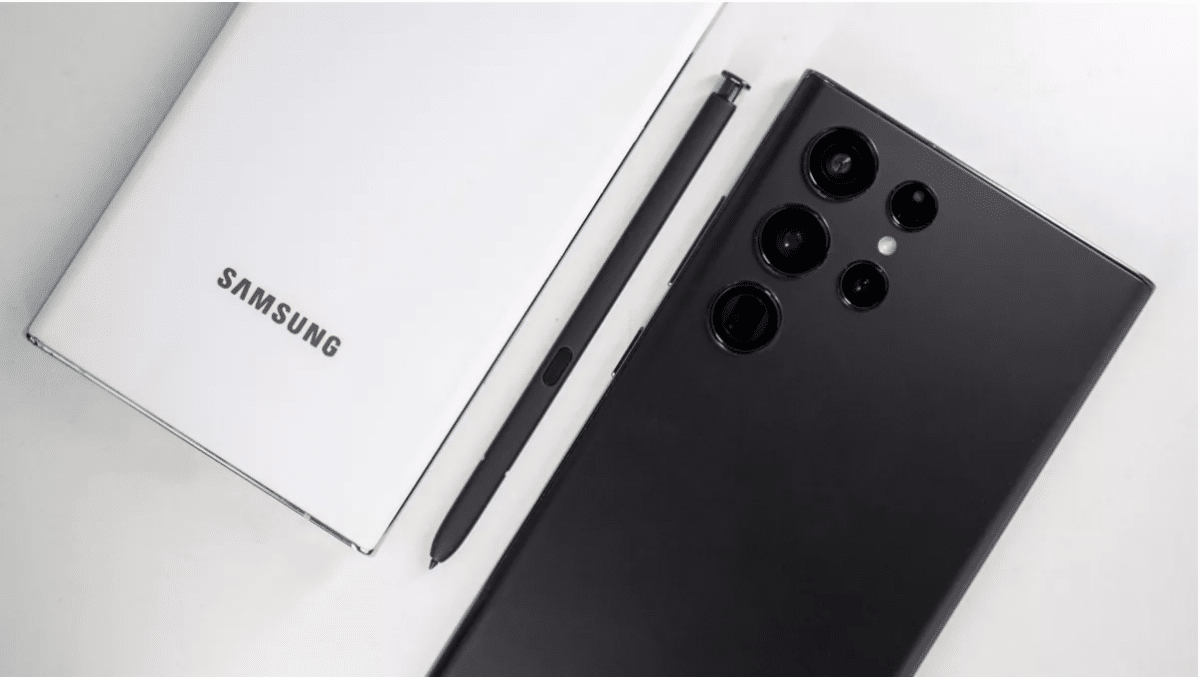 Pros:
Faster S Pen
Brighter Display
Better camera performance
Sleek new design
45W fast charging
Cons:
Expensive
Less Ram compared to the older model
Shortened battery life
Specs
If you are someone that already knows what they're looking for in a smartphone and don't want to have to read a whole article then below is a quick list of the Samsung Galaxy S22 Ultra's specs.
Starting Price: $1,199
Display: 6.8" Dynamic AMOLED
Refresh rate: 120Hz
CPU: Snapdragon 8 Gen 1 (US), Exynos 2200 (UK)
RAM: 8GB or 12GB
Storage(Expandable): 128GB, 256GB, 512GB, 1TB
Rear cameras: 108MP main, 12MP ultrawide, 10MP 10x telephoto, 10MP 3x telephoto
Front camera: 40MP
Battery: 5,000 mAh
Battery Life: 8hrs 50mins (Adaptive) and 10hrs 18mins (60Hz)
Size: 163.3cm x 77.9cm x 8.9cm
Weight: 228g
Colours: Phantom Black, Phantom White, Burgundy, Green
Samsung has listened to its users and Samsung Galaxy fans and have managed to deliver the exact power that people were wanting from a Galaxy smartphone in this S22 Ultra. This phone manages to take all of the best features that people loved in the Galaxy Note and even add even more features and upgrades to it. Even though the main feature of this phone, that most people remember, is that it has a built in S Pen but that isn't where the upgrades and features end, there is still a lot to this smartphone than what meets the eye.
The Main changes to the Samsung Galaxy S22 Ultra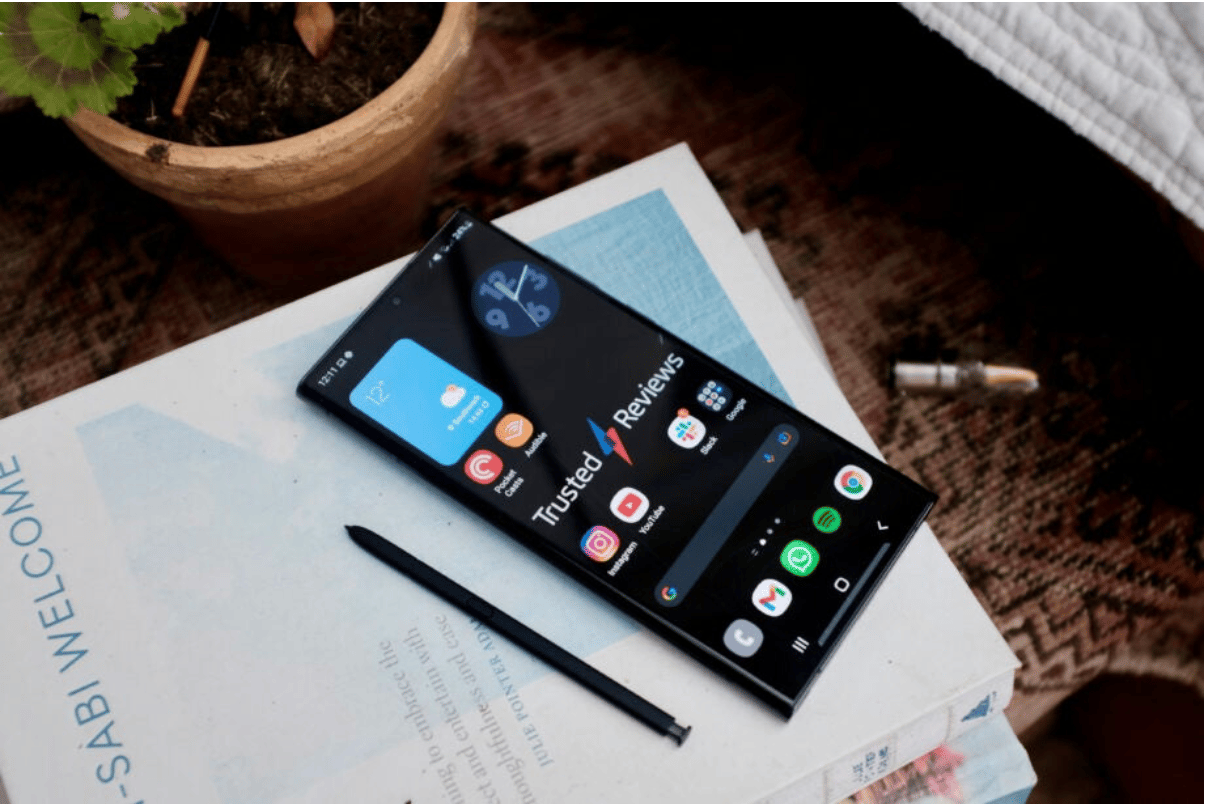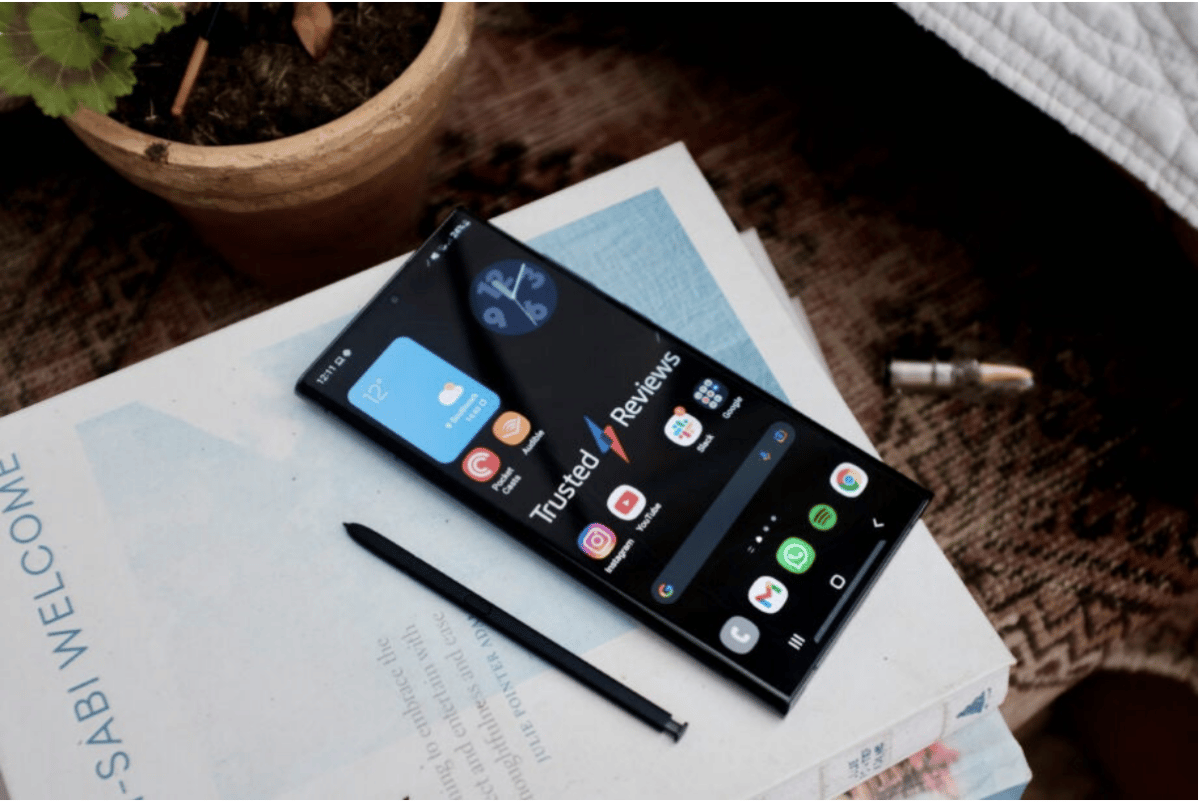 Best phone display
Out of all the previous Galaxy models the Samsung Galaxy S22 Ultra has the best display. Not only do you get the much brighter display that it boasts about but it actually also has the AMOLED panel which delivers an amazing colour saturation which ultimately makes this one of the best displays for outdoors. 
The upgrades S Pen
If you thought that the previous version of the S Pen was great then wait until you try this one out. Samsung has managed to reduce the latency of the pen by 70% so now writing or drawing on the screen of your Samsung Galaxy S22 Ultra will feel as real as if you were writing on paper with a real pen.
Better Camera
The photos that you will be taking with this phone will look a lot better, especially in low light situations, thanks to the bigger main sensor. Due to these upgrades it produces brighter pictures than the S21 Ultra could have and even has a better Night Mode than the iPhone 13 Pro in certain situations.
Updated Support
Samsung has promised to give five years of update support for the Samsung Galaxy S22 Ultra and four years of major OS update, which means that you will be able to have this phone for quite a long time until Samsung will stop supporting your phone.
Battery Life
The battery life of this new Galaxy smartphone has definitely not been the strong point as it supports around 10 hours of web surfing but the iPhone 13 Pro Max outdoes this with a battery life of over 12 hours instead.
The Design
The main controversial thing about the design of this smartphone is the curved display which some will not like but other than that it is amazing. The phone offers a lot of protection thanks to its armour aluminium frame and Gorilla Glass Victus+ back, despite all of this protection it still manages to be lighter than the iPhone 13 Pro Max.
45W Charging
The 45W charging is quite a boasted upgrade but when you actually do the tests it doesn't seem to make that much of a difference in the end. The phone charges up to 67% with the 45W charger in 30 minutes whereas in the same time it can charge up to 58% with a 25W charger which isn't that much of a difference.
Price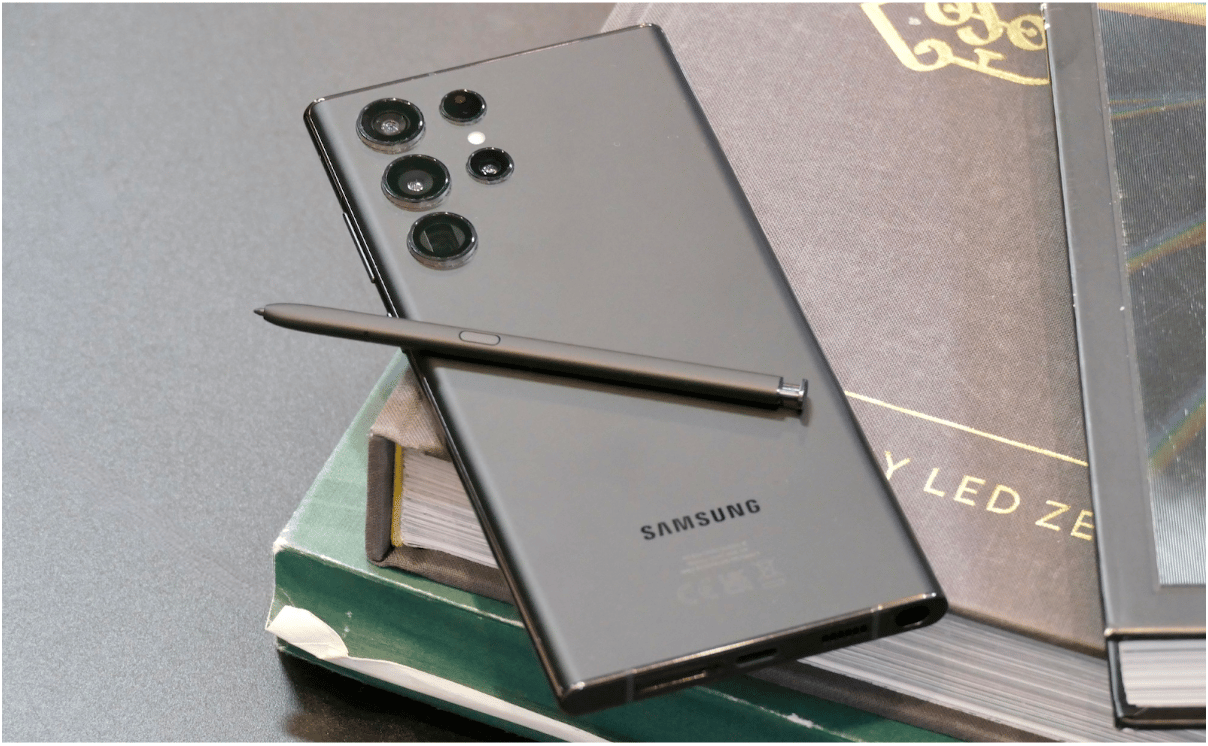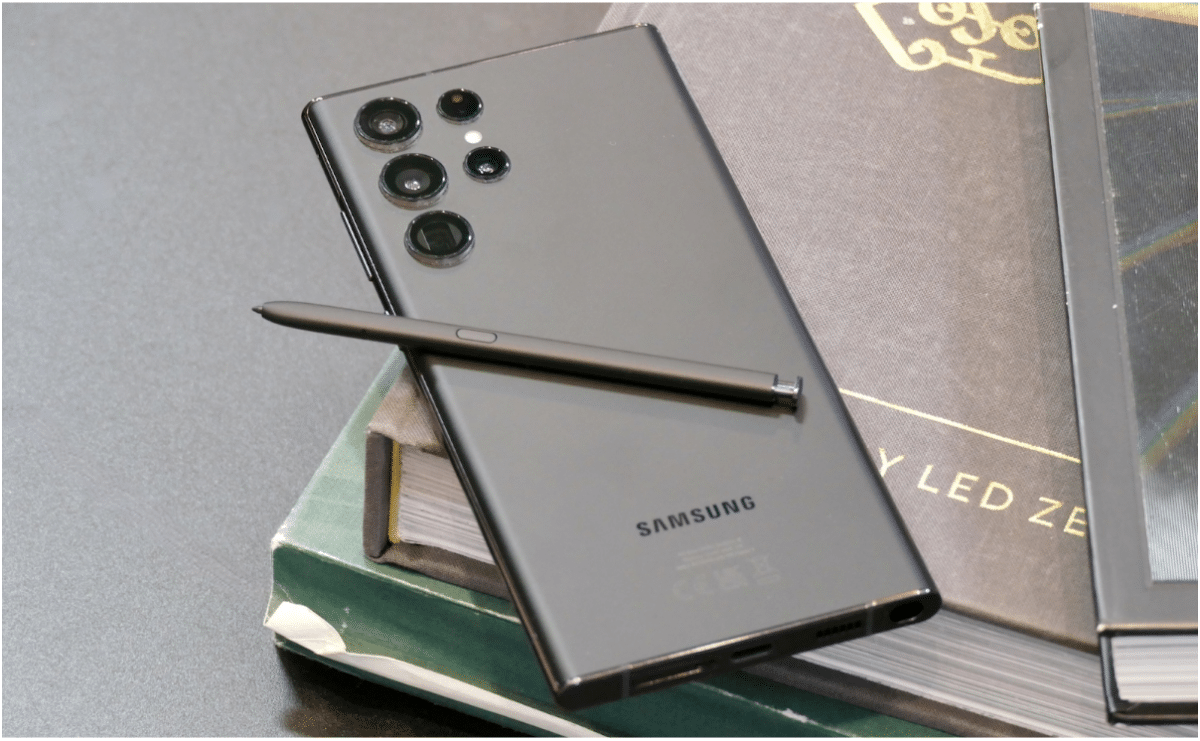 The starting price of the Samsung Galaxy S22 Ultra is $1,199 and that model comes with the 8GB/128GB option. Then if you want to go up one level to the 256GB option it will cost you $1,299 and then $1,399 for 512GB and $1,599 for the highest 1TB option.
Design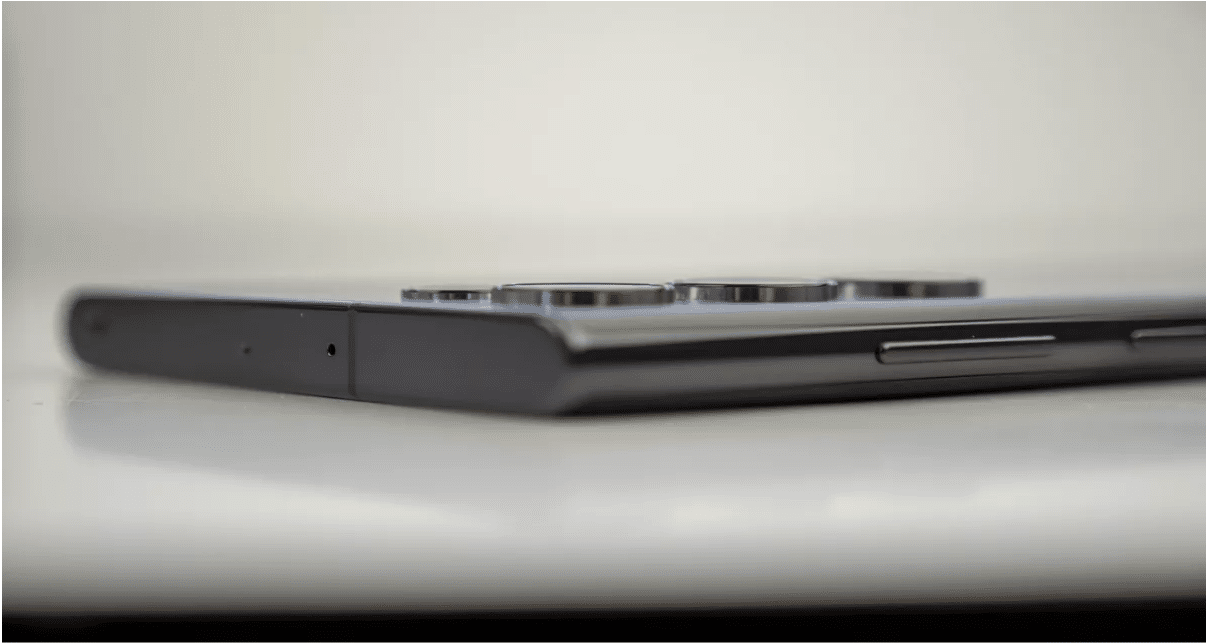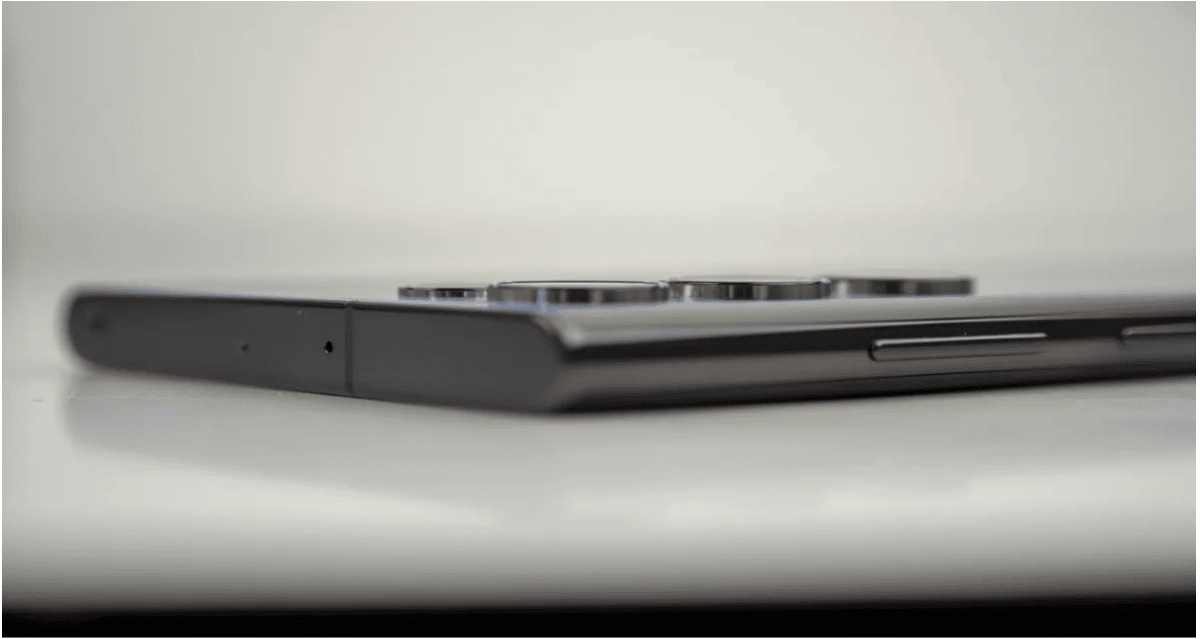 The new Samsung Galaxy phone has a very simplified and minimalist design but that definitely doesn't mean that it isn't gorgeous. The sharp, squared off angles that this phone has makes it look very sleek and gives it that modern touch. The cameras have also been designed in a way that they are more flush at the back of your phone so that they aren't protruding too much. So if you are someone that wants a phone that is more minimal and sleek then this Galaxy model is definitely one of the best smartphone options for you.
Another positive thing about the 6.8-inch display is that it is curved on the sides, which adds a little more aesthetic appeal and a coolness factor to the phone. However cool this feature may be it still does cause a pretty irritating problem for some, this challenge being that it may be difficult at times to click anything on the far ends of the screen. A positive of this phone is that it is pretty light, when compared to the iphone 13 Pro Max the Samsung Galaxy S22 Ultra actually has a larger display but still weighs less.
The lightweight of this smartphone definitely doesn't make the phone feel any sort of cheap though as it is made with armour aluminium frame and a Gorilla Glass Victus+ back which means that firstly, it is very durable but it also feels very solid when you're holding it.
Then for the more personalised options we can look at the colours that they have at your disposal. The Samsung Galaxy S22 comes in the colours: Phantom Black, Phantom White, Green and Burgundy.
Display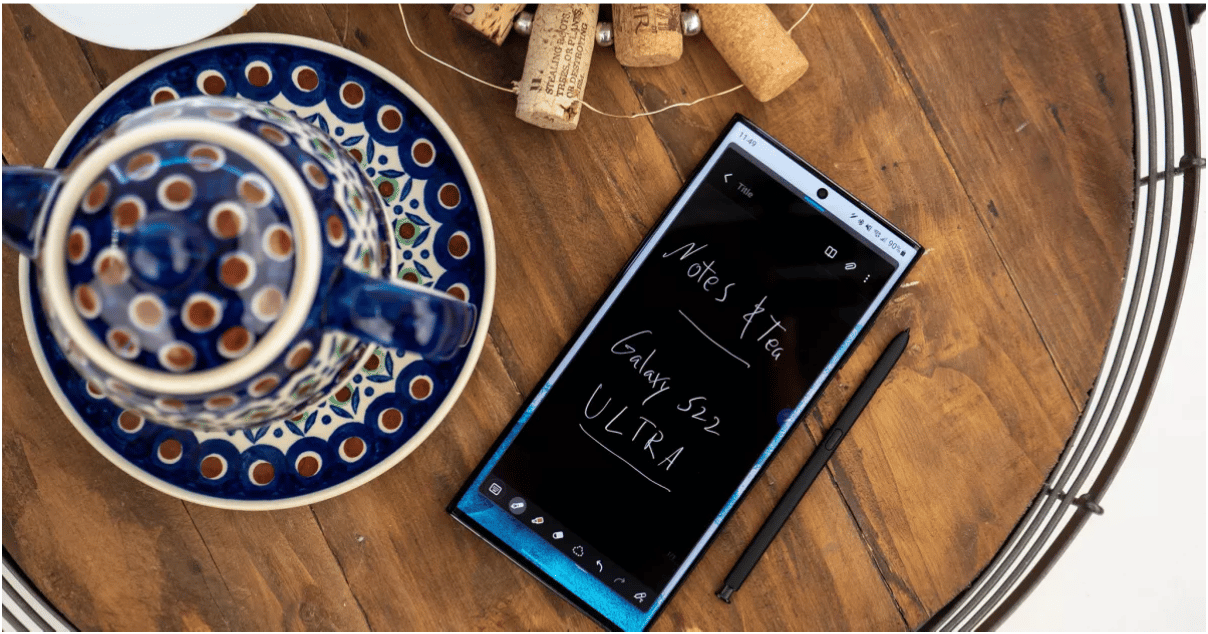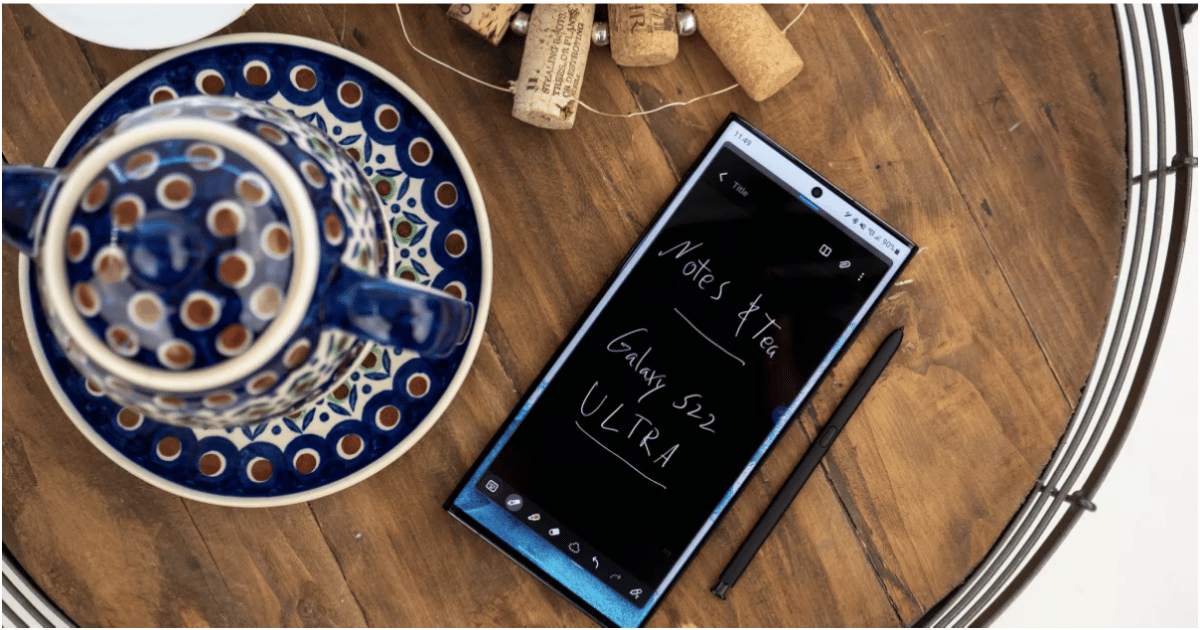 The Samsung brand has raised the bar regarding the display quality with their Galaxy S22 Ultra model. As with their previous model, you still receive the 120Hz refresh rate which makes everything you do, even just scrolling aimlessly, a lot smoother. This smartphone also has a 240Hz mode which the mobile device gamers can definitely appreciate and enjoy.
But moving on to the real upgrades of the display in this smartphone is, firstly, the brightness. The new peak brightness of this display can reach 1,750 nits which, for those of you who don't know, is one of the brightest displays seen on a smartphone, as the standard brightness level is only 1,250 nits.
Then the second big upgrade that this display has gotten is its new Vision Booster feature. The Vision Booster feature basically adjusts what brightness the screen is at automatically throughout the day so that if you were to step outdoors, into the sun, it would raise the brightness so that you wouldn't have any type of trouble seeing what's on your screen.
With this display's new and improved brightness and amazing colour spectrum, it means that you'll be able to enjoy simple things like videos and pictures at a whole new level.
The S Pen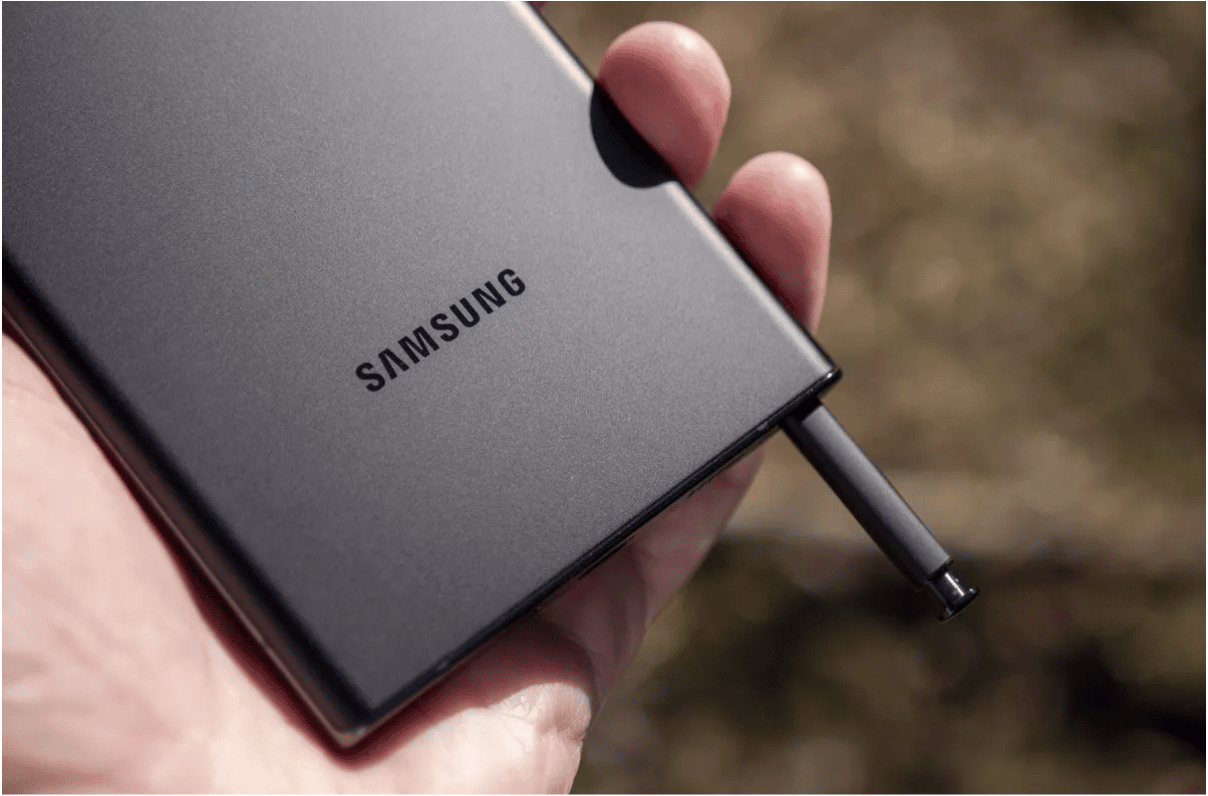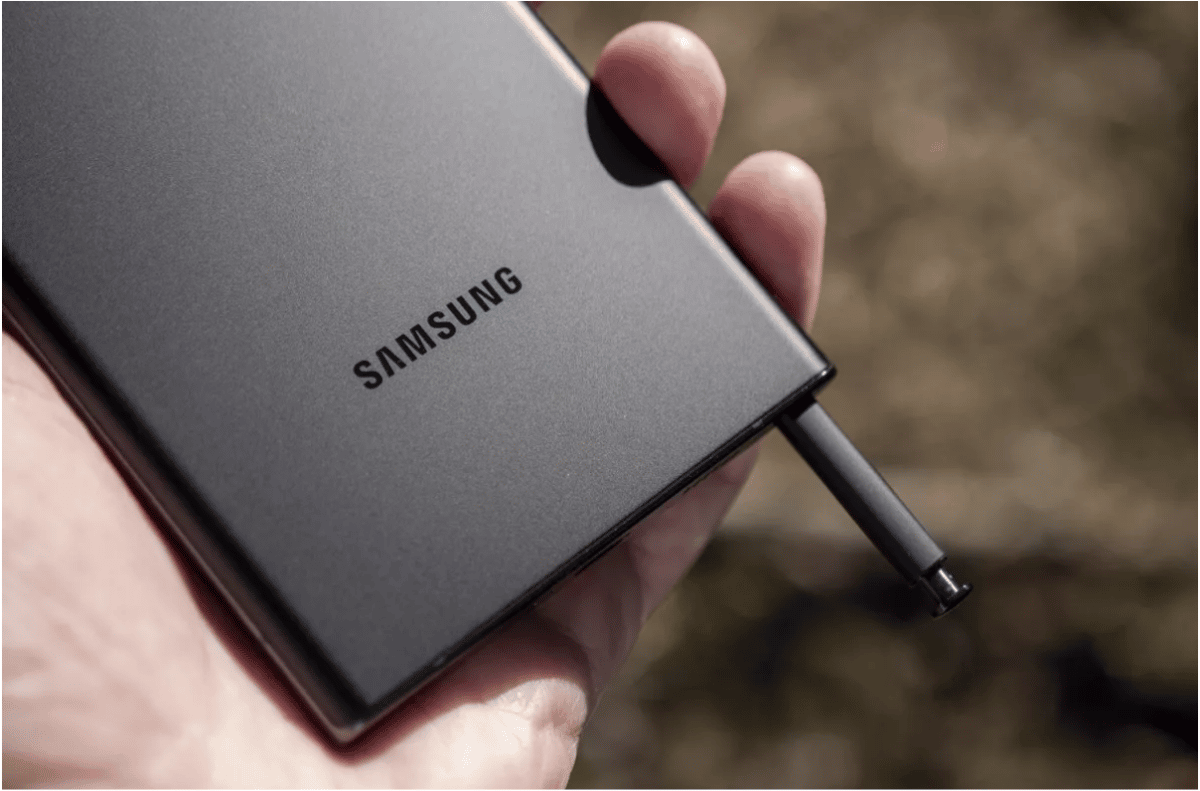 Samsung has managed to do something quite amazing with their Samsung Galaxy S22 Ultra model and that is to improve the S Pen latency by a huge 70%. The latency of the S Pen used to be 9 milliseconds but now it sits at 2.8 milliseconds.
With the predecessor, the Samsung Galaxy S21 Ultra, we experienced the S Pen as well but with that model you had to have a special case to store the S Pen, compared to this new S22 Ultra model which has a storage space, for the S Pen, built into the device, making storing this thing easier than ever.
Another update that this smartphone has gotten, regarding the S Pen, is that it can now use AI to predict the movements that your hands will do so that it can give you that even more realistic pen and paper feel. Not only does the pen work as fast as a regular pen on paper but it actually makes the sound of a pen on paper as well to further enhance the feeling that you're using a real pen.
Apart from the latency of the pen Samsung have also improved how accurate the handwriting-to-text conversion is, this means that you'll quickly be able to save notes and things you jot down into Microsoft Office docs and emails.
Cameras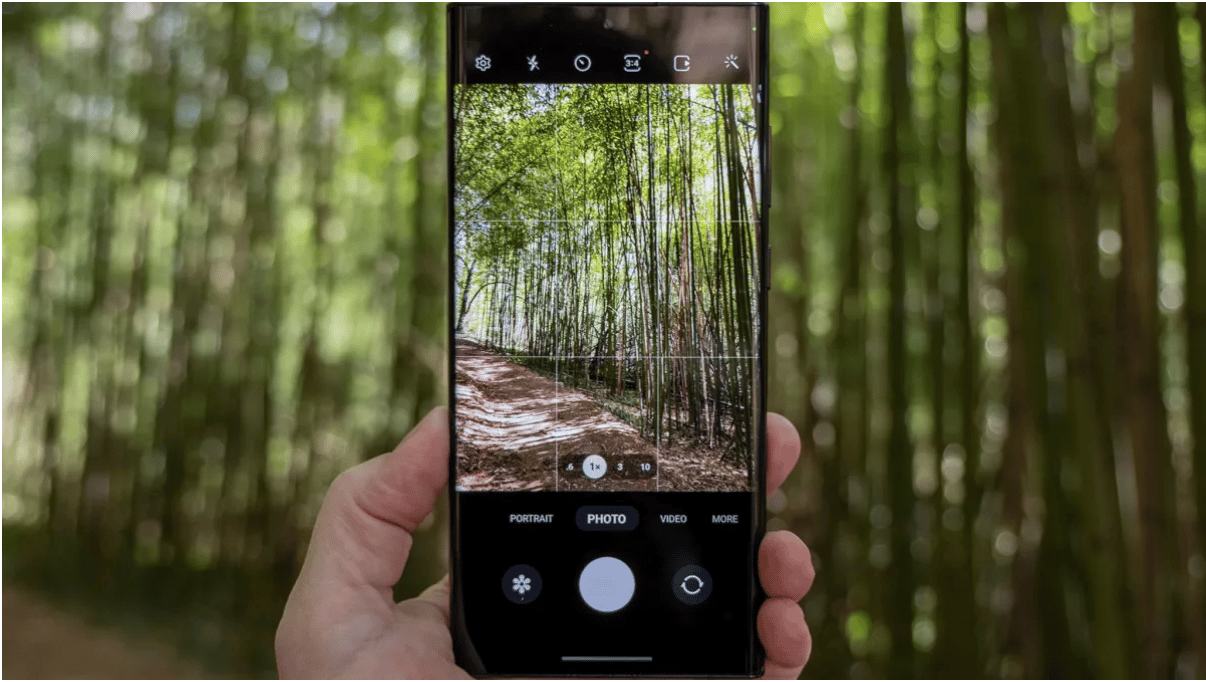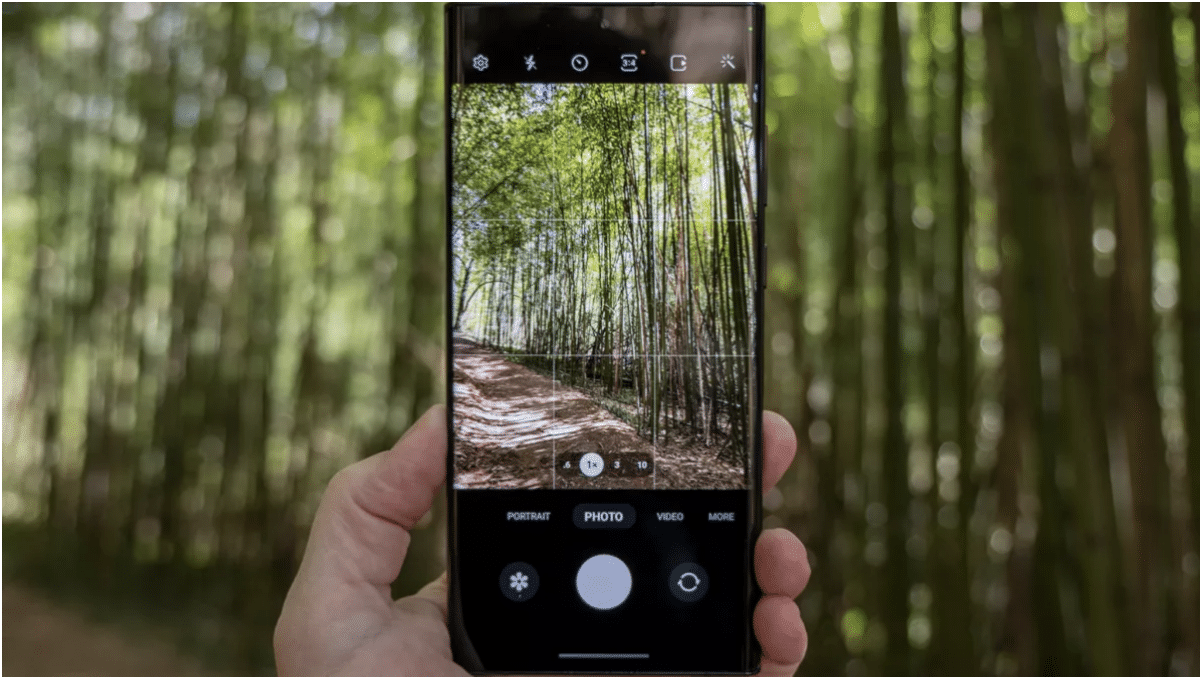 The Samsung Galaxy lineup of smartphones have always been competitors for best cameras in smartphones and the S22 Ultra is no different. The S22 Ultra has a new and improved, bigger 2.4um pixel sensor which allows you to capture more light and data. This as well as the fact that it has a Super Clear Glass lens means that this phone will be able to perform very well in the dark and even take nighttime videos without flares. Not only do you get this huge pixel sensor, you also get a 12MP ultrawide lens which means you'll be able to capture even more data and take a much wider photo or video. Then lastly the phone also houses a dual 10MP telephoto camera to give you 10x optical zoom as well as 100x space zoom, which really is amazing for capturing scenes at far distances.
Samsung has also recently been working on their computational photography in their camera systems and to further double down on this they've added an adaptive pixel technology into the S22 Ultra, which essentially combines 9 pixels into one in order to enhance the images in the dark. Two more examples of the computational photography in this smartphone is its AI high-res processing and lastly its 4x faster multi-frame processing.
Although the S22 Ultra's Night Mode has improved it is still very impressive that the camera's performance during low light has also improved tremendously and still produces good photos without even needing to engage Night Mode. Other examples of the camera highlights of the Samsung Galaxy S22 Ultra include the Auto Framing feature, which can identify up to 10 subjects in a frame. Then for the photographers who still want to be able edit and take more control over the pictures they take, the phone also has an Expert RAW app which means that you can capture 16-bit RAW files.
One thing that many don't like about the camera in this phone is that it comes with a Scene Optimizer mode automatically switched on and what this does is enhance your photos by editing the white balance, colours, brightness and other things but the problem with this is that it can overcook your photos and so most people switch this off.
Video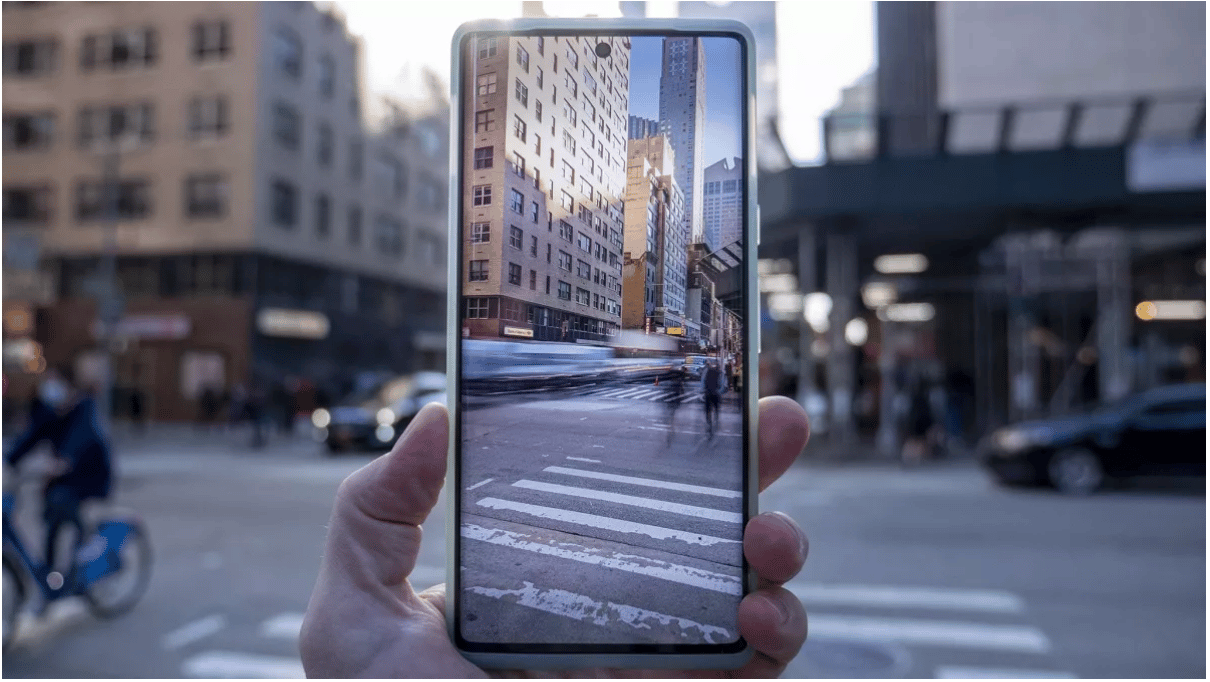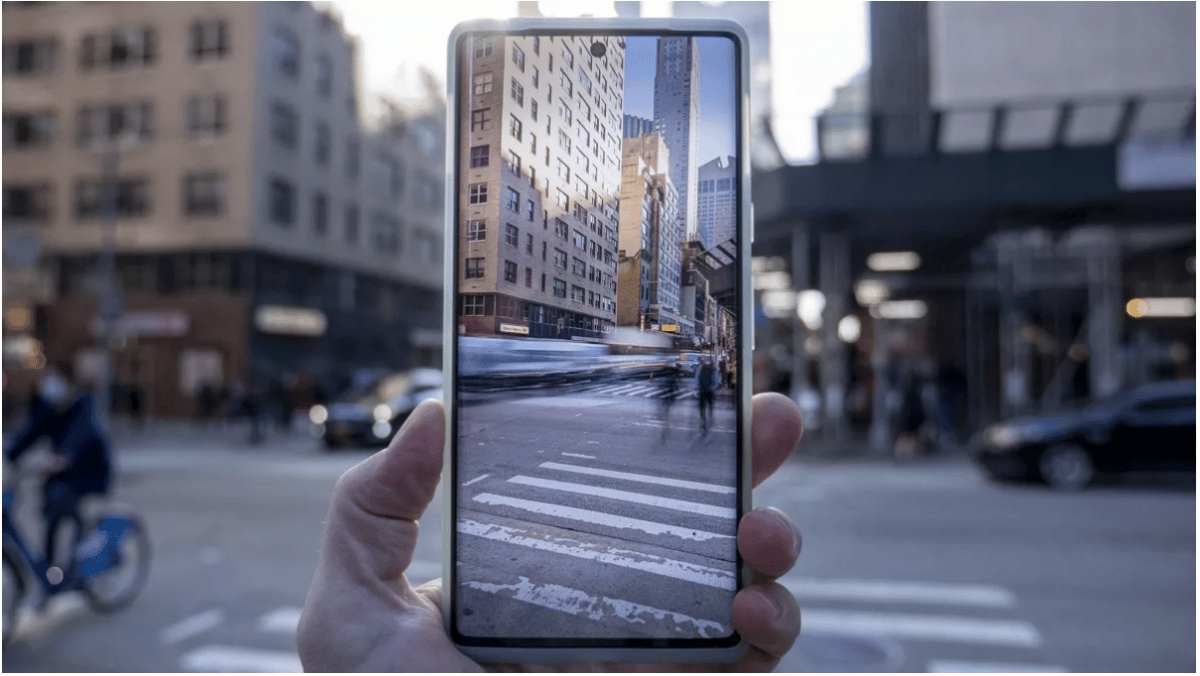 Not only is the new Samsung Galaxy smartphone amazing when it comes to taking pictures it also performs very well when taking videos. The S22 Ultra can take high quality videos of up to 8K at 24fps and even has a Super Steady mode which keeps your videos extra stable, making your videos very good. Just like the photography on this phone, the video side of it also has a lot of extra features that you can play around with, like Portrait Video mode.
Another one of these cool extra features is its zoom mic which works very well. So if you were recording something like a waterfall or a band in the distance the water or music would get louder the further into them you zoom, which can be a really cool tool to isolate one thing in your scene.
The Super Steady mode does max out at full HD and 60fps but it delivers incredibly smooth footage even when you're recording and walking at the same time, whilst other cameras would come out shaky with each step you take. Sadly with the benefit of this steadiness the camera doesn't do such a good job at capturing the rich colours in the scenes as the normal mode would.
Performance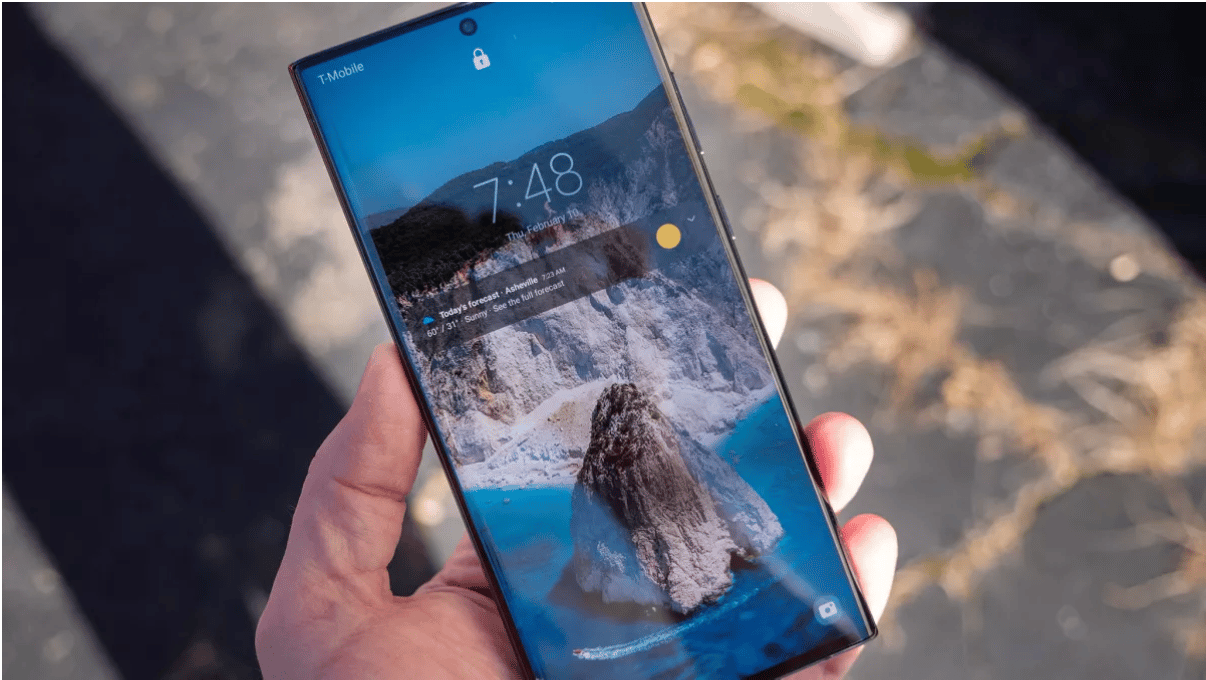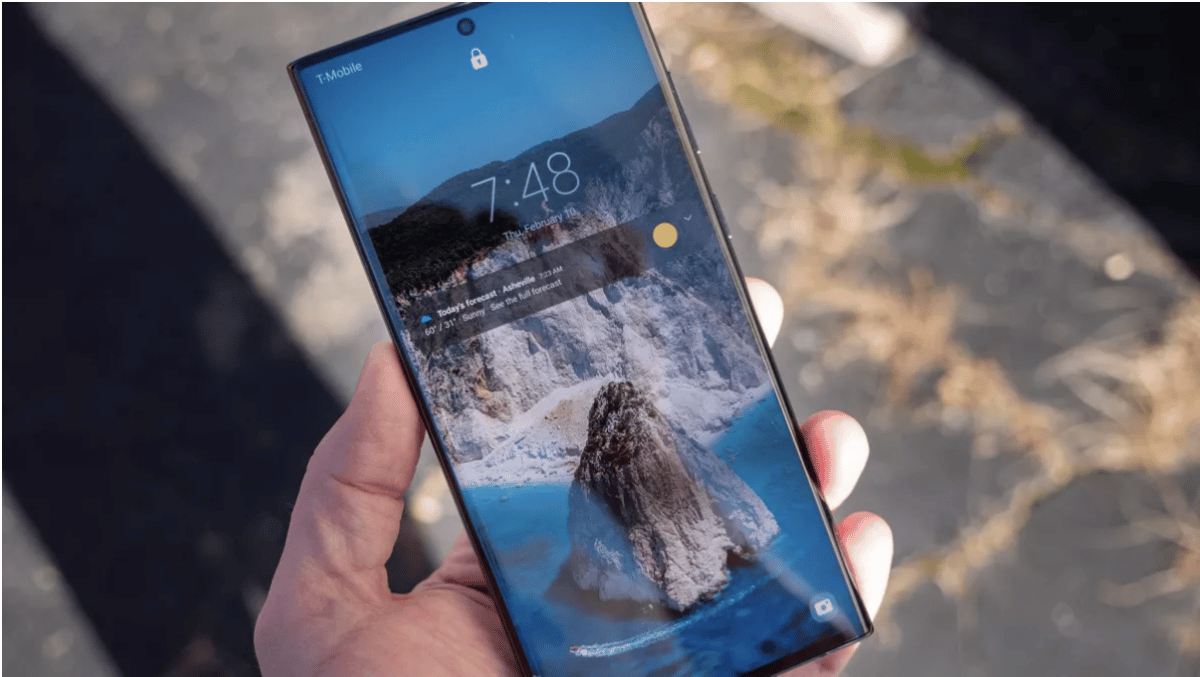 With regards to performance this smartphone really stands out amongst all the others because it is one of the first mobile phones that houses the Qualcomm's Snapdragon 8 Gen 1 processor, which is essentially a 4nm chip that gives a better CPU and graphics performance and does so even more efficiently.
8GB of RAM may seem like not that much for a smartphone of this calibre but it still feels extremely smooth when you're opening and closing your apps. With this performance the S22 Ultra is able to give you an immersive gameplay experience, without any sort of hiccups, for your favourite games like DriveClub and even Call of Duty mobile.
Sadly, the Samsung Galaxy S22 Ultra doesn't allow for expandable storage so when you purchase your phone you should be sure of how much storage you will need. The base model, and cheapest model, of the S22 Ultra starts at 128GB and then you have the options for 256GB, 512GB and 1TB as well, so choose wisely.
Battery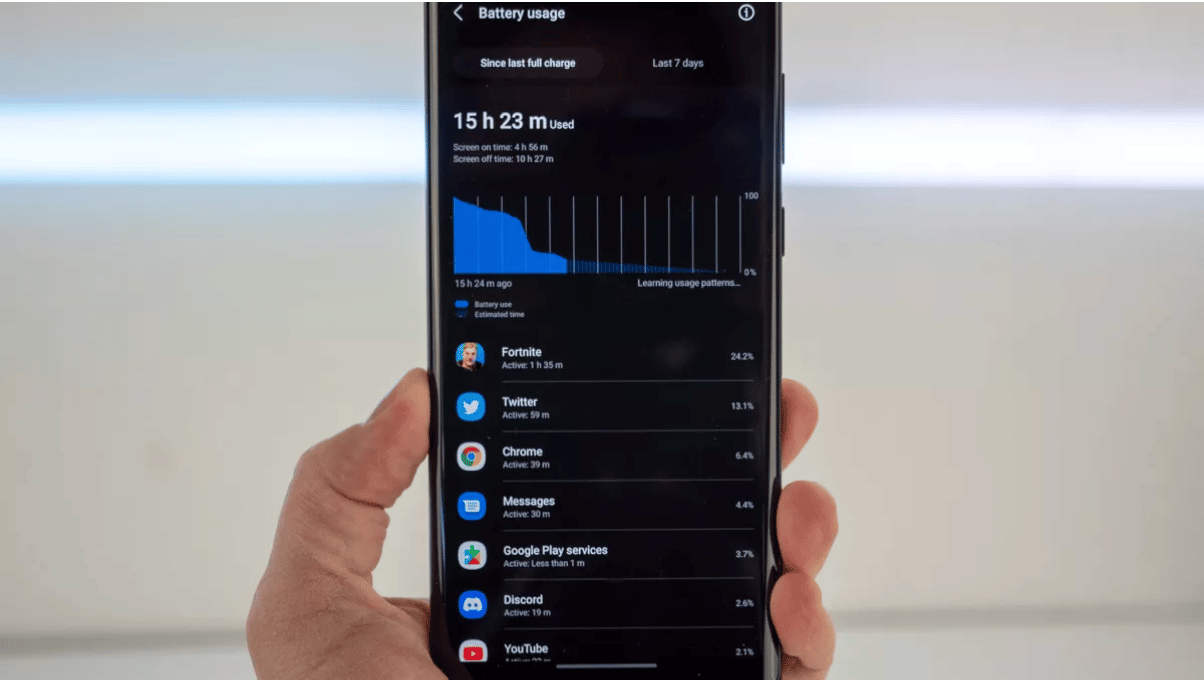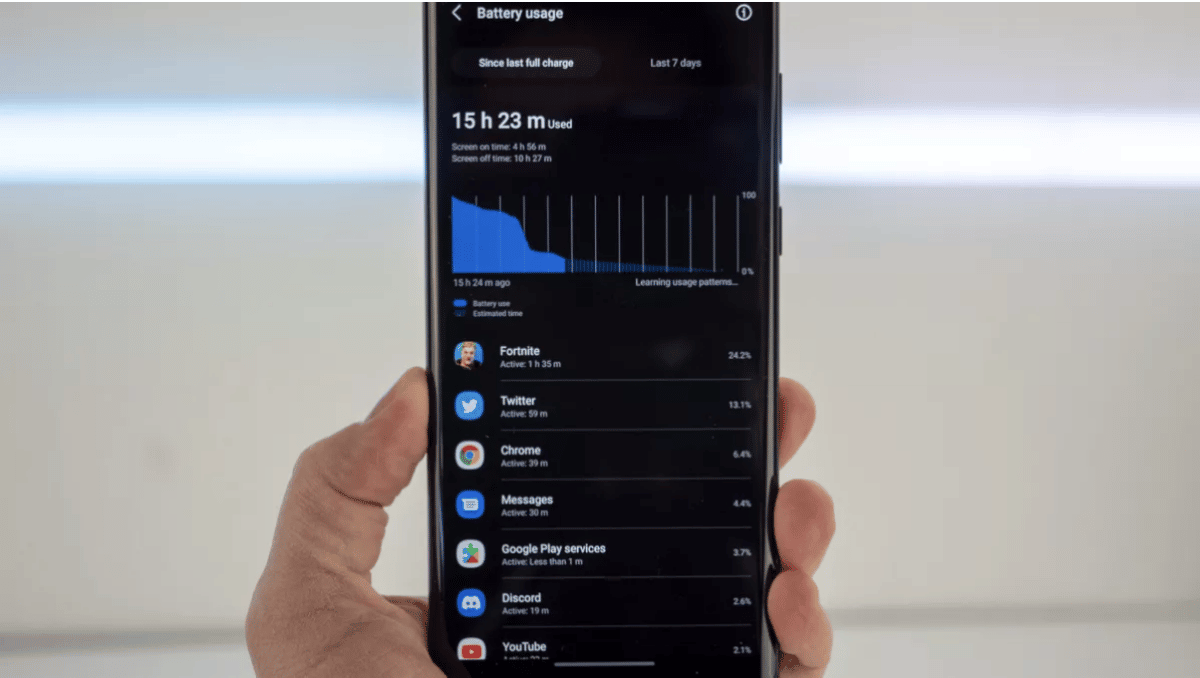 Samsung has put a huge 5,000 mAH battery into their Galaxy S22 Ultra which lasts for over a day if you are using the phone normally. This means that the S22 Ultra is able to last over ten hours with 60Hz mode turned on. This is very impressive and is probably good enough for most people but it is still lower than the previous, S21 Ultra model and the iPhone 13 Pro Max.
Then if you turn it up a notch and put the display refresh rate to 120Hz the S22 Ultra lasted even less time, this time lasting just under nine hours, which is quite a bit lower than what you would have wanted to see.
Once your battery is all used up and you want to charge it up again then you'll be able to make use of charging of up to 45W, compared to the 25W that the Galaxy S21 Ultra had. This new faster charging capabilities allows you to get 50% in 20 minutes, which is ten minutes faster than what the S21 was capable of.
Software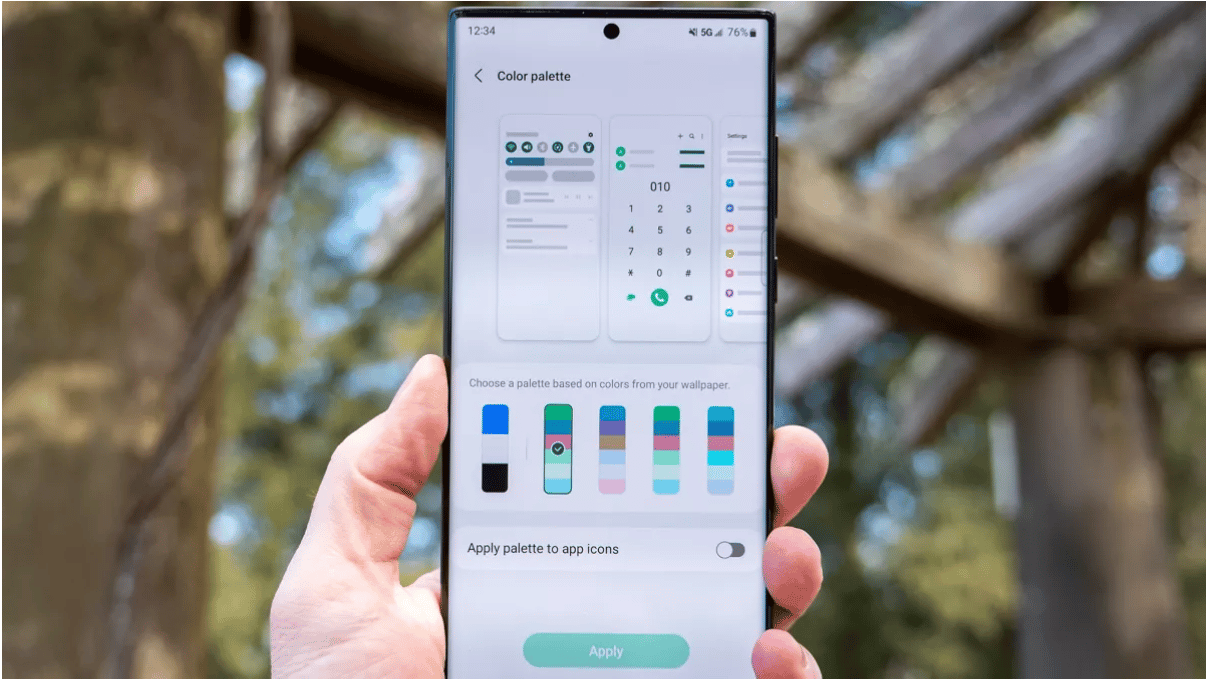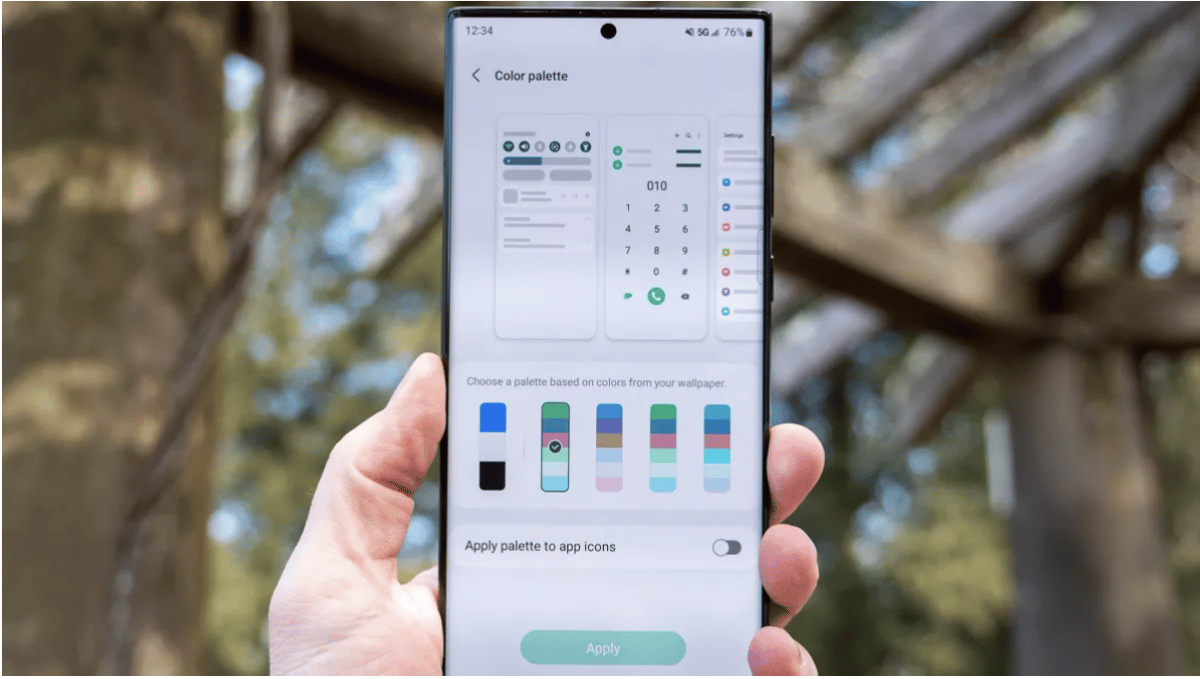 The new Samsung Galaxy S22 Ultra came with Samsung's OneUI 4.1 software, the phone also runs on Android 12. Thanks to this operating system and this interface the new Samsung Galaxy smartphone is more useful than ever and it even has a new privacy dashboard which lets your mind rest easy knowing that you are as safe as you've ever been. 
Then just like iPhone has their Apple Wallet the Samsung Galaxy also has a new feature called the Samsung Wallet, where you'll be able to store all of your digital payment information and ID all in one. Just like SharePlay in iOS 15, for Apple devices, the Samsugn will now get a feature called Google Duo which allows you to share videos and documents while you're still in a video call, which can make everything a lot more efficient if you have to send something immediately or if you just want to multitask while talking to someone.
Conclusion
So, is this phone worth all the hype and should you make the decision to purchase it? Let's look at the facts. The Samsung Galaxy S22 Ultra is a smartphone that is easily amongst some of the most powerful and versatile Android smartphones ever made and with an amazing display as well as camera setup, which has just improved drastically over the S21 Ultra especially in low light environments, there isn't much more that can be asked of it.
If we compare this smartphone to the Google Pixel 6 Pro, which is another very well known smartphone for its performance as well, we notice immediately that the S22 Ultra will cost you $300 more, but why? Well to start off the Samsung S22 ultra has a brighter screen, longer battery life, a faster chip and a S Pen that is better than ever. However, for the photographers out there, there are some situations where the camera on the Google Pixel 6 Pro outperforms that of the Samsung.
Then when comparing it to the iPhone 13 Pro Max, which is definitely one of the most popular brands and phones out now, we see that it is a little lacking as the iPhone 13 Pro Max is faster, lasts longer and even produces better photos, just not in low light situations. Other than that the S22 Ultra does have a more lowkey and sleek design and also has a much better zoom with its camera setup.
In conclusion this is definitely one of the best Android smartphones that money can buy at this point in time and some people could even consider it close to the best phone ever.