The majority of the good domains out there are probably bought, used or just taken by someone else. But like everything that too shall pass. This means that a lot of domains will be put up for auction. If you are lucky you could find just the right domain for you. One of the biggest auction sites is GoDaddy.
Buying a domain on a GoDaddy auction
The first thing you'll need, if you haven't already got one, is a GoDaddy account. You can create one with your email or simply use your Facebook or Google account.
Once you have that setup head on over to auctions.godaddy.com
Scroll down and you'll see the most active domain auctions at the moment. This list updates constantly, so you'll need to come back a lot to not miss out.
You can also search for a specific domain or a specific keyword to see if you can find a domain the segment you are looking for. The search bar is at the top of the page.

Once you have found a domain you would like to bid on then you can place the bid directly on the main page but you can also click on the domain and then hit the ID number of the domain to see more details of the domain. It looks like the picture below.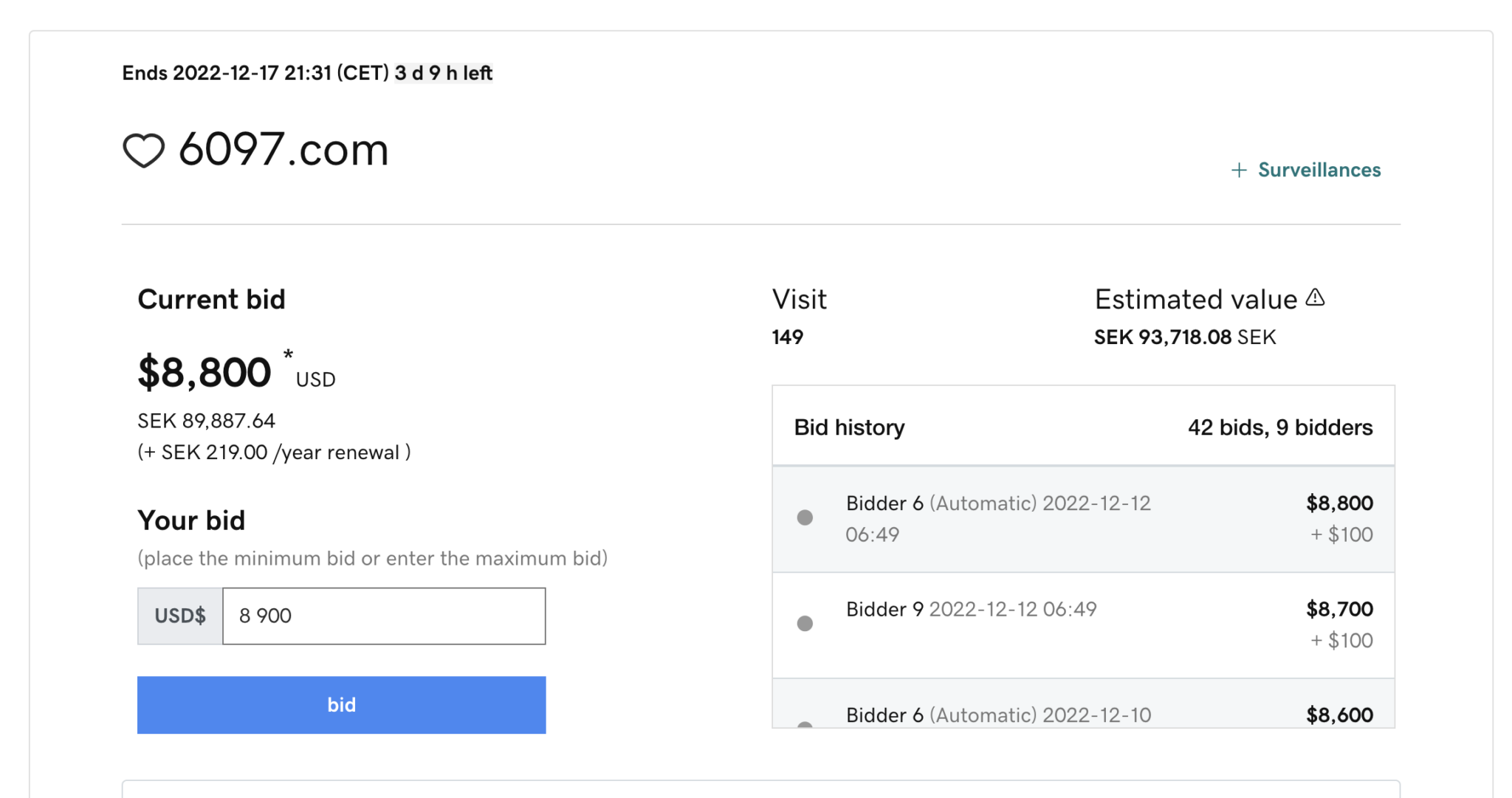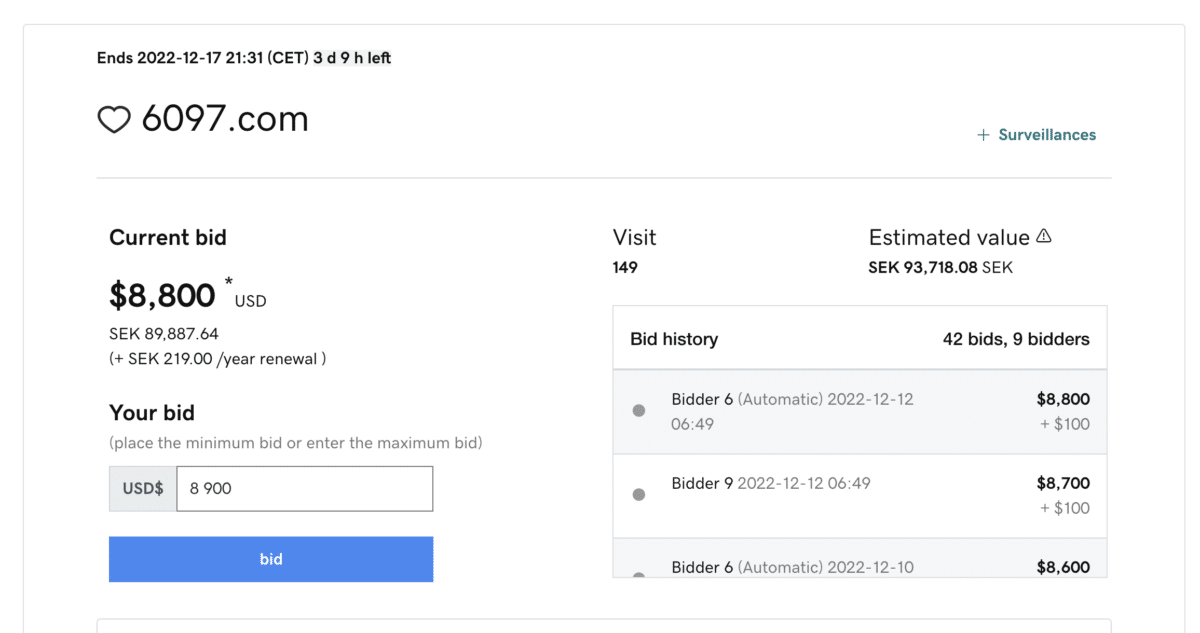 Here you can see previous bids.
How much time is left on the bidding.
You can also add the domain to your watchlist so you can keep an eye on it later.
You can also place a bid.
Placing a bid
When placing a bid you you want to add the max you are willing to pay for the domain straight away. By doing this you will avoid having to come back and bid again and again. You can bid as many times as you want but it might get tedious having to go against some other bidder with $15 increments.
Once your bid is placed you will know straight away if your bid is the highest bid or not. If it's the highest you can sit back and wait for the auction to end. But don't forget to keep an eye on your email. Because if you get outbid you will get an email letting you know and you'll have to either place a new bid or give up the auction. To give up the auction you don't have to do anything. If you want to place a higher bid hit the link in the email and enter a new amount and hit the place bid button.
Winning the auction
If you are the lucky one winning the action then you will get an email saying so and you'll have certain amount of time to pay for the domain.
Click on the link in the email that was sent to you and follow the instructions. If you have bought a domain for a high price you might have to call the GoDaddy support to finalise the payment. If you don't have to talk to their support you can pay via PayPal or Credit Card.
Once the payment is processed it will take up to 10 days for the domain to transferred to your GoDaddy account. This processed is handled by GoDaddy so you don't have to anything just wait for the confirmation email.
Once in a blue moon the transfer can be cancelled by the previous owner even though you have paid for it. If this happens just contact the GoDaddy support and they will help with the transfer of the funds back to your PayPal or credit card.
Bottom Line
Finding new domains can be hard these days. You could get lucky and find what you are looking for by using a domain auction such as GoDaddy Auctions.