Since its debut, the FujiFilm Instax line of cameras has been a popular choice for instant photography enthusiasts. The line has grown to include a variety of models, from entry-level to professional-grade. Whether you're looking for a camera to capture special moments or a reliable piece of equipment for your business, there's a FujiFilm Instax camera for you.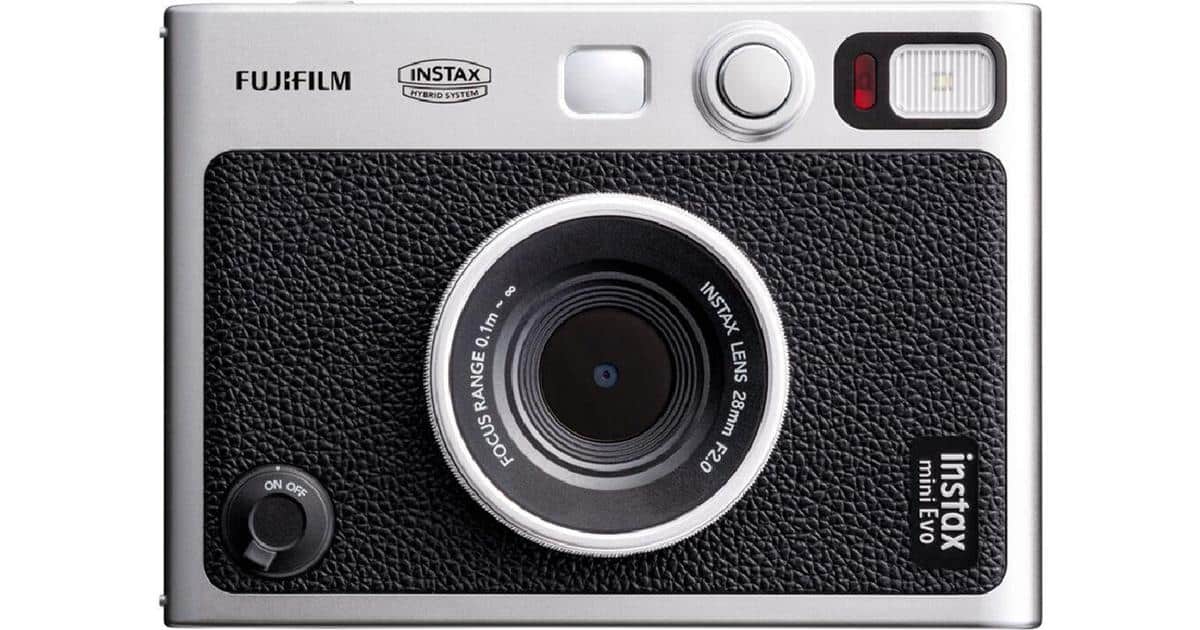 The Instax Mini Evo
The Instax mini evo camera is a digital instant camera from Fujifilm, and it's perfect for anyone looking for an easy, fun way to take photos and share them with friends. This camera is a great choice for beginners as it is simple to use and produces great pictures.
The camera produces instant prints with a credit-card sized format, so you can easily share your photos with friends. It also has a instax-Rich mode to print images with more vibrant colors.
The Instax mini evo is also very portable and lightweight, so you can take it with you wherever you go.
The big difference between the Polaroid cameras and the FujiFilm instax cameras are the fact that images from instax are digital printed images whereas the Polaroid film is chemically developed images. This means that the instax image takes approximately 16 seconds to print. Polaroid images takes approximately 15 minutes to fully develop.
Pros:
Small and easy to use
Flexibility – many different lens/film filter options
Cons:
Small image format
No in-camera editing
Features
The camera features 10 different lens effects and 10 different film effects that in effect offers you a 100 different combinations for the ultimate creativity.
The lens effects are:
Normal, vignette, soft focus, blur, fisheye, color shift, light leak, mirror, double exposure and half-frame.
The film effects are:
Normal, vivid, pale, canvas, monochrome, sepia, yellow, red, blue and retro.
With the app connected via Bluetooth you can send images from your smartphone to print immediately from your camera. Printed images can also be saved with an instax frame to your smartphone.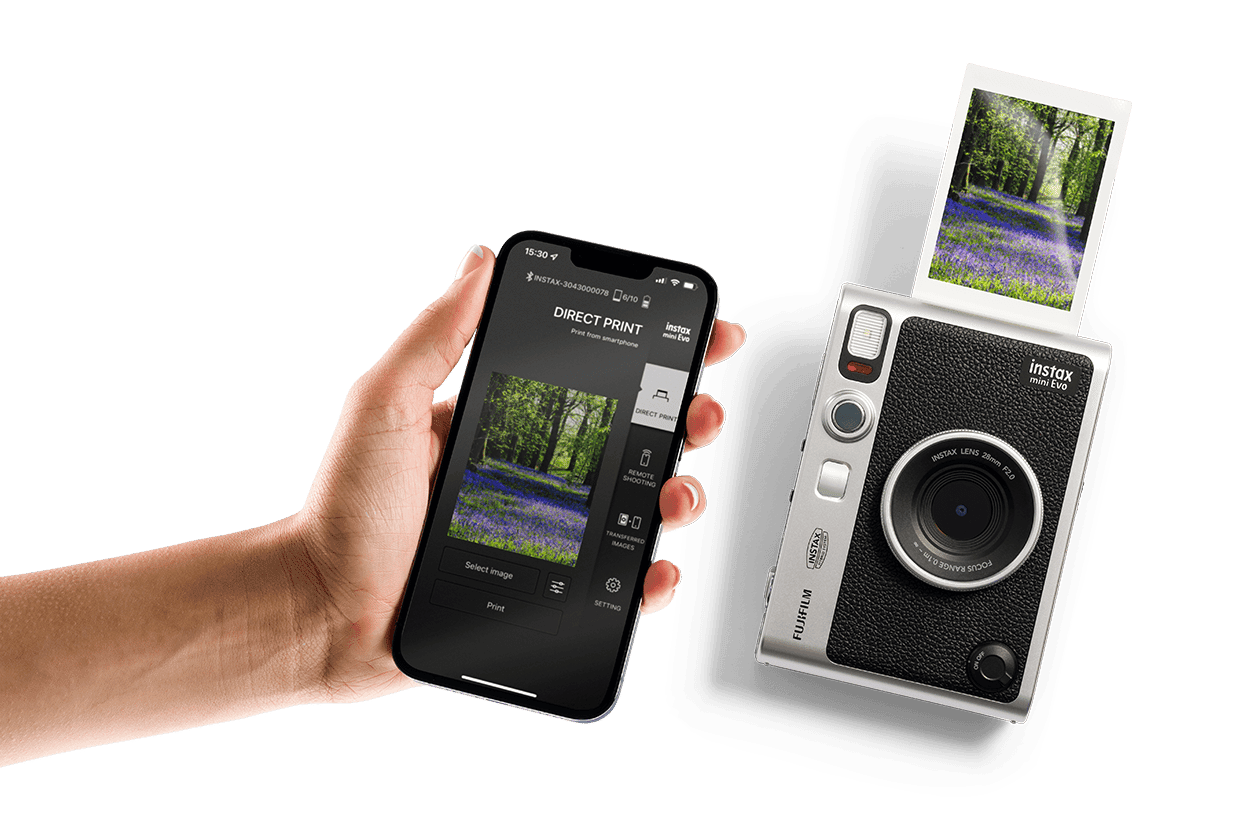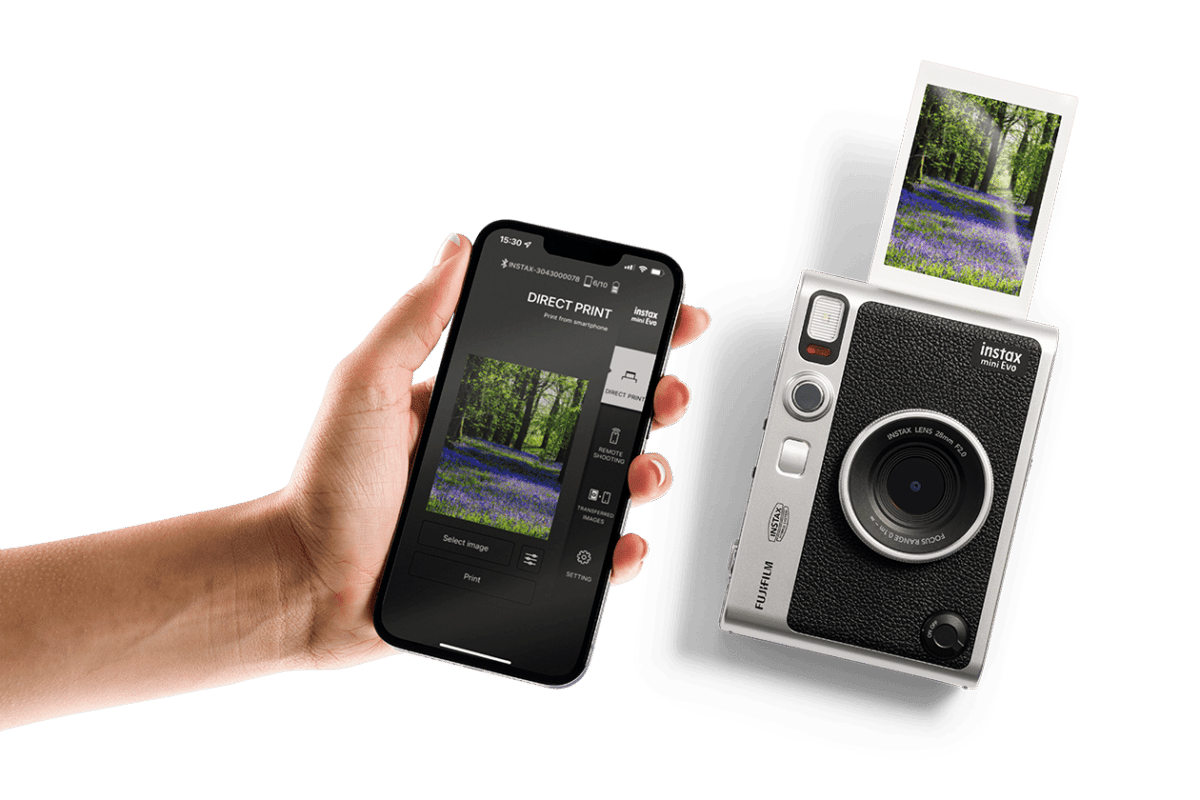 The app also allows you to use your smartphone as a remote control to release the camera shutter.
Product specs:
Image sensor: 1/5 inch CMOS with primary color filter
Recorded pixels: 2560 x 1920
Storage media: Internal memory, microSD/microSDHC memory card
Storage capacity: About 45 images in internal memory and about 850 images per 1GB on the memory card.
Image file format: JPEG
Recording method: DCF compliant Exif ver 2.3
Focus distance: f=28mm (35mm film equivalent)
Aperture: F2.0
Auto focus: Single AF with AF illuminator
Shooting distance: 10cm to infinity
Shutter speed: ¼ second to 1/8000 second
Shooting sensitivity: ISO 100-1600
Exposure control: Program AE
Exposure compensation: -2.0 EV to +2.0 EV in 1/3 EV steps
Metering method: TTL 256 split metering, multi metering
White balance: Auto, fine, shade, fluorescent 1, 2 and 3, Incandescent
Flash: Auto flash, forced flash, suppressed flash. Shooting range with flash 50cm to 1.5 meter
Self timer: 2 sec / 10 sec
Exposure print pixel count: 1600 x 600 dots (800×600 when printed from smartphone app)
Power supply: Internal lithium ion battery
Film used: Fujifilm instax mini
Overall, the Instax mini evo is a great choice for anyone looking for an easy, fun way to take photos and share them with friends. Its simple design makes it perfect for beginners, while its advanced features make it great for experimentation as well.