If you're wondering what the future has in store for true wireless headphones, it might be artificial intelligence control. The new earbuds by Redux Sound, called ReduxBuds, feature an advanced AI algorithm that listens to sounds in your environment to bring you intelligent ANC and a seamless listening experience.
ReduxBuds biggest selling point is that, thanks to the AI, you never have to take them off. ReduxBuds can sense critical noises in your vicinity and even pick up voices directed towards you. These sounds will pass through the speakers without you needing to press pause or remove your earbuds. In essence, ReduxBuds seamlessly merge your life and your music.
Along with ReduxBuds' steller AI-powered ANC, the earbuds also feature oversized graphene speakers for clearer audio, a 100-hour battery, Bluetooth 5.0, and IPX5 waterproofing. They're some of the most advanced true wireless earbuds we've ever seen, and they're still selling for a hot early-bird price.
On the tail of their six-figure Kickstarter campaign, you can still grab ReduxBuds for a 50% price reduction. But don't wait long. These earbuds will go for a premium price once they hit shelves.
Below, we'll take a closer look at some of the tech in ReduxBuds, starting with the AI.
AI-Powered ANC


Of all the possible breakthroughs in true wireless technology, we'll admit that we weren't expecting AI to be one of them.
But we'll also admit that we were pleasantly surprised by how well ReduxBuds' AI performed. The AI makes the entire headphone experience better. Now, you don't have to remove your headphones when you take calls, get on the bus, walk through traffic, stop at the coffee shop, or chat with a coworker.
You can do it all while listening to your music. ReduxBuds' AI knows the sounds you need to hear and keeps all other noises canceled with powerful 30 dB ANC (50% more noise-canceling power than AirPods Pro).
Here's how the AI works.
ReduxBuds algorithm was built to recognize over 6000 different noises. While you're listening to your music, the software listens to sounds in your environment and categorizes them into critical and non-critical. It does all of this before the sound could potentially reach your ears.
If it hears a critical sound, it will automatically lower the volume of your music to allow that sound to pass through to your ears. All other sounds will remain canceled.
This increases your awareness when you're listening on the go, keeping you safer and better prepared. But it also removes those little annoying moments when you need to take out your earbuds or press pause just to buy a ticket, get a coffee, or walk through traffic.
With ReduxBuds, your music no longer competes with your life.
If you're not going out, you can also switch to a normal ANC mode (non-AI) or turn ANC off completely to conserve battery power.
Graphene Audio
When any brand uses graphene in its drivers, we always pay attention. Graphene is one of the most fascinating substances on Earth. At 1000x thinner than paper and 200x stronger than steel, graphene is both the strongest and thinnest material known to man.
Because of its strength and size, it makes the perfect material for speaker drivers in true wireless headphones. Graphene is strong enough that it will not degrade over time due to excess vibration (unlike most speakers). This means that graphene speakers can handle louder volumes and produce more booming bass in a smaller package.
Graphene also produces cleaner audio with fewer artifacts. This is how ReduxBuds deliver audio with studio-quality precision even though they are inner-ear canal earbuds.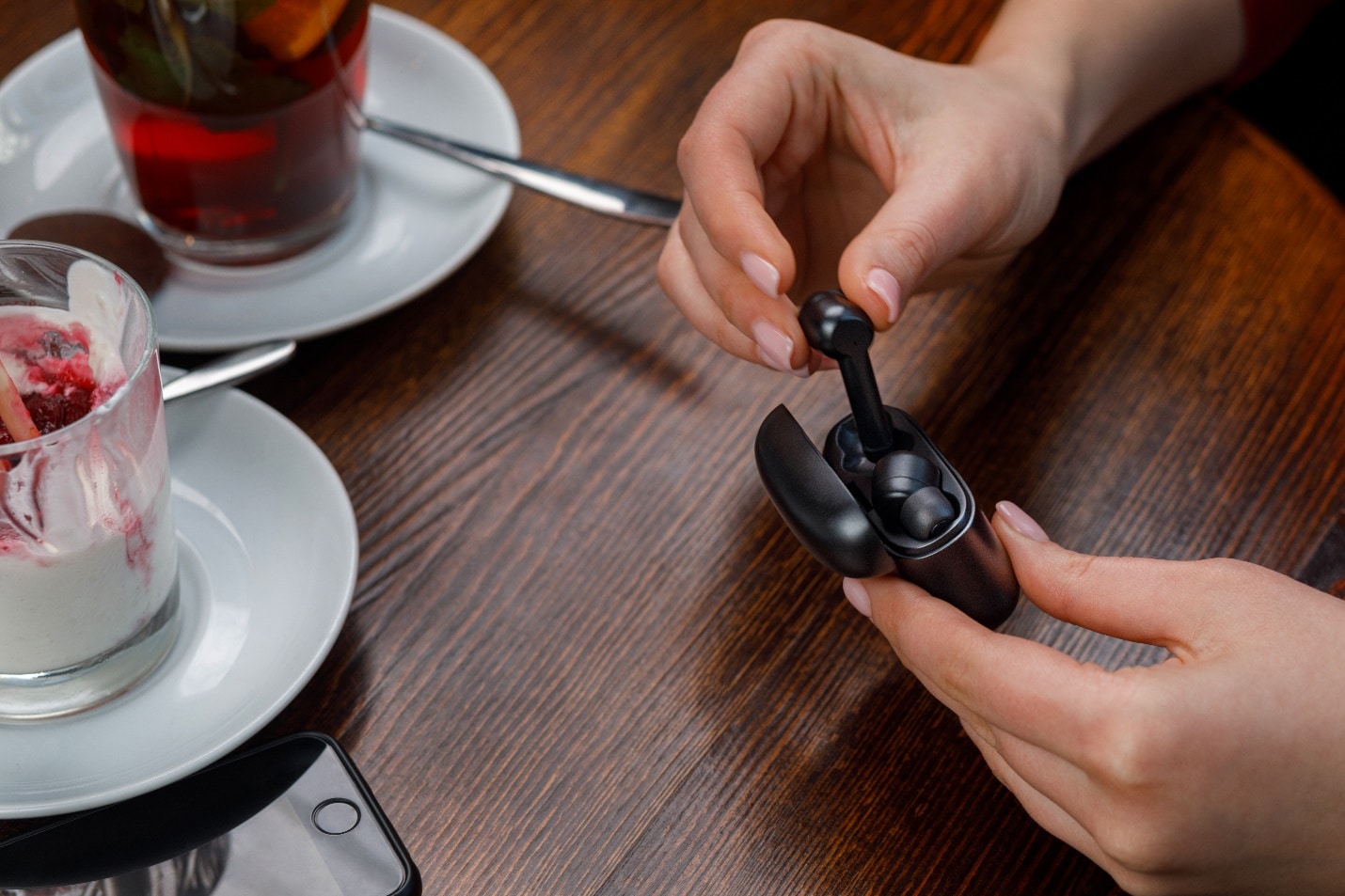 100-hour Battery
Redux Sound designed their earbuds to be the headphones you never have to take off, and they've got a battery to make that promise a reality.
ReduxBuds' battery is one of the longest-lasting on the market. At up to 10 hours of continuous playback from just one charge, these headphones go as much as 3x longer than the competition.
There are an additional 90 hours of battery in the carrying case, so listeners can enjoy 100 hours of playback on just one charge. That means you'll only have to charge your headphones about once a month even if you listen for 3-4 hours per day.
One of the most impressive aspects of the battery was just how well it held up with the ANC modes active. Even with the AI ANC on, the earbuds managed to get nearly 8 hours of playback from one charge. We haven't found any other earbuds that can do that with even normal ANC active.
ReduxBuds feature Type-C fast charging via USB-C. 15 minutes of charge in the carrying case can power the earbuds for a full 10 hours. The case will charge fully (100 hours) in just 2 hours.


Bluetooth 5.0
The fastest wireless technology ensures that ReduxBuds won't let you down when calling, watching videos, gaming, or listening to music far from your phone.
With a 30 foot wireless range, you can leave your phone on the sidelines while you work out and still enjoy skip-free music as well as access to your contacts, internet, and apps.
ReduxBuds will also instantly pair to your device, so you never have to bother with pressing buttons or navigating menus. Just put them in and press play on your device.


Durable and Weatherproof
These go-anywhere headphones really can go anywhere. With IPX5 waterproofing, ReduxBuds can handle weather of any kind. Even heavy sustained rainfall won't damage them, so they're ready to go for cross-country jogs and sweaty workouts.
ReduxBuds are also sealed to prevent dust and debris from getting inside. Thanks to the touch controls, the earbuds don't have any buttons that can provide entry for dust. You can take them to the beach or the dirt biking trail and they won't come back with specs lodged in any cracks.
Internally, the earbuds offer even better durability. Graphene speakers are virtually indestructible (graphene is harder than diamond), so no amount of use will degrade or damage the drivers. Even if you listen at the highest volume every day, your speakers will remain like-new (though, we can't say the same for your ears…).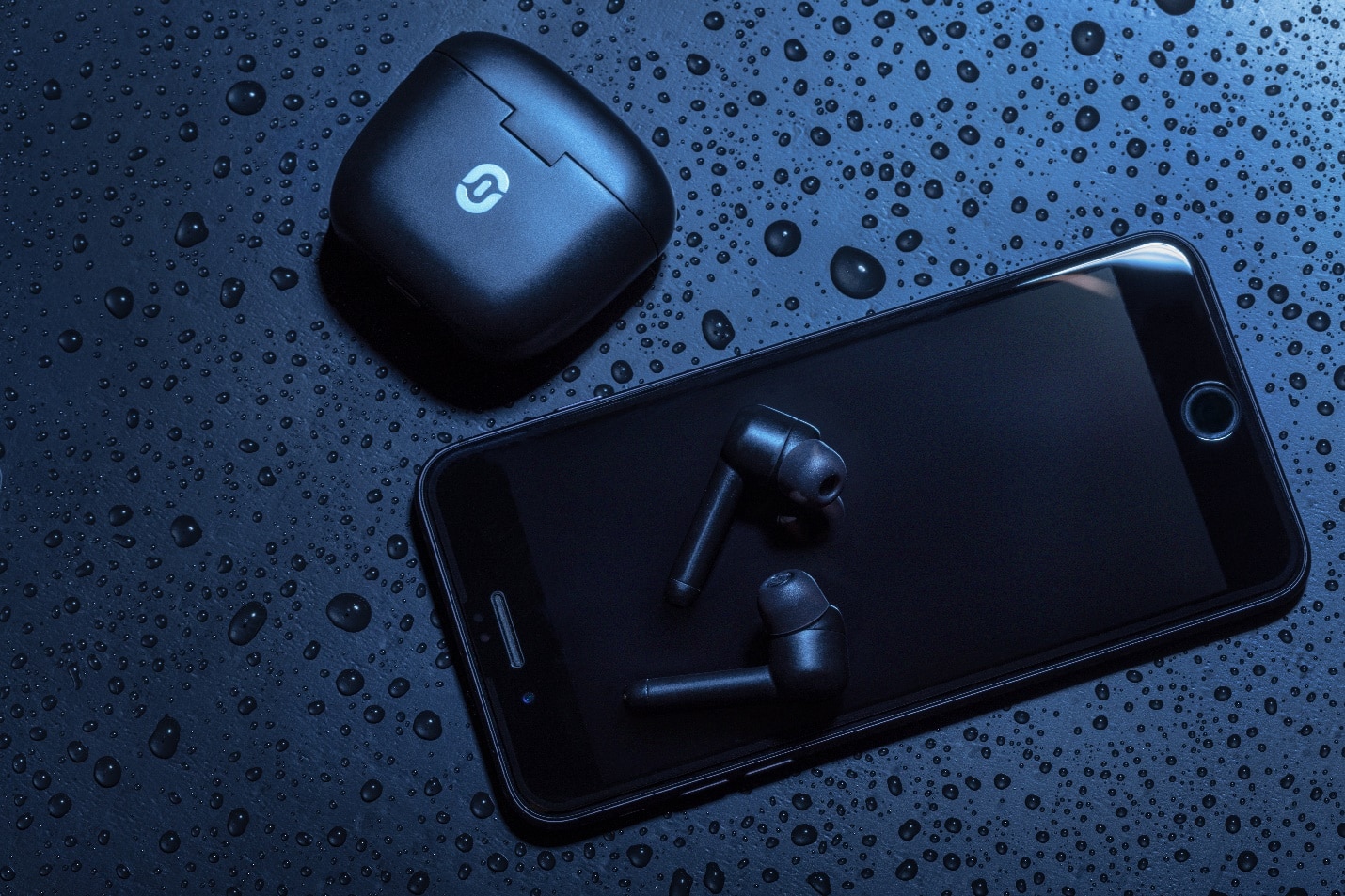 Digital-Assistant Ready
Hands-free access to your digital assistant is becoming more common in true wireless headphones, and ReduxBuds have followed suit. Using only your voice, you can access Google, Siri, and other digital assistants.
Thanks to Bluetooth 5.0, that means you can call, text, surf the web, and a lot more directly from your headphones, even if your phone isn't on you.
This makes it extra convenient to multitask while at the gym or on your way to work.


Comfortable Ergonomic Fit
If you're going to wear earbuds for 8-10 hours, they'd better be comfortable. ReduxBuds are some of the most comfortable earbuds we've tried.
Redux Sound invited ergonomic engineers into their labs to help create the perfect inner-ear fit. They used models of real human ears to solve the uncomfortable problems of other inner-ear earbuds, most of which are tight and itchy or cause irritation after a few hours.
ReduxBuds fit naturally and don't cause any discomfort. They actually feel like nothing is in your ears at all. Despite their comfort and lighter-than-air feel, they fit snuggly and can handle intense activity without budging.
ReduxBuds ship with three different ear tip sizes made of contouring silicone.


Get ReduxBuds Now for 50% Off


ReduxBuds managed to impress thousands of backers on Kickstarter where it raised over a quarter-million USD a short while back. And now, we can confidently say we know why.
We were skeptical about artificial intelligence in true wireless earbuds, but the AI in ReduxBuds is scarily effective (especially how it picks up ONLY voices that are speaking to you). That, combined with powerful 30 dB ANC and crystal-clear graphene audio makes for a unique listening experience.
While wearing ReduxBuds, you can immerse yourself in your own world of music without losing awareness of the outside world around you. We hate to say it this way, but it really is the best of both worlds.
If you're the type of person that wears their headphones everywhere, then ReduxBuds are for you. And now, you can grab a pair for 50% off. ReduxBuds are still available at their Kickstarter early-bird price for a short while longer. But this price tag will only last until the earbuds hit major retailers. Don't wait to get yours.
Learn more about ReduxBuds and get your AI-powered headphones at reduxsound.com.