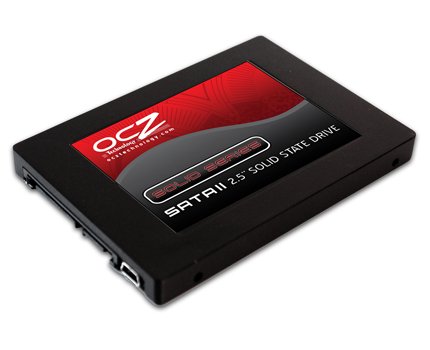 OCZ has released the new Solid Series SATA II SSDs.  These solid state drives are very similar to OCZ's Core V2 Series drives, offering good performance, affordable pricing, and the benefits that are inherent to SSDs.  Solid state drives effortlessly enhance productivity in everyday computer use as well as heavy-load situations. The Solid Series also features a micro-USB port which permits clients to update the firmware with new versions as they become available.  Firmware updates help to enhance performance and compatibility with future operating systems.
Available in three capacities (30GB, 60GB, and 120GB), the Solid State SSDs provide sustained transfer speeds of 155MB/s read and 90 MB/s write and virtually undetectable seek times of <0.35ms. These characteristics combined give the Solid Series (and most other SSDs) the title of being up to 10x faster (in terms of seek time) than some of the best performing 2.5″ hard drives. Another significant benefit of the Solid Series SSDs is that they consume 50% less energy. It is important to note that these new SSDs perform best in notebooks produced after 2006 since they are optimized for the latest mobile platforms.
Like all other solid state drives, the OCZ SSDs have absolutely no moving parts, which helps protect them from damage and improve reliability. They feature an aesthetic and strong, yet lightweight alloy housing. The drives provide a 1.5 million hour mean time before failure, which means you'll almost certainly have a new hard drive before one of these fails on you. All Solid Series SSDs come with a two-year warranty. The OCZ Solid Series drives are priced at $89.95 (30GB), $175.95 (60GB), and $299.95 (120GB).