It has become more and more popular in recent years to buy electric scooters to get around in the city mostly but also in many other areas. I'm sure many people have needed to get to a certain spot but realise that it's too far to be able to walk and too close for it to be worth taking a car and that's exactly when an electric scooter would be the perfect mode of transportation to a spot like that.
You could also think of taking a bike but when you're in areas such as the city where there isn't much space to squeeze on by people or have somewhere to park your bike then the idea of a scooter becomes much more pleasing.
As with many things before you look for something to buy you'll need to first think about how much you're willing to spend on this scooter. There are many scooters out there, both cheap and expensive. Hopefully once you've gone through this list you'll be able to figure out your budget, based on what they're able to do, or even come to a conclusion on which one to purchase.
1. Unagi Model One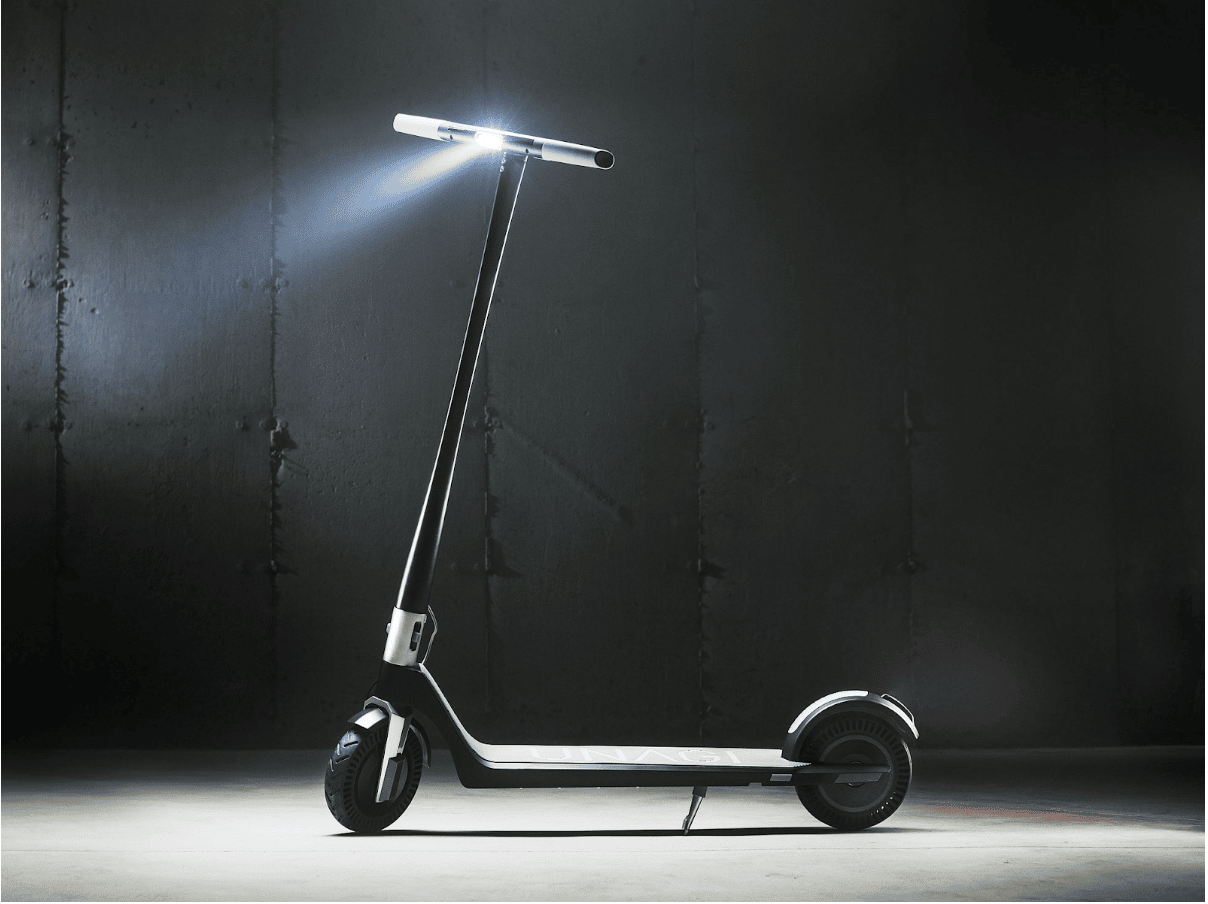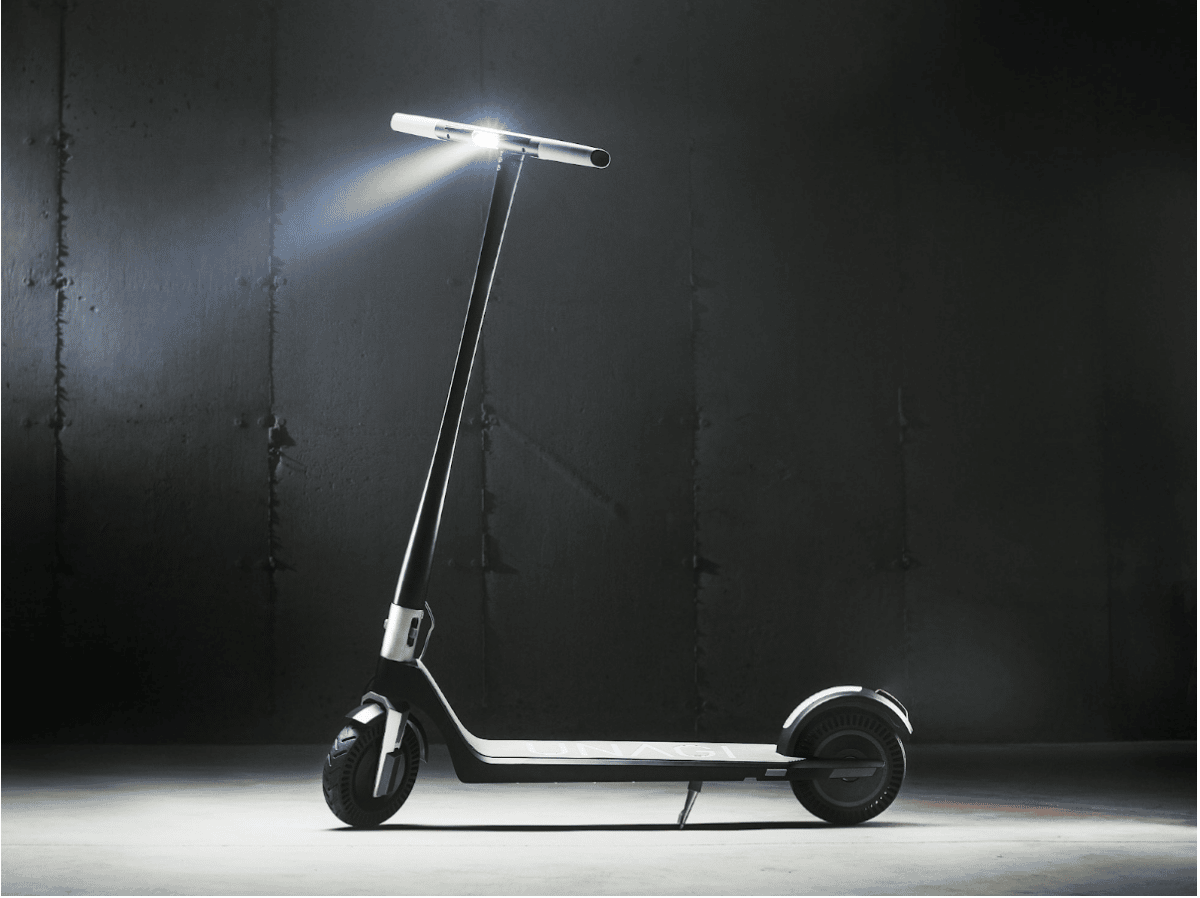 The Unagi Model One is a scooter that is much faster than most of the other scooters because it has two 250-watt motors compared to one, which most others have, this means that you'll be much faster when it comes to steeper inclines. There is quite a large drawback when it comes to using two motors and that is the range. The range is significantly reduced when using two motors as it requires you to use more power.
The Unagi is one of the scooters which has a good bright display, meaning you'll be able to use your scooter at night time and not have any trouble trying to read your display. For the riders safety Unagi has added quite a loud horn to help you be seen if someone is in your way or if other cars may seem to be getting too close to you. The Unagi Model One has gone one step further and has added tail lights, which blink brightly when you brake, and headlights for even more safety to make sure that you are 100% visible when out and about on roads with regular traffic.
This scooter is also not too hard on the eyes and is actually quite sleek, with its carbon fibre front post changing from a circular shape to a triangular shape. You even have the option to go a step further and customise this scooter even more through the use of custom skins so you can find a look that suits you.
All of the benefits of this scooter do come at a high price of $990 which makes it one of the more expensive options to buy.
Specs
Weight: 12 Kg Motor: Dual 250-watt Range: 24.1km Max Speed:24kmph
2. GoTrax GLX V2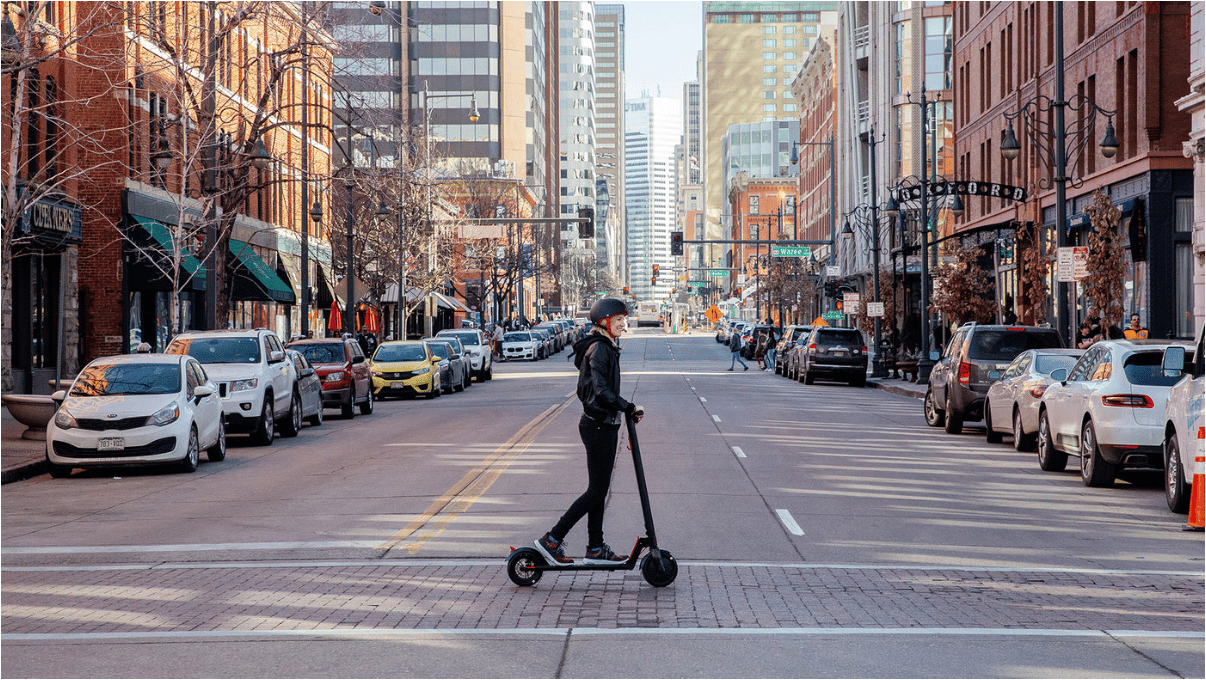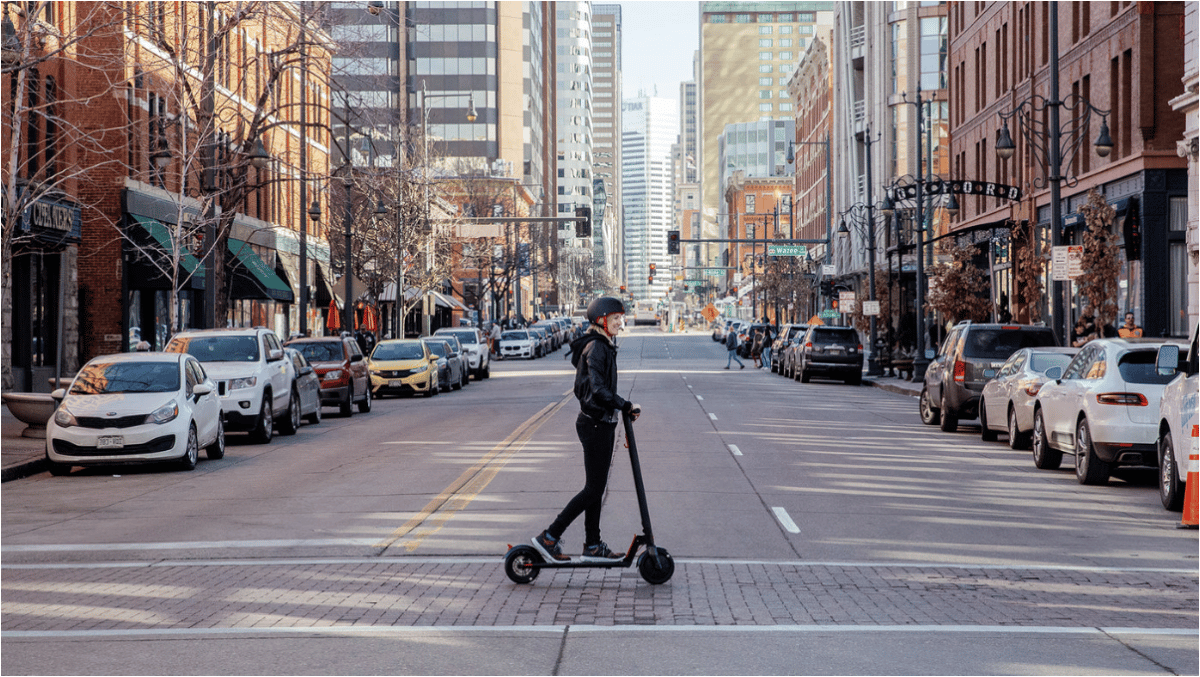 The GoTrax GLX V2 is considered to be the best electric scooter for someone who is on a bit of a tighter budget than others. With the lower price tag you won't be getting the performance stats like speed or range as you would with one that is more expensive. Don't get me wrong though it is still a perfect way to get you from place A to B comfortably.
To speak more on the comfortability of the GoTrax GLX V2, it comes with larger-than-usual 8.5 inch air-filled tyres which make your ride smoother and even gives you more grip which means you'll be able to come to a stop fast in case of an emergency.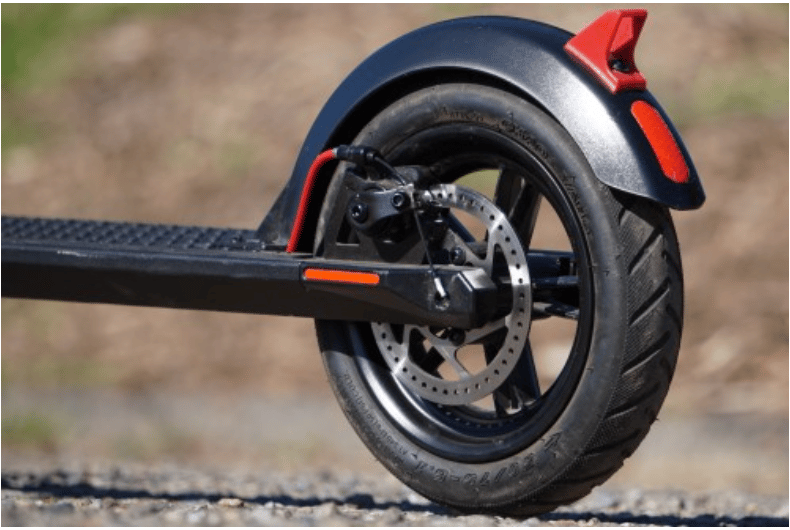 The motor in this scooter is quite impressive as it is able to reach speeds of 24 Kmph but it is on the uphills where this scooter struggles the most. Overall though this is an excellent choice when looking for a scooter which is a little cheaper.
Specs
Weight: 12 Kg Motor: 250-watt FWD Range: 19 km Max Speed:24kmph
3. Segway Ninebot Kickscooter Max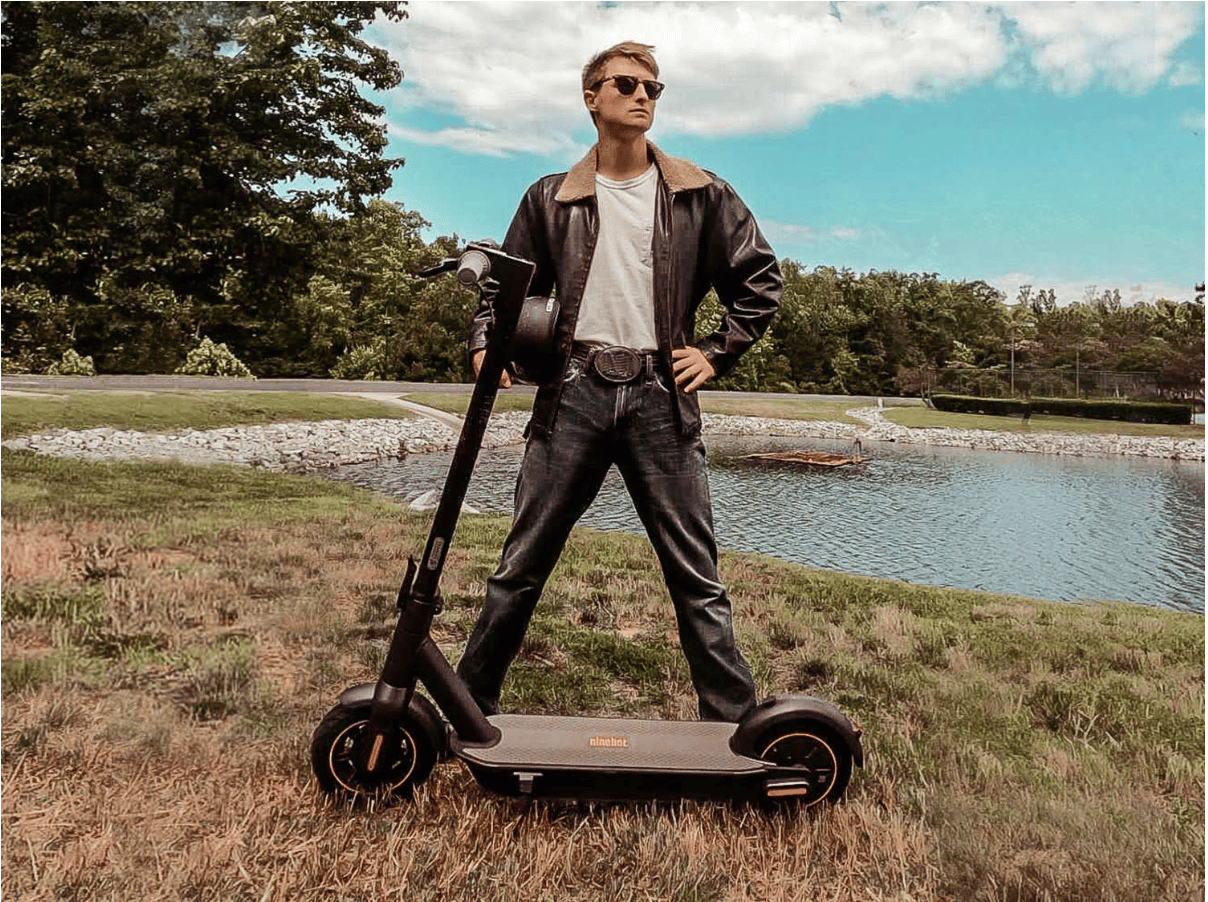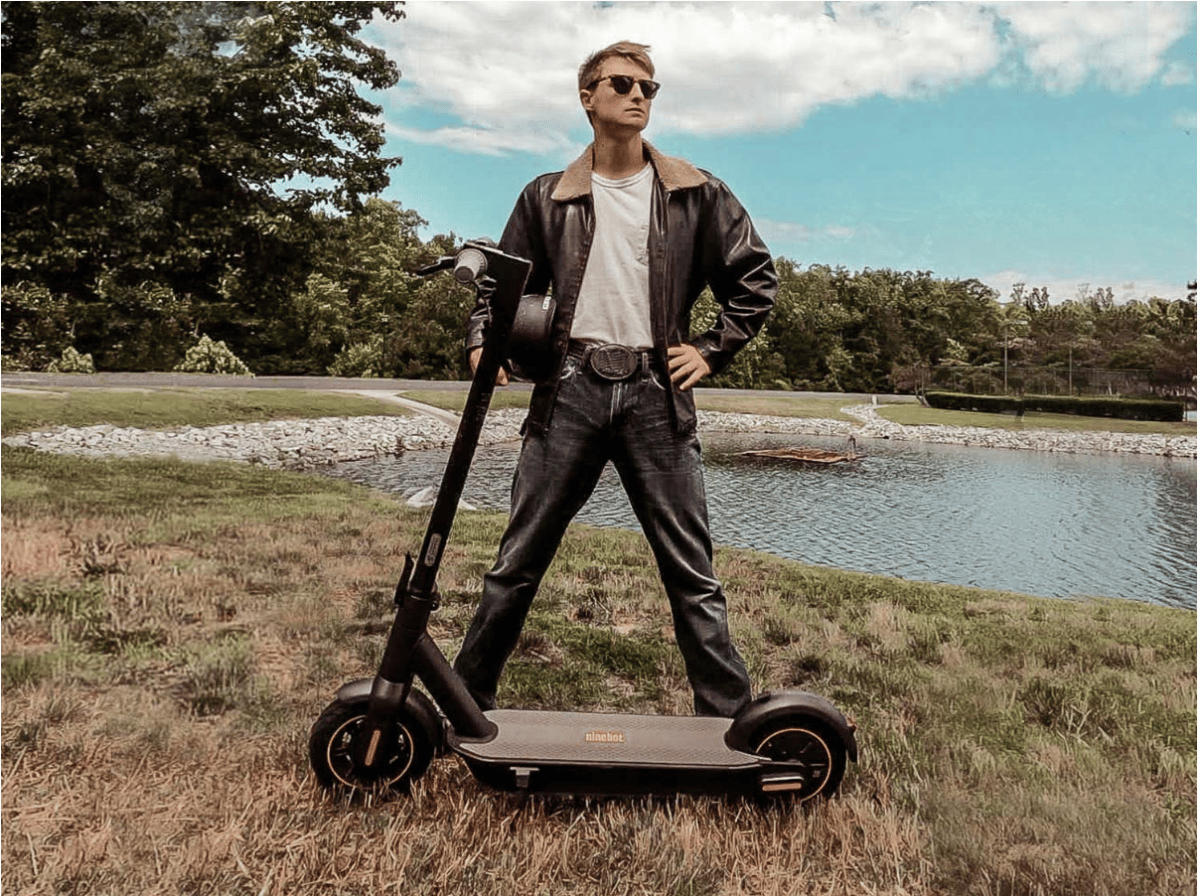 The Segway Ninebot Kickscooter Max has a big battery capable of some really good range, over double that of regular electric scooters, however with this huge benefit it makes the scooter much heavier as well at over 18 kilos. So if you're someone that needs to commute a little further than the regular scooters can handle you should be ready to sacrifice that weight factore.
The scooter comes with 10 inch wheels to help the scooter manage all the 350 watt power it puts straight to the back wheel. As you would expect, with all its power, the Segway Ninebot Kickscooter Max is able to climb up steep hills with ease. Another important thing to have on a scooter that can go this fast is to have a loud bell so that people are able to hear you and get out of your way so that you don't cause any accidents and lucky this scooter comes with just that, a large, loud bell.
Specs
Weight: 18.6 Kg Motor: 350-watt RWD Range: 64 km Max Speed:30kmph
4. Apollo City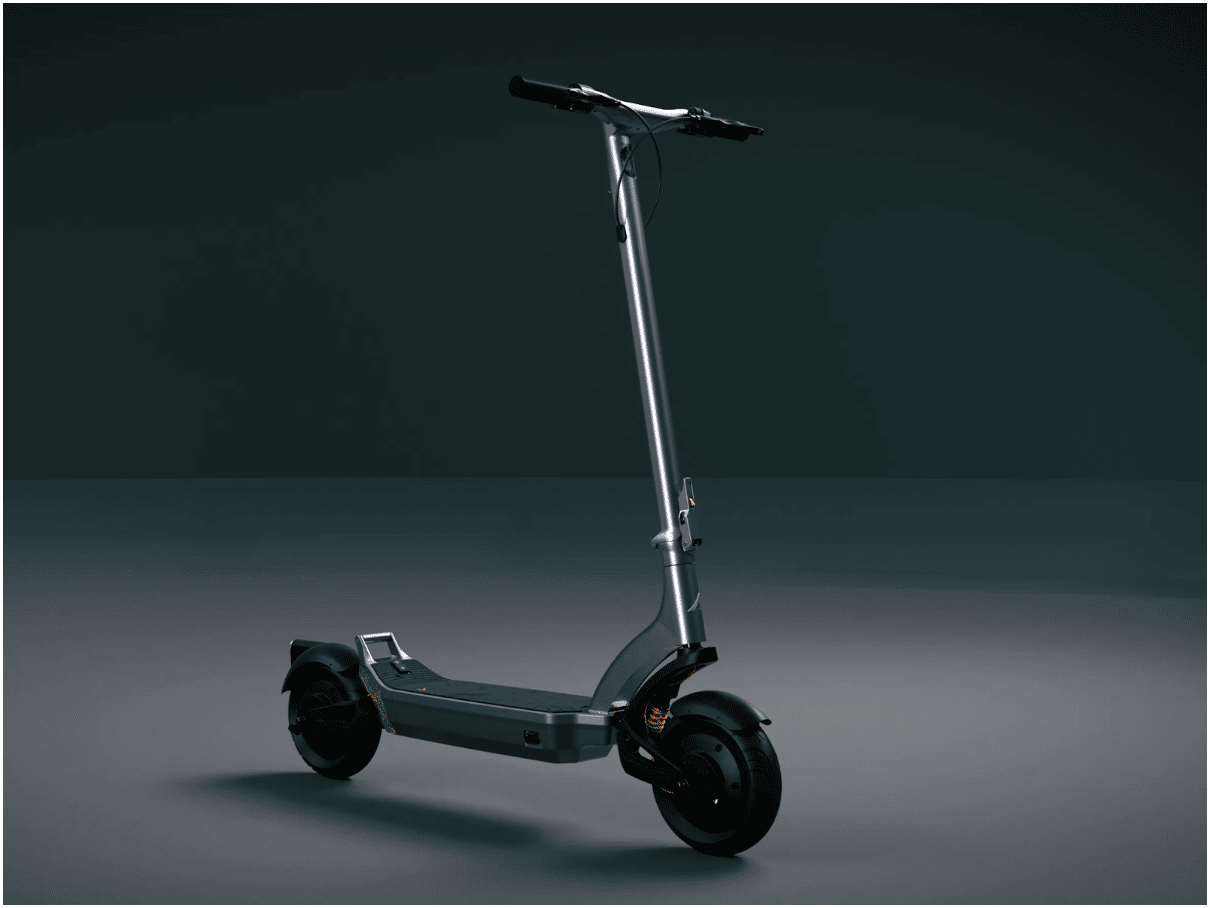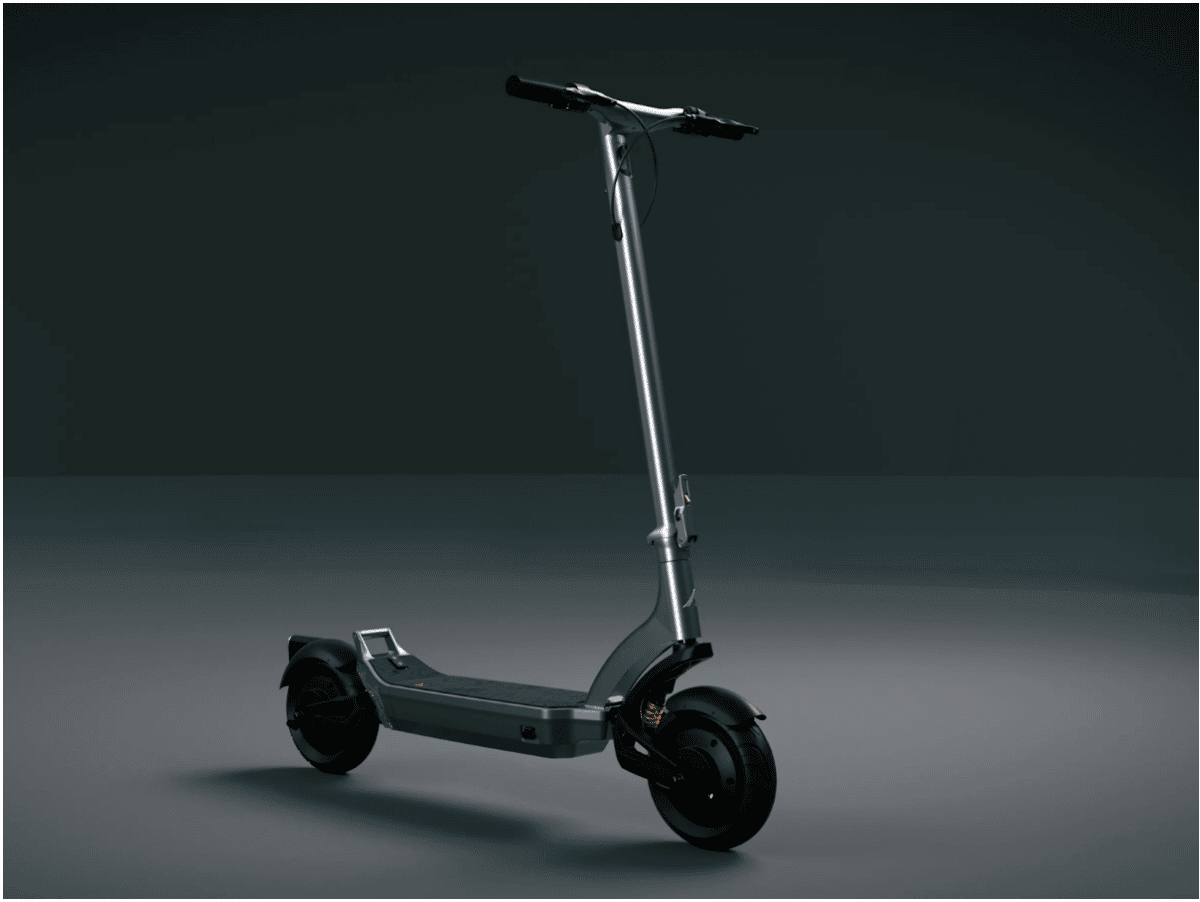 A big thing that this scooter beats most other scooters with is the fact that this one possesses turn signals! This gives you a lot more ease of mind when on the road because you'll be able to let other drivers and pedestrians know exactly what your next move is, so you won't need to be worried about someone crashing into you because they didn't know you were going to slow down and turn.
It isn't just the turn signals that make this scooter so great but its performance stats are amazing as well. With the scooter's huge, 500 watt, battery this electric scooter is able to take itself up steep hills with no problem at all. It also comes with full suspension meaning all those little bumps that may be annoying to be riding over will now be much more comfortable and with the puncture-resistant tyres you may even be brave enough to ride this scooter off road in rough conditions. Even if you are a bit scared of the scooter's capabilities and how fast it is capable of going, you are able to change all of its performance stats through the use of its app.
Even if this scooter may be very appealing to you, you must remember that it weighs over 25 kilograms meaning if you need to take it up and down stairs or carry it often then it may not be a smart idea to go for this one. If you have the money and don't mind the weight factor then this is an amazing, fast paced scooter with very good safety features as well.
Specs
Weight: 25,4 Kg Motor: 500-watt RWD Range: 40 km Max Speed:43,4kmph
5. Swagtron Swagger 5 Elite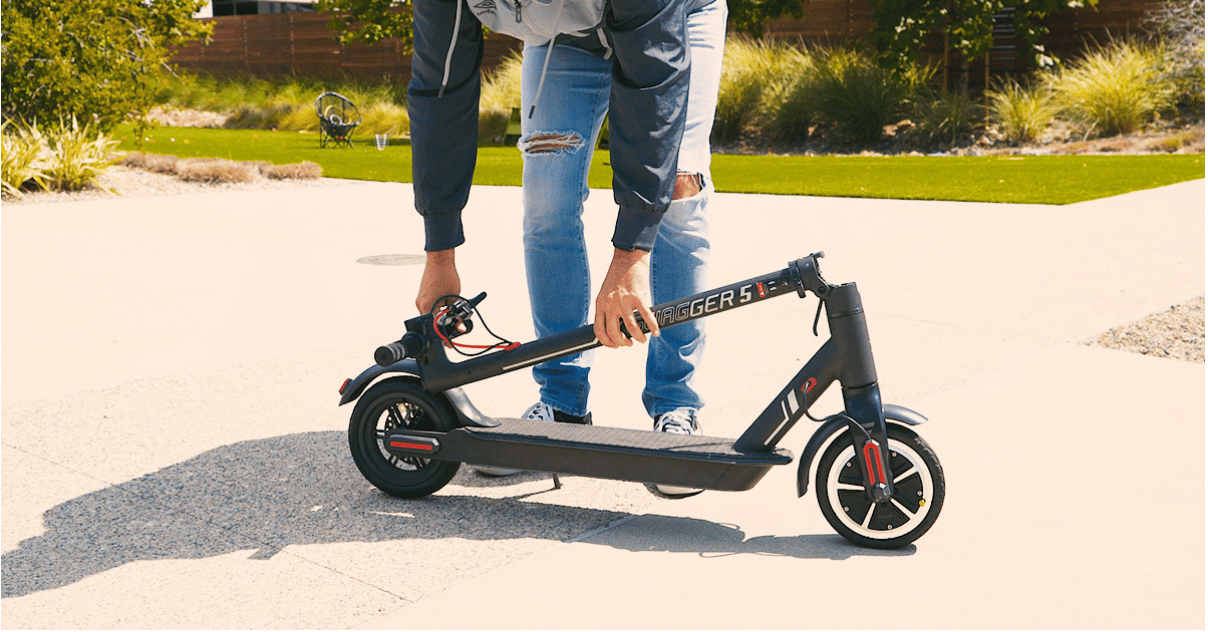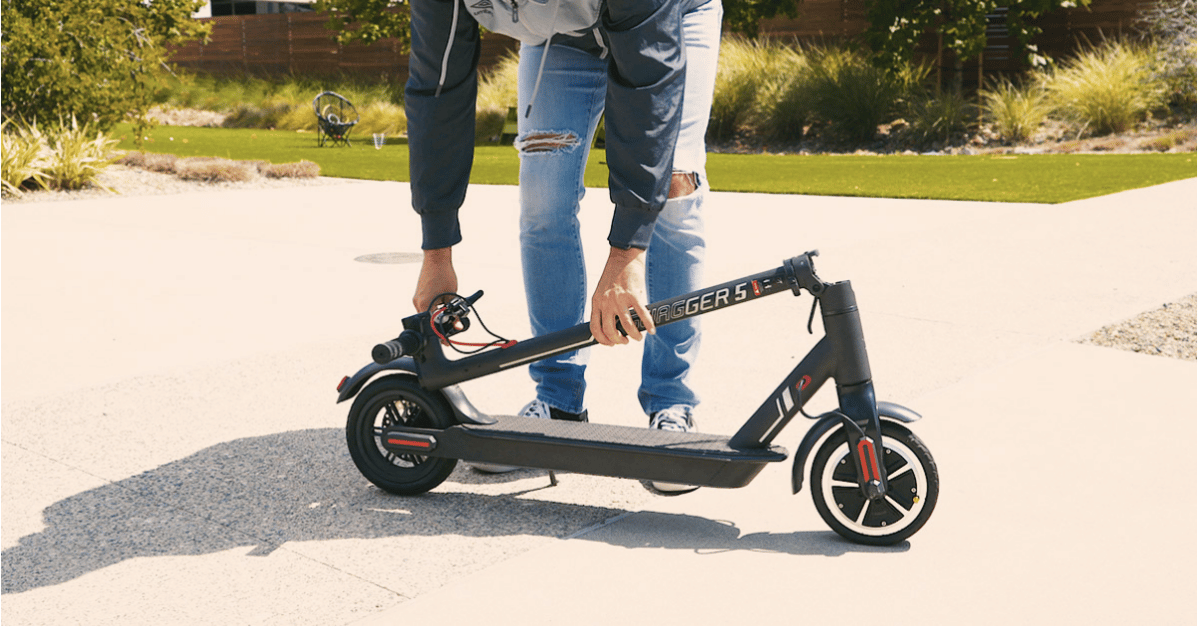 The Swagtron Swagger 5 Elite is one of the more affordable scooters on the market however, it is considered to be top of its category in terms of its max speed of 29 kmph. The scooter is quite portable with it being just over 12 kilos and collapsible. The lowered price doesn't take anything away from the comfortability of this scooter as it still offers a smooth ride thanks to its air-filled front tyre and even a shock-absorbing spring.
Although the scooter may seem light it is still strong and capable of supporting up to 145 kilos of weight on it. The scooter comes with a built-in phone mount which you can set up on your scooter to display your speeds while you're riding as well as the scooter's battery life. We are able to see the cheapness of the scooter when it comes to things like range and how much it struggles up hills.
Specs
Weight: 12,4 kg Motor: 250-watt FWD Range: 17,7 km Max Speed:29 kmph
6. Glion Dolly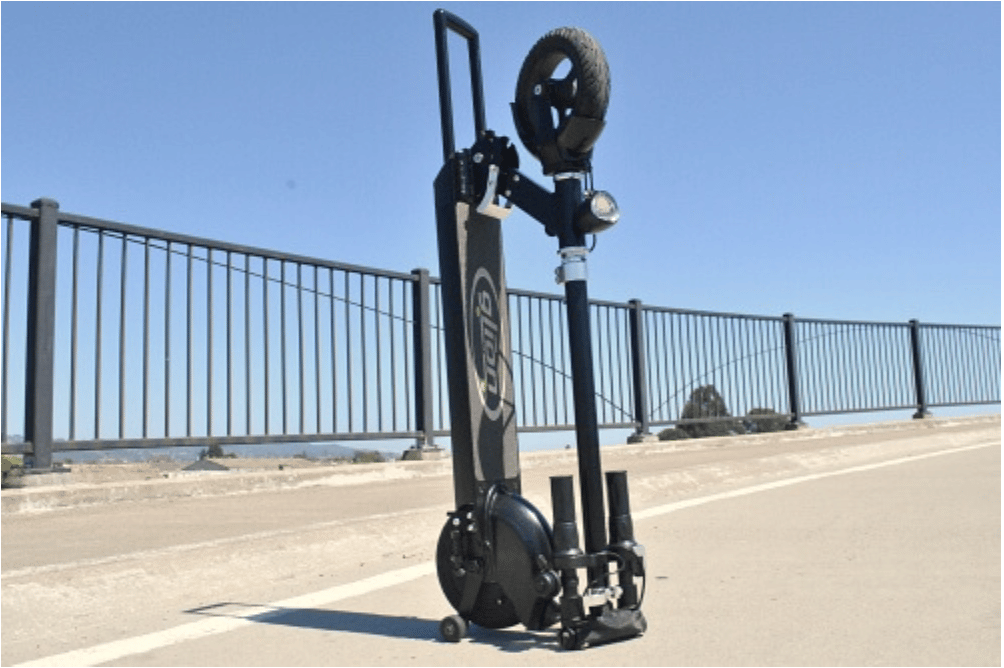 For those commuters that are looking for a nice electric scooter that isn't too expensive and you're able to easily take on public transport or into buildings then the Glion dolly may be just the scooter you have been searching for. The Glion Dolly is only a little over 12 kilos and with it being foldable means that it'll be easy to take wherever you need to go and if you want to leave it standing somewhere you are also able to do that by using the scooters kickstand.
If you're thinking about riding during the night or if it's dark alot then you'll be happy to know that the Glion Dolly has a built in headlight and tail reflector on it so that you are visible to others and you'll be able to see if there aren't any street lights. It also comes with fenders on the sides of your scooter which is a nice little extra to protect your wheels from any type of damage.
The main disadvantage that comes with this scooter is the fact that it has small rubber wheels and doesn't come with any suspension, which may be bearable when you're only riding on smooth roads in the city but if you need to get over a little more rough terrain then this definitely won't be the scooter for you and will be very uncomfortable.
Specs
Weight: 12,4 kg Motor: 250-watt Range: 24,1 km Max Speed:24,1 kmph
7. Apollo Explore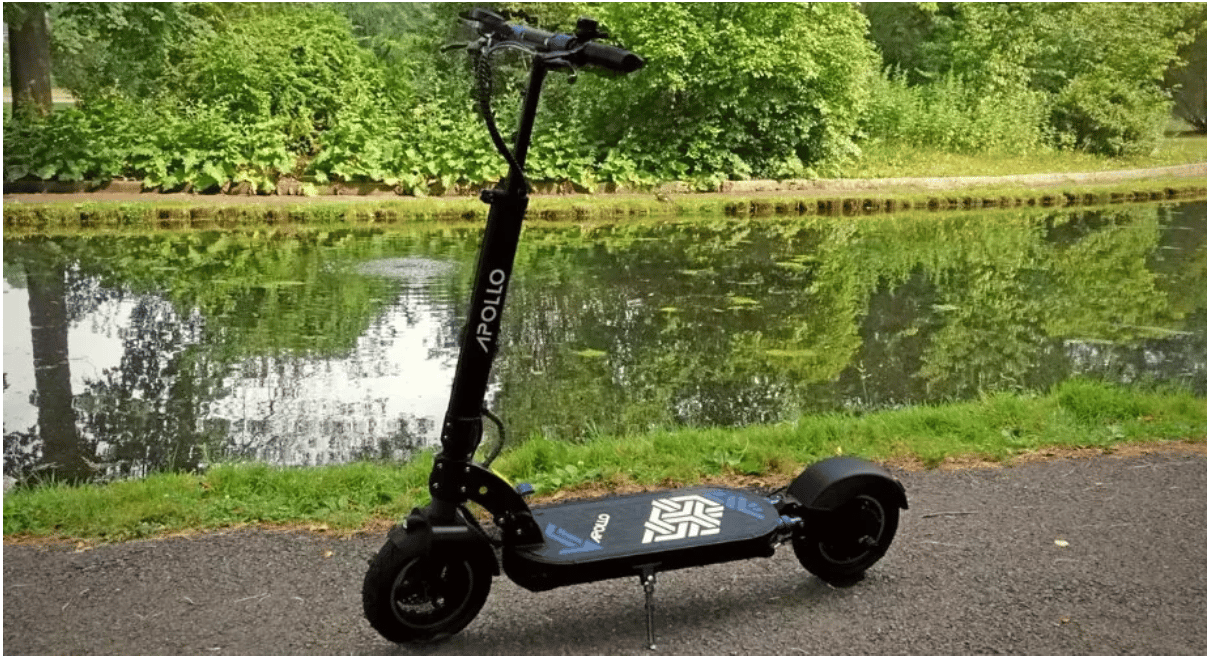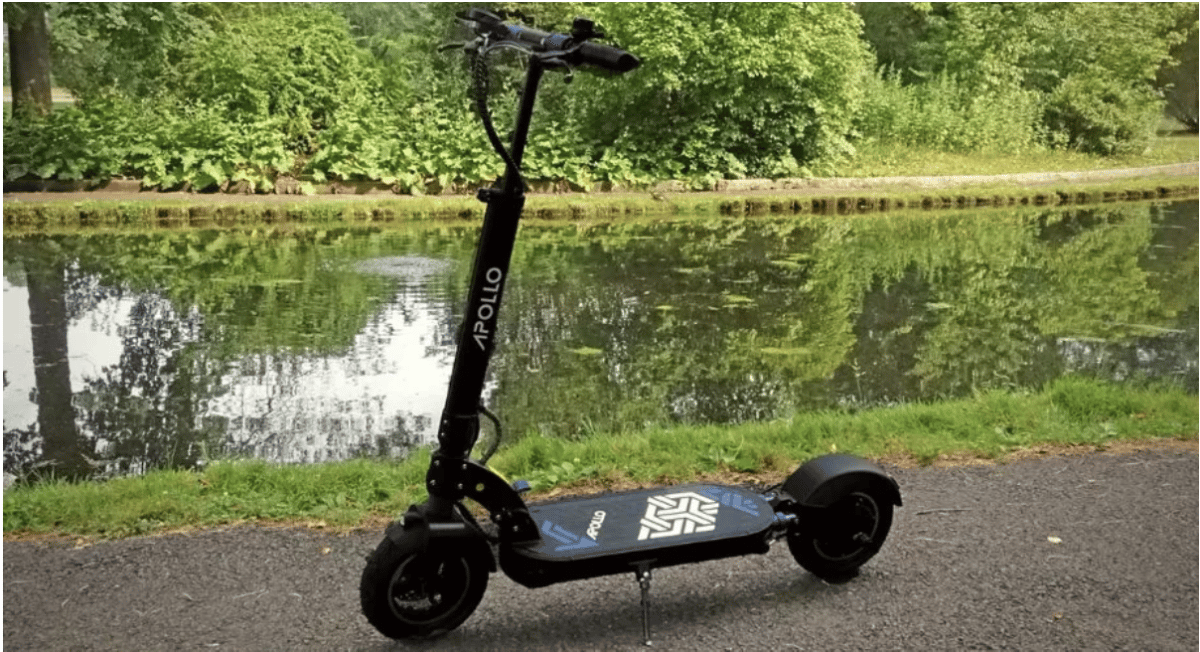 The Apollo Explore is definitely the fastest electric scooter on this list and if you are just looking for pure speed then this may be the one to buy. The Apollo Explorer is able to reach an astonishing top speed of almost 50 kmph, thanks to its huge 1000-Watt motor, which means you won't have any trouble at all with keeping up with the local traffic in the city. The powerful motor in this electric scooter is able to slingshot you up hills with no problem at all. If you are someone that needs to take routes with terrain that's a little more rough than the other scooters can handle then this is the best one for you with its dual suspension and air-filled tires it'll make it feel like you're riding on a regular tarred road.
When you're able to travel at these speeds it's important to be as visible as you can be which the Apollo Explore definitely hasn't forgotten. This scooter comes with very bright lights that run down both sides of this electric scooter which makes everyone notice you even if you don't want them to. On downside that this scooter had was its display.although the display may be pretty and colourful it is hard to see when you're looking at it in direct sunlight but other than that this is an amazing scooter.
All of these amazing things make this scooter quite pricey, you'll be able to get your hands on one of these for around $1300 which is definitely worth it if it fits into your budget.
Specs
Weight: 23,6 kg Motor: 1000-watt RWD Range: 54,7 km Max Speed: 49,9 kmph
8. GoTrax XR Ultra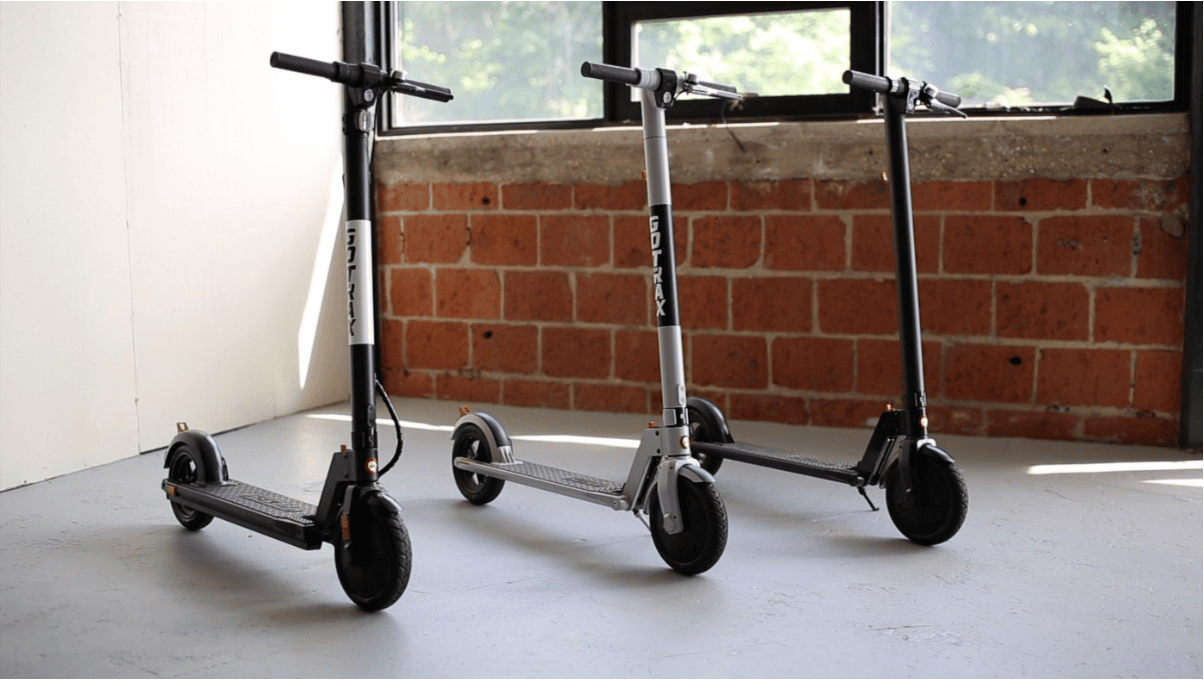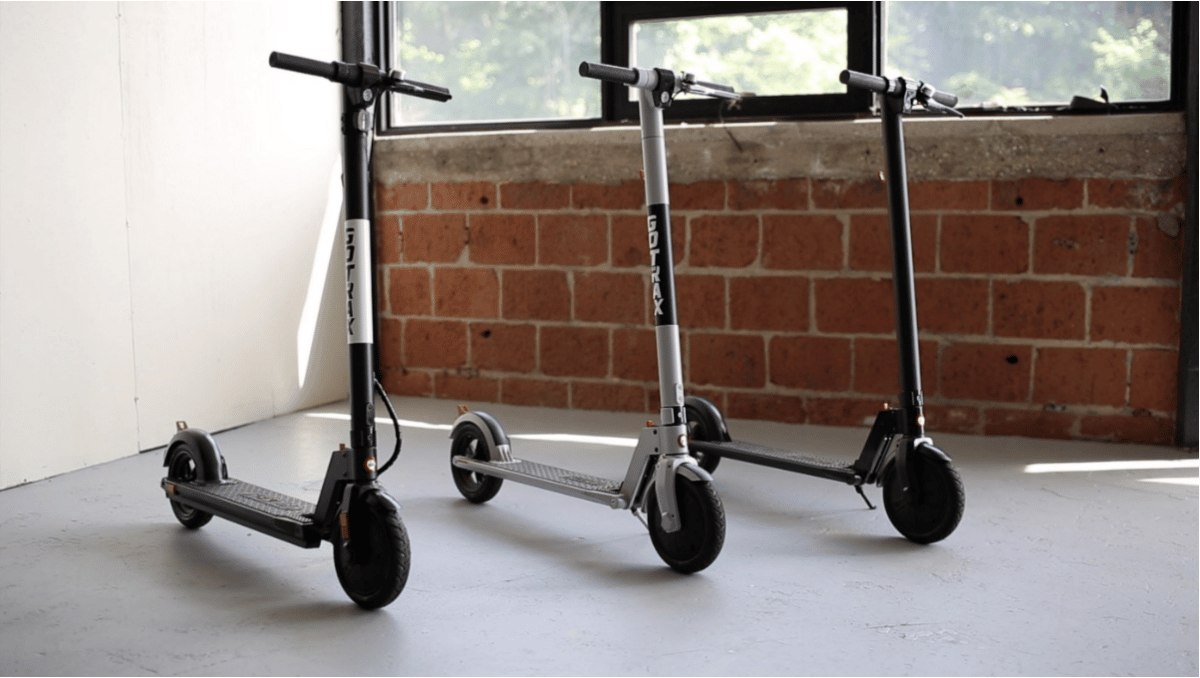 If you are someone looking for a bit of a more comfortable ride instead of focusing on speed alone then this may be a good choice for you. The GoTrac XR Ultra may not be faster than most electric scooters but for its price it may be one of the best when it comes to comfort, due to its 8,5 inch air-filled tyres. Its motor does the job as well and is above most others at 300-Watts.
This scooter isn't equipped with any sort of rear brake light, which is understandable because it is not very often that these electric scooters in this price range come with that from the factory. There isn't anything that really sticks out about this scooter which makes it just a good mid price basic option for someone not too interested in what their scooter can do.
Specs
Weight: 12 kg Motor: 300-watt FWD Range: 25,7 km Max Speed: 24,9 kmph
Conclusion
There are many things to take into consideration while choosing an electric scooter like what you need to be able to do, if you need to be able to carry it up stairs or take it onto public transportation. Hopefully you are able to find a good fit for you from the above options or at least help you figure out how much you need to be able to spend to get what you need.