The dream of any headphone junkie is to put on a pair of headphones and never have to take them off. Imagine if you could talk with friends, use your devices, and stay aware of your surroundings without even having to press pause. That's the audio experience you get with the new xFyro ANC Pro true wireless earbuds.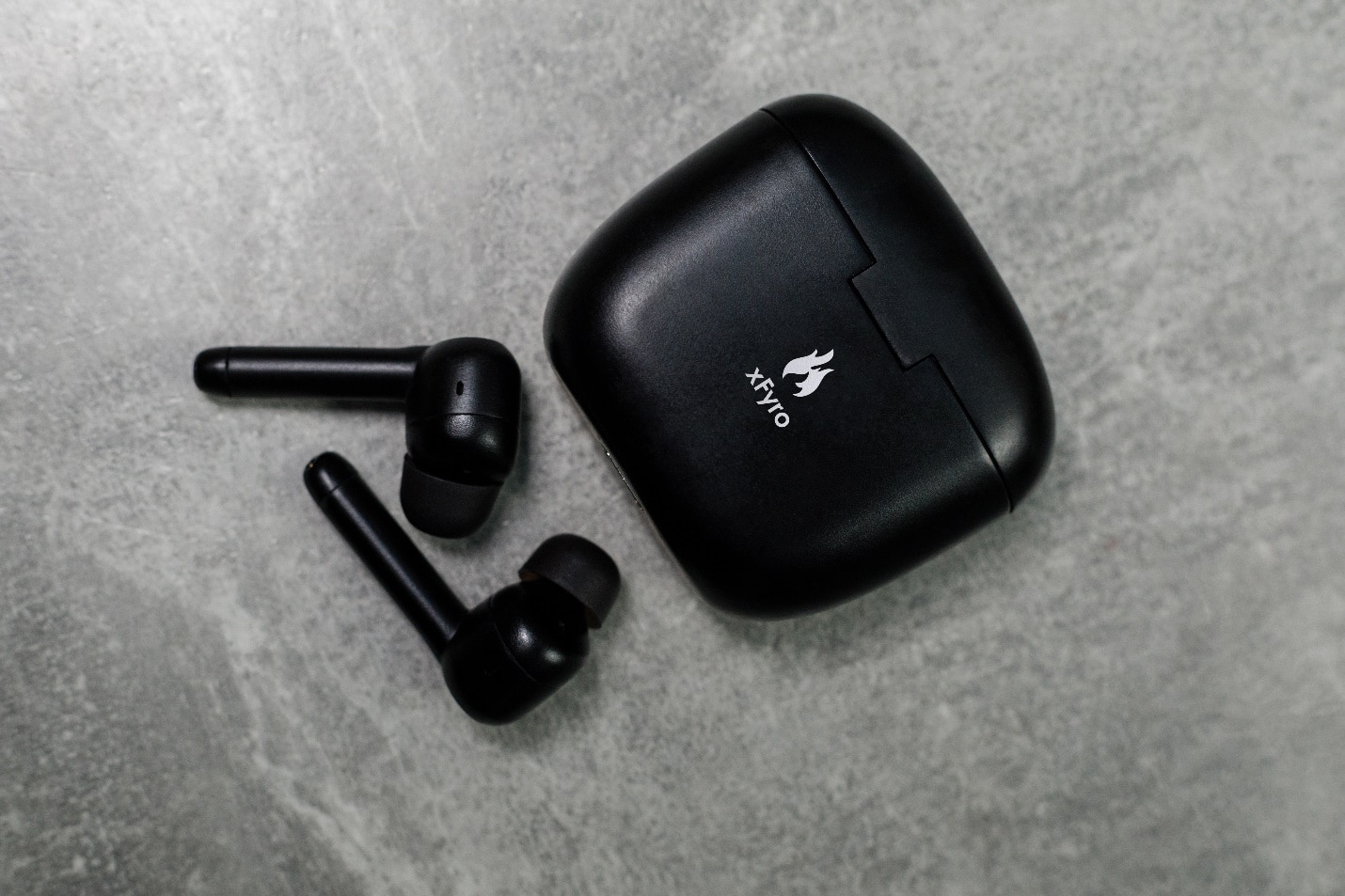 xFyro ANC Pro are powered by artificial intelligence. The AI listens to sounds in your environment and passes the ones you need to hear through your speakers to your ears.
We know what you're thinking. You've heard of pass-through ANC before. But not like this. xFyro's custom AI algorithm can recognize over 6000 sounds to bring you the most accurate pass-through ANC ever developed.
When you listen with xFyro ANC Pro, it's like your life has a soundtrack. You hear your music in perfect clarity without the distractions you don't want. When you're ready to interact with the world around you, the AI makes it easy.
Aside from the AI-powered ANC, xFyro's new earbuds feature graphene speakers, IPX5 waterproofing, a 100-hour battery, and a comfortable ergonomic fit. And now, you can get the xFyro ANC Pro for 50% off the retail price PLUS free global shipping.
xFyro ANC Pro: Highlights


Here are some of the features of the xFyro ANC Pro headphones that we love:
50% more ANC power than Airpods Pro: xFyro didn't put "ANC" in the name of their headphones for nothing. They pack a punch with 30 dB of sound neutralizing power. That's compared to just 20 dB from other premium brands like Apple and Sony. xFyro cancel more sound from a broader frequency range, so you hear fewer distractions when listening to your tunes.
Never take your headphones off: xFyro's scary-smart AI delivers all the sounds you need to hear and cancels the ones you don't. It can even isolate voices speaking to you. You'll never have to take out your earbuds to stay aware on busy streets, chat with a colleague, or catch your alarm.
Pristine audio powered by nano-tech: xFyro's speakers are made of graphene, the strongest and thinnest material on Earth. And they sound amazing. Graphene is stronger than diamond, so it can handle serious reverberation. That means clearer sound from smaller speakers AND louder volumes. Oh, and no audio degradation over time. Go ahead and turn them up to 11.
Go anywhere in any weather: xFyro are famous for their indestructible earbuds, and the xFyro ANC Pro are no different. You can wear them in any weather and take them anywhere—the beach, the gym, the trail—and you'll never deal with malfunctions.
A No-BS Battery: Earbuds are supposed to be portable and convenient. But most can't go 3 hours without a charge. Is that really a portable pair of headphones? xFyro's 100-hour battery (10 hours of playback per charge) ensures you won't need to plug in for weeks or even months.
xFyro ANC Pro Review
What did we think of the xFyro ANC Pro? Find out below.


xFyro's Groundbreaking AI-ANC
If you're a fan of ANC (aka if you like hearing your music as it was meant to be heard), then you can't get any better than xFyro for the price.
Sure, we've heard better ANC before. But from true wireless earbuds priced under $150? No way.
xFyro made us feel like we put on Bose over-ear headphones. There's a definite "whoosh" as the world around you turns off. That extra 10 dB of ANC power compared to the competition makes a world of a difference.
We couldn't hear low frequencies at all, like engines, air conditioners, and footsteps. Higher frequencies were also muted quite well (if not totally). Most ANC earbuds can't touch those highs, so xFyro have an advantage there.
The AI Transparency Mode, the top feature of these earbuds, doesn't disappoint. xFyro put a lot of work into their ANC algorithm, and it detects and isolates critical noises better than other pass-through programs.
We were able to carry on conversations while our music was playing, which was pretty cool. The AI automatically lowers the volume of your music when a sound passes through, so you can't miss it. This will be a game-changer for bikers, runners, and people who walk to work.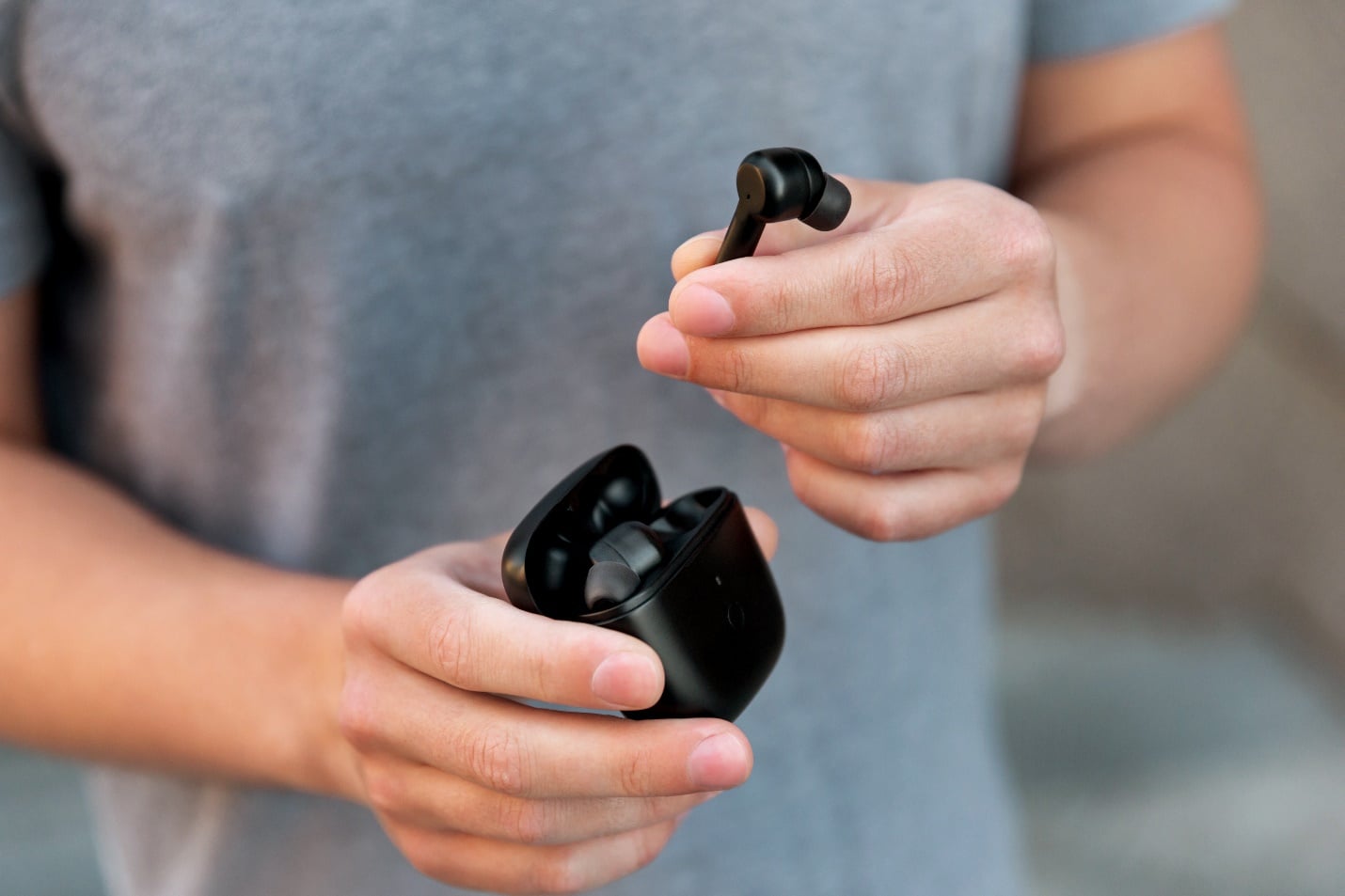 Crystal-clear audio
We're huge fans of graphene speakers in earbuds. Graphene and true wireless drivers are a match made in heaven: Tiny earbud, meet tiny indestructible speaker.
Despite graphene's size, it's stronger than any other speaker material on Earth. So, it will never degrade. It can also deliver clear audio with fewer artifacts.
Essentially, it's the perfect speaker material, so you hear your music a lot more clearly than you would with other speaker materials that don't reverberate as effectively.
The difference is noticeable. xFyro's audio is bolder and clearer than that of similar earbuds, and it even tops some earbuds with bigger drivers.
If you like listening to complex music with a lot of audio tracks and instruments, you'll be able to hear everything better with xFyro ANC Pro.


Ultra comfortable
The first thing you notice when you put in the xFyro ANC Pro earbuds is how comfortable they are. They kind of just "click" in your ear, unlike other earbuds that you have to jam inside.
This is because xFyro hired ergonomic specialists to create an earbud model based on the anatomy of an ear canal. xFyro earbuds rest inside the ear and fit snug without adding pressure. They won't come out unless you want them to. They also won't get itchy or cause a headache (unlike other inner-ear canal earbuds).
This is really important because xFyro were made to be the earbuds you don't have to take out ALL DAY. With a fit this comfortable, you won't want to.


Simple Controls
The xFyro ANC controls are intuitive and responsive. With a few taps to an earbud, you can control all of your music and take calls. You can also summon your digital assistant, like Siri, and gain control of your entire phone.
This is super convenient when you're trying to hustle hands-free. xFyro become your mobile command center.
You don't have to have your phone on you to access all your apps. The earbuds feature Bluetooth 5.0, which has a 10 meter (30 foot) wireless range. You can leave your phone in your locker at the gym and still access your music, send messages, make reservations, and more.


A Premium Audio Experience for Less
We always get excited when xFyro unleashes a new pair of headphones on the world. They practically broke the internet with the xFyro ARIA a few years ago. The ANC Pro are just as groundbreaking.


Sure, they're not delivering any brand new features this time. But, they're doing so many things better than the competition and at HALF the price.
Then new xFyro earbuds feature some pretty amazing ANC, a better battery, everlasting graphene speakers, and an all-day comfortable fit. Plus, they have all the other features you'd expect from premium earbuds, such as fast charging, Bluetooth 5.0, touch controls, and a dual-beamforming mic.
If you're looking for a new pair of headphones and don't want to drop $300, you can do just as well with the xFyro ANC Pro (or even a bit better, in most cases!). We highly recommend getting a pair soon, or you may miss out on your chance to grab these headphones for a 50% discount PLUS free shipping.
Take a closer look at xFyro's headphone lineup and order your xFyro ANC Pro at xfyro.com.