The next update to the iOS operating system that runs on different iOS devices such as the iPhone, iPad, and iPod touch is already in development at Apple's headquarters in California.
As we know a limited amount about the new software now, we have heard some interesting rumors and exciting features and changes we can expect to see in the update, which, based on past updates, which is iOS 13.
iOS 13 Preview at the Worldwide Developers Conference
It will take place from June 3 to June 7 this year while the launch will happen by mid-September.
While the dates may prove to be accurate but not sure yet, registration isn't open yet for Apple's annual developer conference that should unveil a Dark Mode for iOS 13, details about macOS 10.15, and more.
The expected iOS 13 features list may give iPad such broad new power it'll feel like a computer, like Apple's marketing team always claims. Things like stackable app windows, mouse support and becoming a Mac's second screen are all rumored.
iOS 13: Features Expected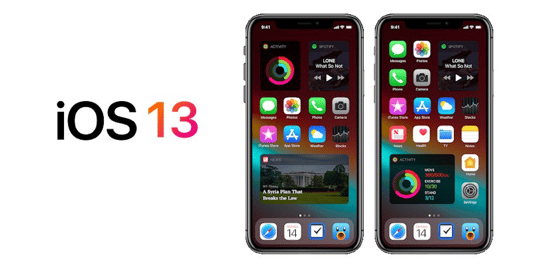 Cursor control for iPad: At last, mouse support will be coming to the iPad, though it won't be enabled by default.
Dark Mode: iOS gets this recent macOS feature, where you'll get the option for a black and grey interface for nighttime usage which is very interesting.
New swipe-based keyboard: Apple will be working on a SwiftKey style keyboard, where in you can drag your finger across the keyboard to spell a word in a gesture.
Parental controls added to Screen Time: Parents will be able to control who their kids can chat with, and at what times of the day, that would help parents discipline their children.
Revamped Health app: Hearing health and menstrual cycle tracking are two new focuses for Apple's app, helpful for each individual, especially women.
Sleep Mode: Apple's pushing its Bedtime feature further, with a new feature that won't just track sleep patterns, but let you schedule do not disturb, muted notification and other features related to your sleeping schedule.
iPad as secondary display: You will now get to turn on your Apple tablet as a touch-friendly extension of your Mac.
Home security: There will be a home security support on the iOS.
iPad multitasking enhancements: As a revolution for iOS, apps will now get the option for a multi-window interface.
No more iTunes Store app
iOS 13 Latest Updates
The update will include bug fixes, run time errors and enhancements on the application as well as added features that will help users use the app with ease. Last April, 925Mac reported that iOS 13 will include a long-overdue design of the volume indicator.
There was also an alleged image of an early iOS 13 internal build has emerged that claims to show one design considered by Apple for the new volume HUD.
It was discussed that the update will get new Calculator, (audio)Books, and Voice Memos apps as well as adding an on-device App Store so users can download apps directly from the Watch which a lot easier now.