Western Digital has released the new WD TV external HD media player that works in conjunction with one or two external hard drives to playback video, audio, and view photos at up to full high definition quality (1080p). The device automatically sorts video, audio, and image files into corresponding categories for convenient navigation. The player's interface presents the option of thumbnail or filename browsing. Thumbnails are extracted from movie cover art, album covers, and photos. The media library functionality can also view all media files by type in a single menu, no matter the physical location of the files. Multimedia content can be arranged into categories such as album, artist, genre, and date. Similarly, search is provided by title, artist, genre, filename, and partial filename. For photo viewing, the WD TV supports custom slideshows with transition effects and background music, as well as zooming and panning. Video and music playback supports all the common commands you would expect, such as fast forward, rewind, pause, etc.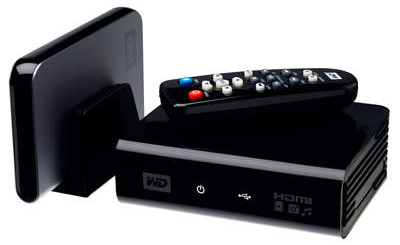 The WD TV offers HDMI and composite video connections. ArcSoft MediaConverter 2.5 is included with the packaging for photo, video, and audio file conversion in case file compatibility is an issue at any point. However, the WD TV player provides comprehensive format support.
Video formats supported include AVI (MPEG-4, XviD, AVC), MPEG-1/2, WMV9, MOV (MPEG-4 and H.264), MKV, and H.264. MP3, WMA, OGG, PCM WAV, AAC, FLAC, AIF/AIFF, and MKA are supported for audio. JPG, GIF, PNG, TIF/TIFF, and BMP image formats can be viewed. PLS, M3U, and WPL playlist formats are also recognized.
Aside for the player itself and the conversion software already mentioned, the packaging also includes a stand for WD My Passport hard drives (although any type of USB drive can be used), a remote control, composite AV cables, AC power adapter, and installation guide. The WD TV provides a simple, affordable solution for playback of PC video formats. Note that the WD TV does not currently offer network support/streaming functionality.
Pricing for the WD TV is expected to be around USD $125.00, and will be available through all major retailers.