Getting rid of an old desk that you have been using for years may be a hassle, so why don't you make the whole process a little bit more exciting instead with one of the best standing desk converters. This awesome device will not only let you continue to use your old desk but it'll also let you use it in a completely new and improved way. With this device, attached to your desk, you'll be able to work from either a standing position or a sitting position, without the need to buy and assemble a whole new desk.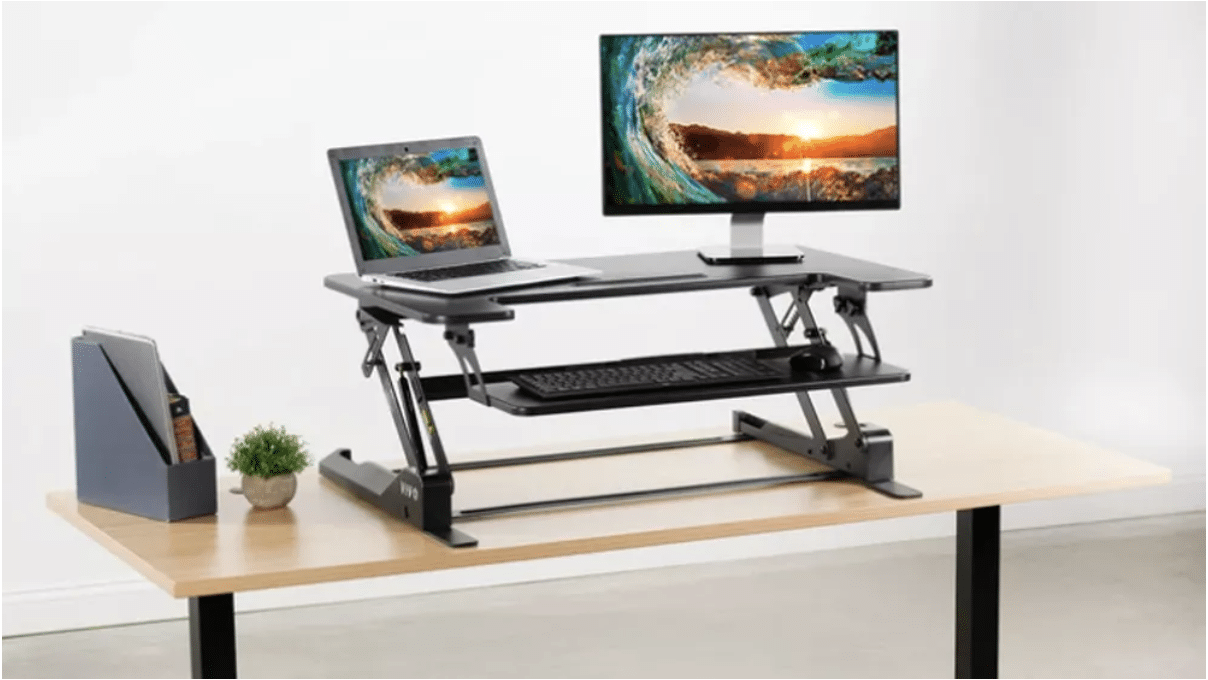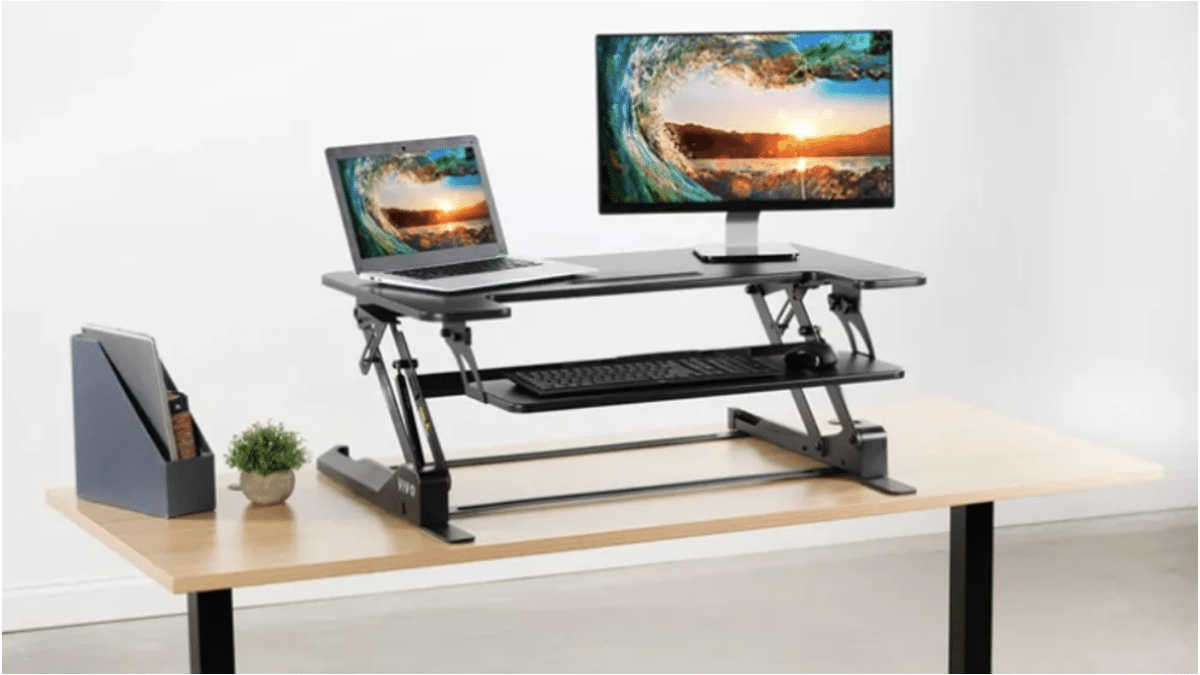 This new way of working is very important because it has been proven that if you sit at your desk all day it can affect your health negatively. So, what is stopping you from upgrading your home workspace and also becoming overall more active, by alternating between the sitting and standing position throughout your day at the desk.
So, if you are someone that is looking for something to improve your home office setup or if you just want a gadget that'll help improve your productivity, this article will help you. In this article you'll find budget friendly options as well as some more premium ones that will come with some additional features.
Best Overall
UPLIFT Desk ATX Standing Desk converter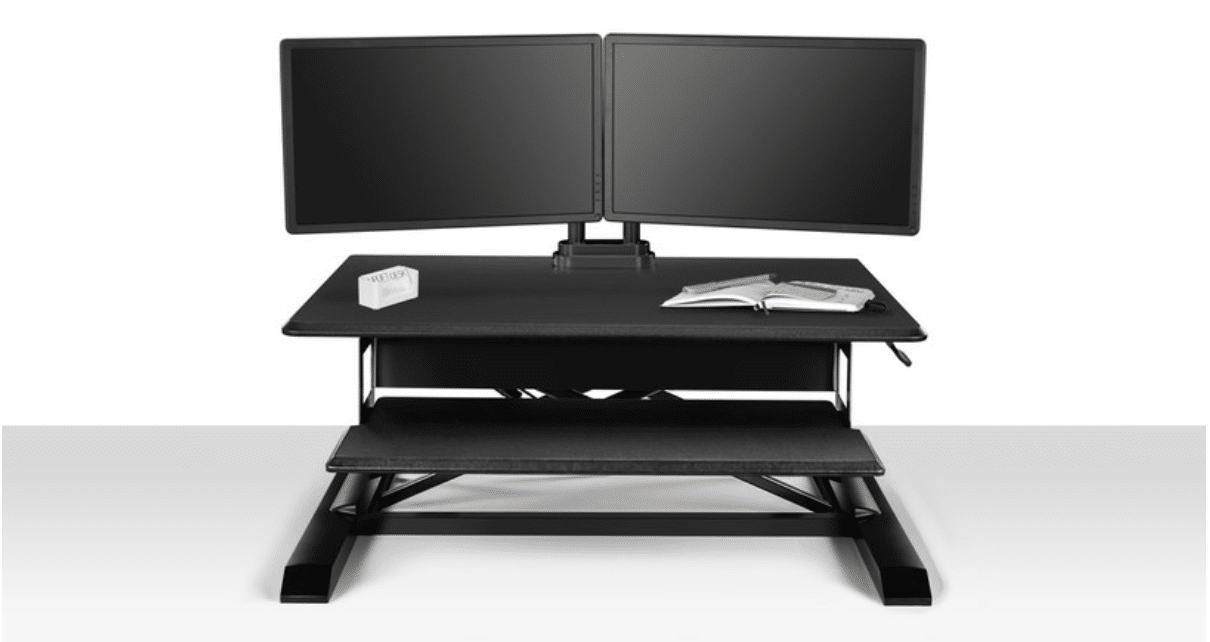 | | |
| --- | --- |
| Specs | |
| Height adjustment range | 6.3" – 24.6" |
| Size (W x D x H) | 34.5" x 20.8" x 6.3"-24.6" |
| Weight Limit | 39.6lbs / 17.9kg |
| Price | $300 |
Pros
Comes fully assembled
Integrated cable management
Cons
Keyboard tray can't adjust below desk surface
One of the best things about this standing desk converter is that it comes fully assembled, which means that as soon as you take it out of its packaging it is ready to be used. You will also be able to pick between the colours black and white, to better match your existing desk. In order to prevent certain scratches and wear and tear you could expect from everyday use, the work surface has been laminated. The edges not only of the desktop but the keyboard tray as well have also been chamfered.
You're able to change the height of the standing desk converter with just one hand and since there aren't any predetermined height settings, you'll be able to stop it at any height that you would like, within its height adjustment range of course. Since the ATX Standing Desk Converter is capable of supporting up to 38.6 lbs or 17.9 kgs, you are even able to add another laptop or have multiple monitors propped on top of it. Then to top it all off, the standing desk converter comes with built-in cable management and three included clips, which are located underneath the desk, in order to hold all your wires nicely.
Best For Your Office
VariDesk Pro Plus 36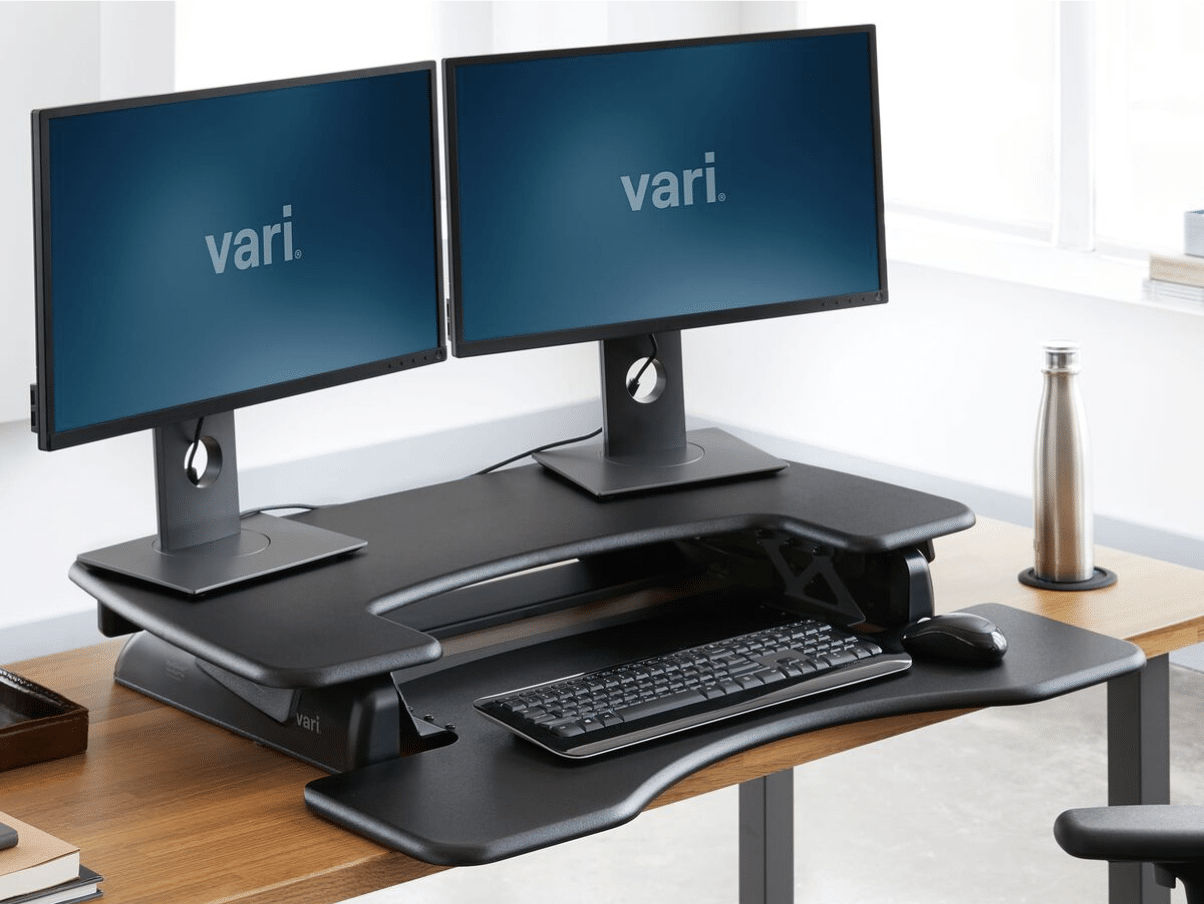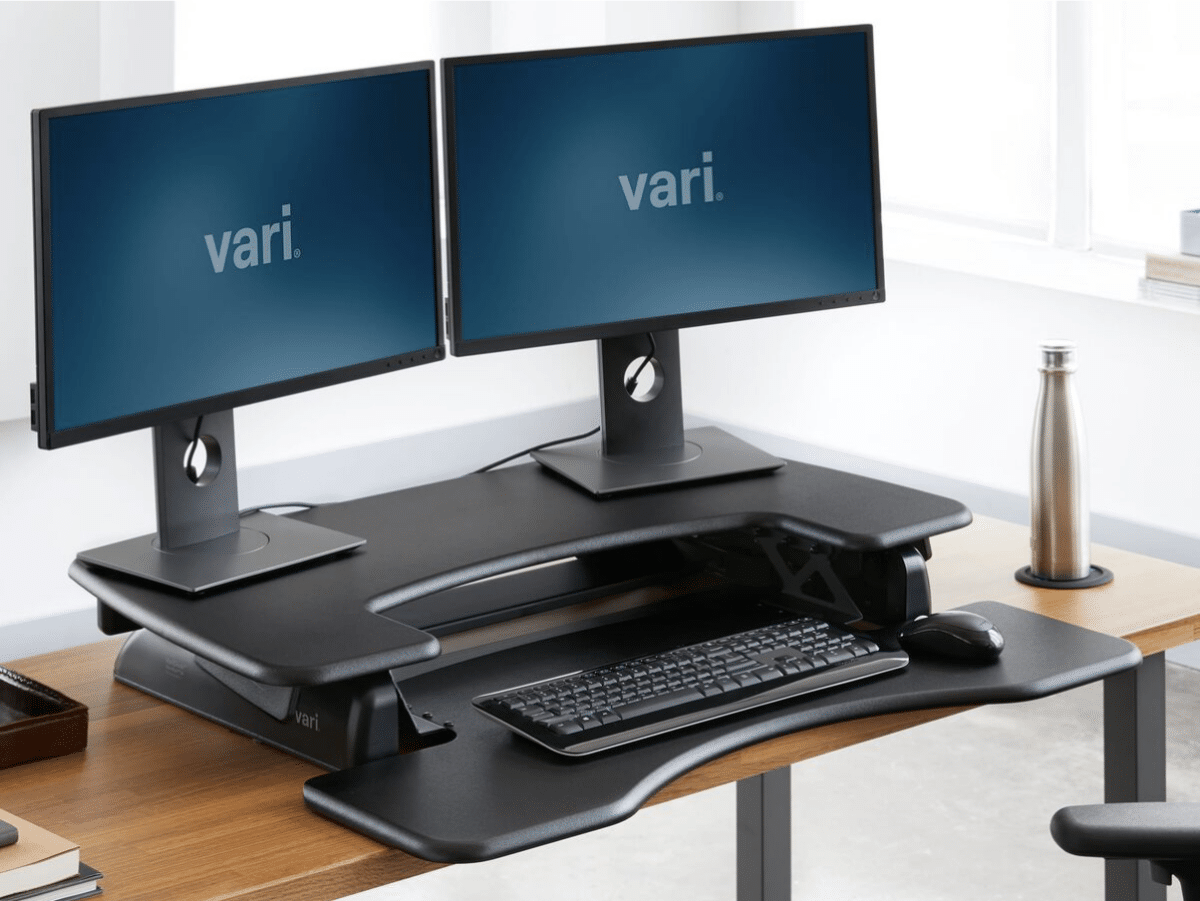 | | |
| --- | --- |
| Specs | |
| Height adjustment range | 4.5" – 17.5" |
| Size (W x D x H) | 36" x 29.75" x 4.5"-17.5" |
| Weight Limit | 35lbs / 15.8kg |
| Price | $360 |
Pros
Laptop cutout
Comes fully assembled
Vari is a brand that has been in the standing desks market for some time and that is where you may have heard of them before, but they have also started to make standing desk converters. One of the best selling models that the brand offers for sale at the moment is the variDesk Pro Plus 36, and just like the UPLIFT Desk, it comes fully assembled already. Some of the things that this standing desk converter has that sets it apart from a lot of the other options out there is that it has a weighted base for extra stability, thicker gauge steel as well as a durable 3D laminate finish.
Another awesome feature that this product has is a cutout for your laptop, the keyboard tray that it comes with is also curved in the middle so that you are able to get even close to your keyboard when you are typing. This standing desk converter comes with 11 different height settings available, which will help you find one that will be perfectly suited towards you personally. This device also has a spring-assisted lift, which is great because it makes it a lot easier to adjust the desktop, by using its dual-handle design. You'll be able to opt for the VariDesk Pro Plus 36 in either black or white, depending on which colour you think will best match your existing desk to table.
Best For Organization
Flexispot Aesthetic Sit Stand Workstation M6 30"
| | |
| --- | --- |
| Specs | |
| Height adjustment range | 5.9" – 18.5" |
| Size (W x D x H) | 30" x 25.8" x 5.9"-18.5" |
| Weight Limit | 33lbs / 14.9kg |
| Price | $200 |
Pros
Sleek design
Built-in storage compartments
Cons
Black colour isn't available
If the main reason as to why you may be thinking of getting a standing desk converter is to organise your workspace, then the Flexispot Aesthetic Sit Stand Workstation M6 30" is definitely a great option for you. You will be able to opt for this standing desk converter in either a white or grey colour. One of its main selling points and also the reason it is such a favourite amongst people who are looking to better organise their desks is that it has storage compartments on both sides for storing things such as pencils, note cards, and any other office essentials you may have. Another cool thing about the design of this product is that the rear of the keyboard tray is actually magnetic, which means you'll be able to pin up reminders there.
You'll be able to adjust this device with just one hand, and it is made very easy thanks to its gas spring system. Since the overall size of this product is also a smaller size than others, it means that it won't be taking up too much space on top of your existing desk. If you do want a little bit more space to work with and would prefer to have another monitor on your desk, you're in luck because the Flexispot's monitor arms are actually very easy and quick to set up with a quick-click installation feature. This standing desk converter also comes with a cable management hole so that not only your desk can be organised but you'll be able to also neatly run your cables from your keyboard or mouse.
Best For Small Workspaces
Ergotron WorkFit-Z Mini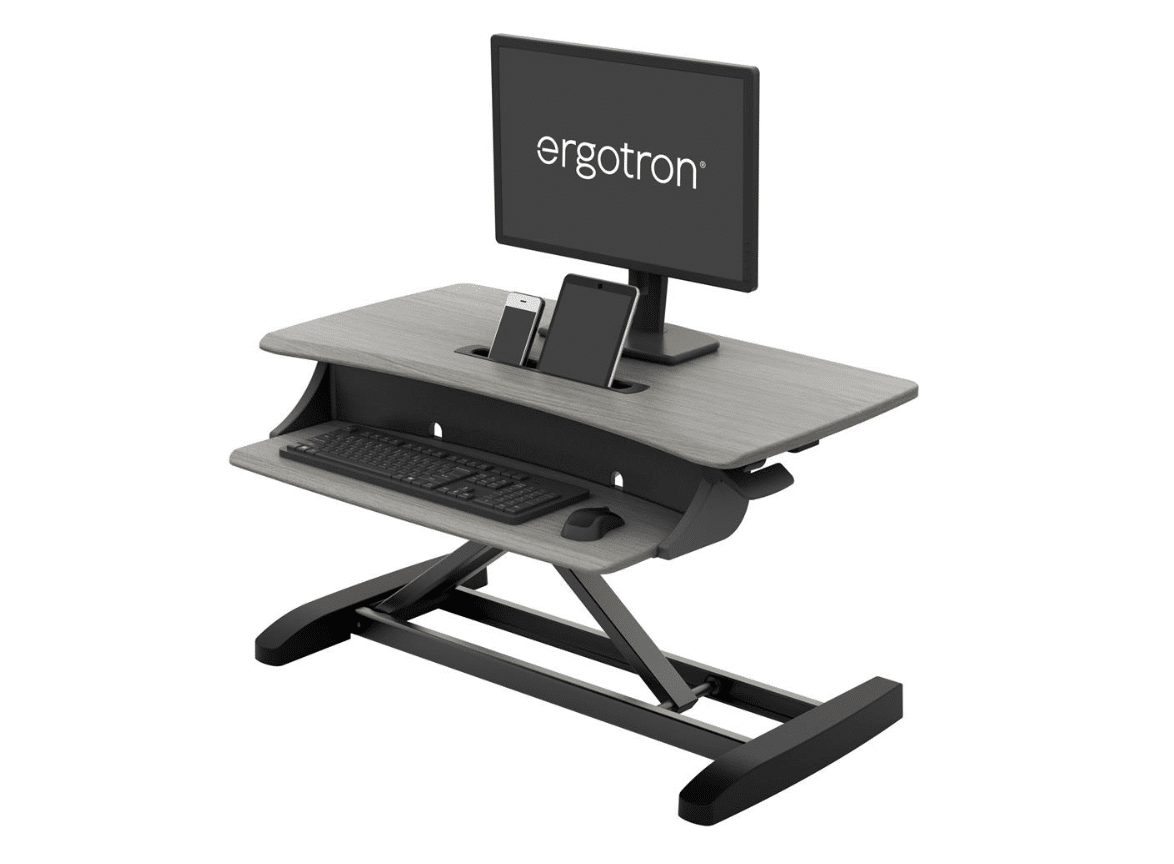 | | |
| --- | --- |
| Specs | |
| Height adjustment range | 5.4" – 17.9" |
| Size (W x D x H) | 31" x 16.3" x 5.4"-17.9" |
| Weight Limit | 25lbs / 11.4kg |
| Price | $285 |
Pros
Integrated smartphone-tablet holder
Compact design to save space
Cons
Only comes in grey woodgrain colour
Ergotron is a brand that has been making tilt stands and mounting arms for many many years and their WorkFit-Z Mini, Standing Desk Workstation is just an amazing and compact standing desk converter for those who are working in smaller workspaces. Ergotron wastes no time at all as when you receive this product it will be ready to be put into use straight out of the box.
Since its size is smaller than a lot of other options out there, it isn't able to support as much weight and you can expect to support a maximum of 25 lbs (11.4kgs), however you are still able to raise it to a pretty high maximum height of 17.9". This product has loads of click-free adjustments, as well as an area that has been cut out, in the front of its desktop, where you will be able to place a smartphone or a smaller sized tablet. In order to be able to neatly run your cables throughout your setup, the keyboard tray has been designed with holes on either side of it.
Best Budget Option
VIVO 32" Desk Converter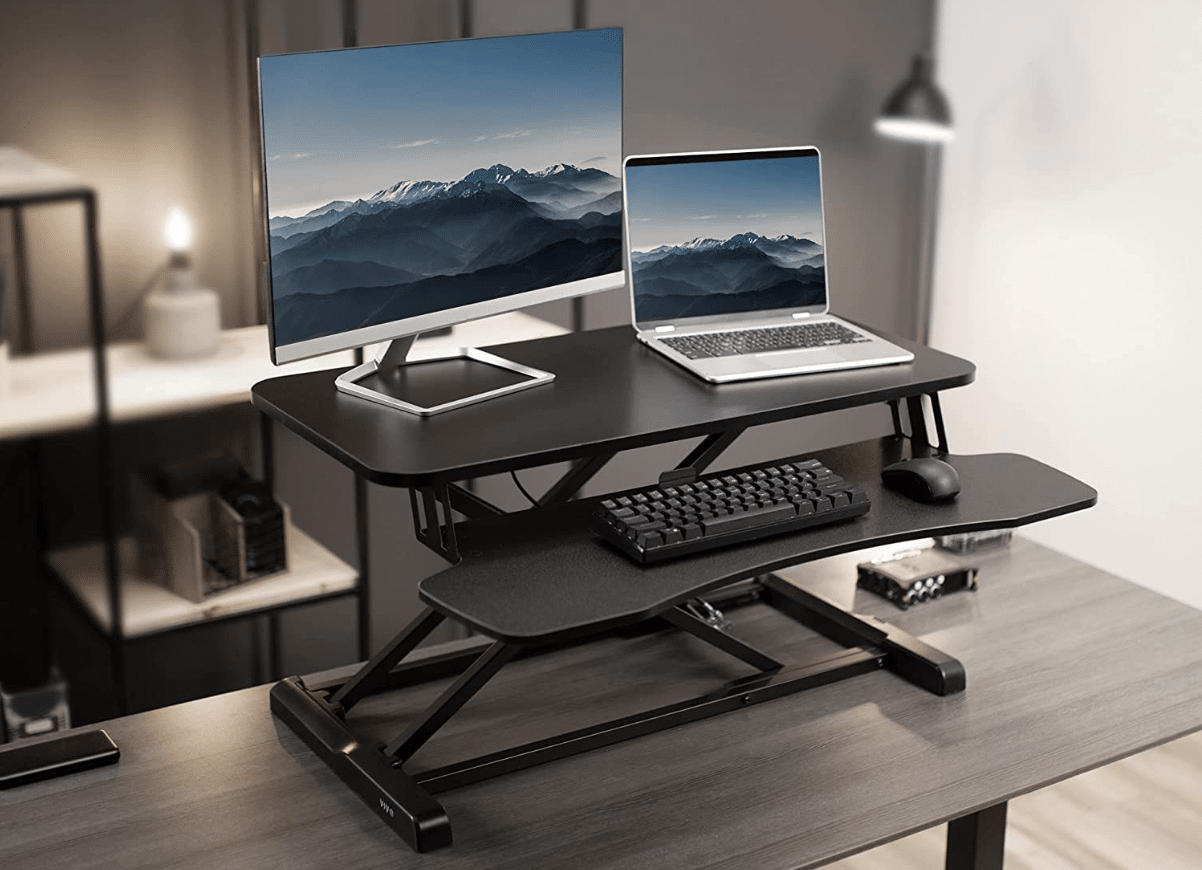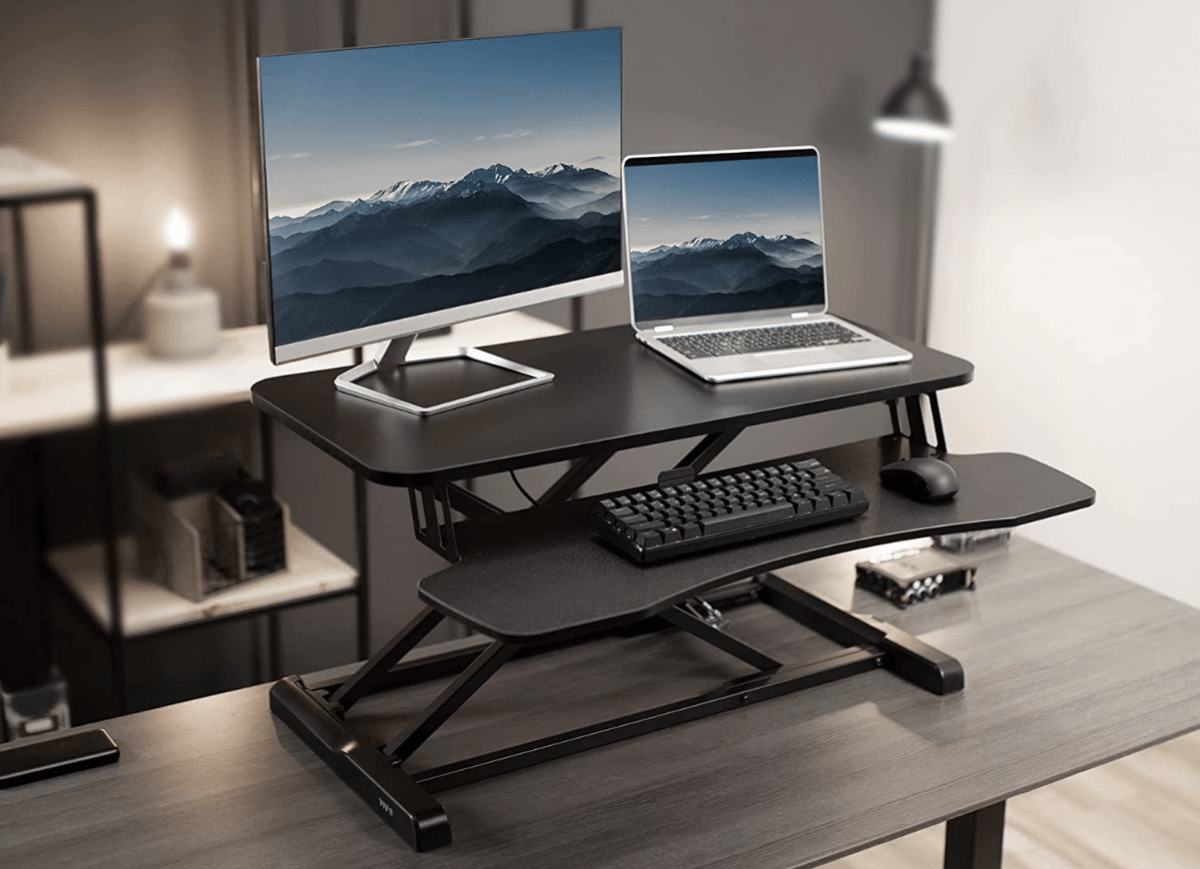 | | |
| --- | --- |
| Specs | |
| Height adjustment range | 4.4" – 19.6" |
| Size (W x D x H) | 31.5" x 15.8" x 4.4"-19.6" |
| Weight Limit | 33lbs / 14.9kg |
| Price | $140 |
Pros
Removable keyboard tray
Unlimited points of adjustment
Then lastly for the top pick for those who are on a tight budget we have the VIVO Height Adjustable 32" Desk Converter, which you will be able to opt for in black, dark walnut or white. When this standing desk converter is at its lowest height, it actually has quite a low profile but thanks to its patented X-Frame design, it is able to raise to a high maximum height of 19.6". Even though this product comes at quite an affordable price, it is still quite impressively strong and the desktop is able to support up to 33 lbs (14.9kgs) of extra weight, and the keyboard tray is able to support 4.4 lbs (1.99kgs).
Just like a lot of the other options on this list, this device has unlimited points of adjustment, and the raisins and lowering features are performed by using a pneumatic lift assist system. This standing desk converter is able to either support two freestanding monitors or a monitor and laptop. Then lastly, another awesome feature that this product has is that it has a removable keyboard tray, which laptop users will definitely appreciate.
Final Words
So, there you have a variety of some great standing desk converters that you should definitely consider buying in order to better cater towards your health, especially if you are someone who sits at a desk working all day.