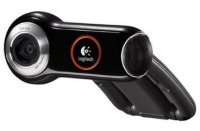 There was a time when having a webcam was only for the wealthy.  Those days are long gone.  Today almost every household in the U.S. is able to connect to the Internet.  With the boom of the Internet came social networking, online dating, instant messaging, and even online business meetings. No longer do we have to worry about the low quality, blurry, spherical webcams provided in the past. The future is here, and webcam quality has risen so much in such a short time it's astonishing, with Logitech leading the way. They released their Logitech QuickCam Pro 9000 not too long ago, and we're lucky enough to be able to give you a quick overview of it.
One of the first things you'll notice about the camera is the Carl Zeiss lens located on the left side of its uniquely horizontal body. The microphone is located on the right, and you'll also find a button beside the lens that allows you to take pictures. Around the Logitech logo is an indicatory illuminated circle that lets you know when the QuickCam Pro 9000 is on. It has a very unique, two-hinged support structure that bends in different shapes so that you have the versatility to either secure the webcam to a CRT or LCD monitor or stand it on a table.
Regardless of the features a webcam has, it must be able to transmit great image and sound for it to be a worthy solution. With a 2 megapixel Carl Zeiss lens, Logitech's new QuickCam quickly put all our other webcams to shame. Everyone that we had a video chat with via instant messaging said the image transmitted was extremely sharp and of astonishingly high quality. Using the high resolution setting on the QuickCam, we were able to enjoy full screen video chat with contacts without image noise. One of the best features of the camera is HD recording, which allows you to record in HD, for those who love to make high quality videos and host them on your PC or online.
The QuickCam Pro can be purchased for about $113, which is affordable for the quality provided. You definitely won't need another webcam for awhile if you purchase the new Logitech QuickCam Pro 9000.