As we utilize more and more electronic devices in the digital home, controlling them becomes an important issue. No one wants to keep up with or sort through a dozen different remotes for various devices in a home entertainment system and surrounding electronic equipment. The Logitech Harmony Universal Remote Control is the perfect solution. After reviewing numerous different remote control options and actually using Logitech Harmony remote controls for years, I can whole-heartedly recommend the Logitech Harmony remote control to anyone seeking a solution. I prefer the 880 model's buttons and additional display items, while others prefer the touch-screen and interface upgrades of the Harmony One. However, both remotes use the same intelligent system, making either an excellent choice.
Both models support 15 or more devices. The device database is extensive, and is perfect if you have lost a remote control or have a damaged remote. Otherwise, you can also program a device from an existing remote control. The setup wizards are intuitive and enable easy setup of devices.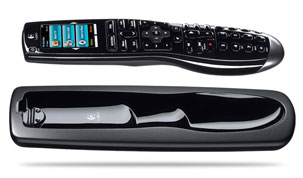 One-touch operation is provided for operation, including turning on a device and any other component(s) that may be required to use it (such as turning on a TV also when playing a DVD). Buttons can be customized for specific tasks. Backlighting is provided for the buttons as well as the LCD display. The remotes are also rechargeable via the charging station, with low battery notification available when in use.
The device compatibility for the Harmony remotes is incredible. You can control a televisions, satellite or cable box, DVD player, video recorder, digital media player, TiVo or other PVR, game console, amplifier, stereo, or even a PC or home automation setup. More than 5,000 brands and 225,000 devices are supported.