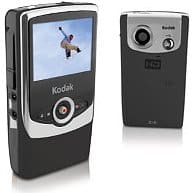 Kodak has released the Zi6, a PDA-size camera that has the capability to record HD video of the utmost clarity. Consumers can record in multiple modes, including camera photos (of course), HD60, HD, and VGA.  The device offers AV and HD ports to facilitate connection to an external display for instant, high definition viewing.  When waiting immediately is not required, the content can be uploaded to PC via the provided USB port. It also comes with software that can be used to upload video to Youtube with ease. Kodak opted to run the camera on two AA batteries, of which two rechargeables are included, along with a battery charger.
The controls for the camera are extremely easy and can be learned in a matter of seconds. The Kodak Zi6 uses a joystick – tap once to record, another time to stop, to the left to play a video, and to the right to stop. The setup is great for those not as tech savvy, allowing everyone to use the camera because of its simple control scheme.
The USB port, of course, makes it simple to transfer video and photos to your PC. A Macro mode feature is available that boosts image quality when focusing on something close up. It has a large LCD screen for viewing videos and photos captured. A mirror is also integrated on the back for those who wish to take pictures or video of themselves. The camera also includes built-in speakers so that video content can be accessed with sound immediately after recording.
The camera is an excellent option for those who like to record video on the go, and could make for a special gift to unwrap on December 25th.