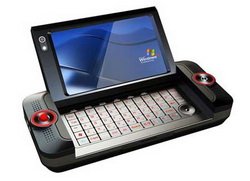 HDPC stands for Hybrid Portable Dual Computer. The device originates from the consumer's need for a portable device that is able to perform complex functions. When someone needs a light weight and small device that is able to perform like a desktop computer, a Smartphone could be a very attractive option.
The problem with many Smartphones is that they use a proprietary operating system. In other words, the OS that is used is different from the normal Windows OS that most computer users are familiar with. This means that applications for the Smartphone are limited, and it is rare for developers to venture into developing applications solely for the Smartphone OS, which causes consumer to consider other options.
Laptops and netbooks work like the personal desktop, but they can still be considered bulky when compared to a gadget the size of a phone. The UMPC (Ultra Mobile PC) comes very close to meeting the needs of many consumers, but it does not include phone functions.
Fortunately, Korean company MIU managed to find a way to integrate phone functions into the UMPC. They call this the HDPC, which is actually a hybrid of the Smartphone and the UMPC. The HDPC runs on the Windows operating system. This means that the consumer is able to use the HDPC to launch any applications developed for the Windows OS. In addition, the owner of the HDPC can also use it as a normal phone.
It is not uncommon to see Chinese companies bundling several key features together in one device. On top of computer and phone functions, the HDPC also has a digital TV receiver built into it. Two cameras are built into the device as well – one is for video chat (VGA) and the other is for taking photographs (3 megapixels). Obviously, the goal is to have as many functions as possible, packed into a single device to ensure consumers do not have to bring multiple devices along while on the move.
Although the HDPC device may appear rather bulky at first glance, many consumers actually welcome the multiple functions offered by the HDPC. One can use it to play music, play videos, work on Microsoft Word documents, and even watch TV. These functions have never been realized in a single device. The HDPC is a sleek looking device. One may easily mistake the HDPC for an ordinary Smartphone but on closer examination, the top half of the device can actually be flipped open to reveal a Qwerty keyboard underneath.
Enthusiasts will eventually have to weigh several factors before making a purchase. These factors include the above mentioned features, the weight, and the price. Obviously, the features and weight (at less than 400g) are looking good. So that leaves the price. It has been stated on various news sources that if the price is around the $500 range, this can be one of the most tempting gadget to acquire.