When we went on the hunt for the best router in 2017, we measured dozens of different features, stats, and metrics against one another to come up with a list of the top five you'll find on shelves today.
For starters, all the routers we chose must have a minimum bandwidth rating of 1900AC and pump out at least 200Mbps on the 5GHz spectrum. We made sure the router had a bevy of extra parental controls and firewall settings as well, so you can be sure your family is always protected when they're on the web. Last but not least, contenders like our #1 pick the Linksys 3200ACM wireless router come with future-proof tech such as MU-MIMO, which ensures that you're always getting the fastest possible connection no matter where you're browsing from in the house.
To see why the AC3200ACM beat out the rest of the competition, read on in our annual roundup of the best routers in 2017!
Top 5 Wireless Routers Compared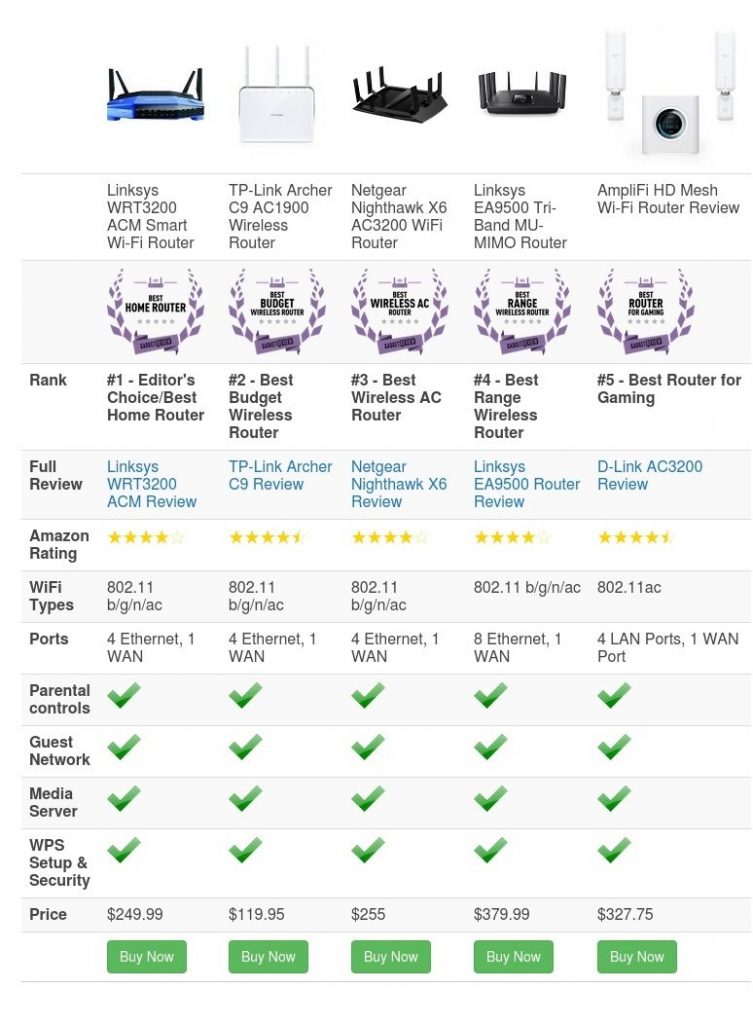 Why You Should Buy a New Wireless Router
Wireless router technology has evolved rapidly in the past few years, incorporating a plethora of new wireless bands, transmission standards, and extra features that are all designed to keep up with the demands of a modern home.
Older routers that use b/g/n to transmit their signal aren't built for the way people use their wireless networks these days, whether it be streaming Netflix in 4K, downloading file sizes that can stretch into the tens (if not hundreds) of gigabytes, or playing online games that demand the absolute lowest ping/latency possible to get you to the top of the local leaderboard.
If you find yourself running any of these activities but are constantly shaking a fist at your at the dreaded "buffering" symbol as it mocks you from the other side of the screen, a router upgrade could be just what you need to solve these problems and so many more.
Similarly, if you're updating your smartphone every year to the latest model and splurging on a shiny new laptop shortly after, your router should get just as much consideration as any other technology you use on a daily basis.Your wireless router is the last boundary between your devices and the rest of the internet, which is why it's important to ensure that it's running the latest firmware with the best firewalls, and always has enough horsepower to spare whenever you tack on a new laptop or phone to your endlessly growing network of personal mobile technology.
Last, there's the advent of features like MU-MIMO and mesh networking that should perk up the ears of anyone who's considering upgrading their home network so far into the future that they won't have to even think about router shopping for the next two years or more. Mesh networking in particular is probably one of the best reasons to upgrade in 2017, as it gives you a way to get signal in places like the basement, attic, or backyard which were previously thought to be total dead zones for all but the most powerful routers out there.
These reasons are just a few of the dozens that should give you all the motivation you need to look into investing in a new router this year!

#1 Linksys WRT3200ACM Smart Wi-Fi Router – Editor's Choice/Best Home Router
Price: $249.99 | Read Full Review: Linksys WRT3200ACM Router Review | Features: Dual-core 1.8GHz processor, AC3200 transmission speeds, dual-band antennas
WHY IT'S A TOP PICK: The Linksys WRT3200ACM is the best pick for your home router needs.
As the direct descendant from last year's #1 pick, it's no wonder why the latest Linksys WRT3200ACM wireless router quickly won over our hearts with its nostalgic design and exceptionally well-presented Smart Wi-Fi software suite. Whether it was setting a new firewall rule from the comfort of the Smart Wi-Fi smartphone app or the insane speeds of nearly 500Mbps at peak under ideal conditions, this is a wireless device that's painfully simple to set up with a monster engine to back it up.
Of course, the Nighthawk wouldn't have made it on the list just for looking cool alone. With six massive antennas jutting out from each side and a tri-band WiFi throughput that can self-designate which devices in your home should receive the most bandwidth all on its own, the Nighthawk takes most of the heavy lifting out of getting all the power you can out of your router with minimal setup required.
During our testing we found the one area the Nighthawk X6 excelled at beyond all else was in the range/reliability department. Thanks to its unapologetically huge array of antennas, the X6 had some of the best range results we've seen all year. It strikes the perfect balance of high performance and reasonable cost, however its more extreme design choices may not be the perfect fit for every home.
This is a router that's much more suited to a den, office, or the garage, out of sight and out of mind. During tests we not only found that it was bright, but could even get a bit loud at times, with the onboard processor/fan combo whirring up to an audible hum each time we ran another speed evaluation.
Even so, the performance of the Nighthawk X6 is still enough to excuse it from these minor sins. As long as you've got a place to tuck it away where it won't draw too much attention to itself (or have an all-black living room to match), this is definitely one of our favorite routers for larger homes who do a lot of streaming and gaming at the same time.
Pros
Very fast in all download and upload scenarios
Netgear's Router Genie is a welcome departure from older configuration tools
Extra features are plentiful
Cons
Stealth bomber design may not be the best for everyone
Wired performance could be better
Makes noise at load
Bottom Line: If you're a speed-fiend, you're not going to find another router on shelves that delivers the best combination of range, speed, reliability and price into the kind of convenient package you get with the Netgear Nighthawk X6 AC3200.
View on Amazon
#4 Linksys EA9500 Tri-Band MU-MIMO Router – Best Range Wireless Router
Price: $379.99 | Read Full Review: Linksys EA9500 Tri-Band MU-MIMO Review | Features: MU-MIMO beamforming technology, high-powered AC5400 speeds
WHY IT'S A TOP PICK: Powerful and sporting the latest technology, it's hard to go wrong with this beast.
When we first got a gander at the insane specs on the new Linksys EA9500 Tri-Band MU-MIMO router, we were admittedly a little scared of what it would be capable of when we really opened it up on a pure fiber connection. Of course, those fears quickly (no pun intended) melted away as the router proceeded to blow every one of our tests clean out of the water with insane speeds, solid connection reliability, and extensive range that reached to every corner of our homes.
Plus, with the help of Linksys' own Smart Wi-Fi dashboard, the additional options and features offered on the EA9500 continued to impress with flourish and flair unlike any other router on this list (except for other Linksys options, of course).
Admittedly, this router could be considered overkill for most households. Its higher price and almost confounding list of additional features could be an imposing entry point for the average consumer. We wouldn't suggest the EA9500 to anyone who isn't certain they need the absolute best-of-the-bleeding-edge-best, however if you need a lot of range and don't mind dropping extra coin to get it, the Linksys EA9500 is quite simply one of the most powerful and feature-rich routers you can buy in 2017.
Pros
MU-MIMO capability
Exceptional performance at all ranges
Intuitive, well-designed software
Cons
Expensive
Bulky design may not fit where you want
Bottom Line: The Linksys EA9500 might be a bit overkill for most households, but for serious gamers or media streamers who want to be able to use multiple devices in one area of the home at once, the MU-MIMO radio on this router is undoubtedly one of the best in the business.
View on Amazon
#5 AmpliFi HD – Best Mesh Networking Router
Price: $327.75 | Read Full Review: AmpliFi HD Router Review | Features: Mesh networking, 1GHz dual-core processor, AC1300 radio
WHY IT'S A TOP PICK: The AmpliFi HD makes high performance routing look good again.
When I first laid eyes on the AmpliFi HD mesh networking system, I thought to myself "sure, it looks good, but there's no way I'm getting any kind of performance out of that puny little box". With a central base station that measures just 3.9″ on all sides (a perfect cube), this is a router that on its own could squeeze into just about any corner in your home without your guest being any the wiser.
That said, we can't think of one reason why you wouldn't want to make the AmpliFi a central star in your home's decor. Everything from the Apple-white shell to the 1.5″ multicolored LCD display screams high-class networking at its finest. We're not even sure that's necessarily a category of routers yet, but if it is, AmpliFi is the one who invented it.
So how is the company able to push some of the best range and speed test results we've seen out of a router in 2017? The secret lies in a newer technology that's just been introduced to the market over the past year or so (at least on a widespread scale), called "mesh networking". Mesh routers and networking systems work by creating multiple antenna arrays that all communicate with one another, and plug into standard outlets wherever you need signal the most. That means instead of one base station with a bunch of antennas broadcasting from a single location, the responsibility of getting your whole house covered is instead spread out over a "mesh" of antennas.
You can add as many antennas as you need to a single hub, which makes it much easier to get a reliable signal no matter where you're browsing from. Using its cleverly-designed antennas which are magnetized to the outlet (so they'll just fall off if your dog or kid accidentally bumps it), the AmpliFi HD smashed all range and speed records we put in front of it, consistently performing above and beyond the call of duty.
The only drawback of the AmpliFi HD system is that instead of using a prebuilt dashboard, the company has started their own from scratch. This means many essential features like QoS management and parental controls are being piecemealed in over time, rather than being available straight out of the gate. If you're someone with a big family and you want to keep an eye on their data usage or at least be able to better control what kinds of a content they can or can't see on the web, you're probably better off going with a Linksys model instead.
Pros
Clean, thoughtful design
Solid performance at all ranges
Intuitive setup and app UI
Cons
Software was missing many core features
HD model could be pricey for some
Bottom Line: The AmplifiHD turns traditional router conventions on their head with a beautifully minimal design, insane speed test results, and enough style to go around. If you're trying to get full-home coverage without the full-home bulk, the Amplifi HD mesh networking system is the router for you.
Why You Should Trust Me
As Gadget Review's resident router expert, in my nearly half-decade long career of reviewing the newest technology in wireless hardware, I've learned a lot about what makes a great router, and where the rest of the duds are so obvious you can see them coming from a mile away.
I've spent roughly 200 hours reviewing 15+ routers for Gadget Review, and have written a number of how-to articles and tutorials which explain what router technology is, how to use it, and where it can help you grow your home's wireless network the most. I've had just about every mobile networking app installed on my iPhone 7 at one point or another, and know the ins and outs of both the desktop and web-browser based configurators that many of the current manufacturers use.
My reviews have been featured on the websites of some of the top router distributors, including Linksys, and I've continued to stay up to date on all the latest developments on both the hardware and software side of the business for years.

How We Choose the Top Wireless Router
When you're asking yourself what to look for in a wireless router, there are a few key features to keep an eye on. How we choose the best of the best routers usually comes down to three main factors: the signal strength, the number of onboard features, and price. The routers on this list are all at the head of their game in these arenas, and consistently offer top-of-the-line performance alongside a fair price and a plethora of extras that users can utilize to perfectly customize their own wireless networking experience at home or their office space.
Router technology is constantly evolving to meet the demands of new internet activities, whether that be online gaming, photo uploads, or the advent of 4K streaming.
All the routers we've chosen run at a spec of 802.11ac, the latest version of Wi-Fi transmission technology to be released, and also feature a minimum of two wireless bands: 2.4GHz and 5GHz. They also come with a bevvy of extra features that put them ever-so slightly above the rest of the competition, including: QoS management, parental controls, intuitive mobile apps, media servers, internal firewalls, and more. The routers were tested in a 2600 sq ft home, which was only surrounded by two other wireless networks, so we experienced as little interference as we could during the testing process.
Accessing and configuring these features used to have a barrier of entry that only the mid-level tech nerd would understand completely, but nowadays thanks to mobile and desktop apps, the process has gotten significantly simpler to deal with.
Dashboards like the Linksys Smart Wi-Fi system continue to set the gold standard for how to create a piece of software that feels like it was made for actual people, not just those who had read the Wireless Routers for Dummies handbook. Every feature is clearly laid out and explained in a way that makes sense to the layman. In today's world of internet threats, we think it's important that you as the buyer (and owner) of these routers know exactly what they can (and can't) do to protect you and your family while they browse online, which is why a well-laid out dashboard is a must.
When it comes to speed, all routers on this list are equipped with a minimum spec of 1900AC, which means they have a theoretical max output of simultaneous dual-band signals up to 600 Mbps (2.4 GHz) + 1300 Mbps (5 GHz) at a time. Options like the Linksys WRT3200ACM are even faster than that though, cresting at a whopping 2.6Gbps.
One of the newer pieces of tech to make it to the high-end sector of the router market in recent years is the addition of MU-MIMO, or Multiple User Mulitple-Input Multiple-Output technology. As explained in my HowToGeek article on the subject, MU-MIMO is a style of beamforming technology which evenly distributes traffic to all members of the household simultaneously, instead of one at a time. There still aren't a huge number of devices that can support a MU-MIMO stream just yet, but if you're the type of buyer who prefers to future-proof as much as possible when making purchases like these, than MU-MIMO is the way to go.
Finally, we always do what we can to keep a careful eye on the design of a router, and only recommend those which don't take up too much space or end up being a central conversation piece of your home (unless you want them to be, of course). Outliers like the AmpliFi HD take router design to the next level, though we suspect it could be a number of years before more the traditional router makers go the same route.

3 Ways to Increase Your Wireless Speed
Switch from 2.4GHz to 5GHz
While the 2.4GHz spectrum is fine for homes that have a lot of obstacles between the router and your device (or has a lot of routers surrounding your space, like in an apartment), it's also the slowest of the two radio types and can only max out around 120Mbps at best. On the other hand, the 5GHz spectrum is ripe for anyone who has a need for speed, and can often top out up to 700Mbps under ideal conditions. You can read our in-depth guide on the exact differences between the two options in our guide found here.
QoS, or "Quality of Service", is a feature on many modern routers which allows you to prioritize certain applications or devices for increased traffic throughput. For example, if you're always stuck behind the annoying Netflix buffering signal on your living room television because someone else in the house can't stop downloading torrents, simply go into your router's settings and give the TV and the Netflix app priority over their downloads. This will force the router to save extra bandwidth for the TV first, and only once that channel isn't available will the torrent downloader get to experience the full extent of bandwidth available in the house.
MU-MIMO is a relatively new feature that's entered into the router market over the past year, and for as many people that say it's useless there's a hundred more who need it in their home. See, on traditional routers a wireless signal will be dispersed in sort of a "machine gun strapped to a carousel" manner, if you'll forgive the metaphor. Each packet of data is sent individually to each device in a particular area of the home, and fired off one bullet at a time per rotation of the carousel. In MU-MIMO routers however that packet stream is kept open individually per device, meaning that your speeds and performance will stay consistent no matter how many different devices are accessing the network from any part of your home.
Linksys vs. Netgear
In the war of routers, the tale of Linksys vs. Netgear is one that's almost as old as the technology itself. And despite how long both have been keeping a neck and neck pace with the other, it seems that in recent years thanks to some serious innovation on the software front, there's no question that Linksys is currently coming out on top.
The Linksys Smart WiFi system is a ubiquitous web-based login that can be used to set up, manage, and configure your router from anywhere in the world without using complicated logins or remote call procedures. Simply register your email with Linksys and you'll have access to all your Smart WiFi features, making it easy to do anything from creating a new firewall rule to streaming media server content straight to your portable device.
Netgear still makes seriously powerful routers that can handle almost any task the average internet user might be able to throw its way, but unfortunately both their desktop-based app and their mobile options are lacking when it comes to the level of polish that we see from Linksys in this department. For all their technical prowess in hardware they still manage to come up drastically short on the software side, which is why for less experienced users it's always a good idea to go with Linksys instead.
That said the main reason for preferring a cleaner dashboard is only to help novice users navigate their way around the configuration process. If you're more of a networking expert who knows their way around a router then ultimately the decision should come down to features, speed, and price. On these three fronts Linksys and Netgear still maintain a pretty even race after all these years, and both have their own unique aesthetic which can fit comfortably in almost anyone's home decor.
Wireless Router Features to Look Out For
Dual-band
First, it helps to know that when we talk about "dual-band" routers, what we're actually referring to are the radio frequency spectrums that the router uses to transmit data to wireless devices.
The first, 2.4GHz, is the oldest of the current WiFi transmission standards still offered on modern-day routers, and is generally best for long-range, low-speed transmissions like internet browsing and checking your email.
The other, 5GHz, is made to achieve the highest-speed signal possible, usually at the expense of the amount of range you can maintain from the wireless base station. So if you're looking for the fastest wireless router review, make sure it has this.
WiFi Types
And all those letters (a/ac/b/n/g)? All you need to know about those is most routers these days don't even bother with the outdated a/b standard. "G" and "N" are the newer, most widely adopted spectrum classifications that designate the maximum amount of bandwidth the channel is capable of handling at any given time (54Mbps and 600Mbps, respectively).
802.11ac is the newest entry of the bunch, capable of handling what's known as MIMO technology, or "Multiple Input, Multiple Output".
This refers to the way a router prioritizes which devices get their data first, either doling it out sequentially to up to four devices in older standards, or in the case of 802.11ac in particular, simultaneously giving every device in the house its own stream that's no more or less powerful than the other at upwards of eight streams at a time
There aren't a ton of mobile devices capable of decoding 802.11ac's MU-MIMO stream capabilities just yet (the MU is short for "multiple user), but if you want a router that's 100% future proof, this is definitely an indicator you'll want to keep an eye on.
Range
When it comes to achieving the best wireless router range, both the type of channel you settle on (2.4GHz vs. 5Ghz) and the spectrum your wireless device uses to connect (b/g/n) to will be the primary indicators of what the router can push out at any given point.
This in mind, the size of the antenna on the back of the device can also play a huge part in what kind of distance or power you can achieve with any given model. The larger the antenna, the longer the signal will transmit before eventually petering out.
If you're worried about interference from surrounding technology or other routers in your apartment building, it's better to use the 5GHz spectrum, which is often less crowded than 2.4GHz.
Ports
If you're a gamer, and looking for the best wireless router for gaming, or someone who is already on the 4K Netflix streaming boat, you know better than most that even the best WiFi signal in the world still won't beat being directly plugged into the back of the router.
The three different numbers you should be looking for when choosing a router that's best for both WiFi applications and wired connections is 10/100/1000, which refers to the number of Mbps that the ports on the back can handle at any given time. Most consumer cable plans don't break more than 100Mbps/down, but if you're looking for an enterprise-level device a 1000Mbps connection should be more than enough to handle the job.
Parental Controls, QOS and Guest Network Features
Having once been a kid with the internet myself, it's no secret that parental controls installed on a local computer can only go so far to prevent certain members of the household from doing what they want online without getting caught. This is where the backend restriction controls come in.
All of the routers on this list come with some form of parental control panel or another, capable of directly limiting access to specific websites, IP addresses, or connection types throughout the day.
QOS (Quality of Service) configurations on the other hand, are made for just the opposite, customizing which channels get opened up to a greater amount of bandwidth over others (a game vs. a Netflix stream, for example).
If you live in a house with a lot of roommates or family members, but need to prioritize certain activities over another, a solid QOS rollout is how you're going to make it happen. Next is the option to set up what's known as a "guest network", or a WiFi space that's transmitted separately from the primary hub. Guest networks are great if you have people coming in and out of your home often and asking for the password, but don't feel comfortable letting everyone on the block know how to get into to your main network after the visit is over.
Wi-Fi Protected Setup (WPS) and Security
Although the earliest days of WiFi security were plagued by a deluge of conflicting, often confusing and ineffective standards, these days most router manufacturers seem to have settled on the idea that it doesn't get much better than WPA/WPA2.
WiFi Protected Access is the security method that most readers are probably already familiar with, requiring users to create a network key that any devices joining the network need to enter in order to get let in the front door. A new technique however; WPS (WiFi Protected Setup), is starting to buck that common trend, using a simultaneous button press on the router and device themselves to link up a secure connection.
By requiring the device owner to have physical access to the router itself, WPS keys prevent hackers from breaking into a network from over the air or stealing a signal from your next-door neighbor's house instead.
Media Server
Lastly, if you're someone like me who's already burned through the entirety of everything Netflix or Amazon Prime has to offer, the option to set up your own media server for streaming on the go can be an enticing one. Some routers will include a USB port on the back that you can use to mount an external hard drive packed to the nines with downloaded shows, movies, and music, all of which can be a lifesaver on long road trips or while you're waiting for delayed flights in a dreary airport terminal.
What Else You Should Think About
Before you run off to buy your first (or fifteenth router), there are a few things you should catch yourself up to speed on first so you can make the most informed buying decision possible.
The first is to learn the basics, which you can do thanks to our resource article that covers this very subject. Next, once you've actually got your router in house, you're going to need to know how to get everything set up properly. There's no point in trying to protect your network after it's already been infected, so having a strong security strategy and a full understanding of all the threats that your network can be protected from out of the gate is imperative to maintaining proper internet security practices from the get-go.
So with all of that in mind, which model is the best wireless router for 2016 and 2017?
If we're going purely off the metrics of range, reliability, and ease of use, the Linksys Smart WRT3200ACM router takes it. It is a bit pricier than some, but with an elegant, timeless design that's combined with Linksys' notorious attention to detail, the WRT3200ACM manages to hit all its marks while still bringing an air of simplicity to the table that just can't be matched.
Sure the TP-Link Archer C9 is a great value and the Nighthawk X6 looks like it could take down an attack helicopter, but when you tally up all the different variables the Linksys WRT3200ACM is the all around best bet on the market today.
Still can't decide?  Take a look at our wireless router reviews, and by the time you're done reading you might feel informed enough to pull the trigger on the model that's right for you.
---
*All pricing listed is noted at the time of this posting