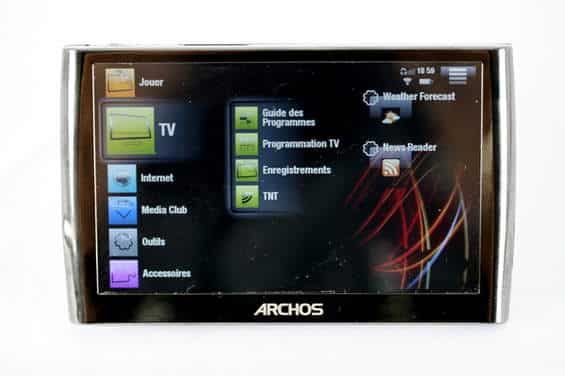 Building on the success of the Archos 605 WiFi, Archos has now released the new Archos 5 portable media player. The units feature a new, faster Texas Instruments central processor, a larger screen (exceptional quality), touch-screen operation, vivid colors, up to 720p resolution, plugin support (most cost extra), and more in a simple, intuitive design. The Archos 5 supports MPEG, WMV, H.264, AVI, and DivX (versions 3.11, 4, 5, and 6) video formats as well as subtitled files. Most operations are performed via the touchscreen. Only the power button and volume controls are separated from the touchscreen operation. The Archos 5 media player has a fixed battery life, following the new trend of many current devices. Battery life measures at about 4 hours and 30 minutes during video playback, and 12 hours and 30 minutes during audio playback.
The exterior design of the Archos 5 is made of stainless steel, which provides for a very solid build quality. However, it also results in the player being highly prone to smugging and fingerprints
The new player also boasts Internet operations such as web browsing and email. streaming video is also available. While some Internet TV content appears clear and smooth, other services yield jerky, low resolution content. Of course, this is not under the control of Archos, but it is worth mentioning nonetheless so that buyers are not surprised.
The Archos 5 is compact at 5"x3"x.5", with a weight of .55 pound for the 60GB version and 5"x3"x.75", with a weight of .66 pound for the 120GB and 250GB versions.
Available accessories for the unit include the DVR Station, which allows customers to connect the Archos directly to a television for recording TV programs onto the device or transmitting content from the media player to the TV. GPS and Webcam accessories are also available.
Prices
Archos 5 60 GB Internet Media Tablet: $339.49
Archos 5 120 GB Internet Media Tablet: $389.49
Archos 5 250 GB Internet Media Tablet: $439.49