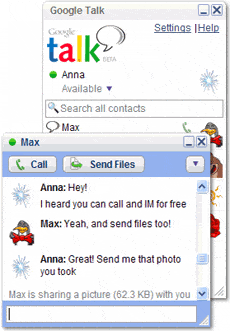 Google is always working to release new and effective Internet solutions. Continuing in this tradition, Google's Talk messenger application has recently been updated with video and voice capabilities. The new release is not meant to be a contender to Skype, as it does not possess the ability to connect to the standard phone network or voice mail support.
The audio and video is high quality, though. Since Google Talk's video traffic goes through Google servers, it's expected to be more consistent as far as the connection then Skype since Google has endless bandwidth and server space. If you're using an older computer, the PC may suffer poor performance during usage since the application utilizes a lot of resources. There are no such issues with any recent system, however.
Straying from the path of other video chat products, Google Voice and Video uses a proprietary plug-in instead of Flash. A miniscule download of 2MB supports Internet Explorer, Mozilla Firefox, and Google's own Chrome on a PC as well as Firefox on a Mac. Details have not yet been released on support for other platforms, such as Linux, but ports for them may come later. Google Video and Voice made its official public debut at midday on Tuesday, November 18th. Now that Google provides Voice and Video, users have access to a vast array of tools with one login, including email, voice, chat, and soon even SMS. If Google ties in Youtube and Google Docs better in the future, the Google account will be nearly unstoppable.
Google's Voice and Video is quite simple to use. When the option is available, a "Video & More" button is shown in the chat messaging window. Once selected, the plug-in will be installed and immediately accessible for video calls with friends.