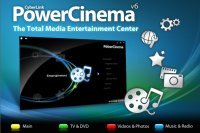 CyberLink PowerCinema 6 helps turn a regular PC into a HDTV and a multimedia entertainment center. Released on November 13, 2008, Powercinema 6 includes features for watching television, viewing photographs, enjoying music and DVF movies, and even listening to the radio. With simple channel management and support for HDTV, PowerCinema 6 gives users the versatility of being able to view high-definition television straight from their computers.
With Schedules Recording and Time-Shift Playback, PowerCinema 6 turns your computer into a personal television recorder, which frees users from the chains of regular television. The software offers support for MPEG-4 AVC hi-def video. Multiple subtitles and audio tracks can also be recorded, which enables you to change the language while watching recorded television.
PowerCinema 6 also comes loaded with a number of new usability features. The Entertainment Interface categorizes your media, including Entertainment which would be DVDs, music, radio, TV and Memories that consists of videos and photos. It also automatically detects the size of your screen and sets video display to either 4:3 playback or widescreen. With color-coded hotkeys, you can easily navigate your way to key features of the software. You can use these color keys either on the screen or by separately purchasing the Cyberlink Remote Control. You have the option to Quick Review your recent photos/videos/music, and PowerCinema 6 also enables you to select a group of files to play or edit.
PowerCinema 6 provides quick access to your favorite audio as well. You can easily locate your music using Quick Music Search, which uses meta data information to find the desired track. Power Cinema 6 supports MP3, WAV, WMA, and Audio CD (CDA) formats.