A presentation is not just a set of pictures and text, it is the face of your work. The evaluation of your work depends on how you create it. And it doesn't matter if it's a regular seminar or a final year project. As a student, you have to know the latest trends and keep up with the progress.
Creating presentations in PowerPoint is losing relevance due to its limited capabilities. Other, more modern programs are now becoming popular. Perhaps your classmates are already using them, and you often terrorize them with the question "what is the name of the program for creating presentations?". That is why in this article we will tell you about the coolest services for creating presentations, which may even increase your academic performance.
By the way, if you need to improve your academic performance, even more, you could use the paper writing service MasterPapers, to create high-quality essays for important subjects.
Prezi
This site for creating presentations is perfect for those who want a quick and high-quality result. In addition, it is one of the biggest competitors of PowerPoint! And for good reason: the resource has a majestic library of images, charts, graphs, and layouts that can be easily customized.
Prezi is an online repository for interactive presentations. The service can work without the Internet if you download a special application. And you can use your phone as a remote control to switch slides. This is extremely convenient for students who perform in the class. In case you got too busy with creating a high-class presentation for your project and missed some important papers deadlines, in handy may come such service like MasterPapers.
In order to use the platform, you need to subscribe. The basic package is free but quite limited in features. Paid packages have more features and cost $ 5, $ 15, and $ 59 per month, depending on your choice.
Canva
Canva is a free online presentation designer. The service provides hundreds of free design layouts and figures. If you do not have enough of them, you can search in a special catalog and buy for 1 dollar any desired item.
This presentation program lets you change the background, insert and edit your images, or use stock photos. It also has over a hundred fonts that can be customized. Canva has its application for both iOS and Android. It can be downloaded for free directly from the site.
Crello
This program for creating presentations works online. You can also design animations and edit videos or images. The project is designed for marketers, entrepreneurs, bloggers, but is also suitable for students.
You can create projects from scratch or with one of the templates, of which there are several thousand on the site. There is a large library of unique photos and many tools, objects, and clips to help you feel like a real designer. If you want to create a presentation yourself, the service has collected a lot of tips and ideas for inspiration in a special section. Crello has two packages: free and Pro. You can also download the application to a mobile device – iOS or Android.
Talking about inspiration. If you feel like you have no inspiration for working on one more essay, you may find a solution in this article GradeMiners.com Introduces Rush Order Essay-Writing Service.
Keynote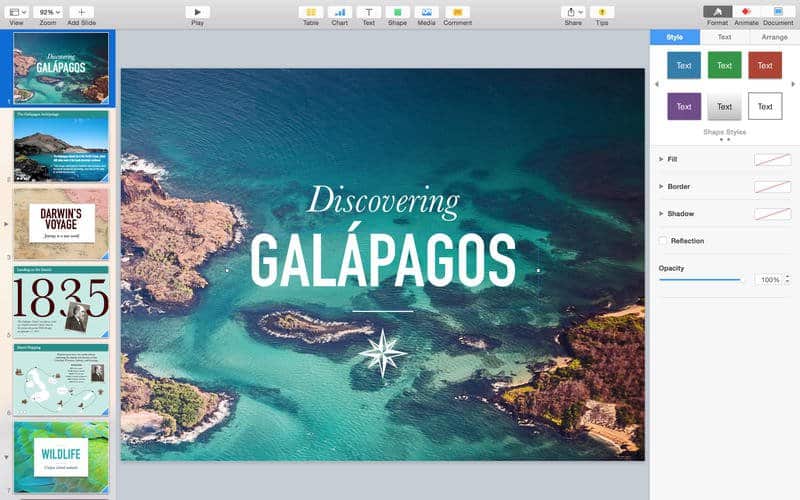 Keynote is a program for creating and playing presentations. This is free software for macOS. The service also supports the PowerPoint format – this is convenient if your fellow students don't have Keynote, but you need to work together on the project.
The service offers different ways to create presentations. You can choose one of 30 designs or develop your own with a variety of tools. This presentation program also lets you draw layouts, shapes, and other accessories with the Apple Pencil if you're using an iPad.
The program for creating presentations provides effective animation and allows you to record audio directly while working on the project in order to create sound. Throughout the work, you can follow every step and edit if necessary. This allows you to work in detail on each slide.
Pictochart
It is a universal program for creating presentations, analogous to the online designer Canva. Among the main functions: opening, creating, and saving presentations.
One of the features of the service is the creation of creative infographics that you can insert into your project. Piktochart contains a large gallery of high-quality images, animated icons, many elements, and many templates that are broken down into themes.
This program for creating presentations is free, you only need to register. You can download the finished product in PDF, PNG, and JPG format, or view it online using the "Slide Show" mode. And if you need to place a presentation on your site, the service will provide you with a code to insert.
Conclusion
Check out all the mentioned above programs, play with them, and find out what suits you best. We are sure that when you start using one of the programs the quality of your project presentations will skyrocket, and the academic performance will improve at once.
BIO:
Patrick Green is a die-hard workaholic. Last semester, he has done more than fifty essays, a dozen term papers, and two Master's level dissertations. Unfortunately, Patrick doesn't know how to write bad essays. So it's either a good essay, great, or excellent. With Mr. Green working on your order, it's safe to say that there's nothing to worry about because work will be done well in time!