A plethora of businesses today are based on client appointments. Not just handling a couple of dozens of customers but hundreds of customers every day. For continuous business scalability, it is recommended the footfall of customers must increase but, what is not recommended are ways to manage them.
Managing bookings is a good way to offer every customer a substantial time which certainly increases satisfaction level assisting in further growth of the business. Here is where good appointment scheduling or online booking management software comes in.
A robust software helps in managing your booking struggles while allowing you to advertise your business better. A perfect booking or appointment system can beef up your marketing efforts, boost business efficiency, save a lot of time and money, as well as create referral programs to serve your clients better.
This article will serve as a guide to online booking or appointment scheduling software development, its features, benefits, and a lot more. Let's outline the need for appointment scheduling software!
Need For Appointment Booking Software
Fewer Errors
Humans tend to make mistakes, such as writing the wrong phone number or scheduling a different time slot for the customer. All these small mistakes can lead to customer dissatisfaction. With appointment scheduling software, even a small business can automate tasks, such as recording customer details, adding appointments to the calendar, send reminders & much more to reduce the manual work resulting in fewer human errors.
Multi-channel Appointment Scheduling
With the convenience and ease of mobile devices, most customers prefer using devices for every task, including appointment scheduling. Additionally, it is common for users to continuously switch between devices. Hence for companies, it is essential to stay competitive and keep up with the customer's changing channels. Online booking software can help companies accomplish their tasks despite changing channels of customers.
Better Insights Into Business
Most software today, be it benefits administration software or marketing software, offers insights as a crucial component for business owners to track their progress and scope for improvements. Analytics in appointment scheduling software can offer booking data and analytics easily so you can answer customers' questions and extract insight to take action. 
Lesser No Shows
Companies offering services with no-shows are major inconveniences as the customers may abandon them and drift towards other services providers, which can reduce the revenue opportunities. An online booking system can send automated confirmations and reminders to the customers, which reduces the no-shows.
24X7 Appointment Scheduling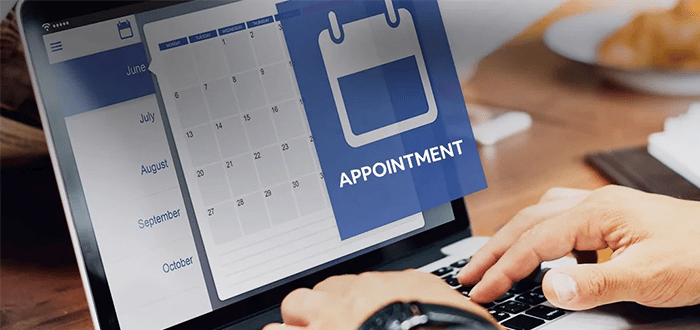 An online booking platform offers customers an open space to book or schedule their appointment whenever possible. Research explains 35% of clients prefer scheduling appointments during non-business hours, and 40% of online bookings actually happen after hours.
Seamless Booking Experience
The conventional ways are much time taking and arduous because of back & forth communication and revisit for getting an appointment. With the help of automated online scheduling or booking software reduces the tireless time taking process, deter miscommunication and human error.
Customers can use this appointment scheduling portal that can be accessed all the time. Integrating automated online appointment software displays available time slots, automatically adds appointments to the calendar, and even reschedules through portals.
Better Visibility
A physical storefront is much more difficult to market to attract local traffic. As per Google – people's searches for "near me" have grown 500% in 2017, which explains that people are increasingly using search engines to discover local businesses. Within an appointment booking software, companies can integrate a service that lets consumers search for businesses and then book online appointments through Google Search and Maps.
Easy Marketing
Advertising and marketing are more emphasized due to increasing users' inclination towards digitization. Online scheduling solutions can offer a clear path to the users to get to you. While advertising, the companies must provide a direct link to the business appointment scheduler where they can easily reserve an appointment.
It is clearly stated how much beneficial an appointment scheduling software can be. In order to have one, you can connect with a product engineering services provider with the features mentioned below.
Features to Integrate in an Appointment Scheduling Software
An online scheduling software must have these features to connect with customers easily and take your business to the next level.
Compelling Booking Page
A booking page is the first and the foremost thing a company must invest in. A booking page must accommodate the customers to schedule an appointment with team members based on their availability. Get customized colors, texts, images for your booking page to make a presence.
Two-way Calendar Sync
When the customer's appointment is fixed, the scheduling software must be able to sync the calendar to it. Syncing with the calendar enables you to check other appointments as well as eliminate double booking for you or staff.
Automatic Notifications and Reminders
This feature of the online scheduling software automatically sends an email or an SMS to the customer, once he/she has booked an appointment.
Work Hours Setting
Appointment scheduling software lets you set available working hours and block the days when you won't be available to treat your customers, so the scheduling software can only show available appointments on your booking page.
Cancelling and Rescheduling
A personalized and flexible online booking software allows you to handle team members as well as customers for effortless handling. Customers and team members can easily schedule and cancel appointments.
Different Services for Booking
Appointment scheduling software allows you to list out multiple services for your customers to book more than one specific service from the booking page.
Team Scheduling
Your appointment scheduling team members can assign appointments based on their availability and for equal opportunity that automatically reduces the time and energy spent in manual assigning appointments.
Time Zones
The integrated automatic time zones and daylight saving conversions can help you convert different time zones for customers effortlessly.
Online Meetings
Physical presence is essential for companies to give assistance to their customers. Online scheduling software can have third-party apps integrated of which URL can be shared to virtually meet your customers.
Mobile-responsive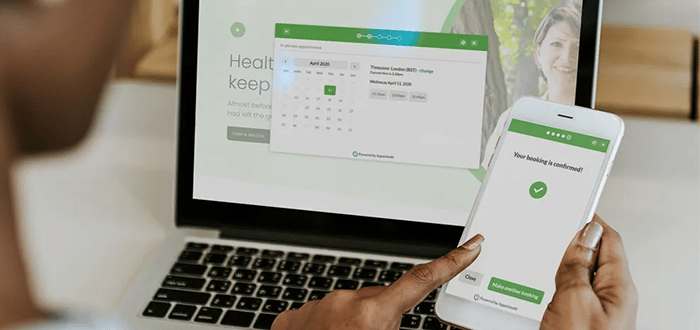 Today's solutions demand to be responsive and readily available on any device. The automated appointment scheduling software is designed to fit under any device size resulting in an exceptional user experience.
Types of Appointment Scheduling Software
If you are looking for online booking software, you must select the type of appointment scheduling software you would want for your business.
Web-based System (SaaS) – You can connect with a third-party provider to provide a hosted software solution. You can offer the convenience of booking and scheduling appointments to your customers over the web.
Desktop Applications – These are usually licensed and can be installed on the user's licensed hardware. These systems have robust features which can be customized as per needs. However, you would need maintenance and support in the long run for scalability.
What Should You Consider Before Buying an Appointment Scheduling System?
If you are looking for suitable appointment scheduling software, you must first look at these pointers.
Get a Free Trial
A good way to start is by taking free trials first. This will help you understand more features of appointment scheduling software. You can check out tools – Calendy, Appointment-Plus, 10to8 & more.
Consider Niche
What is your industry? Which audience do you want to target? Education, Food & Restaurant service, Finance, Health & wellness, or others?
How To Create an Online Booking System?
If you want to get a tailored solution, follow these steps to integrate a perfect solution into your business.
Feed-In Details
Pen down all the details of your business, such as description, contact details, social media handles, and others for your customers to know you better as well as reach you easily.
Setting Services
You must define work hours, blocked slots, and unavailability. A few software solutions offer a specific time for colleagues, prices & durations.
Create Reminders
Automated scheduling software is integrated with automated reminders and alert features to make scheduling easier and avoid any duplicate schedules.
Customize Booking Page
Make the customized page more interactive and simple for customers to navigate. Use high-resolution images, cover pictures, company's badge & more.
Setting Calendar and Syncing apps
Now that you have a tailored solution ready, you must now integrate with requisite third-party apps, such as Outlook, Office 365 & others so that your crucial information comes in handy.
Test
Before deploying your software, you must test its functionality and preview the design and navigation of the tool. You can manually check the entire software by –
Place a booking online.
Check-in your calendar system.
See if all reminders came thoroughly.
Try rescheduling or canceling the appointment.
Try taking virtual appointments
Share
Enhance visibility by sharing online booking options through URLs with your existing customers as well as social media. Promote on social media, website, email campaigns, or other modes.
Cost & Time for Appointment Scheduling Software Development
The cost for developing a scalable appointment scheduling software may cost from $300K. The cost usually depends on the number of hours every step takes, such as –
Development of Backend may take approx 2,000+ hours
Development of Frontend may take around 1,500+ hours
Mobile development may take around 1,500+ hours
Developing a blogging website may take approx 150+ hours
Others, such as designing, may take approx 3,000+ hours
Conclusion –
The appointment scheduling software must offer greater mobility to companies as well as customers as they prefer using smartphones for any task, including scheduling appointments. Businesses aiming to boost revenue and reduce costs while saving more and more time and improving employees' productivity must look for good quality appointment scheduling software. Connect with an experienced IT professional services provider to ensure scalability and ready to grab opportunities.
Author's Bio:  Alicia works with the editorial team of A3logics, a leading company offering cloud computing consulting services. Exploring the latest technologies, reading about them, and writing her views have always been her passion. She seeks new opportunities to express her opinions, explore technological advancements, and document the details. You can always find her enjoying books or articles about varied topics or jotting down her ideas in a notebook.