RSS Feeds are an important part of website interaction. Subscribing to a page will let you get updates, see new information, keep up with current events or just see something funny when it is posted on a blog. Whatever it is you are looking for, these eight applications can give you a useful way to keep up to date, 100% free.
1. Fluent News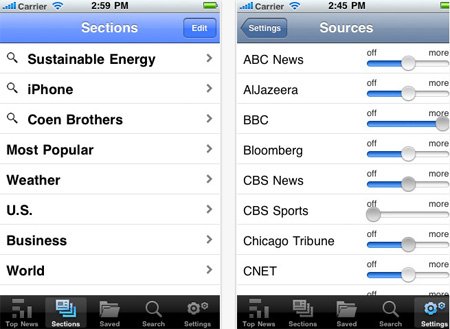 Fluent news isn't actually an RSS reader, but rather an alternative to one. If you have found yourself annoyed by the way readers only show some of the most recent headlines, and you want something for news sites that provide a more comprehensive look on the days events, this is a nice app to download.
Both the New York Times and CNET were highly impressed with this reader, and gave it the "App of the Week" award.
2. The Feed

Google and Apple are welcome known for having more than an innocent feud. The iPhone versus the Android (with tablets following from the competitors) have pitted the two against one another in the smart device category. But this app is a Goggle approved ereader that works on the iPad, providing a simple way to get RSS feeds.
The newest version fixed some of the bugs that users complained of with the first release.

Feedler comes in two versions, paid and free. The paid is $9.99, and is very feature heavy, so worth the cost if you plan on using your feeds a lot. But if you just need something basic, the free version should be more than enough.
4. MobileRSS HD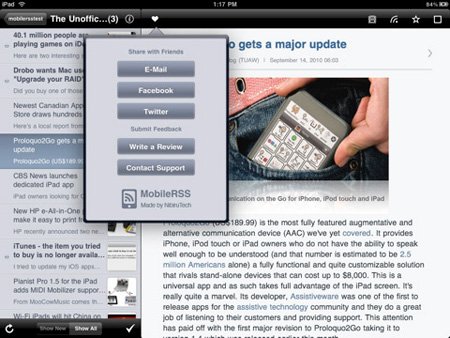 Another Google reader, the MobileRSS HD is widely considered one of the greatest available, especially for free. It has specialized in keeping feeds synced up, so you won't have to deal with the constant reloading of some RSS programs.It is also compatible with Google accounts.

This app was named App of the Year by Apple, and it does more than act as a feed reader. It also flips through photos, programs, account updates (such as on Facebook and Twitter) and more. It is an excellent program, though there have been provacy complaints. According to some users, the app scans the iPad to see if the user has jailbreaked the software to allow for third party applications not sanctioned through the iTunes store.
6. News Reader for iPad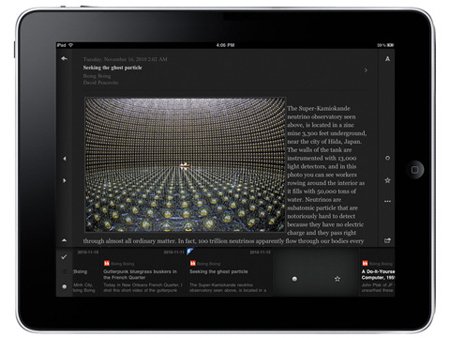 This is a really basic app that is almost identical to most other feed readers. But it is small, gets the job done, and is good for anyone that has nothing else they want it to do. I would recommend it for basic news sites only.
7. ReadSquare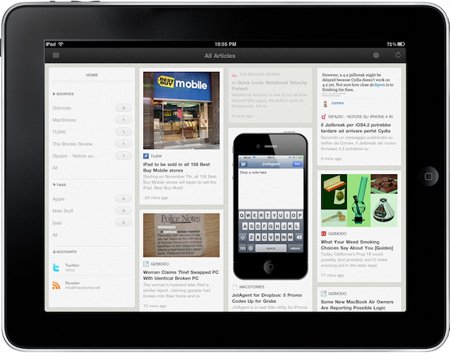 ReadSquare is more social networking minded. It connects things that you and friends on sites like Facebook enjoy. Once these are synced up it keeps it all in one place, letting you quickly get updates and find information fast. Everything is hooked by tags, making it all easy to search.
8. Pulse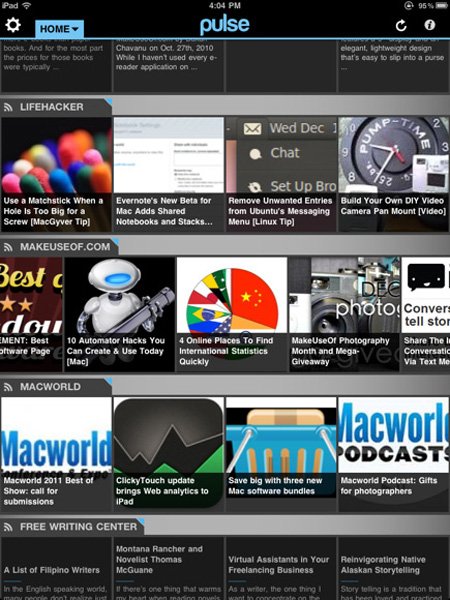 Pulse is a visual display RSS feed reader that you used to have to pay to use. Now it is completely free, and it offers an interesting way to get your info. It uses pictures instead of basic text headlines, and it is attractive and easy to sift through.
RSS Readers of the Future
These readers are a good example of how feeds have changed, and how simple it is to keep up. If you have been looking for a good, free app to let you watch your updates at the touch of a screen, these should give you more than enough to choose from.