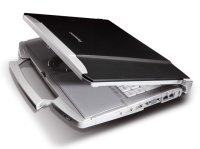 Panasonic has released a new Toughbook model as well as updated two of their existing products. The new product is the Toughbook F8, while the models updated include the Toughbook W8 ultra portable laptop and the stylish Toughbook T8 tablet PC. Taking design tips from what Panasonic likes to call the "walking worker", the Toughbook T8 is definitely a contender in the notebook market, with extras such as a stylus, touch screen, and screen rotating software. With a surprisingly convenient rubber hands strap and a 12.1″ tough LCD screen, the T8 sports a power saving Intel Core 2 Duo processor, is expandable to 4GB of RAM, is capable of providing 7 hours of battery life, and offers a 120GB hard drive.
It's sister model, the Toughbook W8, has an anti-glare LCD display that is also 12.1″. The main difference between the two machines is that the W8 weighs in slightly less and that the Panasonic Toughbook T8 has the ergonomic hand strap missing from the Toughbook W8. Also, the T8 includes Display Image Rotation software the W8 does not. The T8 weighs about 3.3 pounds, and the Toughbook W8 weighs in at a light 3 pounds. Both machines have exceptional battery life because of the low voltage Intel Duo Core processors utilized.
Both models come with Windows Vista Business pre-installed, but they can also be downgraded to XP if preferred. Both models also come with complete wireless capabilities, including Bluetooth. Pricing on the Toughbook notebooks starts at $2,099. For the durability and power these machines can provide, it's well worth the money for many users.
As for the Panasonic Toughbook F8, it is proudly branded as the world's lightest 3G-ready notebook, wielding a 14.1″ wide display and an internal optical drive. The Toughbook F8 took a page out of the book of its predecessor, the T8, by adding a handle. This gives it somewhat of a small briefcase appearance when shut. It comes with a DVD burner and a 160GB hard disk drive. Selling for $2,499, the laptop could be irresistible for businesses that require Panasonic's expertise in designing solid, reliable, and highly durable portable computers.