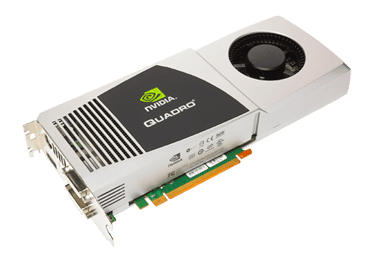 NVIDA's latest Quadro graphics card, the Quadro FX 5800, is designed for use by professional designers utilizing such tools as Photoshop, CAD software, or 3D modeling applications. It is also used for medical imaging and gas/oil exploration operations. The card is the first in the industry to feature 4GB of graphics memory, surpassing even NVIDIA's top of the line enthusiast exclusive video cards like the 9800 GX2 (2GB).
In addition to the FX 5800's massive RAM, it also presents up to 240 CUDA programmable parallel cores. The memory bandwidth is up to 102GB per second, the card supports interactive 4D modeling with time lapse capability, and the fill rates are above 52 billion texels per second. Furthermore, the Quadro FX 5800 features 10-bit color, with geometry performance of up to 300 million triangles per second.
Of course, the FX 5800 supports both DirectX 10 and OpenGL. It also features multi-device and multi-system virtualization as well as Quadro G-Sync 2.
The NVIDIA Quadro FX 5800 is priced around $3500, position toward designers, engineers, architects, and other professionals who need top of the line graphics cards as a business component.