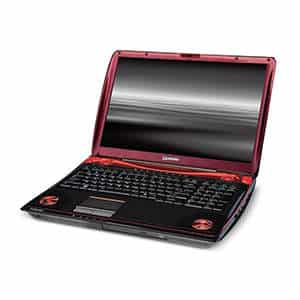 Toshiba is well-known for producing quality consumer electronics, from televisions to laptops. Their latest release is no exception. Weighing in at 9.04 pounds, you probably won't be carrying Toshiba's brand new flagship gaming laptop around with you too often. However, for those who like to game on the go, the new X305 gaming notebook is a definite consideration.
This is the first Qosmio X305 notebook release. It is also the first notebook computer to use three NVIDIA GPUs in a tri-SLI configuration. The Toshiba X305-Q708 and X305-Q706 utilize the ultra-modern NVIDIA 9400M integrated GPU and a pair of separate NVIDIA 9800M GTS cards in the SLI. The three GPU setup provides customers the performance needed to run the hottest video games on the market on the highest settings possible, rivaling even most desktop PCs.
NVIDIA's 9400M GPU is quite new and is featured in Apple's newly renovated MacBook notebooks. Under the hood of Toshiba's Qosmio X305-Q706 you'll discover an Intel Core 2 Duo P8400 processor, 4GB of PC3-8500 RAM, and a 320GB HDD. Both the X305-Q706 and Q707 utilize a 17-inch WSXGA+ TruBright display to ensure the utmost clarity at an adjustable resolution of 1680×1050. The lower-end of the two models, the X305-Q706, retails for $1,999.
The higher end X305-Q708 model carries a designer price tag of $4,199.99. For the extra money, you'll receive an Intel Core 2 Extreme QX9300 CPU and an additional 128GB SSD alongside the standard 320GB HHD. Both systems come with a four-speaker, high quality Harman Kardon stereo system and a subwoofer. The X305-Q708 and X305-Q706 also offer ExpressCard expansion slot.
Using Turbo cache technology, both of the 9800 GTS video cards offer 512MB of GDDR3 RAM and up to 1663MB of shared graphics memory. The system is fueled by a 3200 mAh lithium ion battery.
Both laptops are immediately available for direct purchase from Toshiba.