If you're looking for a P45 motherboard, the MSI P45 Diamond is an excellent choice. The Intel chipset (Eagle Lake) based motherboard is laced with incredible features, and is compatible with most LGA775 processors, like the Intel Core 2 Quad, Core 2 Extreme, Core 2 Duo, Pentium Celeron Dual Core, and Celeron. The image below showcases the boxing: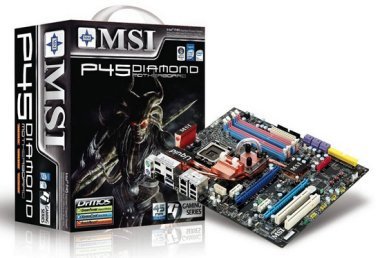 General Features Included
The physical dimensions of the product are 9.6 x 12 inch, and it is designed to exhibit compatibility with most current LGA775 processors. Here is the list of other general features one can expect from the motherboard.
Dual-core and quad-core support
The product is endowed with an 8-pin ATX12V connector, along with a 24-pin main power connector and 4-pin ATX12V connector
The motherboard supports dual-channel DDR3 RAM technology (up to 8GB)
Up to 2000FSB
Two PCI-e 2.0 x16 slots
Most importantly, the onboard audio device is a Creative Sound Blaster X-Fi Xtreme Audio
Advanced Features Available
MSI has always made an effort to offer innovation and advanced features in their products, including motherboards. The latest product P45 Diamond motherboard is no exception.
The motherboard boasts "Green Power" for the highest level of efficiency compared to rival products
The Northbridge features an advanced, 2-phase power design
Hi-CAP, the conductive polymerized capacitors, are also implemented in the design
A high definition, surround sound audio system is provided that offers 7.1 channels of audio output
Networking support is provided via Fast Ethernet, Gigabit Ethernet, and a Realtek RTL8111C network adapter
The BIOS enables ACPI 2.0 as well as DMI support
Circu-Pipe cooling has always been the trademark of MSI motherboards, however MSI has implemented a new liquid 2in/2out NB waterblock for enhanced cooling with this latest release.
Intel's ICH10R Southbridge offers as many as 12 USB 2.0 ports and 6 SATA 3.0 ports. Also, server-class DrMOS is provided for impressive power efficiency, low temperatures, and enhanced stability with extreme overclocking. The design is able to maintain a working temperature that is as much as 16 degrees C lower than Mosfet-based options.
XpressCool technology is included in the design to offer zero noise and effective heat dissipation. RapidBoost is another new feature that is designed to help in achieving the highest overclock possible.
The packaging includes a large number of cables, including six SATA cables, three SATA power cables, an eSATA converter kit, and IDE and FDD cables. A backup CD and user manual are also provided.
The MSI P45 Diamond sells for about $275 through most sources.