Earlier this year Lenovo released their ThinkPad X300, a great notebook for the business minded. Recently, the X300 has been updated to the ThinkPad X301 model. With many improvements from its already great predecessor, you can expect great things from the X301.
Familiar, Sturdy Design
When it comes to design, the Lenovo X301 has the same look as most other ThinkPad notebooks that have come before it. It's a personal choice if you like the ThinkPad design. Some think it's dull, some people believe it to be simple and effective. It's a matter of opinion either way. However, there's no argument that ThinkPad machines have some strong characteristics that stand out from the competition. The X301 laptop weighs a little less than 3.5lbs with an 8X DVD burner and a 6-cell battery equipped. The X301's exterior is squared off and has a matte black finish. It's dimensions are 12.5 x 9.1 x 0.9, and just like it's predecessor the X300, the sides are slightly tapered. The X301 is a beautifully constructed machine with Lenovo's internal roll cage design and a carbon and class fiber interior, which according to Lenovo, is not only stronger but lighter than titanium.

The keyboard deck and outer shell utilize a new rubberized soft touch paint which helps provide a more secure grip and a more comfortable feel. The X301 has all the regular connectors and ports with three USB 2.0, Ethernet, microphone and headphone jacks, DisplayPort, and a VGA connector. Unfortunately, no memory card slot is included with this laptop, which means you'll have to use a USB card reader device or adapter to read from memory cards.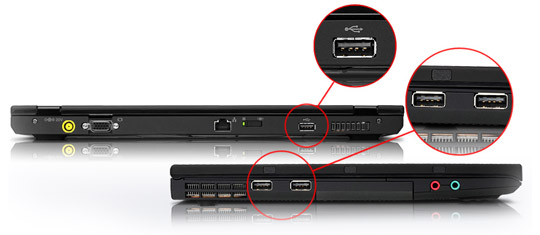 Display and Speakers
The X301 employs a LED-backlit, 13.3″ (1440×900 resolution) display with a matte finish that prevents most glare. The high resolution certainly makes a difference when viewing documents and web pages, though the default text may be too small for some eyes. The backlit, low-reflectivity LED keeps the display legible when outdoors. Rich colors and wide viewing angles are available for watching DVDs and other content. The stereo speakers lacked low-end punch, but due to their close proximity (they're located in the palmrest), the volume was clear and loud. Above the display is a 1.3 megapixel webcam that provided somewhat dark visuals when tested through video chat.

With the high resolution (1440×900) 13.3″ screen, the X301 is great for surfing the web and viewing documents. The LED display is amazingly clear for viewing outdoors because it's extremely low reflectivity negates glare. The ThinkPad X301 features wide viewing angles with rich colors, which makes watching a DVD or other content more enjoyable. The 1.3 megapixel camera (located above the display) was a little dark during the video chat tests performed via MSN Messenger.
First-Class Ergonomics
In line with all the other ThinkPad models, the X301 features a magnificent keyboard that definitely ranks with the top runners in the business. The typing experience is excellent because the keyboard provides space in between individual keys. The X301 includes a touchpad and a pointing stick (located between the G and H keys) for navigation. The touchpad may be small for some users since the design accommodates for the larger keys. A biometric fingerprint reader is integrated to the right of the touchpad to help keep private business away from unauthorized individuals. Above the keyboard, you'll notice buttons for volume, mute, ThinkVantage (for launching Lenovo's system utilities), and, of course, the power button.

Performance
The base configuration is equipped with 2GB of RAM and an Intel Core 2 Due (1.4GHz) U9400 Ultra Low Voltage processor. The ThinkPad X301 achieved a PCMark Vantage score of 3157, which is 400 points higher than most ultraportables. It's a great score, but still falls about 60 points shy of the Sony VAIO VGN-Z530N's and almost 500 points shy of the Lenovo ThinkPad X200.
The X301 didn't fare so well on all of its graphics tests. On the 3DMark03 benchmark, the X301 (which is powered by an Intel GMA X4500MHD graphics card) netted an 1812, a score that's 400 points higher than its competitors and its predecessor the X300. However, the 3DMark06 score was 200 points less than other machines in its category. F.E.A.R was also tested in auto-detect mode, and the game ran at a miniscule 14fps. When the settings were increased to maximum, it ran at only 6fps. W.O.W ran at 27.4fps, which is okay, but it is important to remember that this is not a gaming laptop, and should not be expected to out perform Alienware, for example.
Lenovo's X301's boot-up time was a little slower than expected. The X301, with its 64GB SSD, took about 1 minute and 37 seconds to boot-up Windows Vista, almost 30 seconds slower than the average ultraportable and 48 seconds slower than the older X300. The SSD did not disappoint and definitely lived up to its fast transfer time copying a 5 GB folder in about 2 minutes and 40 seconds, however. The SSD has a transfer rate of 32.4 megabytes per second, which is miles ahead of the 13.4 megabyte per second transfer rate of competitors using mechanical drives. If 64GB does not fill your needs for capacity, an upgrade option is available for a 128GB SSD, which costs $400.
Test Results
| | |
| --- | --- |
| PCMark Vantage / 3DMark03 / 3DMark06 | 3,157 – 1,812 – 683 |
| Battery Life | 3:29 |
| F.E.A.R. (auto-detect/max) | 14/6fps |
| W.O.W. (auto-detect) / File Transfer Test | 27.4fps – 32.4 MB/s |
| Boot time (m:ss) | 1:37 |
| Wireless Performance (15/50 ft) | 20.8 MB/s – 18.7 MB/s |
Wi-Fi and Battery Life
The 802.11a/g/n Wi-Fi moves data at an excellent speed of 20.8 MB/s at a distance of 15 feet from the access point, and 18.7 MB/s at 50 feet. These are nice improvements over the 16.7 MB/s and 16.1 MB/s averages presented by the X300, and made for a pleasant surfing experience. Although the default configuration does not include integrated mobile broadband, you can add a 3G connection from AT&T ($80) or Verizon Wireless ($150), which also features integrated GPS. The X301 will support WiMAX and Ultra-Wideband technologies when they become available.
When it comes to long battery life, the X301 definitely falls short by quite a bit. Its six cell battery lasted only 3 hours and a half during tests. On the same test, Sony's VAIO VGN-Z530N lasted 5 hours. A little more should be expected out of ultraportable laptops when it comes to battery life (at least 4 hours).
Software, Security, and Warranty
Those who care about security on their portable computers will definitely appreciate the X301's full disk encryption, centrally managed passwords, ability to disable the BIOS port, and remote lockdown. The machine is covered with an extendable 1 year warranty and 24/7 tech support. Included with the X301 is Lenovo Camera Center, a 60-day trial to Microsoft Office, Access Connections 5, Adobe Acrobat Reader, and Roxio Creator Business Edition.
The X300 was an outstanding laptop released by Lenovo, but they have definitely done a nice job with the ThinkPad X301. They took all the good aspects from the X300, and made them better for the X301. With the new Centrino 2 platform and an ultra-fast 64GB SSD, the X301 comes at a price. If you're looking for an amazing business notebook, though, it will not disappoint. One thing we'd have to mention, however, is that you should consider investing in a spare battery.
Technical Specifications
| | |
| --- | --- |
| CPU | 1.4GHz Intel Core 2 Duo U9400 ULV |
| RAM Included | 2GB |
| RAM Upgradable To | 4GB |
| Hard Drive Size | 64GB |
| Hard Drive Speed | 90MB/s Read and 70MB/s Write |
| Hard Drive Type | SSD Drive |
| Optical Drive Type | DVD+RW |
| Optical Drive Speed | 8X |
| Display Size (inches) | 13.3 |
| Native Resolution | 1440×900 |
| Graphics Card | Intel GMA X4500MHD |
| Video Memory | 384MB |
| Wi-Fi | 802.11a/g/n |
| Bluetooth | Bluetooth 2.0 |
| Mobile Broadband | Optional Add-on 3G connection from AT&T ($80) or Verizon Wireless ($150) |
| Operating System | MS Windows Vista Business |
| Ports (excluding USB) | DisplayPort; Ethernet; Headphone; Microphone; VGA |
| USB Ports | 3 |
| Card Slot(s) | N/A |
| Warranty/Support | One-year parts and labor/24/7 toll-free phone |
| Size | 12.5 x 9.1 x 0.9 inches |
| Weight | 3.4 pounds |