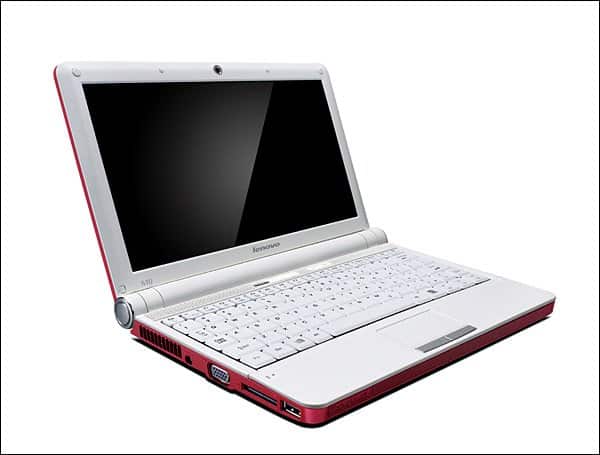 The Lenovo Ideapad S10 is a small, efficient, and affordable laptop with a 10″ diagonal screen. Smaller laptops are increasingly popular, and Lenovo's great reputation for quality laptops makes the Ideapad of particular interest. The S10 goes to the market for just $399, making it an affordable option that could be the perfect gift this holiday season.
The Ideapad S10 will be available in five colors, but currently only black and white are available. Red, blue, and pink are the other choices that will be available in the near future. The system weighs around 2.65lbs, making it an ultra-portable well-suited for businessmen, college students, or anyone else on the go. Being priced at only $399, there are, of course, some downsides such as the lower-power processor and 3-cell battery that provides for only 3 hours of usage unplugged. The low-capacity battery is used because of its size/weight so that the overall weight of the Ideapad S10 is minimized. However, we feel that Lenovo should have still offered a higher capacity battery as an upgrade option. The Ideapad keyboard also does not live up to the ThinkPad standard.
As for the notebook's performance, it uses an Intel Atom N270 processor @ 1.6 GHZ and 1 GB of DDR2 memory. It's no Alienware, but it does the job for the average user. It can handle around 6 light-weight programs and one or two heavy applications at once. Hard-core programs like Maya, Photoshop, and After-Effects might be too much for the system to handle. The small size of this laptop is something that will catch the eyes of people who love to move around, and its pricing is a great option for this holiday season.