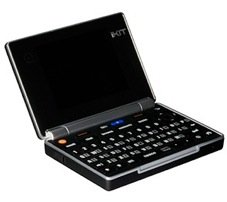 We've all seen small laptops, and we've also seen mini-laptops now referred to as netbooks. Now let's take a look at a mini-netbook! IMOVIO has released the iKIT, a tiny pocket-sized netbook which dimensions are 9.5cm by 6.5cm and a petite 15.5mm high. The laptop is just as portable as modern-day cell phones. The device features a full QWERTY keyboard, is Wi-Fi enabled, has an 8GB SD card slot, a 2.8 inch QVGA display, and the capability to add a HSDPA dongle via the optional internal USB connection. Doing so makes the iKIT a reasonable alternative to a laptop. Another noteworthy feature is the access to multimedia and webcam with a press of a button using its dedicated hotkeys.
Dr Jack Torobin, CEO of IMOVIO, says "Many consumers can't afford the latest smart phone or mini-PC gadget, while others simply can't use or just don't like the existing form factors. This means that large groups of people still don't fully utilize mobile data. These users, mainly women and teens, still want to have the ability to send email, browse the web, and update their online profiles whilst they are out and about."
Based on Linux 2.419 OS, IMOVI's iKIT mini-netbook will cost around $170, which is quite reasonable compared to the prices of other similar gadgets. This item is well-positioned to be a hit this holiday season with the current economic client, if the general public is ready for the non-Windows machine. However, it could have greatly benefited from better battery life and 3G connectivity.