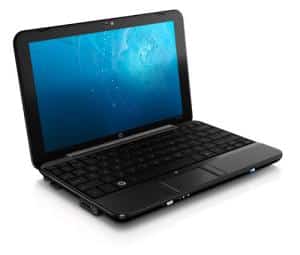 The netbook market is growing at an incredible pace. It seems that every manufacturer is releasing a netbook option. The HP Mini 1000 stands out as one of the best netbook options due its 92% of full size keyboard, screen options, and storage configurations.
The piano black, 2.23lbs netbook features two USB ports, Wi-Fi, bluetooth, 3G broadband, a choice of 10.2-inch or 8.9-inch LED backlit, flush glass screen (both offer a 1024×600 resolution), and SSD and HDD storage options.
HP's Mini 1000 can be configured with Windows XP or Linux. All configurations use the Intel Atom N270 CPU, and the system can be customized with 512MB or 1GB of RAM. Graphics support is handled through the Intel GMA 950 onboard video.
8GB and 16GB SSD storage capacities are available or a 60GB (4200 RPM) PATA hard drive can be selected. The default battery is a 3-cell lithium polymer. The base configuration for the Mini 1000 is $399.99.