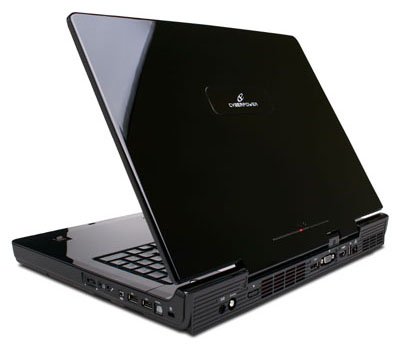 Recently, Alienware released their portable monster, the M17, easily topping the charts as the best laptop around.  However, a few days ago, custom gaming PC builder CyberPower introduced a rival to the M1. The name of the PC is the Gamer Xtreme M1, and this gaming system can stand up to most Alienware machines that have been released.  The downside is that CyberPower decided to install a standard DVD burner rather than a Blu-ray optical drive, which seems odd considering everything is moving HD now.
Aside from that, the CyberPower Gamer Xtreme M1 comes fully loaded with an ultra clear 17″ WUXGA TFT LCD display which runs at 1920×1200 pixels. Powered by an Intel Core 2 Duo Extreme processor, you won't have to worry about slow operation, or opening too many applications with the 4GB of DDR3 that is also featured. The notebook comes with built-in dual ATI Mobile Radeon 512MB DDR2 graphics cards in a CrossfireX configuration. It also offers built-in bluetooth, a 2MP camera (webcam), and fingerprint sensor. The laptop is presented to buyers with a pre-installed copy of Window Vista.
With Christmas around the corner, this is a great present for gaming enthusiasts. Pricing starts at $2199, and the system is customizable.