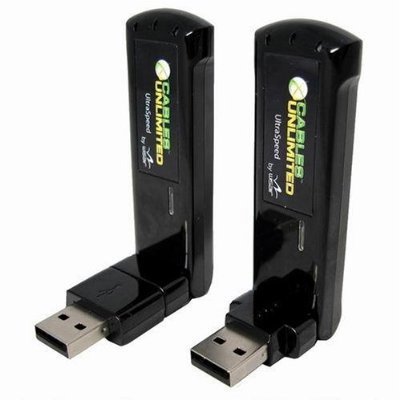 For those tired of not having enough USB ports or needing more positioning options, the Cables Unlimited Wireless USB Adapter Set provides an exceptional solution. It is equipped with the Wisair's single chip, which allows customers to enable wired USB devices to work with wireless USB. It is true that transmission speeds may not be as fast or reliable as with a traditional wired USB connection, but if you want less cables, additional connections, or the freedom to have a device further away from the PC, this is certainly an interesting option.
The brand new adapter consists of two wireless USB "dongles". One, of course, you connect to your computer, the other you attach to the USB device. One of the most beneficial aspects of the setup is that you can move all of your USB dependent devices, such as external hard drives, printers, CD/DVD writers, and more up to thirty feet away (onto a shelf for example) to help keep your workspace less cluttered. The downside to this is that most USB devices still require a power source, which means you'll still have to worry about a power outlet connection. One important aspect to mention with the wireless USB dongle kit is that you don't need to buy a dongle for each device, which would render the solution unsuitable for recommendation. You can connect the dongle to your current USB hub and plug all your other USB devices into the hub to make it almost like a wireless router, for USB ports.
Costing anywhere from $79 to $99 the wireless USB dongle is a positive look towards the future of wireless hardware. It's a handy item to pick up if you're finding yourself with a cluttered workspace. At an affordable price, the adapter may become a must-have in the future for tech enthusiasts using the latest gadgets.