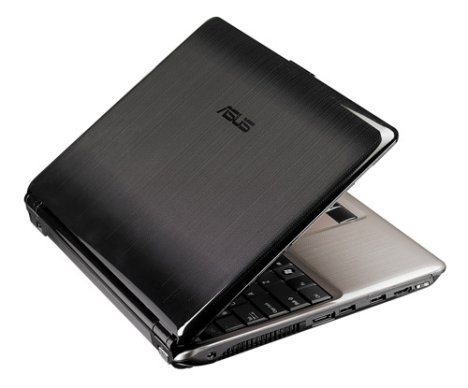 ASUS is new to the notebook and desktop PC market.  They have long been known for making quality motherboards, video cards, and other PC components, but the company has just recently entered the field of custom desktop and notebook computers.  The ASUS N20A notebook is ultra-portable, sleek, and stylish, yet it also offers top of the line security and high-end specifications to meet the needs of business users. The system's display is a 12.1″ WXGA, glare resistant color shine screen.  It features the ASUS Express Gate, which provides an 8-second boot time to a Linux-based environment with web browsing and basic tools.  Other features of the ASUS N20A include facial recognition technology, a fingerprint reader, and eSATA connectivity.
ASUS used state-of-the-art technology in the production of the N20A notebook. ASUS's Unique Infusion Technology provides a scratch resistant exterior and helps maintain the system's "brand new" sheen, even after prolonged use. Its additional operating system known as Express Gate enables a rapid boot up for quick access to everyday features, such as your web browser, instant messenger, music player, and more. The facial recognition system, otherwise known as SmartLogon, recognizes the users face and can logon without having to press a key. It also looks for changes in the users facial features and no matter the lighting, it can normally detect the user. Using the AuthenTec fingerprint sensor with Trueprint Technology, the ASUS N20A can accurately read anyone's fingerprint as well.
As for the system's actual specifications, it boasts an Intel Core 2 Duo processor, Intel GMA X4500HD integrated graphics, up to 4GB of DDR2 RAM, up to 320GB hard drive, 1280×800 resolution display, 1.3 megapixel webcam, HDMI and VGA output ports, DVD burner, Wi-Fi connectivity, ExpressCard expansion slot, 8-in-1 memory card reader, and optional Bluetooth and 3.5G connectivity support. The ASUS N20A ships with Windows Vista pre-installed, with prices starting from $999, and increasing depending on your configuration.