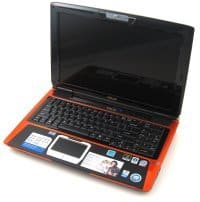 The ASUS G50V-A1 is a new 15.4″ gaming notebook to hit the market this holiday season. The G50V-A1 is one of the best machines produced by ASUS performance-wise, but it has other issues that should be considered if your intention is to use the "gaming notebook" heavily for its intended purpose.
The notebook offers excellent performance powered with an Intel Core 2 Duo T9400, high-quality WSXGA+ screen, and numerous features that make the system stand out. It is even bundled with useful accessories that do not normally come with a laptop, including a backpack and gaming mouse. The G50V is covered with a two-year warranty, and the first year includes accident damage coverage as well. The ASUS G50V-A1 also comes with a recovery disk that can be useful in the case of emergency.
If the system was marketed as a business machine, we could stop there with an exceptional review. However, while the laptop offers great stock performance, the G50V-A1's over clocking and power management abilities didn't fare so well. Even though the machine was nearly flawless during regular usage, it's always a plus for it to perform during rigorous benchmark tests (WorldBench, Mobilemark, etc.). Another serious issue is that it lacks driver support for widescreen resolution (1440×900), which would come in handy. It runs perfectly in its normal resolution of 1680×1050, but having to step down to 1280×768 for a decent widescreen resolution is not a good look.
The G50V-A1 comes with Windows Vista Home Premium 64-bit, with 4GB of DDR2-800 RAM. The notebook includes an 8X DVD-RW Super Multi drive, 8-in-1 memory card reader, built-in 1.3-megapixel webcam, and Intel Wireless WiFi Link 5100AGN with built-in Bluetooth support. Overall, the G50V is a quality gaming platform. The design and numerous features are great. The graphics card it uses (the NVIDIA GeForce 9700 GT) is a bit of an undershot for ASUS since it's quite underpowered for a gaming laptop.
The A1 can be purchased for a little under $1600, but it may be overpriced since the ASUS G50Vt-X1 can be purchased for $1,250. It's a cheaper machine, but it has a Core 2 Duo processor, a 15.6″ 1366×758 display, and a NVIDIA GeForce 9800M GS, which is simply a better graphics card for a gaming platform.