South Korea has proved their amazing motoring ambition to the whole world by revealing the first few images of their new upcoming flagship fully electric SUV, called the EV9, which is more than just a car but is actually a statement to the whole car market.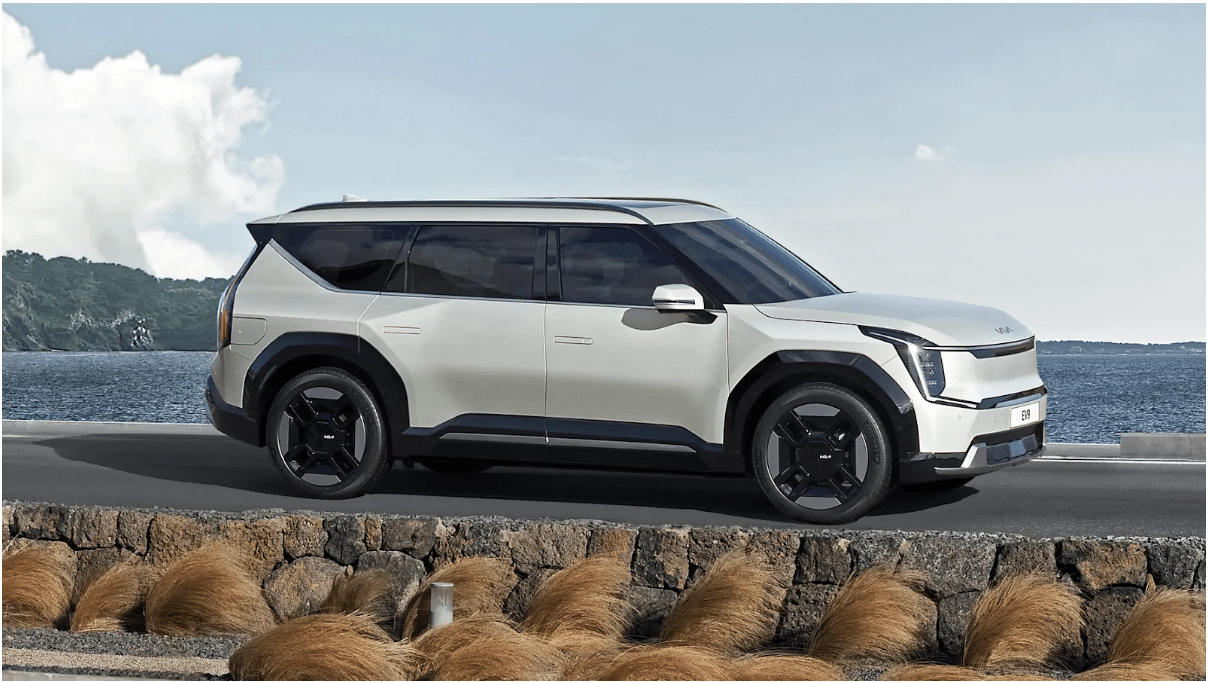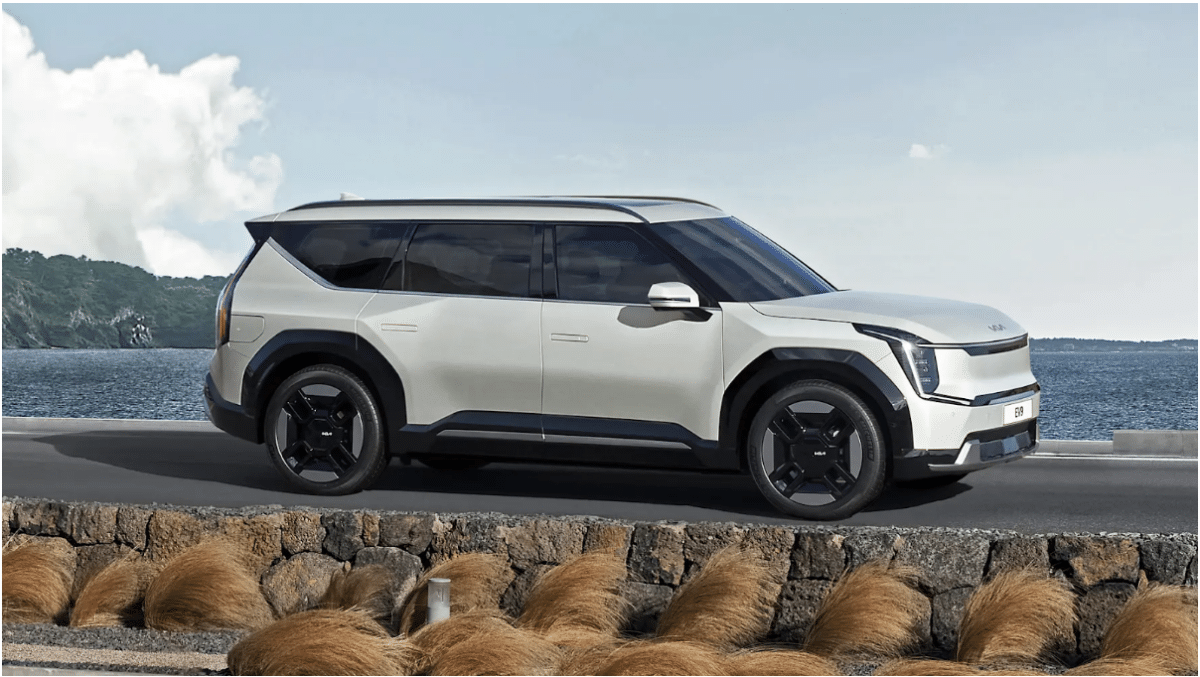 This car will be the Kia brand's first three-row SUV they've ever produced and has been made to offer a whole new design and perspective of what people have had on family SUV cars.
Although Kia has mentioned that this car will offer a new, very 'big' perspective to everyone and have hinted at the fact that this car will be pretty big, they still have yet to reveal just how big the car will really be. So their big reveal, that happened on the 15th of March, was an introduction to the silhouette of the car and how the new shape projects the feeling of assertiveness.
This new EV9 SUV by Kia has a very definitive blocky, polygonal shape to it but it still manages to provide you with exceptional aerodynamic efficiency. As a cherry on the top, to complete this SUV's new look, we see some pronounced wheel arches and a lot of other clean, straight style lines to give the car an added level of a futuristic look to it.
Kia, as a company, has had quite a famous 'tiger' face on their cars previously and with this new EV9 SUV we see a twist on this and have more of a 'digital tiger face' because of its group of cube lamps that are found in the new grille of the car, next to a set of some bright vertical headlights. Then in the rear of this new electric car we see a slim light design, which actually mirrors those that you see at the front of the car.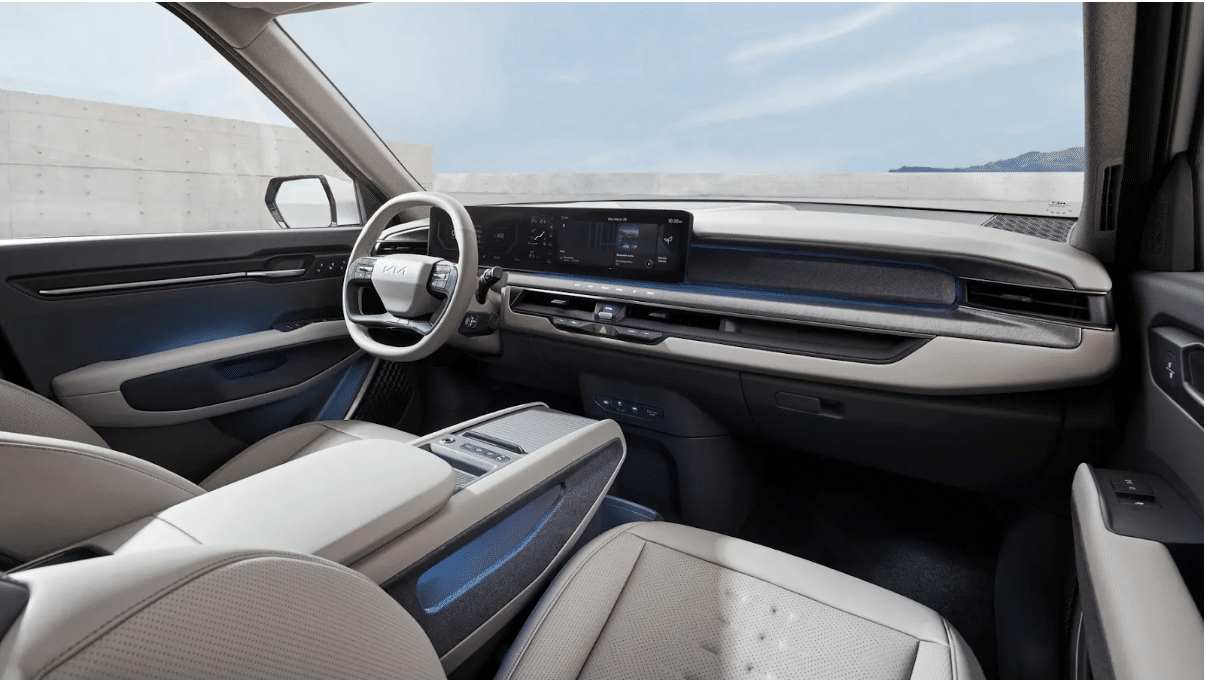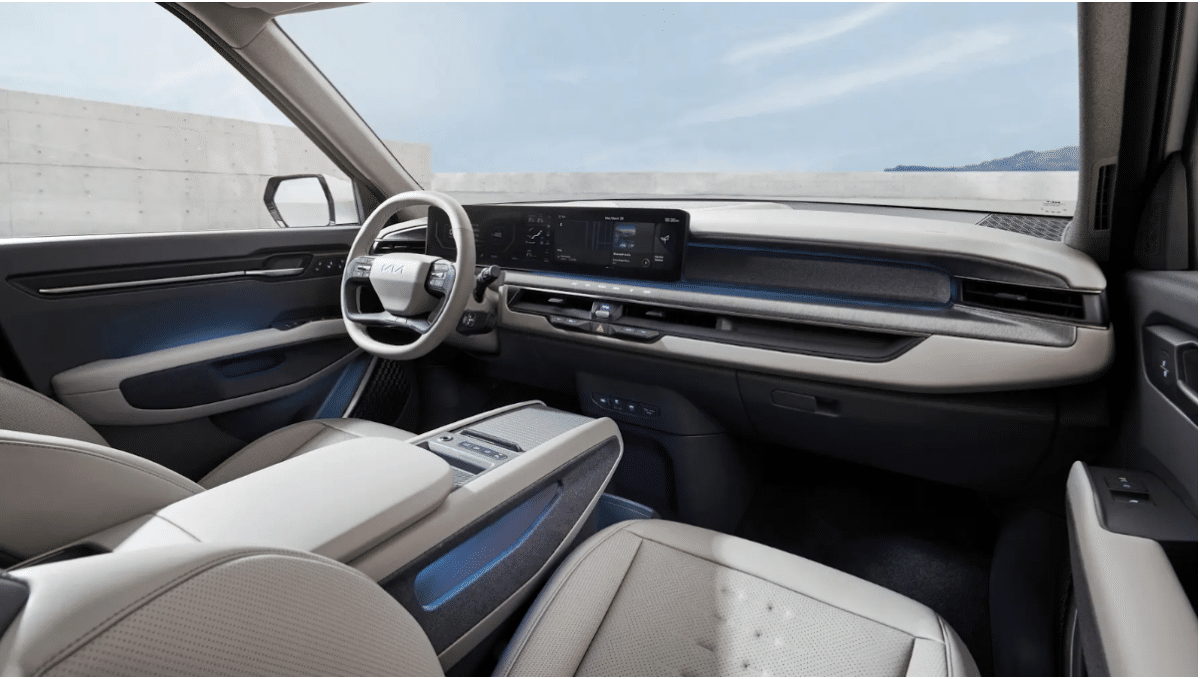 Then if you move into the interior of the car you will be pleased to hear, especially those with a large family, that there is plenty of space inside for up to seven people. In the front of the car you are greeted with a huge floating panoramic dash, which has been formed from a pair of 12.3 inch as well as a smaller 5 inch display, which stretches all the way from the steering wheel to the middle of the dash. As expected with most cars that come out nowadays, the physical buttons are kept to a minimum, to give a more modern and futuristic feel to the car.
Then moving back a little, to the second row in the car, you'll have a really cool feature where you are able to swivel it 180 degrees if you need to, so that you are able to interact with those who may be sitting in the third row of the car. Throughout the car you will be able to find charging points for your smart devices as well as loads of cup holders along with some storage as well.
Although Kia hasn't announced the official drivetrain details of the car yet, we are able to make some assumptions about it. Since we know that this car will be spun off of Kias E-GMP platform that gives you 800-volt charging, which we can assume because the EV6 does this and also uses this platform, and a lot more than 300 miles of range from a 77.4kWh battery. This isn't confirmed yet as the car could still be announced to come with a larger battery and thus a longer range. A lot is still unknown but what do you think, do you think Kia's new big car will be able to make a big statement?