Bike Camping is an awesome activity that you will be able to do regardless as to whether you are a seasoned pro or a beginner.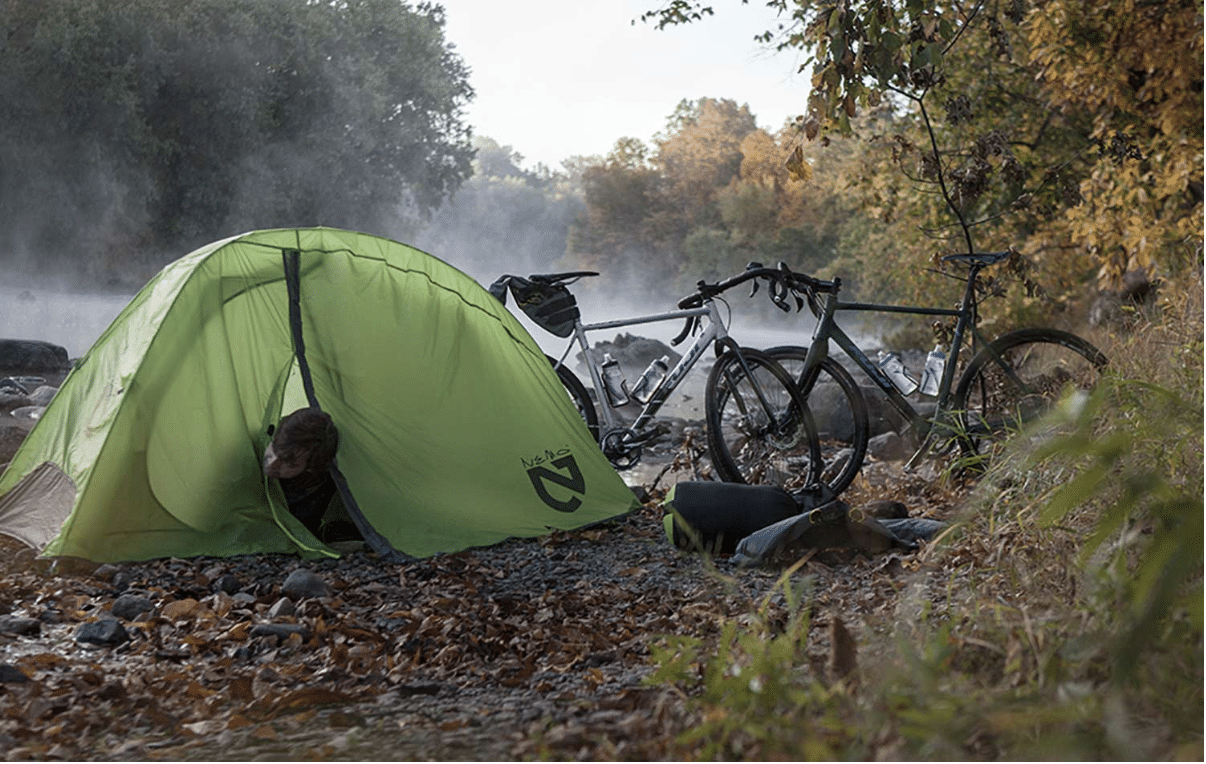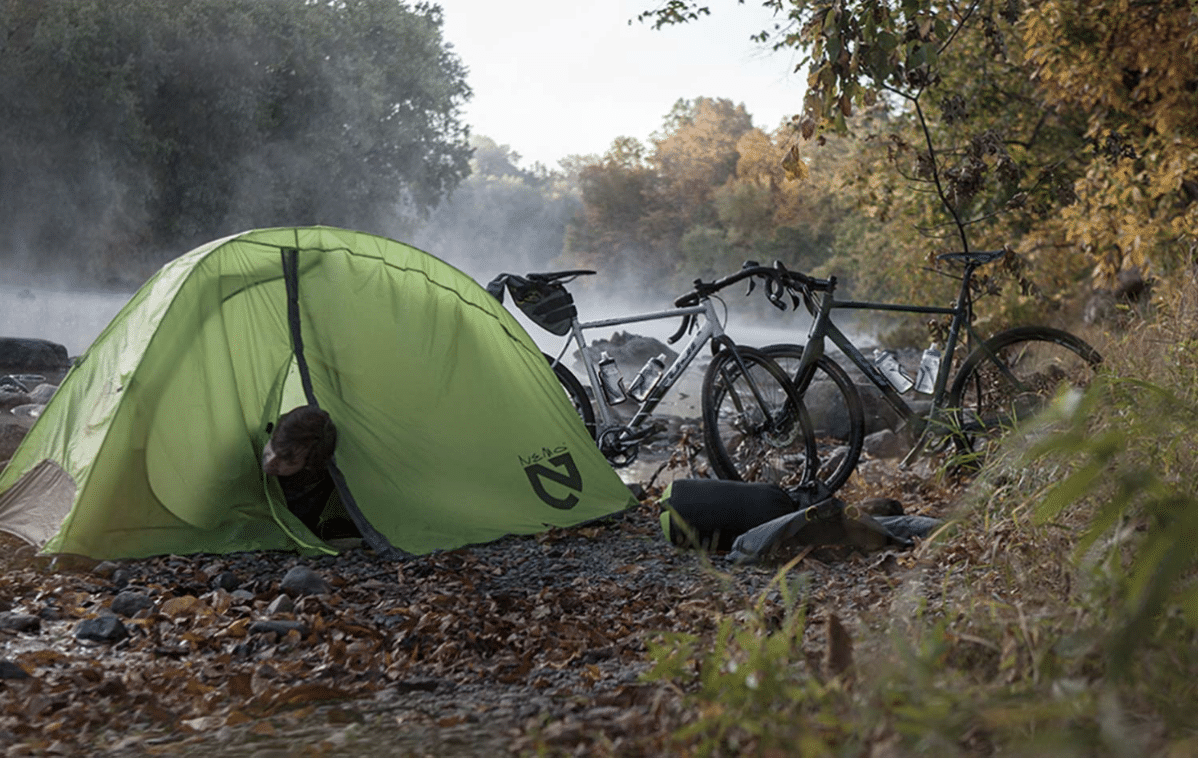 On these trips you won't have to carry anything by hand, you'll actually load all of your gear onto your bike so that you'll be able to travel greater distances. This means that compared to walking on foot with all of your gear, you'll be able to travel a lot easier from place to place, which means that you'll also get to visit more destinations on your trip. 
It will be very important for you to pack your bike efficiently and bring the right gear so that everything on your trip goes smoothly. This article will include some tips as well as some bike camping basics to help you feel more confident for your next or your first trip.
What Exactly is Bike Camping?
Bike camping, which is also known as bikepacking, is, as you could've guessed from the name, just camping but with your bike as well. When someone says 'bikepacking' then they'll usually be referring to camping trips where you will be biking from one destination to the other. However, this doesn't always have to be the case because you could also just cycle up to one spot and then camp there for a longer period of time.
Reasons to go Bike Camping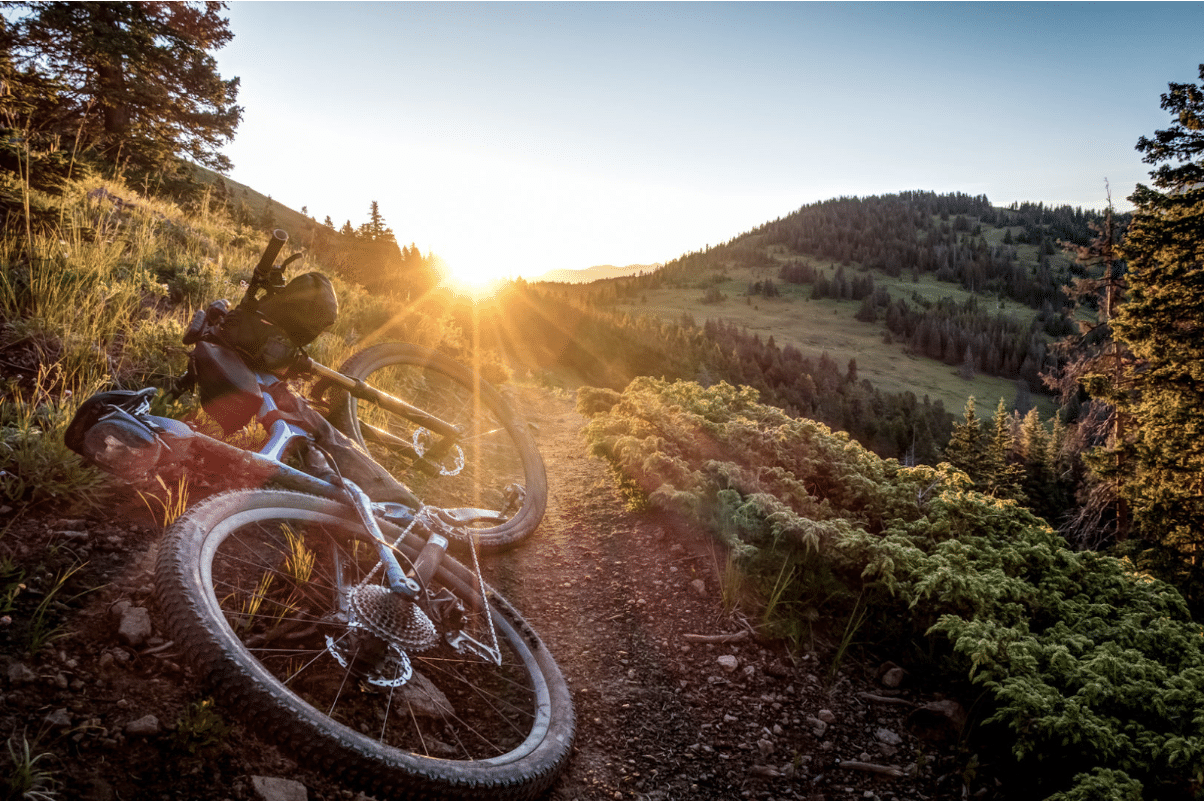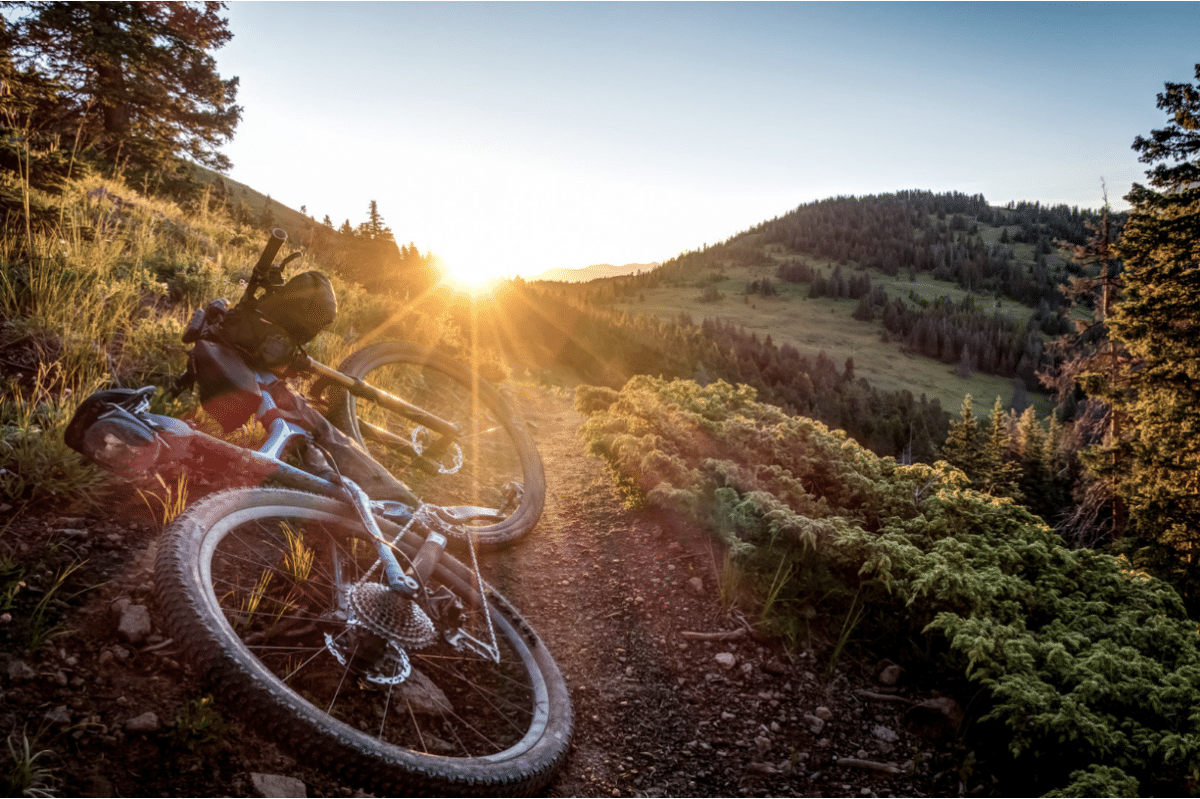 You'll be able to cover a lot more distance on a bike than you would be able to if you were on your two fit. So with this new ability, you'll be able to camp in remote areas that are a lot further away that you'd normally be able to camp at, or even travel from one destination to another that are usually too far apart.
The bike will be doing all of the heavy lifting and will be carrying your camping gear for you. So, if you are prepared and have the right bike accessories for this, it'll make bringing your things along a breeze.
Once you've actually managed to set up camp you'll be allowed to ride around and explore new far away locations on your bike.
You'll also be able to bring a child along, as they'll be able to either sit in a child bike seat or inside of a bike trailer.
Packing your Bag for Bike Camping
It is very important to make sure that you have the right bike accessories with you so that you'll be able to easily fit all of your camping equipment and gear on one bike. Here are some tips on how you can back your bike in order to maximise the amount of space on your bike, as well as some ideas on how to pack them on.
Bike Racks
When you attach a bike rack to the front as well as the back of your bike, you'll be able to bring four panniers and even attach both a tent and a sleeping bag, which would normally take up a lot of space. Not all bikes come with bike racks equipped or integrated into their design but there are third-party options out there you can buy as an ad-on, such as the Thule Tour Rack that fits onto a lot of different bike models.
Bike Panniers
The bike panniers, which you can attach to the sides of your bike rack, can be used to store things like your clothes, food and cooking gear. You will have a lot of space on your bike and could probably fit two large panniers at the back of your bike and two smaller ones in the front. When you pick which panniers to purchase, you should try to make sure that they are waterproof so that your items are protected from the weather and it would also be a plus if it has smaller compartments inside of them so that you'll be able to store some of your smaller essentials separately.
Handlebar Bag
A handlebar bag is a great way for you to store things that you want to get quick access to the more important stuff you'll be taking with you. You'll be able to store things such as your waller, a map and a rain jacket in case the weather goes bad, just in front of you on the handlebars.
Seat Bag
One of the things that all bikers fear the most is getting a punctured tire. Since this'll always be a possibility, it is very important to make sure that you always carry your tools with you just in case. You can find the seat bag right underneath your seat, which is definitely a really convenient spot to keep things like your multi-tool, pump as well as inner tubes, just in case something bad happens.
Hydration Pack/Hip Pack
Even though you definitely want to try and have as little weight as possible on your back, a hydration back is a lightweight and relatively small backpack and will be able to help you stay hydrated and also give you some easy access to snacks that you may need on your trip.
Duffle bag/Backpack
Another great way to add some space onto your bike unconventionally is by securing a duffle bag or even a hiking backpack by using bungee cords to attach it to your bike rack. Although this may not be the best solution for the more well-seasoned mountain bike campers, it is definitely a viable option for those looking to go on their first time and just want a simple quick way to add more storage.
Packing Tips
One of the most important things that all mountain bike campers need to make sure is that they have their weight evenly distributed between the front as well and the end of your bike.
Another thing that you should remember to do, when packing your panniers, is that you should always try to pack your heaviest items at the bottom first so that they have a lower centre of gravity and they won't squash your other less heavy items.
Although you will have to take some heavy items with you it is still important for you to at least try and pack light, so try and use compact towels, sleeping bags and tents.
All bike campers should try to pack as lightly as possible, which means that you should think through exactly what you need to bring and eliminate the things that aren't essential because you will never regret having a lighter load on your trip.
Bike Camping Gear List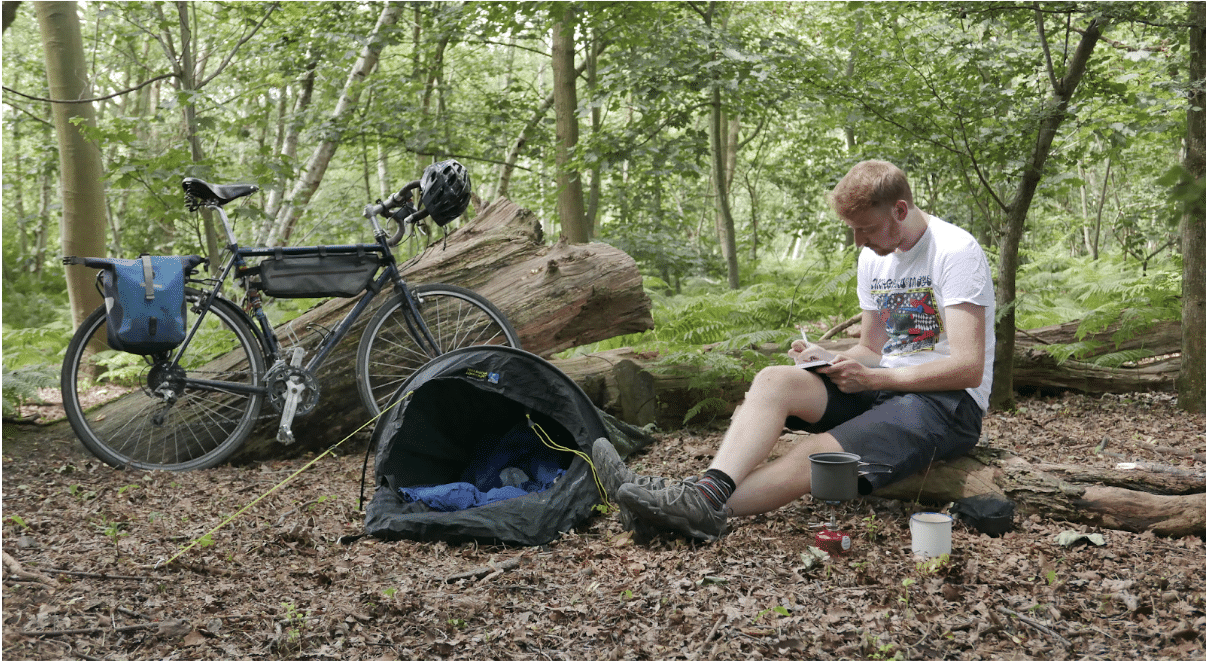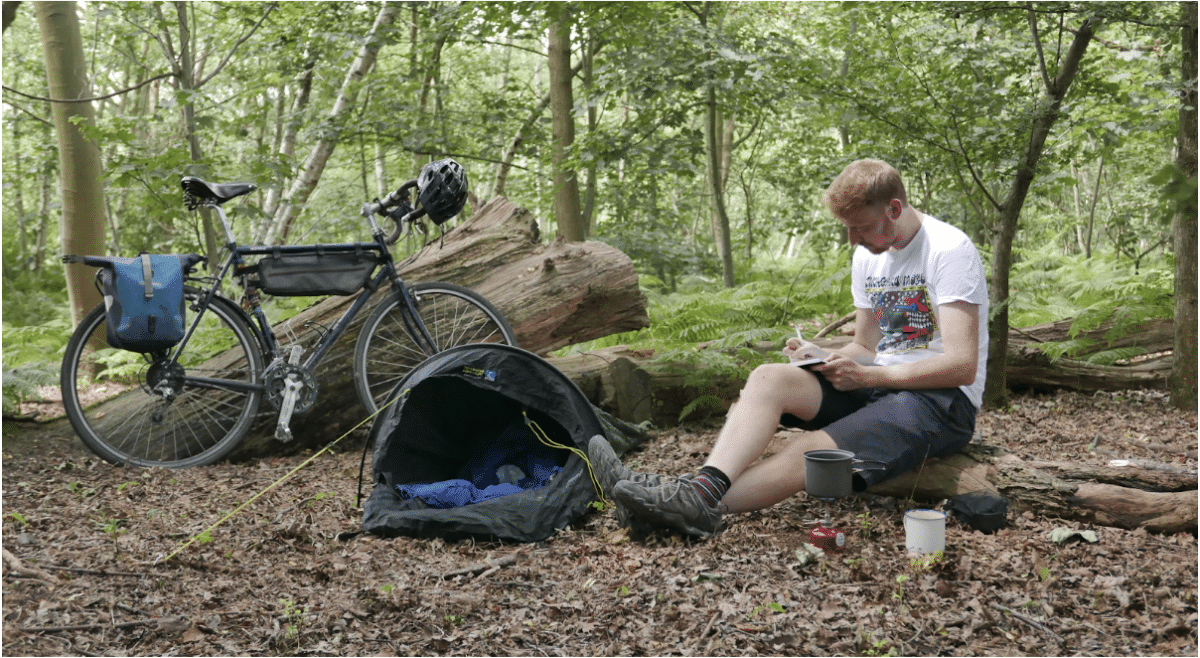 Here is a list of some of the things that you should try and make sure to bring. You can use this as a checklist before you go out to double check that you have everything.
Pannier
Handlebar Bag
GPS/Map
Smartphone bike mount
Lightweight backpack
Hydration pack/water bottle cage
Bike tools
Bike pump
Inner tube
Snacks
Helmet
Riding clothes
A change of clothes and a jacket (in case of bad weather)
First aid kit
Sleeping pad
Sleeping bag
Compact camping towel
Flashlight
Camp stove
Food
Camping plates and utensils
Wipes
Bike Camping with Kids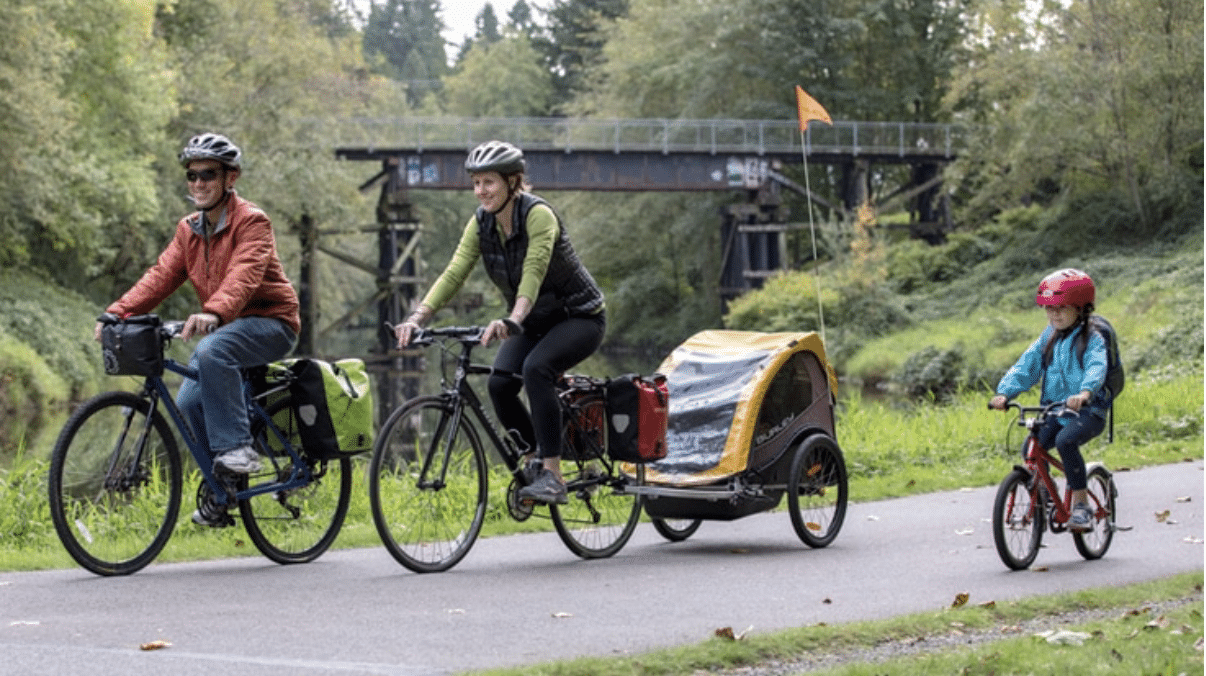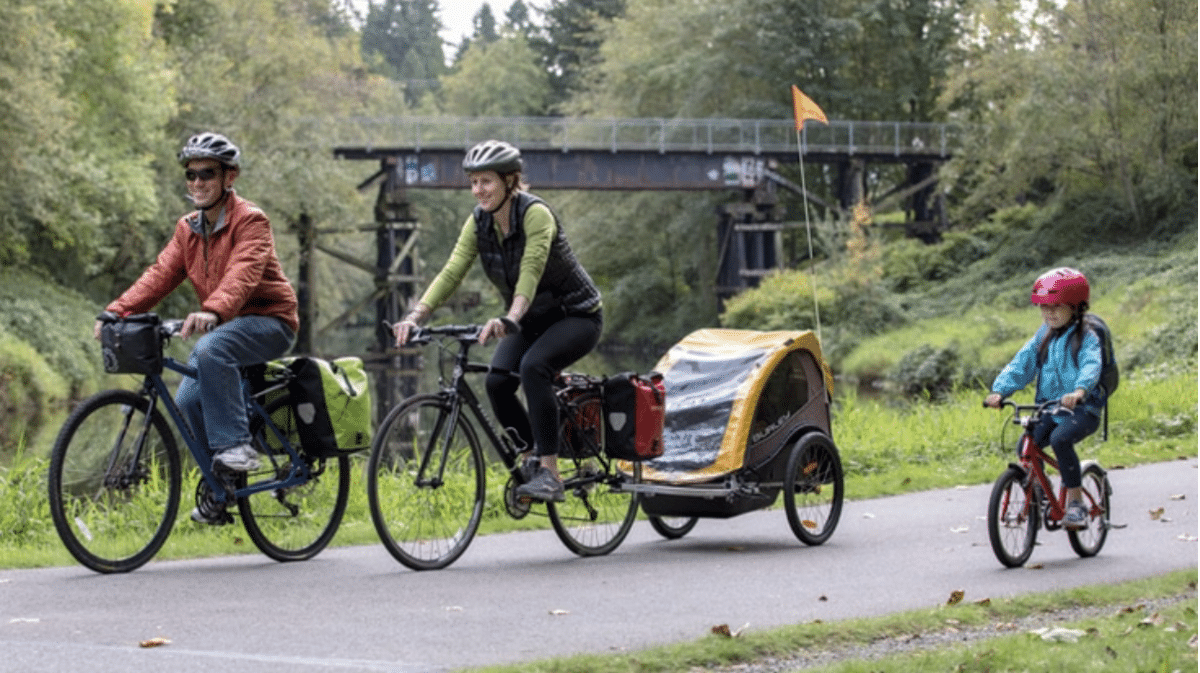 Some of biking families' most enjoyable activities that they can do with each other is go mountain bike camping together as it'll be much easier to travel further distances with smaller kids, and you could even put your little children inside of your bike trailer.
Tips for biking with kids
Firstly it is very important to choose your biking trails carefully so that they aren't too long or too challenging for your kids.
Another thing that you have to remember is that you should try and have your trip fully planned before you even step foot out of your door so that you know where you are going and when you are going to get back home, so don't try and be too spontaneous.
It is also very important for you to try and bring snacks along because kids can get very peckish.
You should also remember to take breaks during the trips so that you not only give your kids some much needed breaks so that they don't burn out but also so that they get time to play by streams, climb rocks or trees.
And lastly you should try and keep the whole journey fun because fun, for the kids, is definitely more important than the speed or distance you will travel on your journey.
Final Words
So in the end it is definitely very important to be well prepared for your bike camping journeys but it is equally important to also remember to have fun as it isn't a race, it is a fun recreational activity that you can do by yourself or with others out in the beautiful nature.