This all new Giant e-bike, called the Trance Advanced E+ Elite 0, is the lightest electric mountain bike that Giant has ever made and is said to weigh 18.8kg for the medium sized bike.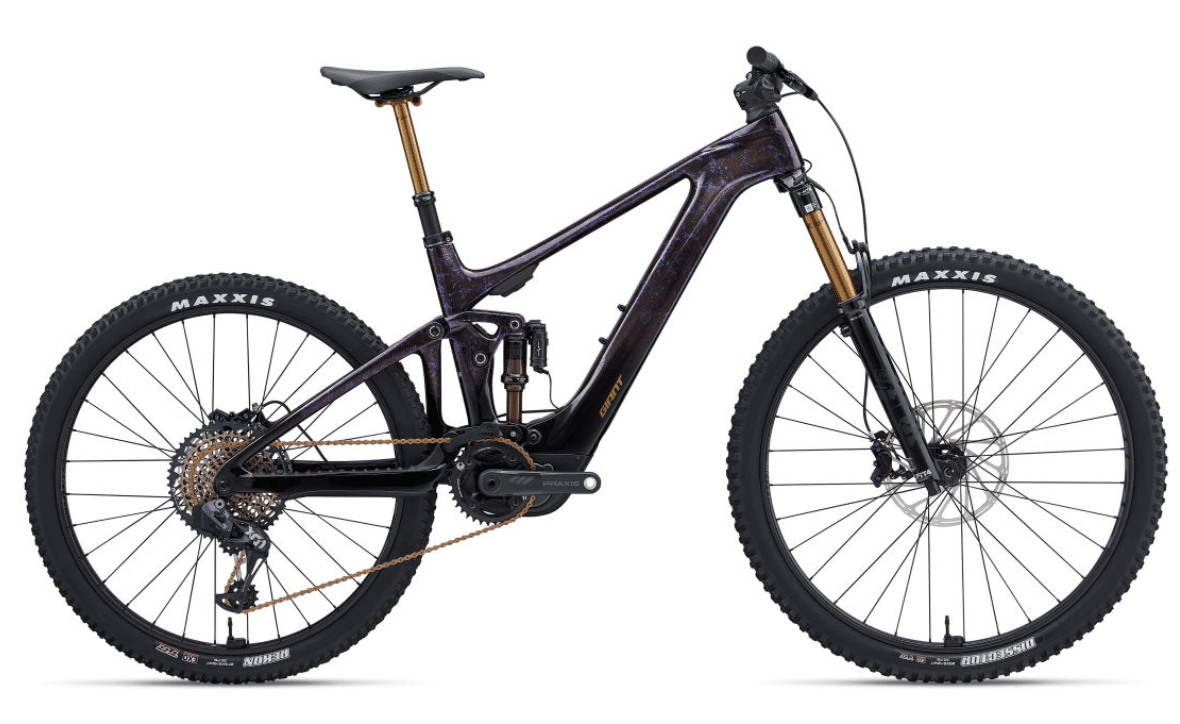 Some of the changes
A lot of this new weight saving is thanks to the all new electric motor that they are using, which is Giant's new SyncDrive Pro 2 electric bike motor system that they have actually designed and made with help from Yamaha. Another thing that we see that is new on this bike is its battery as it uses the new EnergyPak Smart 400 battery, which has been built around higher-density batteries and actually was developed with the help of Panasonic.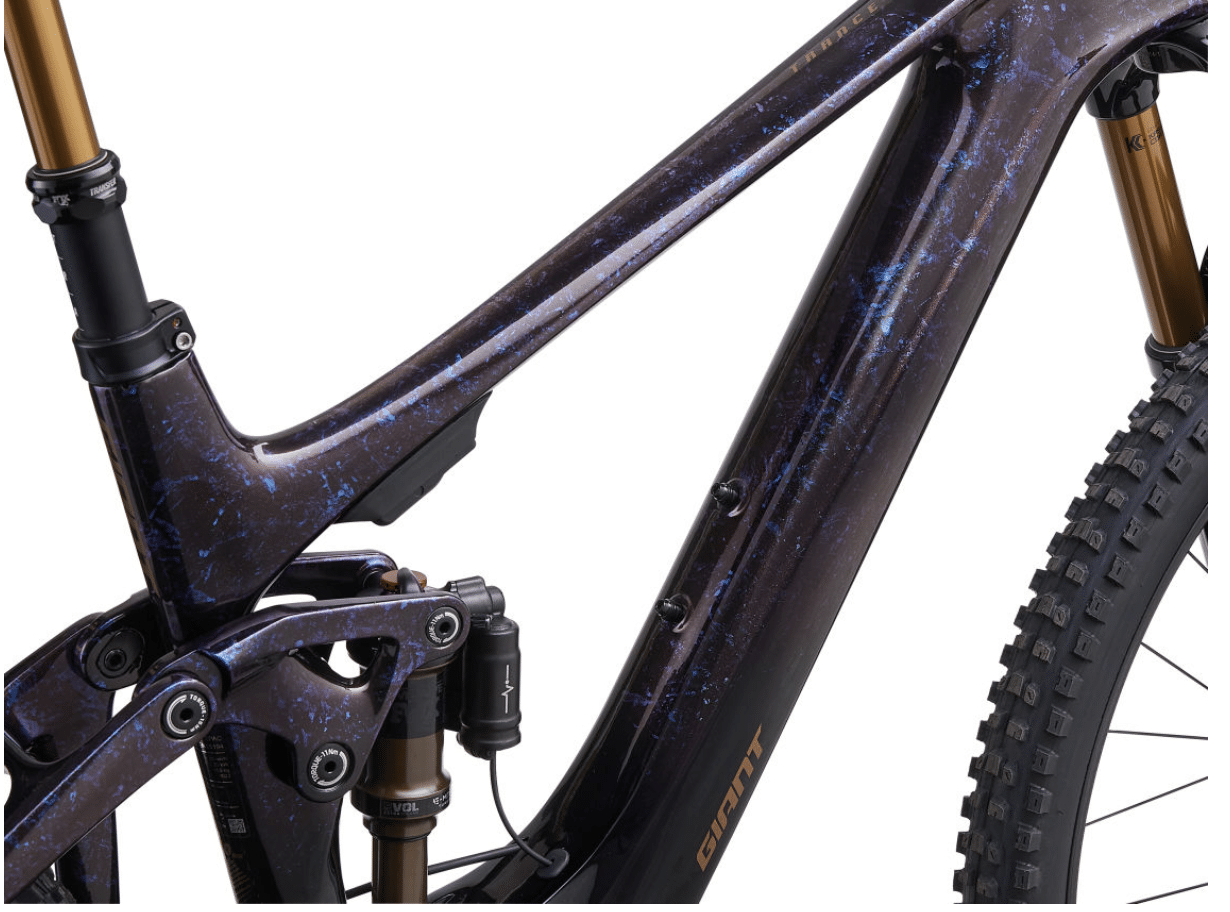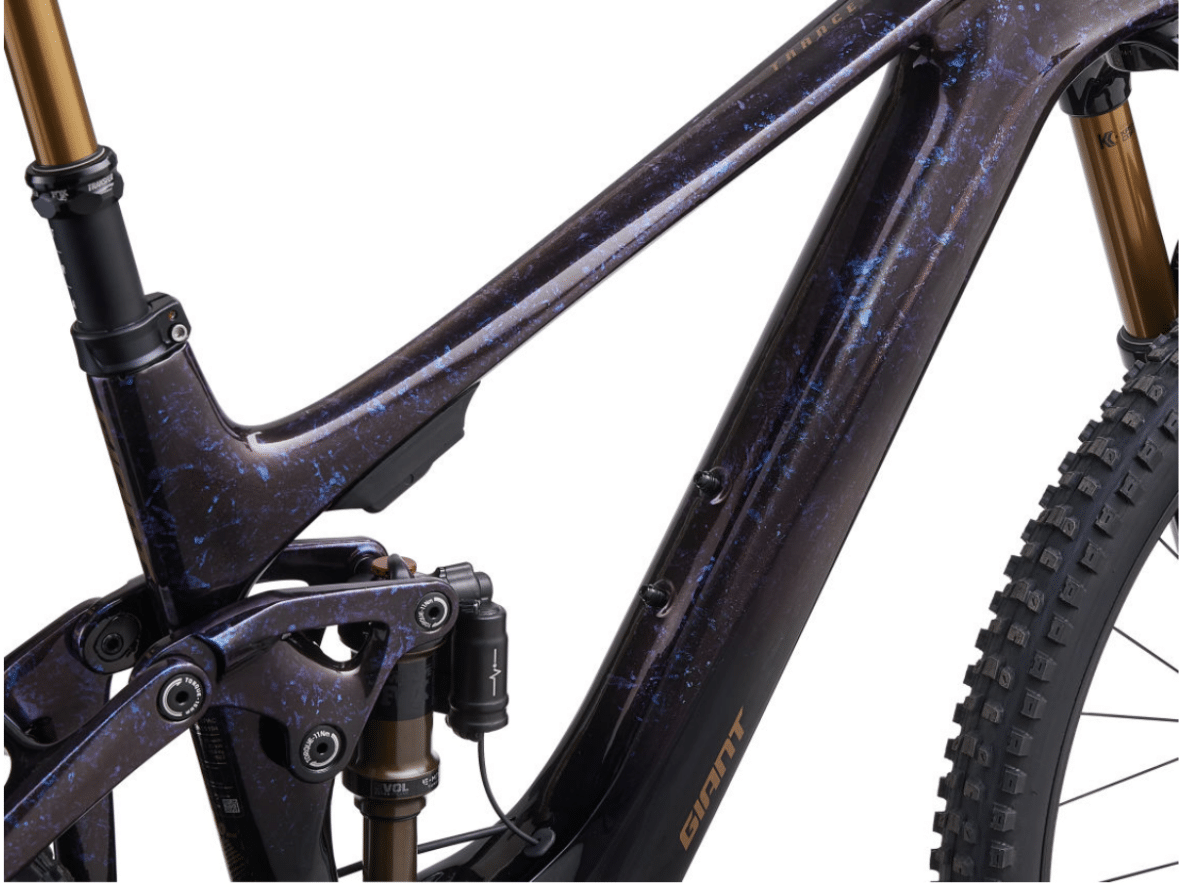 Then as you move on to some of the design changes we will see just a slightly updated geometry to this bike's frame, an adjustable one-piece cockpit as well as some new motor controls.
What's more is that this bike not only launched with the unisex Trance Advanced E+ Elite model but also the Liv Intrigue X Advanced E+ Elite, which has kept strong with Liv's design ethos and features women's-specific geometry in the bike. This is really important to a lot of female mountain bikers as this is the last major manufacturer that actually manufactures separate unisex and women's frames.
Pricing
If you are willing to get your hands on the entry level spec of this bike, the Giant Trance X Advanced E+ Elite, then you can expect the price to start at £5,499 for a bike that has been equipped with Deore.
However, if you are someone who wants the best of the best and are interested in Giants top-spec Trance X Advanced E+ Elite 0, which comes with Fox Live Valve, a full SRAM Eagle X01 AXS drivetrain, Zipp 3Zero Moto wheels, Quarq Tyrewiz pressure sensors and everything made of carbon fibre, then you can expect to pay £12,999.
The All New, Lighter and More Powerful Motor, and New Battery Tech
This new electric bike by Giant is powered by an all new battery pack that has been developed with Panasonic, which has been based on 22700 cells. The 22700 cells that are used in this battery pack are lighter as well as more energy dense than the usual cells you'd see in other electric bike battery packs. Giant have also designed these batteries in a way so that they manage to stay cooler than others, which will result in less stress being put onto the system and thus create a longer total lifecycle.
When you purchase this bike it'll also be shipped with the new smart charger, which will actually stay in constant communication with the battery pack of this bike so that it is able to extend the battery life as much as possible. Some people may be confused as this charger will only charge the battery up to 60 percent full, but this is because this is the ideal charge level for long-term storage.
The whole bike has been designed and built around Giant's brand new SyncDrive Pro 2 motor, which has been designed with Yamaha just like Giant's previous bike motors. Yamaha and Giant have managed to create the most powerful motor that Giant has had to date and delivers up to 85 Nm of torque and will be able to give you up to 400 percent support whilst you're riding. Not only is this new motor more powerful than previous models but it is also lighter, by 2.7kg, and even quieter, making this just a much nicer experience overall.
The bike will also come with an awesome Smart Assist mode that will actually be able to automatically control the motor via six different sensors. Just like most motors, on e-bikes nowadays, you'll be able to customise the system's behaviour by using the companion app. Some of the adjustments that you'll be able to do to the system through the app include Launch Control, which adjusts how quickly the torque from the bike's motor will kick in, assistance support level and much more.
Another cool advantage that you will get with the companion app is that all the adjustments can be made to any bike that already has the SyncDrive Pro 2 motor or a future bike that will have this motor. You'll be able to find the system's main controls in the top tube of your bike and then you'll also be able to find more supplementary controls integrated into the grips.
Suspension & Geometry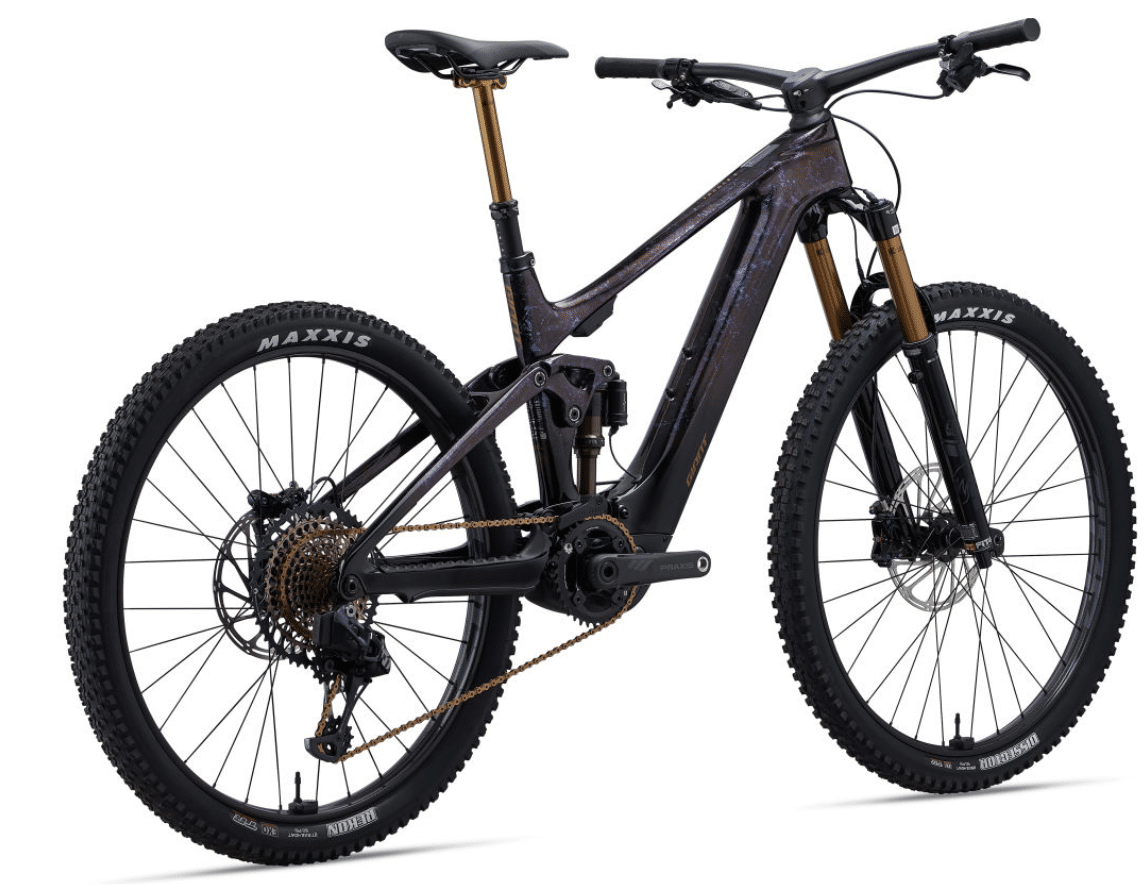 All of the various bike models in the Trance Advanced E+ Elite 0 range have been built around their mullet wheel setup, which just means that it will be fitted with a 29 inch front wheel and a 27.5 inch rear. The bike has also been designed to be fitted with a 150mm travel fork as well as a 140mm rear travel, which will both be controlled by the Maestro suspension system that Giant has been known for.
The geometry and design of the bike overall hasn't really changed that much from the previous generation and we've only seen a few updates. If you look at the previous generation bike we see that they had 29er wheels in the front and the rear of the bike but now the new generation has a mullet setup, which means that there is a 27.5 inch wheel in the back instead. This difference has resulted in the chainstay length being shortened by quite a lot, from 473mm to 447mm to be exact, on all of their sizes.
Other than that, things such as reach, stack, head angle as well as seat angle are all things that have not been changed from the previous generation of this bike. However, both the stack and reach on the women's-specific models has changed but all the other figures still remain the same.
The One-Piece Cockpit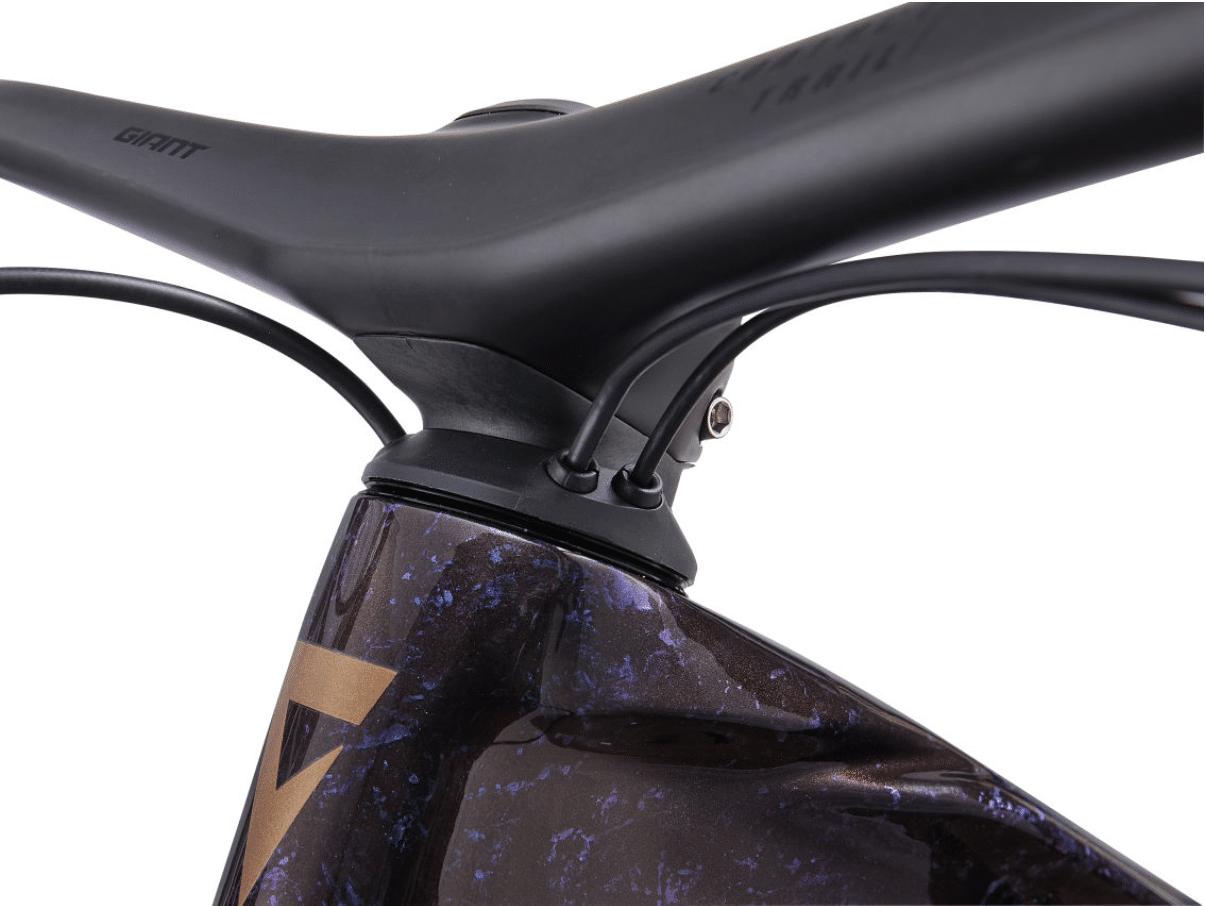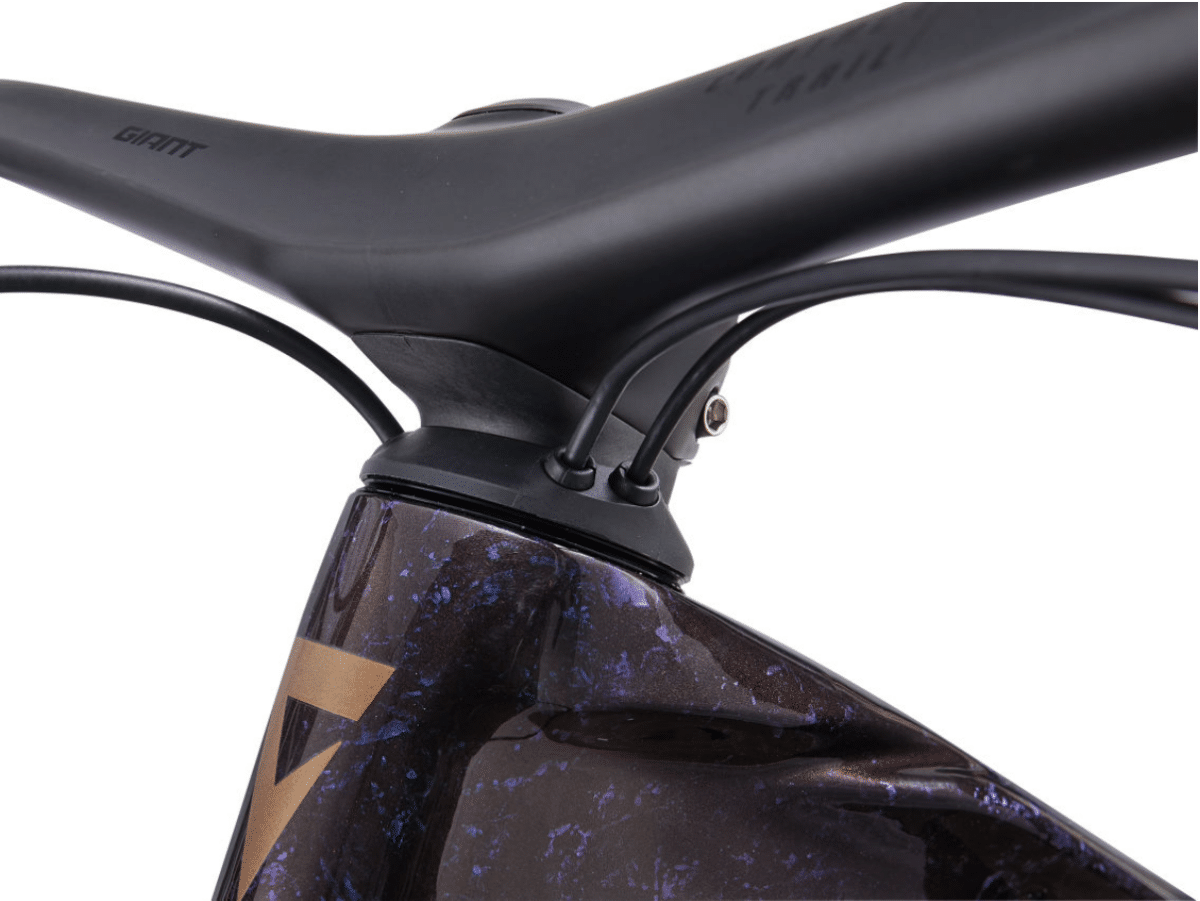 One of the new features that you will see on this new bike is Giant's all-new Contact SLR Trail one-piece cockpit. This one-piece cockpit that Giant uses is a little different to others out there because the stack and angle of the bars can actually be adjusted. The adjustments that you can make to the stack and rotation of the bars is made possible thanks to a series of specially moulded spacers that are located underneath the stem.
On top of the stem you'll also find a top cap which will actually have inserts that you can swap out to fit various items such as bike computers, lights, and other types of accessories.
Final Words
So, there you have a short summary of what you can expect from the all new Trance Advanced E+ Elite 0. Do you think that all of the new features and updates to the bike are enough to justify upgrading your previous generation Giant Trance or will you wait a few more years.