The all new EXT Aria is EXT's first ever air rear shock that they have manufactured.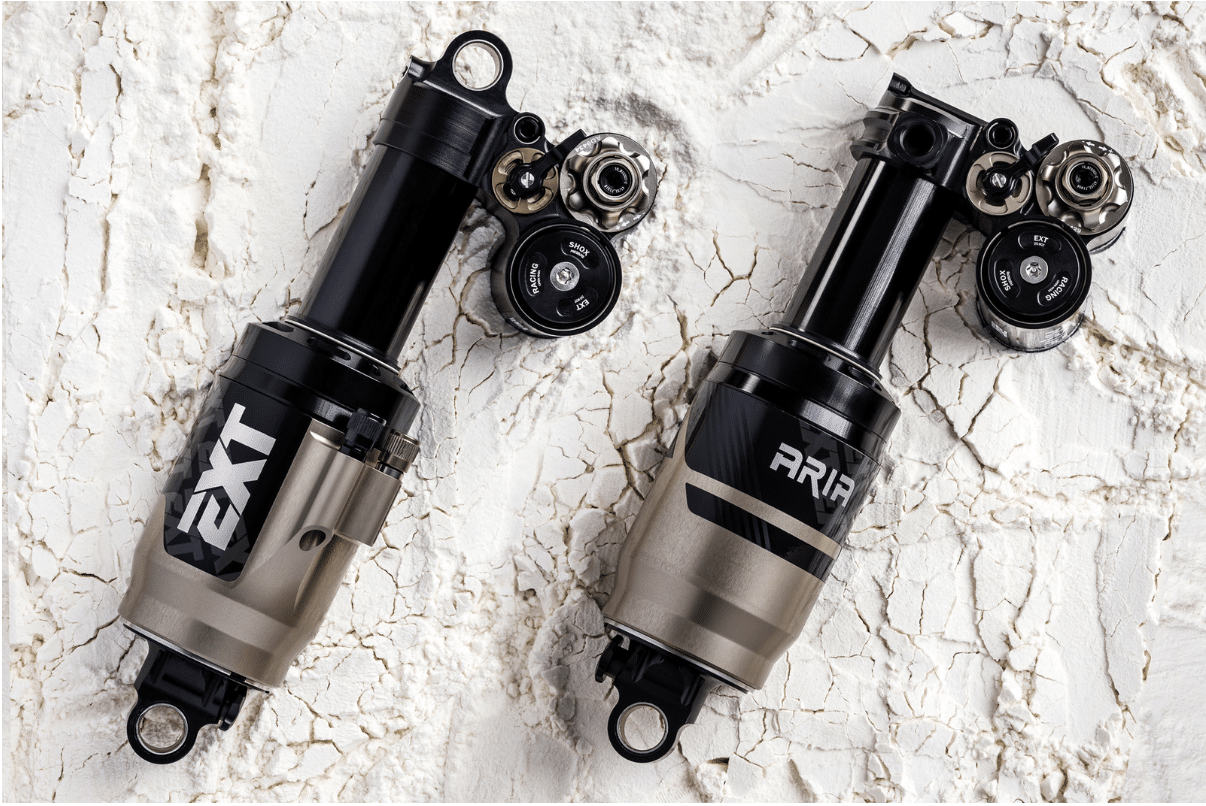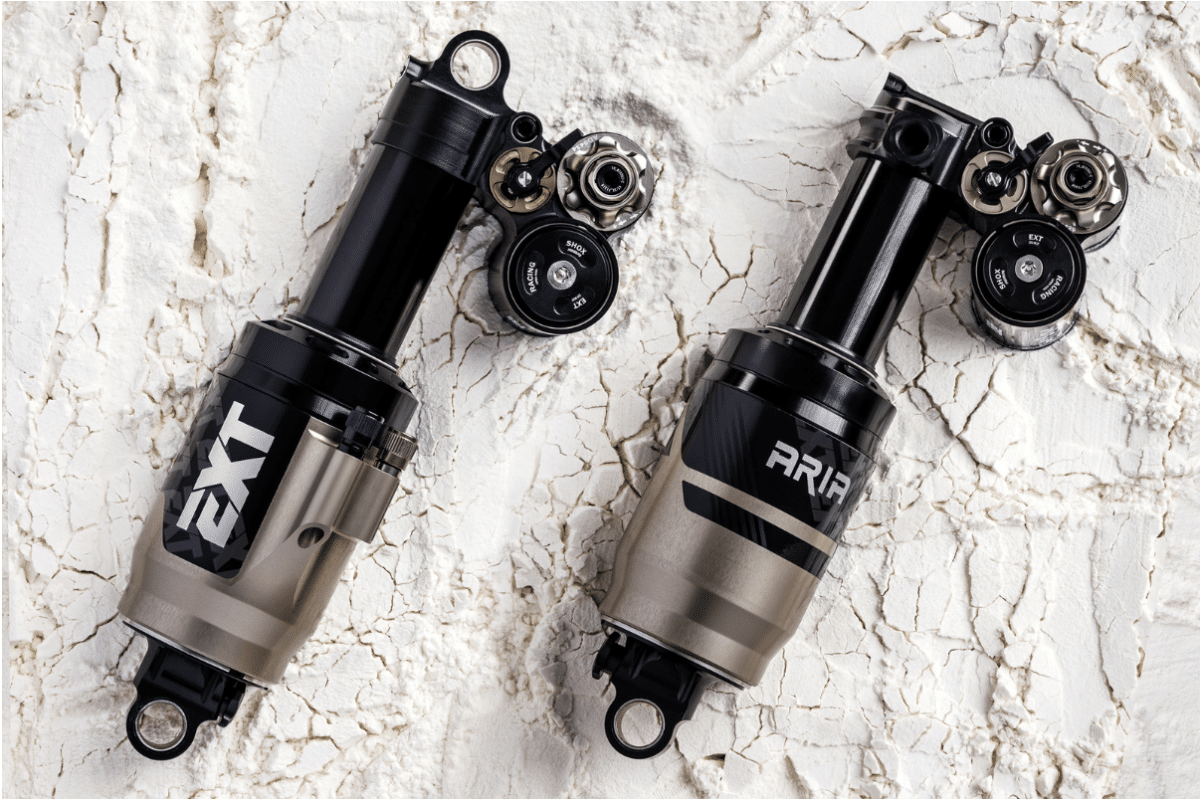 What's so interesting about this shock is that it has two separate air valves situated on the positive chamber. This means that it'll be able to control sag and ramp-up, which will essentially remove the need for any volume spacers. 
All New Original Design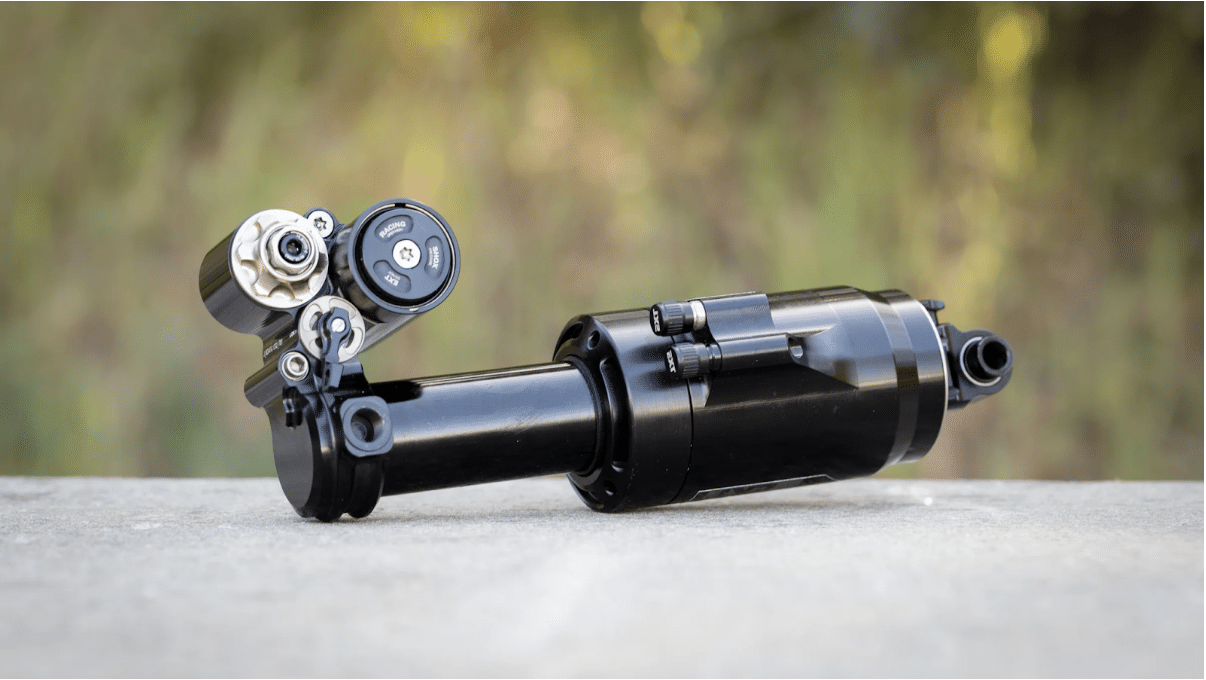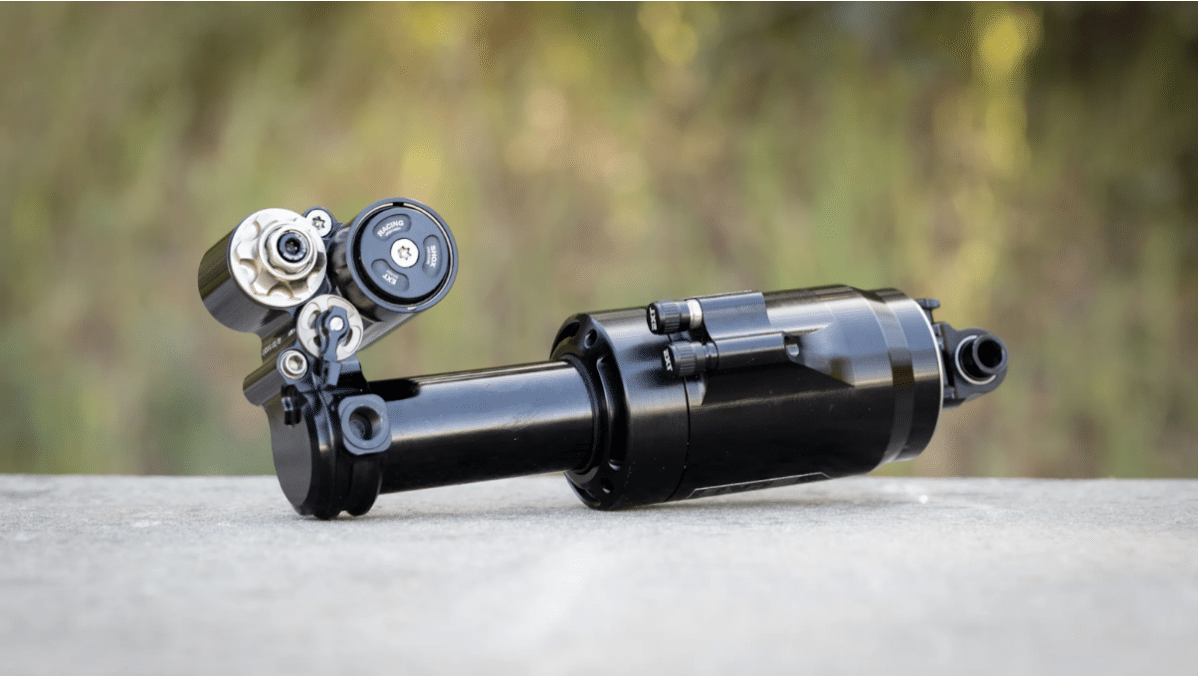 The all new air rear shock has been designed from nothing and EXT have started from the ground up with it as they didn't just want to put an air spring into their existing coil-shock structure. The hydraulic damping system that this shock has has been inspired by EXTs coil shock that they use on the E-Storia electric bike.
One of the biggest features that this shock has is its dual positive chamber and then its large self-equalising negative chamber as well. This new design allows for even more control over the shocks' spring nature. These two chambers have been named "+" and "++".
The Two Positive Chambers
+ Chamber
Inside of the "+" chamber you'll find that it is pressurised using the black valve. This chamber's purpose is to provide the primary support needed for the system and to also control the sensitivity of the top and mid-stroke, which most will know as 'sag position'.
++ Chamber
Then, on the other hand, we have the "++" chamber, which has been pressurised using the nickel valve. This chamber is used to control the sensitivity of the mid-stroke as well as the final ramp-up characteristics of the shock.
The Benefits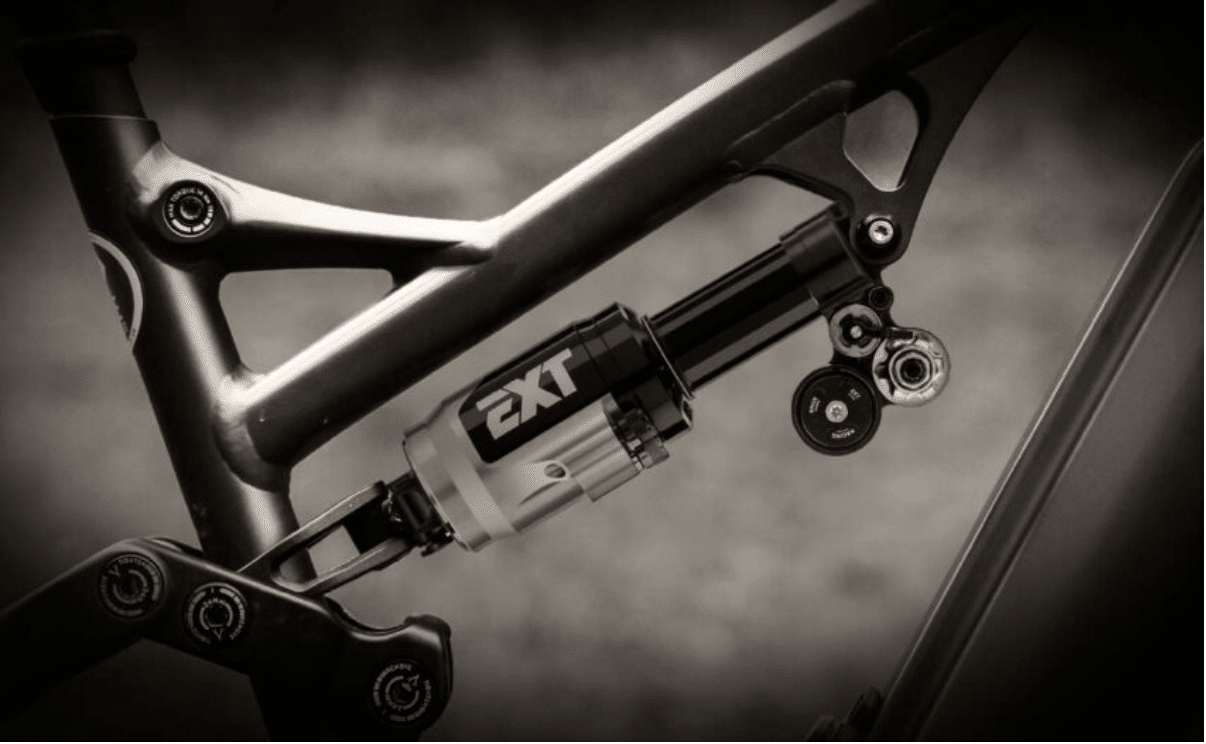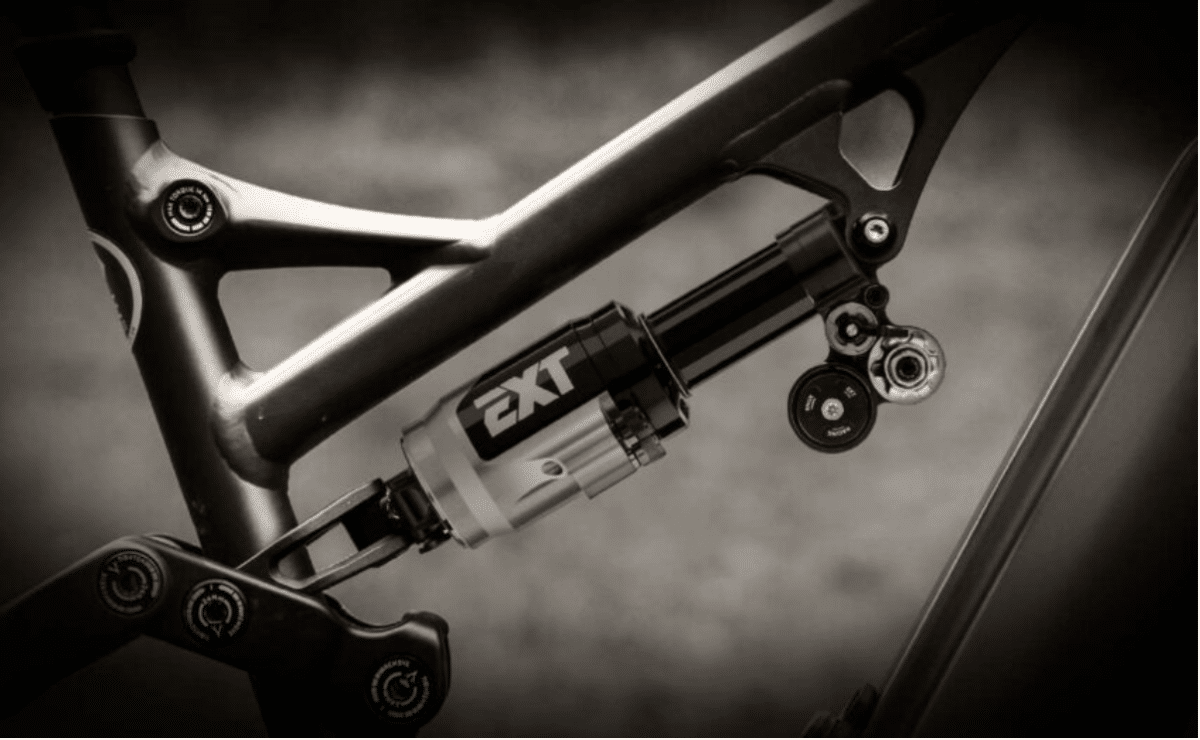 This all new design that EXT uses for this air rear shock means that you won't need to use volume spacers anymore to customise the characteristics of the Aria shock. What a volume spacer is normally used for is to add progression to the end of the stroke of the shock, however this will also have an affect on the performance of the shock throughout the whole of the shock stroke.
So, essentially the biggest design benefit of this new shock is the fact that it removes this compromise and allows the riders to dial in mid-stroke support as well as initial sensitivity, while still allowing you to maintain the ramp-up at the end of the stroke.
Another advantage to this new design system is that it is easier to set up since you'll only need a shock pump to tweak settings instead of having to disassemble the whole shock just to add volume spacers.
Low-Pressure Protection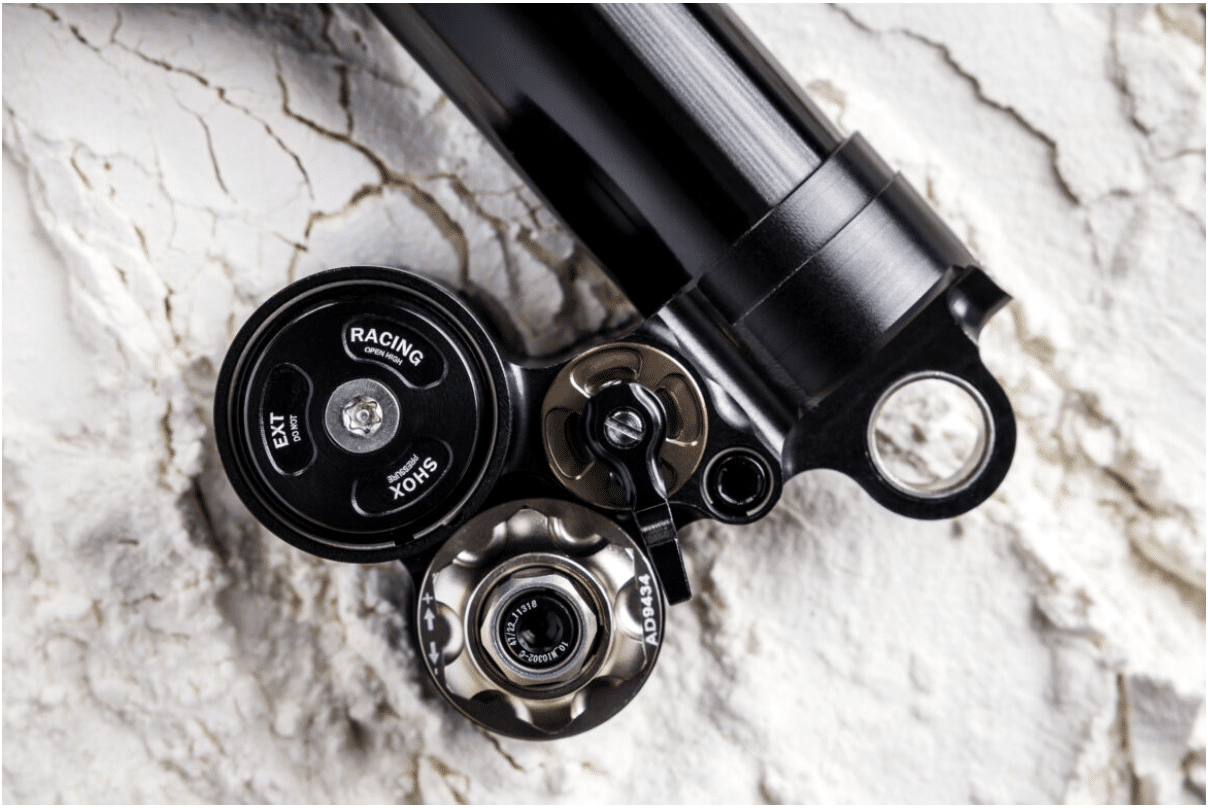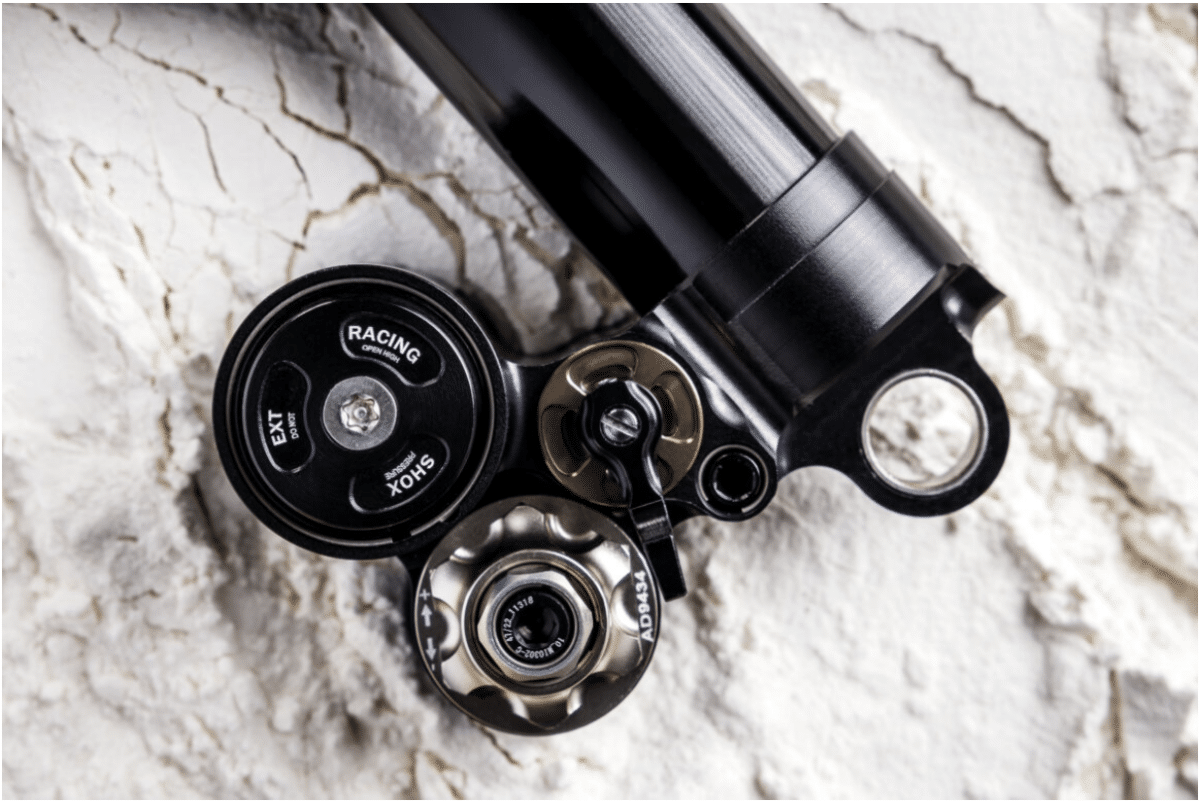 Another awesome thing that EXT has added to their all new air rear shock is what they would call a Hydraulic Bottom-out Circuit. What this basically is is a hydraulic bottom-out that you are able to adjust, which means that you'll be able to run this shock at a lower air pressure to have more traction since this system gives the shock a more progressive compression.
You will also see that the Aria rear shock features a lock-out. So, when the shock is in its closed setting, what it'll do is actually use a shimmed valve that has been pre-loaded in order to stop the oil flow and essentially increase the compression force. Then if you have the shock in its open setting you'll basically bypass this valve. This setting is great for when you are in need of a good pedalling platform whilst out cycling, while also still being able to give you enough shock sensitivity to provide you with grip on the loose trails.
Lastly, this shock uses their brand's own EV2S oil, which doesn't affect the air shocks' damper characteristics even when the temperature rises, which can be a notorious problem for air shocks out there.
Final Words
So, after hearing about this new design to this brand's first ever air rear shock and all of the various benefits to their double air valves on the positive chamber, do you think you'll be able to get behind it and purchase one for your own rig?