Logitech Z-500 Wireless Speakers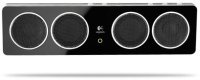 Most people use laptops to gain freedom from wires and portability.  While it's true that everything is packed into a small, self-contained machine with a notebook, once you start connecting other devices, your battery life runs low, requiring the power cable, etc., sometimes it feels like we're back to square one.  Logitech recently brought out its Z-500 speakers that help clear the clutter by providing wireless enhanced audio. The Z-500 uses high-performance wireless technology so that you can place the speaker just about anywhere in the vicinity and still enjoy quality music, movies, and other multimedia. Utilizing Stereo XL technology, the Z-500 speakers automatically optimize acoustic levels to provide you a fuller, richer sound. The speakers are connected to your PC in the exact same fashion that you connect a wireless mouse – basically all you're doing is connecting the Z-500 speakers to the computer using the wireless USB dongle that came with in the package.
If you feel like wiring the speakers up, feel free to use the included USB cable. It also comes with an auxiliary input in the form of a 3.5mm stereo jack so you can connect your iPod or other favorite MP3 player to the device. Inside the speakers is a rechargeable battery that can provide up to 12 hours of playing time from a single charge. No software is required, which makes for a ready-to-go solution out of the box.  The unit comes with a protective travel case to help keep the speakers safe, whether you're walking over to a neighbor's or on a business flight to France.