Corsair Releases Triple Channel DDR3 Memory Kits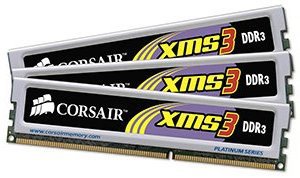 Shortly after the release of OCZ's triple-channel DDR3 memory kits, Corsair has now officially announced their offerings. The DDR3 RAM, specifically designed for Intel's next-generation Core i7 processors, will be available in six different variations with capacities of 3GB and 6GB and speeds of 1333MHz, 1600MHz, and 1866MHz. The models and their corresponding prices are listed below:
| | | |
| --- | --- | --- |
| Model # | Specification | Price |
| TR3X6G1866C9DF | 6GB, 1866MHz DOMINATOR Kit with Airflow Fan | $475 |
| TR3X3G1866C9DF | 3GB, 1866MHz DOMINATOR Kit with Airflow Fan | $250 |
| TR3X6G1600C8D | 6GB, 1600MHz DOMINATOR Kit | $300 |
| TR3X3G1600C8D | 3GB, 1600MHz DOMINATOR Kit | $175 |
| TR3X6G1333C9 | 6GB, 1333MHz Kit | $230 |
| TR3X3G1333C9 | 3GB, 1333MHz Kit | $120 |
The Dominator kits have more advanced, finned heatsinks, while the others have standard heat spreaders. The 1866MHz models provide higher clock speeds than any of the OCZ triple-channel kits, but Corsair does not state whether or not the kits maintain the 1.65V limit above which Core i7 processors may be damaged.
Corsair's DDR3-1333 kits are immediately available. The DDR3-1600 models will be soon released also. The DDR3-1866 kits, however, will be available shortly before the Core i7 official release, which is scheduled for November 17th.